guitar playing
It was the spring of 2004, and I had just completed my first year as guitar tech for Toby Keith. The whirlwind tour ran almost nonstop from July through February, taking off the months of March through June before firing back up again. So with a few months of downtime ahead of me, I was on the hunt for other gigging opportunities. I started doing some in-town nightclub gigs as a "hired gun" and a few sporadic out-of-town weekends with a few different singers I started working with, basically trying to get my fingers into everything I could. Ultimately, I was searching for another road gig, one in which I would be a player and not a tech.
Then one day I got a call from my friend "D", asking if I could sub for him on his gig with the Honky Tonk Tailgate Party. "It's a lot of songs to learn for just one gig, but it will be good for you, and if you can make these guys happy they might call you again someday." "Count me in; I'd love to do it!" I answered excitedly. "Now, you've got to make me look good. They're nervous about me subbing this out, so you've got to nail this gig, and I mean nail it to the floor! This is my reputation on the line as much as it is yours." I understand" I reassured him "I'll make you look great!" "And one more thing," he added "you can use charts if you have to, but it will be better if you don't."
The next night I went out to the Fiddle and Steel and picked up a few CDs from Scott Mattevi, their sound engineer who also worked weeknights at the Steel back then. The Honky Tonk Tailgate Party, or HTTP for short, consisted of four artists; Rhett Akins, Daryle Singletary, Chad Brock, and David Kersh, all backed by one five-piece band, and traveling together in one "Camo" bus with a trailer.
I had about 35 songs to learn in about 2 1/2 weeks, and this material spanned four CDs, two containing the studio cuts, and two CDs of a live show, so I listened to these discs over and over again. When I'm learning new music for a new gig, time permitting, my method is as follows:
First, I employ a "SIRDB", or "self-induced rapidly deployed brainwashing" of the new material (AKA listening to the CDs over and over again until I start hearing them in my sleep). I'll use this rapid infusion technique for at least a week before even picking up a guitar.
Second, I'll chart out all of the songs. While this can be time-consuming, it is well worth it as it helps me "visualize" the entire song structure and arrangement, and commits the songs to memory in a different way. It also helps me dissect any figures, breaks, or dynamics that are unique to each song.
Third, I'll get out my guitar and, using the CDs, begin learning the specific parts and playing along with the songs. I'll also begin to play the signature licks and intros without the recording, to further commit these most essential song signatures to memory.
So that's how I spent those three weeks of my life. After the first week or so of nonstop listening, I spent five or six hours a day working on HTTP material, and by the time I was driving to the bus the night before the show, I was ready.
I arrived to the bus a half hour early, loaded my gear into the bays, and met the artists and rest of the band, some of whom I knew already from hanging out and sitting in at The Steel. After a night of sleep in the back lounge (there were 13 riders on this bus) and some downtime the next morning, we were loading in and setting up for outdoor show somewhere in Alabama. After getting the sound dialed in, we began rehearsing some of the material, one artist at a time. And thanks to my patented "SIRDB" technique, other than one piece of paper with a few key signatures written down, I didn't have a chart in sight. So far so good, I didn't make any glaring mistakes during the rehearsal, I hadn't said anything stupid yet, I even managed to make Daryle Singletary laugh with a couple of offhand comments. But I was nervous, nevertheless. Even though I had previously done several shows playing guitar for Vern Gosdin, and had regularly stood on stages in front of 30,000 people when teching for Toby, this was different. I had to make FOUR different artists happy on this night, and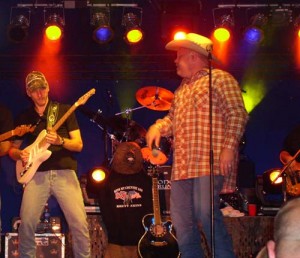 each of these artists had their own unique song style, and performance approach.
After sound check/rehearsal, dinner, and showers at the hotel, we were back at the concert site getting ready for the show. Dressed in our best, we hit the stage around eight o'clock and were off and running with David's set. The outdoor stage faced an open field filled with 1000 or so concert-goers and they quickly became immersed in the show. This show ran like a grid and there was very little space between songs, some songs even running into the next song "medley style", so I had very little time to think. Before I knew it, David's set was over and Chad Brock was walking onto the stage as David walked off, the music never stopping. Chad's set went equally as smooth, and by the time we played his last song of the set, his hit "She Said Yes", I was starting to feel pretty comfortable on this stage.
Now it was time for Daryle Singletary's part of the show. Both David's, and Chad's sets were of the modern country/pop kind of sound, and this used a style of guitar playing that was more familiar to me. But Daryle's music was more rooted in traditional country music, so his set required a different approach on the guitar, much more use of the "chicken pickin" technique, and the use of a clean sound throughout. Fortunately, my overkill approach to preparing for this gig came in handy and Daryle looked over at me and smiled at a couple of points during the show, at one point even commenting over the mic "I'd like to introduce Eric Normand filling in on guitar tonight. He's a Yankee, but we won't hold that against him… (laughs)…He's doing a fine job." The crowd reacted approvingly, and my confidence continued to grow. This was great; I was winning over the bosses!
Finally, an hour and a half into this nonstop barrage of country music fun, it was time for Rhett's eight or nine songs. Rhett's music is as much southern rock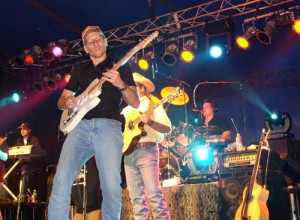 as it is country, and this driving approach was right up my alley. By the end of his set the crowd was in a frenzy and, after a brief pause, we began playing Hank Junior's "All My Rowdy Friends Are Coming over Tonight" for the encore. The HTTP encore featured all four artists on the stage at once, each taking turns singing verses, and big harmonies on the choruses. We did three or four songs; each followed with a roaring applause, before retreating to the bus.
After the show, the artists and band members told me I did a great job and that they appreciated how seriously I took the gig. It was a great feeling to know that my mission was successful. A couple of days later I got a call from D. "I heard you did a great job. You even made Singletary happy, and that's hard to do." "Thanks, it was tons of fun, all the hard work paid off. I hope it comes up again."
In the meantime, here's to "Nailing It to the Floor"!
Last weekend the Rhett Akins tour rode into Harrisburg, Pennsylvania for what would be one of our coolest outings in a while. Fans of Michael Waddell and his popular hunting show "Bone Collector" were about to be treated to a special night of fun and music for the show's third annual fan club party, and it was
our job to provide some extra "lift" on this particular night. After a long day of setup and preparation the doors finally opened at 7 PM, and the "small arena" at the PA Farm Show Complex began to fill quickly with an excited crowd of hunting aficionados. The Bone Collector crew had laid out quite a spread, and the guests began enjoying the free buffet with a few cold ones while the sounds of Rhett's hunting songs from "The Brotherhood Album" filled the air in a hall that looked ready for an Aerosmith concert.
The place was filling up fast, and soon "Bone Collector" stars Michael, T-Bone, and Nick Mundt, were accompanied by some of the other show organizers on stage to offer a warm welcome to the crowd. After raffling off some free giveaways, the first performer, MCA recording artist Ashton Shepherd took the stage and played a short acoustic set with one of her bandmates, her clear, country voice filling the auditorium. Near the end of her set T-Bone came back out and invited a couple up onto the stage to deliver one more prize giveaway. Apparently, the couple were longtime fans of the show, and what at first looked like a raffle giveaway quickly became a more substantive moment when the fellow dropped to his knees and proposed to his unsuspecting fiancé. The woman had no idea this was going to happen, and was near tears as they danced on the stage to a touching serenade by Ashton. After a few more prize giveaways, Rhett and band took the stage.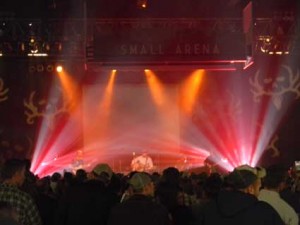 Our first tune was "My Baby Looks Good in Camouflage", one of several hunting themed songs we would perform from Rhett's latest album project, and the crowd was instantly singing along with this song that has never even been on the radio. Midway through the set, Rhett announced that we were going to play his song "Bird Dog" and asked if there was anyone in the crowd who knew the song and wanted to come up and sing along. Two fellows in the front row made their way onto the stage and joined Rhett for an "interesting" rendition, after which Rhett announced "Sorry, I won't do that again."
By the end of Rhett's first rocking performance the place was buzzing with excitement, and many of the 1200 plus fans were crowded up to the front of the stage, standing elbow to elbow in a sea of camouflage. After a few more giveaways, Michael introduced the night's unannounced "special guest" Aaron Lewis from the band Staind, and the crowd was treated to an intimate acoustic version of "It's Been a While", amidst his four song set.
It was now time for a final round of giveaways and Rhett's second and final set to cap off the night. With a few big surprises still in store, Rhett kept the first part of this set short and sweet, and by the time we had played three or four songs he was inviting Ashton back up to the stage for an unplanned sit in. The two sang a heartfelt duet of the Hank Williams Jr. classic "Dinosaur" and the crowd roared with their approval. Next, Rhett brought up Michael to play some guitar, and Nick Mundt to sing Whitesnakes "In the Still of the Night". Nick may be a hunter by trade, but it's obvious that he may have been a rock 'n roll front man in another life, as was evident from the bloodcurdling howl he let out at the beginning of the tune. His scream, combined with the sound of three electric guitars and our rhythm section thru a mega-watt PA system, threw the night into overdrive. The night was now beginning to feel like an episode of Don Kirshner's "Rock Concert" and I ran out to the center of the stage to exude a little "attitude" with Nick during this fun moment, both of us getting down in a rockstar stance.
Now it was time for the grand finale and Michael's 10-year-old son, Mason joined us to sing the final two songs. With Michael still on guitar, we launched into AC/DC's "TNT" with some real fire and fury, and it was Mason who was now running the show, the crowd instantly showing their approval for one of the world's youngest front men. While Mason worked the crowd, Nick and T-Bone sang backup vocals, the crowd now singing along too, and I was rocking out with Mike who was now showing off some of his new "guitar moves" that I had shared with him during our rehearsal earlier in the day. When the song ended, the crowd response was one of the biggest of the night, the roar almost deafening, and Nick hoisted young Mason up onto his shoulders for a victory lap. Not wanting this moment to end, we did one more song to take full advantage of our would-be rock 'n roll army, the Guns and Roses classic "Welcome to the Jungle", and again, young Mason was triumphant.
The song ended, and Michael stayed on guitar for the last song of our rock 'n roll crescendo, Rhett's rendition of "Last Chance for Mary Jane", a real rarity. I don't think I've played this many classic rock songs in a row since I moved to Nashville. It was kind of like going back in time and playing in one of my old top 40 bands, except through a million-dollar PA system, and with a bigger crowd! The concert ended and Michael was back on the mic thanking the crowd and his guests for being a part of this special night. Over the years I've played many "corporate" type events, and I can't think of any that possessed the kind of fun and spirit that was in the room on this particular night. The folks at Bone Collector sure know how to throw a good bash and I can hardly wait for the next one!
Last Saturday saw another outing of my new trio when we played to another standing room only, sold-out show at the Fillin' Station in Kingston Springs, TN and boy was it fun! Okay, maybe it wasn't standing room only, but I always wanted to say that, and besides, we played like it was a full house. It was another cold, wintry Saturday night in middle Tennessee and we had just received our seventh snow storm of the season a few days prior (it's already snowed more times this winter than it had in the previous seven since I've been here). So we were feeling a little housebound and it was good to get out and play.
"It's like eating ice cream." That's how Mike Chapman, my good friend and bassist in this project, described our band and the gig after the show – it's as fun as fun can ever be, and it comes without any real purpose or pretense other than to simply be fun. At this point of my career, and life for that matter, outings with this trio are perhaps the most enjoyable experiences I ever have when it comes to playing music. Not that my other musical activities and work aren't fun, I have found a way to enjoy just about every musical situation at this point, but many of them are on somebody else's dime, and that almost always creates a whole other mindset and set of expectations.
Take my job with Rhett Akins for example. It's a great job, we go on the road couple of times a month, I get to hang out with my friends, play some great shows, and get driven around the country on fancy tour buses. Of course I also have to advance shows, deal with event coordinators, production companies, etc. – there's a lot of responsibility with my job and that can often be accompanied by stress.
The same applies to working on songwriter demos, another one of the hats I wear. Building songs in my home studio, recording drums, guitar tracks, vocals – while these are still dynamic and challenging musical activities, they are on someone else's dime, therefore, I must work quickly and efficiently and put aside my creative differences in the name of pleasing my clients – the customer is always right. But it's still all music related work, and that's great, it's what I set out to do a long time ago. Not to mention, I'm making my living doing something I love.
There is one thing that I have noticed after what is now more than two decades of working in the music business full-time, it's called desensitization. After a lifetime of musical activity I have logged many thousands of hours on my instrument, played over 3000 live shows, and worked on countless studio recordings. I've also listened to thousands of recordings, as so many of us have. This oversaturation (for lack of a better word) of musical activity can take away some of that special spark that we had in our younger years. I can never again hear the music of Jimi Hendrix or the Allman Brothers for the first time again. Not to mention the power of youth, as a friend of mine once said "There's nothing like a teenager playing music, they always play with reckless abandon."
So now I'm all grown up and playing for a living and, while I am thrilled about how it all worked out, I still long for that kind of fix that I used to get daily from music in my younger years. That's where my trio comes into play. My good friend Mike Chapman is a legend in Nashville, one of the finest bass players you'll ever meet, and my experiences in the music business to date are only a small fraction of what he has experienced. The same is true of my other compadre in this project, friend and drummer extraordinaire Fran Breen. At one point Fran was so busy in the music world that he turned down an opportunity to tour with Van Morrison.
After nine years of playing and working in Nashville I have come to know these fine players as friends, in addition to working with them on different gigs over the years, and this is perhaps one of the biggest perks of living in Nashville. I wasn't going to meet Mike and Fran in my native New England. And it turns out we share some common ground. Sometimes they need a musical "fix" too, and perhaps that is why they are enjoying this trio project as much as I am. Literally every time we finish playing one of these gigs I find myself excitedly awaiting the arrival of the next one.
Touring the country, playing on big stages, working on recording projects, that's all good and well. I've worked hard to accomplish everything I have and am thankful that it has all worked out. But for me and the guys, sometimes we just want a little ice cream.
Are you ever in complete silence? During the quietest moments of your life, lying in bed about to fall asleep or sitting alone in a quiet room, can you hear the sound of nothing? I wish I could say I can but I can't. My ears ring constantly, every second of every day, and it's been that way for over 10 years now. I have permanent nerve damage in my ears from the result of playing music too loudly for extended periods of time without ear protection. I have tinnitus.
"Tinnitus" is derived from the Latin word tinnire, which means to ring. As stated in Wikipedia, it can be caused by a variety of situations; ranging from exposure to excessive sound pressure levels for extended periods of time, ear infections, foreign objects in the ear, nose allergies that prevent or reduce fluid drain, or wax buildup. But sounds at excessive volume seem to be the most common cause. It is an extremely common condition, affecting as many as 50 million Americans (of which about 12 million have it severe enough to seek medical attention). And sadly, it is a condition for which there is no cure.
"You´re head is humming and it won´t go in case you don´t know…" – Robert Plant – Stairway to Heaven
That's right, once you have it you will always have it, and it can progress if preventative measures (they're called earplugs) aren't taken.
"I have severe hearing damage. It's manifested itself as tinnitus, ringing in the ears at frequencies that I play guitar. It hurts, it's painful, and it's frustrating." says Pete Townshend. The excessive volume of The Who's live performances combined with the deafening volume in which he (and John Entwhistle) listened to playbacks through studio headphones has resulted in tinnitus so severe that some reports have said he can't even hear his phone ring. His affliction with tinnitus has caused him to abandon electric music performance more than once in recent years, rendering it only practical to play acoustic music live, as has also been the case with artists like Neil Young and Bob Dylan.
It's not just caused by loud music either. It can be caused by any regular prolonged exposure to excessive volume. For instance, many members of our armed forces are exposed to everything from explosions to jet engines and gunfire to loud machinery, one recent article in the New Yorker estimating it affects nearly half the soldiers exposed to blasts in Iraq and Afghanistan.
How much volume can your ears handle?
How many times have you walked into a venue in which a band was playing and thought it was too loud? The human ear was simply not meant to withstand the sound pressure levels produced by megawatt PA systems, electric guitar amps, and even the acoustic, unamplified drum kit in close proximity (especially when played with some conviction). The following chart from the OSHA website shows what is considered permissible noise exposures:
| | |
| --- | --- |
| Duration per day, in hours | Sound level in dB* – Decibel level |
| 8 | 90 |
| 6 | 92 |
| 4 | 95 |
| 3 | 97 |
| 2 | 100 |
| 1.5 | 102 |
| 1 | 105 |
| 0.5 | 110 |
| 0.25 or less | 115 |
Your ears can be exposed to sound pressure levels of 90 dB for eight hours, after which point hearing damage can occur. This ratio is a sliding scale, so when the decibels are increased to 110 decibels (the volume of an average rock band), hearing damage can begin to occur in 30 minutes. The louder the SPLs become (sound pressure levels) the less duration your ears can handle.
Decibel Levels of Environmental Sounds (also from the OSHA website)
Source–Dangerous Level

dBA SPL

Produces Pain

120-140

Jet Aircraft During Takeoff (at 20 meters)

130

Snowmobile
Tractor Without Cab

120

Rock Concert

110

Die Forging Hammer
Gas Weed-Whacker
Chain Saw
Pneumatic Drill

100-105

Home Lawn Mowers

95 to 100 dB

Semi-trailers (at 20 meters)

90
| | |
| --- | --- |
| Source– | dBA SPL |
| Discomfort Level | Above 80 |
| Heavy Traffic | 80 |
| Automobile  (at 20 meters) | 70 |
| Vacuum Cleaner | 65 |
| Conversational Speech (at 1 meter) | 60 |
| Quiet Business Office | 50 |
| Residential Area at Night | 40 |
| Whisper, Rustle of Leaves | 20 |
| Rustle of Leaves | 10 |
| Threshold of Audibility | 0 |
Mitigation and Prevention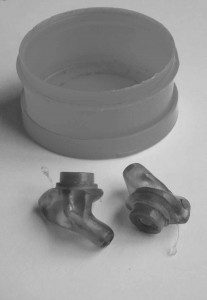 A friend of mine who lives in New England, one of my former guitar students, recently told me his ears have been ringing for about two years now. He plays in a popular regional jam band on the rise, Superfrog, a spirited group of young players making their mark across the Northeast. As did I in my earlier New England gigging days, they play with an energetic reckless abandon, and they, along with their loyal followers, are living in the magical moments of some of those roaring nightclub dance parties. When he first told me of the recent development of his tinnitus I don't think he realized the true nature of this beast, how it can slowly progress over many years until it reaches the near unmanageable level of the Pete Townshend's of the world. Upon discussing it with me he has now decided to invest in some custom musicians ear plugs, with his fellow bandmates also following suit. Some of the other guys in his band don't have tinnitus yet, and adopting earplugs into their world may ensure they never do.
Living with Tinnitus
"Yes, it's in my left ear. It's excruciating…I mean, it's the worst thing 'cause it's not…It never…It does go away – it's not true to say that it doesn't but, uhh…It doesn't…The doctors say it won't…It isn't actually going away – you've just gotta suppress…They try to come to terms with what it actually… Why some people fear it – that's the psychology behind it. They know it's there but why is it such a horrible sound? Well, you can say why is a guy scratching at a window with his nails such a horrible sound – I couldn't put up with that! This is worse!" – Jeff Beck from an MTV interview in June 1993
The thing about tinnitus, and perhaps one of the reasons it's hard to detect in its earliest stages, is that you don't notice the ringing all the time, even though it's always there. It depends on the threshold of the sound around you. If you are on the go from the moment you wake up till the moment you lay down to go to sleep at night, you likely won't hear the ringing throughout your day, as many of the sounds of everyday life will mask it. It's the quietest moments when it chooses to show itself. The concept of "masking" is quite useful, if not essential, for many tinnitus sufferers. I have a noise generator beside my bed that plays sounds of the ocean while I sleep. I set it on a volume that is just above the volume of my ringing, and this masks the ring enough for me to fall asleep. Some severely afflicted tinnitus sufferers use portable noise generators or play MP3s of soft music or different types of noise for most of their day, all in an effort to mask the relentless sounds in their head.
Some findings might suggest that avoiding or cutting back on alcohol, caffeine, and salt, among other substances, can help reduce the ringing. As tinnitus is considered partly a subjective condition, it becomes difficult to gauge how different variables affect the level of the ringing. I can't say that I have personally had any success by adding or omitting any parts of my diet.
Stopping It Cold In Its Tracks
"Later in the evening as you lie awake in bed, with the echo from the amplifiers ringing in your head."
– Bob Seger – Turn the Page
You can't get rid of it but you can stop its progression. The one thing that has become completely obvious to me is that earplugs during exposure to loud sounds are ABSOLUTELY ESSENTIAL to prevent the ringing from escalating. I have been wearing custom molded musician's earplugs, which can be acquired for about $150 with a visit to your local audiologist, for about 12 years now. I wear them not only when performing live with a band, but when mowing the lawn, vacuuming, operating a power saw, anything that causes excessive SPLs. When I'm sleeping on a tour bus, I sleep with foam earplugs to cut down on the rumble of the road. If I fly, I wear earplugs the whole time on the plane.
I've also learned how to turn down my music a bit. I've experimented with using less powerful guitar amps, speaker attenuators, and drummers that don't "bash" quite so much. I'm cautious when recording with headphones as well, watching the volume and taking breaks often.
I urge everyone to heed this message. If you play loud music regularly, either live or in the studio, consider the earplugs option, it will be the best $150 you'll ever spend on gear. And think about your audience too. Are you blowing them out of the room with your guitar amp, lead vocal, or snare drum? Is your band louder than it needs to be to get its point across? Are your ears ringing regularly from your construction job or your job at the airport? Are your kids listening to iPods on 11 all day long? If you think the answer might be yes to any of these, don't wait until it's too late to become proactive. Act now or you might wind up hearing the sound of a continual dog whistle for the rest of your life.
So when you have a quiet moment, ask yourself, your family, and your friends this one simple question –
Do you ever hear the sound of true silence?
It was sometime in the fall of 2002 and my wife, Kelly and I were attending our weekly Tuesday night outing at the Fiddle and Steel. Already having sat-in earlier in the night, we were getting ready to leave as it was getting kind of late, when Ronnie Pittman, the singer and host of this unofficial jam night, approached us at the bar. "Hey man, I need a guitar player to play some Monday nights with me at the Second Fiddle. Are you interested?" he asked. "I'd love to, thanks for asking." I replied, further adding "One thing I should tell you upfront is that I'm not totally up on all the old country stuff yet." "That's no problem; we don't do that many old country tunes. And besides, the last thing I need is another guitar player that constantly plays 'dubadibby dabaduboo dubadibby dabaduboo'." he explained, mimicking a cliché sounding rapid-fire guitar lick. "Great, I'm there!" I exclaimed.
The following Monday I arrived early to the Second Fiddle on Broadway, double parked to load in my gear, and then drove around for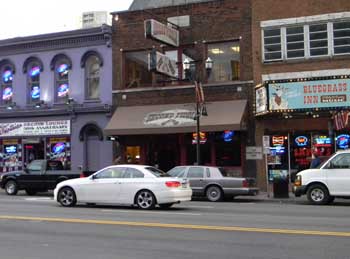 about 20 minutes looking for a free parking space. After setting up my stuff and hanging for a bit with Ronnie and the band, our night of music began. Ronnie played a mix of contemporary country ranging from Travis Tritt to Little Texas, some 80s and 90s country/pop from groups like Exile, a few old school country tunes, R&B from the likes of Delbert McClinton and Van Morrison, and some classic rock from groups like the Eagles, the Allman Brothers, and Steve Miller. His wife also sang harmony and lead vocals and fronted the band on a few songs by artists like Martina McBride and the Dixie Chicks.
I knew a lot of the material and managed to feel my way through the songs I didn't know. We played a couple of long sets with a break in the middle and, although people wandered in and out of the club all night, I don't think the crowd ever got above 15 or 20. Nevertheless, the music was enjoyable and we all had a good time playing. At the end of the night I tore down my gear and waited for Ronnie to count the tips (I think the grand total was something like $28 apiece including the base pay of $20 each). The short pay was all right with me, as I was still trying to gain experience and make connections. Ronnie thanked me and asked me if I wanted to play the following Monday, which of course I did, and told him so.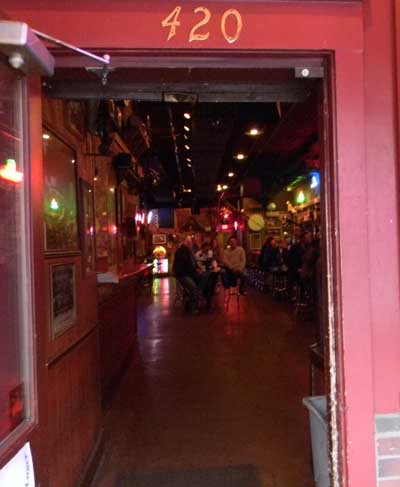 So this became my first regular in town gig. And it was perfect. Ronnie was a real laid-back singer to work for, he always had a decent rhythm section, and his repertoire consisted of a lot of pop, rock, and R&B; styles I was already familiar with. He did play just enough contemporary and classic country for me to explore my new chops in that area as well.
Gigging with Ronnie also created some other opportunities. After a month or so of these gigs I did an out of town weekend with Ronnie and his band in Georgia. It was on that gig where I met a keyboard player Ronnie had hired named Gordon, and it was through Gordon that I landed the house gig at Libby's in Kentucky.
Another connection I made was through one of our regular attendees, a truck driver named 'Bud' who worked for Charlie Daniels and took a liking to my guitar playing. He stopped in for our gig once in a while when he was in town, eventually hooking me up with a friend of his who had an indie band called "The Watercolor Project". I wound up doing some recording sessions with this trippy rock band, a project and genre that allowed me to gain some studio experience in a far more relaxed setting than my virgin studio outing , a debacle that almost sent me packing a couple of months prior.
So I was getting my country/pop thing happening by gigging with Ronnie on Monday nights, and honing my chops on traditional country on the weekends in Kentucky. While it was a lot of activity it still didn't add up to enough to pay the bills, so I was still working the eBay/pawn shop angle pretty hard. One of my eBay sales, that of an old Tube Screamer that I sold for $75, was bought by another Nashville guitarist who suggested meeting in town to buy the pedal rather than shipping it. I e-mailed him about meeting at my Monday night gig, and the following week he arrived to do the transaction. This led to one of the biggest eye openers I had in that first year.
I arrived downtown for my regular Monday night gig with Ronnie and set up my gear. After the first set I was still standing on the stage for a few minutes when a long-haired fellow approached me. "Are you Eric?" he asked. "Yes." I answered "You must be Mark." After exchanging a few brief words I presented him with one slightly beat up Ibanez Tube Screamer and he paid me $75 in cash. He then asked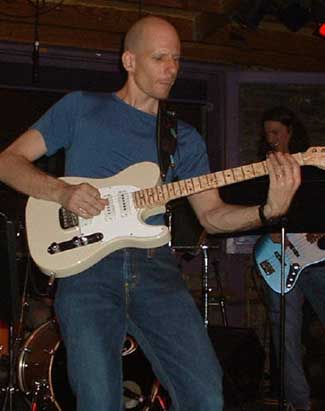 me how long I had been in town, to which I answered "I've been here for about six months." He reacted with surprise, acknowledging my accomplishments with "Wow, that's great. Six months and you're already gigging." He then added "I'm still working towards playing out, I'm not quite there yet, but I'm getting close. I've been in a couple of different bands so far, but nothing that's made it out of the practice hall yet." "How long have you been here?" I asked innocently. "Five years." He answered and a deafening silence engulfed the moment.
The stark reality that there are musicians trying to find their way in Nashville that are here for years had yet to stare me in the face with such clarity. It was almost as if an atomic bomb had been dropped right outside of the club. "I'm sorry to hear that, best of luck to you with that." I mean, what else can you really say? A minute or so later we said goodbye, and the long-haired struggling stranger sauntered out the door.
For me, that moment clarified a lot of things. It made me realize that there are far more musicians here than there are opportunities for them. It reaffirmed some of the advice I had received from my mentor, D, one piece being "Whatever you do, don't join a band, band's starve." It made me further appreciate the fact that I was lucky enough to have a mentor here in the first place. It allowed me to view all of my gigs and performance opportunities with much more optimism. And it made me realize, in a town where so many struggle, just how fortunate I had been so far.
As my first summer in Nashville was drawing to a close, I was basically jobless, running out of savings, and fast realizing that I had a long way to go to become proficient at playing country music, a style that was quite new to me. For many newcomers to Nashville, sitting in, gigging, and networking around town can make you feel like you are under a microscope, as was also the case for me. I had converted the basement of my rented home in Gallatin into a studio where my daily ritual consisted of learning country standards and practicing my chicken pickin' technique (I was also conducting an eBay campaign and gradually selling off everything I could stand parting with). But all this practicing alone wasn't enough. I needed some practical live experience but, after my recent debacle on Broadway, needed to accomplish this outside of the microscope for a bit. So when I got a phone call from Gordon, a keyboard player I had recently met, about playing in a house band for a country music talent show in Kentucky, I jumped at the offer.
Libby Knight, owner of Libby's Steakhouse in Daysville, Kentucky, had been a longtime supporter of country music, hosting his talent show "Live at Libby's" since 1984. During the show's heyday there was a live radio broadcast, and it was from this venue that many singers like Garth Brooks, Tracy Lawrence, JoDee Messina, Trisha Yearwood, and others once performed in obscurity, some, arguably getting their start there (it is rumored that at one time record deals for some artists began to take shape in the front lobby). The boom days of this once would-be Opry style country music house now long gone, this was the perfect low-pressure opportunity I needed to hone my country chops.
During my phone call with Gordon, he explained to me that the Friday night show was an audition night for singers. Libby would pick the best vocalists to come back and rehearse with the band Saturday afternoon from 1 to 4, after which the band would be provided a dinner followed by the Saturday night concert from 8 to 11. For our services, each band member would receive $100 total for both nights. While this was not the greatest pay, I didn't mind as I greatly needed the experience. Not to mention that a hundred dollars was a lot more than I was earning on most weekends at this point in time, which was typically nothing. Of course my first weekend at Libby's was an audition for me as well. I had already done a gig with Gordon and he liked my playing, but the band leader had yet to hear my playing and I would have to win him over to be offered a regular spot.
I left Gallatin late in the afternoon on a Friday to make the hour and a half drive north into Kentucky. The scenic drive was mesmerizing at times as I found my way through a maze of picturesque back roads laced with cornfields, cattle grazing across rolling pastures, and the occasional small town.  I arrived to the rural community of Daysville and pulled into Libby's, a long barnlike structure that sat adjacent to a large field and reeked of another era. After loading in my gear and meeting Libby and the other musicians, I went over to a long row of tables at which several of the players had gathered, organizing their charts. "We've got charts for pretty much everything we'll be playing." said Gordon "Here's a set list that shows the order of the singers, and the songs they'll be doing." I grabbed my charts, put them in order, and got ready to play.
Libby was a colorful character, upbeat and generally excited about these events, and this enthusiasm was evident a little while later when the show began with his announcements. Well dressed in a white shirt, Wrangler jeans, cowboy boots, and 10 gallon hat, he spoke from side stage with a deep resonant voice infested with a thick southern drawl and introduced the show as if it were the Grand Ole' Opry. He disappeared behind the curtain while the audience was still applauding and we were off and running. After the first two songs, which featured the house band, he returned to announce the first vocalist to audition. We began playing the intro to 'Walkin' After Midnight' as he walked off and an attractive young lady dressed for success walked onto the stage and saddled up to the mic. The band, which was comprised of some great players, was instantly cookin', the young lady sang well, and the song was well received. Libby returned to the stage to rally some more support from the crowd and announced the next singer.
The material we played throughout the night was a mix of classic and new country, and the Nashville style number charts were of immense help. Some of these songs I knew, many I had heard but never played, and some were completely foreign to my ears. For the songs that required a lead guitar intro that I didn't know, the bass player helped me out by humming the phrase right before the count off. All in all, I played well, enjoyed playing with the other musicians and singers (maybe not all of the singers), and everyone seemed to like my playing. We played two long sets with this format which had a surprisingly smooth flow, largely due to Libby and the band leader's organization, and the night came to an end.
I returned the next afternoon for the rehearsal and ran through tunes with the best singers chosen from the night before. Each singer was allotted two songs for Saturday night's show, so we spent much of this time learning songs we hadn't played the night before. The rehearsal was kind of long, but the atmosphere was relaxed. We broke for dinner, a feast which consisted of your choice of one of Libby's famous steaks or fried catfish with sides of baked potato, hush puppies, coleslaw, and sweet tea – a Southern delight. Making the mistake of over-eating, or perhaps just underestimating the fat content of this meal, I felt a bit "heavy" after dinner so I attempted to walk some of it off in the parking lot before the show.
A little while later I was back at the "chart table" with the other players organizing my stack of charts for the night. At eight o'clock sharp we were off and running after another excited send-off from Libby. Similarly to the night before, everything went real smooth. Vocalist after vocalist took the stage – young ladies sporting big hairdo's and dressed in evening gowns, men clad in jeans, plaid shirts and cowboy hats, a couple of teenage prodigy's – even an elderly gentleman in his 60's sang country classics giving it their all. The crowd was attentive and even sang and clapped along at times. Adding an element of showbiz to the night, Libby would walk out from behind the curtain every once in a while and raise his arms in the air to incite additional applause after modulations and solos.
Just as we did the night before, the band played great, and most of the singers were excellent. The afternoon rehearsal allowed the band and singers to become comfortable with the material and really dig in during the show. Nothing like the helter-skelter nature of the in-town Nashville club scene, this gig was relaxed and outside of the microscope, but still had a professional edge.
I left the gig in good spirits and made the long drive home. It would be a little while before I was asked to return as I was subbing and the other lead player had not yet made a permanent exit, but a few weeks later I was asked to become a permanent member of the house band. I had passed the audition and landed what turned out to be the perfect gig for me to hone my country chops. Live at Libby's – country music basic training!
This is another question I was asked in an interview by Wendy Willis for her upcoming book 'Making It In Nashville'. The question made me think of a few different scenarios regarding how auditions are conducted in the Nashville music industry. The following exemplifies two of the most common types of auditions.
The Gretchen Wilson Cattle Call
By 2004 I had already been in Nashville for a couple of years when Gretchen Wilson's 'Redneck Woman' hit the airwaves, launching her into immediate super stardom. A few weeks after this song debuted on the radio, I heard through the grapevine that she was holding auditions to find an acoustic guitar player for her touring band. By the time I heard about these auditions, the rest of this band had already been assembled. By making a few phone calls I was able to track down a contact within her camp. During a very brief phone conversation he gave me the names of two songs to learn, 'Redneck Woman' and 'When I Think about Cheatin', and a timeslot to audition at the Sound Check rehearsal facility. I learned the songs and showed up to Sound Check about a half hour early on the day of my audition. As the auditions were running late, I picked a spot in the hallway outside of the rehearsal room amidst a sea of other hungry guitarists, all with their acoustics in hand, many wearing what was obviously their best stage clothes.
The high point of this day for me was not actually my audition, but listening to the band Journey rehearsing in one of the other rooms down the hall. They sounded magnificent and were truly inspiring! I even got to meet Neal Schon when they took a break. Standing outside their practice room door and listening to them play helped me to take my mind off of the nerve-racking moment that still awaited me. But this brief detour into my rock 'n roll dreams of yesteryear ended when my name was finally called. I entered the cavernous room, which I believe was the biggest room at the facility, and the intimidating scene quickly came into focus. A large stage filled with gear and musicians and fronted by a substantial PA system was staring me in the face from the opposite end of the room. I was greeted near the doorway by Gretchen's manager who chatted with me briefly, asking a few questions about my experience. I headed to the stage where the musicians that comprised her nearly complete touring band, none of whom I knew, patiently waited. After plugging in and getting a quick monitor level, Gretchen entered the room and sat on a stool about 30 feet in front of the stage.
So there I was, standing on the stage surrounded by strangers, and performing for an audience of country music's newest superstar and her management. The band counted off 'Redneck Woman' and I began strummin' away. While sitting on the stool, she belted out the song as if she were an arena filled to capacity, watching my every move. The song ended to a stone cold silence which was quickly interrupted by somebody yelling out 'When I Think about Cheatin', which was immediately counted off. That song ended, seemingly as soon as it started, and my audition was over. A couple of the players said "Good job" and her manager said "Thanks , we'll let you know something by the end of the week."
Fearing that I didn't make the grade, I left the rehearsal hall and drove home not having a clue about how I was perceived. They did call me a few days later to notify me that I was not chosen. I remember hearing later that the player they chose for the spot had already been chosen before that day of auditions. Perhaps they were trying to see if there were any other options, looking for a backup, or appeasing the management. All in all, it was a fairly miserable and stressful experience, but it was educational. This was my first cattle call style audition, and while it did not land me the gig, it did help prepare me for future auditions. Since that day, I've done several other cattle call style auditions, all of which were somewhat similar. Until you ever get to do one of these, the term "cattle call" will only have a vague meaning to you. But after you stand in the middle of a long line of auditioning players, get quickly corralled in it out of the feeding lot, tagged, tested, and sent on your way, you will immediately understand.
Rhett Akins Showcase for BNA Nashville
It was late summer, 2005, and right in the middle of touring season, when Rhett Akins, one of the artists I was working for at the time, told me we needed to prepare for a record label showcase. His management had helped him gain the attention of Joe Galante and some other executives from the record label, BNA. We had about two weeks to prepare for it, so a couple of rehearsals were scheduled for us to build and hone a short set of his strongest material that would hopefully land him a new deal.
His management made arrangements for the showcase to take place in a small comfortable nightclub located on Third Avenue in downtown Nashville. We arrived to the venue early in the afternoon on the day of the showcase, loaded in our stage gear and monitor rig, and began setting up. We did a sound check and rehearsed a few of the tunes. It was tough to get a good sound in this particular room as the acoustics were less than desirable, but after several adjustments, we arrived at an acceptable place. After sound check we chilled for a bit, ate some dinner, and waited for downbeat.
The showcase was scheduled for seven o'clock, and around six o'clock some patrons began to arrive. It had been encouraged for us to all invite and bring as many friends and family as possible to help create a warm and inviting atmosphere for the big wigs. The turnout was pretty good, and the club was near full just a few minutes before showtime when Galante and his entourage arrived to be seated at a reserved table, one that had been strategically chosen for sight and sound.
Just a couple minutes before we hit the stage we all gathered in a back room to have a quick pep rally, kind of like a football team going into one last huddle before game time. If Rhett was nervous, he wasn't showing it, he was cool as a cucumber. I was probably more nervous than he was. Dressed in our best, we hit the stage hard and fast, and the first two songs, played back-to-back, were over before I knew it. The crowd roared with approval, and Rhett began to turn on the charm, addressing the room as a whole and putting everyone at ease. He had been working out hard all year and was in great shape, not only giving off the vibe of a superstar, but also showing off a youthful physique, similar to that of his college quarterback days of yesteryear. We stomped through the rest of our 50 minute set with Rhett talking occasionally between songs, even getting some laughs out of the table of executives. The set ended and we began to break down our gear while Rhett courted the table of potential business partners.
As far as these kinds of showcases go, this one went off without a hitch. Rhett performed brilliantly, the band played well, the crowd loved it, and, more importantly, the folks from BNA loved it. After a couple more weeks of negotiations, Rhett was signed to BNA Nashville. So I guess we passed the audition!
What have been your audition experiences been like?
Saturday night was the first outing for my new band 'Endless Boogie', and fun was had by all who ventured out to party with us at the Fillin'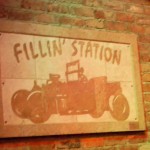 Station in Kingston Springs, TN. The club, owned by Patrick Weickenand, was the perfect setting for my long awaited rock n' blues experiment. Small, intimate, and loaded with character, the club is housed in an old garage right out of yesteryear, hence the name, and a favorite watering hole for the locals on the west side of town.
Our trio started out with a couple of instrumentals to get things going before switching to some vocal-based tunes. The place wasn't  too busy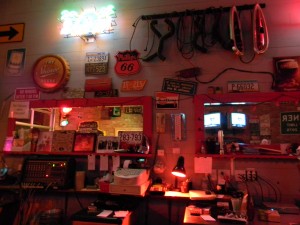 during our first set, so Patrick, who was working the bar, had time to sit in on harp for a few tunes in between slinging beers. Patrick is one of the nicest guys you'll ever meet, and undoubtedly contributes greatly to the warmth and charm of this unique place. Anyone who has ever played the Fillin' Station knows that Patrick is a great harp player, and he's frequently requested to 'sit-in' from behind the bar with many a band. So several times throughout this night he joined in for some fun jams (check out the video below).
Fran Breen (drums) and Mike Chapman (bass), aside from being good friends of mine, are seasoned pros and I was thrilled to have them on the gig. Talk about groove, boy these guys can lay it down! I had an absolute blast playing with them, and we plan to do this on a regular basis, schedules permitting. As of right now our next outing will be Friday, December 3rd back at the Fillin' Station.
By the third set, the place had erupted into a full-blown dance party which held through to the end. People were even dancing on Whipping Post (if you've ever tried to dance to this song you know why this is significant). All in all it was a triumphant beginning to this new project, a project born out of my need for "a little music for the soul".
As a professional freelance musician working and living in Nashville, much of the work I perform is for other people's entities, as is true for many hired guns. I'm not complaining mind you, this is how the bills get paid. My regular gig as tour manager/guitarist for Rhett Akins occupies many weekends throughout the year, and sporadic nightclub gigs and songwriter recording projects help to fill in the gaps. As rewarding as some of this work can be, it all comes under the heading of 'gun for hire' which means I must meet somebody else's expectations, as they are footing the bill, often adjusting my musical tastes and desires to fit the gig.
So whenever it's feasible, I take on gigs purely for my own musical expression, a little 'music for the soul' as I call it. Now that fall is here and the annual touring/festival season is drawing to a close, I'll have a little more time for these kinds of endeavors. With that, I'm excited to tell you about my new project – Eric Normand and Endless Boogie. The concept of this band is simple. I will play only music that I enjoy playing, with people whom I enjoy playing, in venues that are enjoyable to play.
Growing up in the 70s and 80s I always looked back a few years to find my musical heroes; Jimi Hendrix, the Allman Brothers, ZZ Top, John Lee Hooker, and to this day this is still some of the most expressive music I ever play. So in my new Nashville based 'fun band' that's just what were going to do. The song list will contain Hendrix classics like Little Wing, Voodoo Child, and All along the Watchtower, Allman Brothers classics like You Don't Love Me, Ain't Wastin' Time No More, Melissa, and Whipping Post, classic blues songs like Freddie King's Going Down, John Lee Hooker's Hug You, Kiss You, Squeeze You, and even a few of my favorite instrumentals by Miles Davis and The Meters. Needless to say, we will put our own spin on these.
As I live in Nashville, and this kind of song list will not command top pay, getting great players to commit to a gig like this isn't easy. All the best players are usually pretty busy taking the most lucrative gigs offered, and even if you get them to commit, something always seems to come up. So you either have to have two or three players deep on each instrument that know your material, or you have to wait till the last
minute to book the players. I got real lucky for this first outing of Endless Boogie as a couple of my good friends, Fran Breen and Mike Chapman, just happened to be available.
Fran Breen is a world-class drummer from Ireland that has worked on and off in the Nashville music industry for over 20 years. He's played with a few major artists like Lucinda Williams, Nancy Griffith, Shelby Lynn, and is also an accomplished session drummer having played on countless projects over the years including the soundtrack for the movie "The Commitments" . He's a top notch groove machine, especially when it comes to blues and funk, and I'm thrilled to have him on the gig. (Plus he is really funny and has the coolest Irish accent.)
Mike Chapman is one of the best bassists Nashville has to offer, and another ace in the hole who happens to be a good friend of mine. Mike's first big gig was with Hank Williams Jr. in the early 80s, since which time he has played on innumerable A-list recording sessions ranging from literally all of Garth Brooks recordings to Leanne Rimes, Brooks & Dunn, Huey Lewis and countless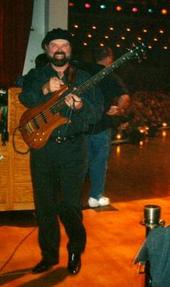 others. Mike has played bass on over 30 number 1 singles and the albums that he has played on have sold over 150 million copies. If it sounds like I'm bragging a little bit about these guys, it's because I am. I mean how often does one get to say "My drummer played on the Commitments soundtrack"  or "My bass player has been heard on 150 million albums"?
The last ingredient for my first outing with 'Endless Boogie' is a fun venue in which to play. The Fillin' Station, located on Main Street in Kingston Springs, is the perfect venue for an intimate night of exploratory rockin' blues and funk jams. While playing on big tours in front of thousands of people can be exciting, sometimes the finer points of the music get lost in the 'bigness' of those events. To this day, my favorite musical settings are small to midsize nightclubs, for it is in these small-town bars and juke joints of the world where the magic really happens. The Fillin' Station is owned by Patrick Weickenand, former member of Eric Burdon's band 'War' and one of the nicest guys you'll ever meet who also blows a mean harp from behind the bar from time to time. The club is small but comfortable, and has an adjoining outdoor patio which fills up with locals on many a night. The club is just 25 minutes from downtown Nashville (exit 188 off of I40 west) and features live music four to five nights a week year-round, never with a cover.
I've been wanting to put together a group like this for a few years now, toying with the idea periodically, but never quite getting organized enough to make it happen. But I've realized that this is just what you have to do in Nashville, you have to find a way to not lose sight of your own vision even while you spend most of your time working for other people. My musical dreams at this point of my life are quite simple, I want to play the music that I love to play, the way I want to play it, hopefully taking a few others along for the ride.
So that's it, all the essential ingredients are in line for an expressive night of music – songs I enjoy playing, people I enjoy playing with, and a place I enjoy playing at. Our show will be this coming Saturday, October 16 from 7:00 to 11:00. I'm really pumped for this show, so if you live in the Nashville area come on down for a night of Endless Boogie!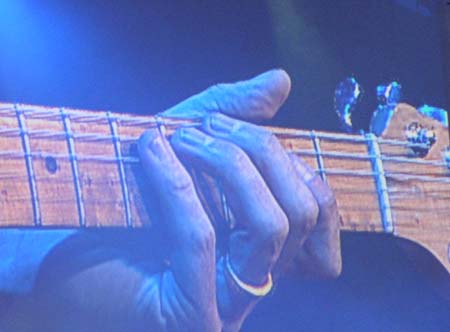 Saturday Morning at the Shack Up Inn
We woke up kind of late on Saturday morning, a light rain falling on this grey but warm September day. Although we had initially planned to check out and head to Memphis around noon, we felt like our journey here wasn't complete and that we would be doing ourselves an injustice by not staying for one more day. Memphis would just have to wait for another time. So after a little breakfast on the screened in back porch, I walked over to the lobby to see if we could stay for one more night. I explained to Marc, the woman working at the front desk, that we were having such a great time in Clarksdale and wanted to stay for one more night. "All our shacks are booked for tonight, but give me a moment." With that, she disappeared into a back room, returning a moment later with some good news.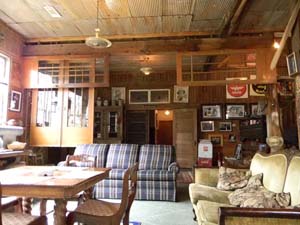 "Guy said that we can rent you a room at 'Bill's house' if that can work for you." "Sure, that sounds good." A minute later, I was introduced to Guy who walked me over to the house to show me the set up.
As it turned out, 'Bill's House' is a magnificent 3000 square foot, three bedroom 'cabin style' home housed in an old tin covered barnlike structure just beyond the shacks. The decor in this giant space was as rustic as our cabin, and our bedroom even had its own separate bathroom wing. I told Guy that this would work just fine, and on our walk back over to the lobby asked him if they ever have any performances in the music hall. "Yeah, we have live music sometimes. It's actually a great sounding room.  I'm working towards being able to make live recordings in there." He went on to tell me how when they were first building the music room, he had a friend from a university come in and conduct 'sound tests' to acoustically maximize the space. If all goes as planned the Shack Up Inn will have the ability to make live multitrack recordings sometime in the spring of 2011. I said goodbye to Guy and headed back to our shack to begin moving our belongings over to 'Bill's House'.
A Drive around Town
After lunch we decided to take another drive around to further explore the town. As we had already seen much of downtown, we set out without a plan to get a feel for some parts of the town we had not yet seen. The city of Clarksdale is an interesting community. Our casual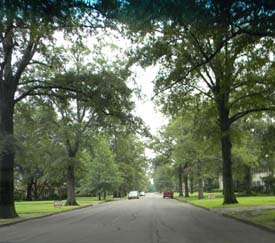 drive encountered sporadic light traffic, and took us in and out of many different neighborhoods. There were 'nice' sections, and not so nice sections, but even driving through the not so nice sections, we never once felt uncomfortable. We noticed some areas had relatively well maintained homes right next to rundown 'shack like' buildings, while other areas looked completely destitute. Economically speaking, Mississippi is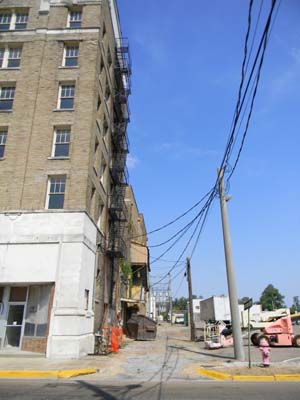 the poorest state in America, and this struggle was evident. How could a place so rich in culture and history, it's musical heritage literally the foundation of all modern music, become so neglected and forgotten?
A little while later we were driving by Red's on the way back to the Inn when I noticed a car parked out front. The front door was open, so I stopped in for a quick hello. During our brief chat Red asked me where I was from. "We're from Nashville and came here to celebrate Kelly's birthday." "Nashville, now that's a dangerous place!" he proclaimed, and I nodded my head in agreement. He went on to tell about some of the town's biggest talents growing up within just a few miles of this spot. "John Lee Hooker grew up just a couple miles from here. Muddy Waters grew up about 5 miles from here. Ike Turner used to live right across that bridge." He went on to tell about how in the old days, when a lot of these guys started becoming successful, that's when their problems really began. "Once they started making money, they bought new houses and cars, only to lose it all once they split up with their old ladies. Sometimes, after they'd become successful, they couldn't afford to have careers, so they'd just quit for a while." So goes the life of a bluesman.
Saturday Dusk at the Inn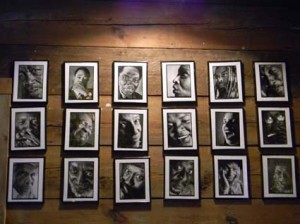 We returned to our 'new shack' and ate dinner, after which I decided to take one more walk around for some photos. The music room in the 'Cotton Gin' contains some beautiful spectacles, and I just stood there for a moment upon entering, soaking in its woody vibe. Memorabilia and signs from a forgotten era in the South's not so distant past were constantly evident, and at times I couldn't tell whether I was standing in a music hall or some sort of cultural exposé. The fact that blues recordings can be heard literally all over this plantation only add to the mystique. A sign bearing the words 'Dentons Ice Cream – it's real food', a portrait of Elvis, a pre-1950s looking Schlitz beer sign, an old Coke machine – not a hint of anything modern except for the two PA speakers on the stage. I was beginning to feel like this entire Clarksdale experience was the junior high school field trip that I never had, but should have had. This kind of culture and history just can't be learned in a textbook.
Red's blues party with T-Model Ford and friends
It was about 7:30 when we pulled up to Red's and, unlike the night before, the place already had a bit of a crowd. We walked in toting my guitar and amp, as Red requested, set them down near the music area and found a seat. T-Model was already there, sitting on a chair next to the drums and lightly playing some bluesy guitar riffs. His 12-year-old grandson 'Stud' is T-models regular drummer, and was already seated behind the drums. I went to the bar to say hi to Red, bought a couple of beers and returned to the table. A few minutes later T-Models light strumming morphed into the beginning of his set, almost unnoticed. The crowd grew quiet as soon as he began singing in his deep resonant voice, his chilling cries slicing through the night air like a razor. We sat mesmerized, and the crowd showed appreciation after each song. About a half hour into his set he asked "Where's that other gee-tar man?" I raised my hand, and he waved me to the stage with an inviting gesture.
As soon as I set up my amp and plugged in my guitar we were off and running. He never announced any song in advance, he would just start playing a rhythm, a couple of bars later Stud would follow suit, and I would jump in as soon as I could figure out what they were doing. Before I knew it, the place was a rockin' and I was holding on for dear life. Every once in a while, in between songs, T-Model would grab a glass of whiskey from the top of his amp, hold it up, and proclaim with a passionate howl "Jack Daniels time!" evoking an excited response from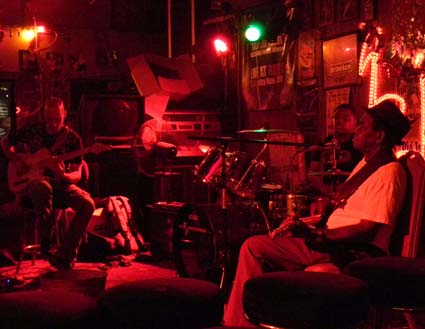 the crowd every time. Beginning to feel a little left out, I signaled Kelly to bring me a glass of whiskey, which, after taking a healthy swig from, I set on a stool beside me. Gradually, the place filled up and we just kept on playing. I recognized some of the faces from the night before, but many newcomers were there as well. When T-Model asked the crowd were they were all from, some of the answers were different than the night before, but still just as diverse – Wisconsin, Spain, Louisiana, Germany, among other distant places.
Following T-Model in his unique brand of Delta blues was as much an education as anything else. Unique to his style is a peculiar notion of changing chords on random beats, something that Stud is exceptional at following, and I was learning. This required intense concentration on my part, and I rarely took my eyes off of T. Apparently, it was all working quite well, as the audience constantly showed their approval. Several times throughout the night the dance floor again erupted with the kind of sexy and provocative moves that could only happen in a juke joint in the deep South. At some point in the middle of all this, Dingo asked if 'Gypsy', the blues guitarist from Japan, could use my amp for a couple of songs. He played a couple, and then T-Model motioned to me back to the stage. A local harp player then sat in for a few, the crowd still grooving hard. Around 11:30 things began to wind down, T-Model had been playing for nearly 3 1/2 hours straight and it seemed like he had said everything that needed to be said.
As I put my gear away, I couldn't help but thinking how lucky I was to be invited to play a whole night with a living blues legend in a real juke joint. We had a few photos taken with Red and the gang, and thanked everybody for making our first trip to Clarksdale such a wonderful experience. I commented to Dingo about how great it was that they let other players sit in. "We let everybody play. If they're good, then they can keep on playing. If they're not too good, then we just kinda eeeeease em' on out after a couple of songs. But everybody gets to play at Red's." I thanked T-Model for letting me play, and he shook my hand and said "Thank You!" Red and his friends had welcomed us into their world, and their openness warmed our souls. It was a truly magical night!
Nightcap at the Shack
Back at the Shack Up Inn a few minutes later, we grabbed a couple of beers and went out to sit on the giant porch swing behind the lobby to unwind. We chatted with several other visitors, and it seemed everybody we talked to had been at Red's at some point over the weekend. College kids from LSU, a couple vacationing from San Francisco, even Marc, the front desk clerk had gathered with us to enjoy some late-night cheer. It wasn't long before some acoustic guitars came out, and we all sat around for a little while longer strumming and singing into the night. I couldn't believe that we were actually going to have to leave this place!