Farm Tour
By Eric Normand

Sunny days, dusty hayfields, huge crowds, great music, great people, light beer, diesel fumes, gator balls – these were the sights, sounds and aromas of the 2014 Luke Bryan Farm Tour. I can't believe it's over, it seems like I just hopped on the bus yesterday. The 8 shows spanning two weeks whirled across the Deep South with the speed of a jet plane and the intensity of a freight train.
My role in this mega-tour as lead guitarist and bandleader for Nashville's most successful songwriting team of all time, The Peach Pickers, began with our pre-tour warm-up show at a sold out Third and Linsley in downtown Nashville on September 26. The show, which benefited The Wounded Warrior Project was a huge success, and a couple of days after this electric night we hopped aboard a bus bound for Knoxville, TN.
Even though it was October 1, it still felt like summer when I hopped off the bus around 8 AM, the temperature already approaching 80°. This day began for me like every day that would follow on this tour, a trip to catering! After some eggs, home fries and coffee I got ready for my daily trip to the gym with members of Luke's band and one of the other opening bands, Cole Swindell. While I was doing my thing at the gym, other members of our entourage walked the hayfields, while others took advantage of another luxury provided to the touring musician, sleeping late.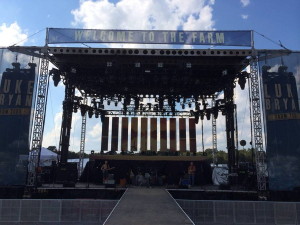 By mid-afternoon it was time for our load-in and sound check. The level of production on this tour was top notch, sporting state-of-the-art lighting, some really cool video walls, and a PA system that would rival that of any mega-rock tour. They even had a remote-controlled flying camera that captured video footage of the audience and performances, otherwise referred to as "the drone".
Luke's crew, along with the other crews (which included the world-class sound company, Claire Brothers) not only knew how to make us sound and look great, they were a pleasure to work with. After sound check it was time for a little rest, a quick shower and some dinner before taking the stage at 6:40 PM. Our 40 minute set began just a few minutes after the tour's first opener, Louisiana native and singer-songwriter, Chancie Neal. The sun was just beginning to set as the DJ introduced our show with something like:
"These three guys are the most successful songwriting team in the history of Nashville. They have 60 number one hits…230 million downloads… please welcome to the stage – Rhett Akins, Ben Hayslip, Dallas Davidson…The Peach Pickers!"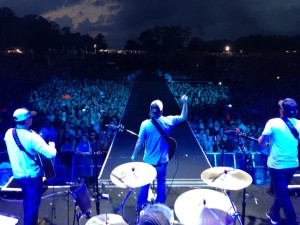 The crowd went wild and we began our onslaught of 13 number one songs with "The Only Way I Know", a Peach Pickers cut by Jason Aldean. In rapid-fire succession we played down our list, each song greeted with, and followed by the sound of 15,000 people going absolutely berserk! After a few rockers we slowed things down with the heartfelt ballad "I Don't Dance". A few of the songs towards the end of our set really seemed to hit home with themes that everybody in this crowd could relate to – "Small Town Throwdown", "Parking Lot Party", "All about Tonight", and the epic hip-shaker, "Boys Round Here". The set went by like a blur, seeming to end as quickly as it began, and the three stars of our show left the stage to a deafening applause. The crew and stagehands helped us tear down and pack up our gear with lightning speed, and by quarter of eight it was all loaded on the bus and we were done working for the night. Only six more hours until bedtime!
Our show was followed by the fast rising, Cole Swindell, another Georgia native currently enjoying his second number one song, and his four-piece band kept the party going full force. By 9 PM it was time for the Tour-D-Force of this event, Luke and gang to take the stage, his show beginning with the modern day phenomenon of thousands of cell phones being raised into the air to capture an endless barrage of digital photos.
Luke's show is an exciting ball of kinetic energy, his top notch band providing an AC/DC like "foot stompability" that kept the audience pulsating for his 90 minute set. The phrase "sing along" doesn't even begin to paint the sonic picture of the sound of 15,000 people singing at the top of their lungs at a Luke Bryan concert. After Luke's show ended, the crowd quickly dispersed the field, only to be trapped in a massive traffic jam as thousands of cars began their slow motion journeys down the one lane road that led out of this little piece of rural America.
This first day and night of the tour was a huge success, and with each following show, the tour seemed to gain momentum. The only snag of this first week was some torrential rain during Friday afternoon in Tallahassee Florida, and despite what seemed like an impending disaster, the rain subsided right before showtime and the night went off without a hitch. The following night we ended the first leg of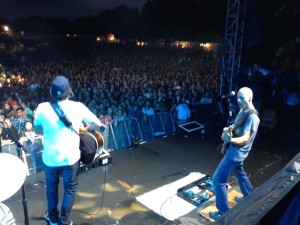 this tour to a crowd of 17,000 in Gainesville Florida, and this was, in my opinion, The Peach Pickers strongest performance yet.
A few days off and we were back at it for round two. The week started out smoothly, but late Thursday afternoon in Columbia, South Carolina it began to sprinkle, with the sounds of thunder and the view of lightning in the distance. Oh no, it was happening again! We pushed back the start of the performances by 20 minutes, and midway through Chancie's set a downpour began. With a handheld wireless microphone, this brave girl stood out in the pouring rain on the middle of the runway and kept everybody's spirits high. By the end of her show she was soaked head to toe, as was her acoustic guitar player and percussionist, Austin Marshall (who also just happens to be the Peach Pickers tour manager). The rain stopped as she exited the stage, which was now soaked, and a dozen stagehands began to dry the stage using push brooms, towels, and high-powered electric fans. We began our show with a strange hue lurking behind us in the form of some ominous storm clouds and lightning in the distance.
By the second to last show in Columbia, South Carolina our band was really beginning to hit its stride, and by the final night of the tour, Saturday in Macon Georgia, we were on fire. On the bus shortly before our set, we all talked about our agenda for the night, which basically consisted of kicking some serious ass. And that's exactly what we did! At one point of the show, me and Dallas even did a couple of moves that might have almost seemed choreographed. The show ended with our usual closer "Boys Round Here" during which Dallas, Rhett, and Ben walked the runway with their wireless microphones, slapping hands with the audience in a climactic sing along.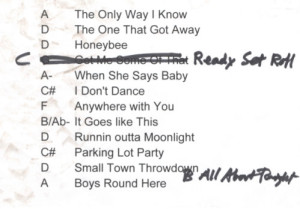 There's a really unique aspect to a Peach Pickers show. We play songs that are the most successful chart-toppers of modern-day country radio, songs written by these three guys, yet made famous by others. So the crowd knows our tunes, yet most have never heard them performed by the original writers. A Peach Pickers performance is very organic, powerful, sometimes rough around the edges, and performed by what many in Nashville would consider a "stripped down band". Most of the radio versions of our songs feature multi-tracked guitars, layers of fiddle, steel, keyboards, background vocals, etc, and most touring bands that play behind country artists consist of this instrumentation. Our group is basically like a traditional rock band – drums, bass, and two electric guitars. Nothing against modern day radio production, but I find that this stripped down approach allows us to rock a little harder while allowing the essence of the song to shine through without obstruction.
While Rhett has had success and experience on the big stage, Ben and Dallas are newer to this forum, yet they rise to the occasion every time, perhaps with an excitement and enthusiasm that would be impossible to have in any other scenario. Together, the three of them make a formidable team. It probably doesn't hurt that the rest of our band is made up of some extremely talented folks – Nick Forchione on drums and former G-men, Mike Chapman on bass and Chris Leuzinger on electric guitar. I'm extremely proud of this band, were all friends, we love playing music together, and we make it happen every time.
The farm tour might be over, but the memories are forever. Luke's entire crew, band, and management treated us with great care and respect, which speaks volumes of the man himself. We all made some new friends and strengthened the bonds between old ones, and I sure hope we get to do it again next year! In the meantime, The Peach Pickers might just have a few more surprises for you, stay tuned!