Rhett Akins
By Eric Normand
What an amazing run of shows we had with Rhett Akins and Dallas Davidson on the forth installment of the Luke Bryan Farm Tour! The sold out tour embarked on eight shows across the Deep South, with Rhett and Dallas performing acoustically on the first four, and me and the boys joining in for full band performances on the second leg. The weather for these events was picture perfect, the crowds were huge, and the shows an amazing encapsulation of kinetic energy!
Me and the rest of the band (Nick Forchione on drums and Tom Good on bass) converged at a bus yard in Nashville on Tuesday night and hopped on Luke's band bus. You never know what to expect in these situations, (as the two bands began this run as total strangers) and we were pleased to learn that Luke's band and crew are some of the nicest people you could ever hope to work with. Gracious hosts, they made us feel instantly at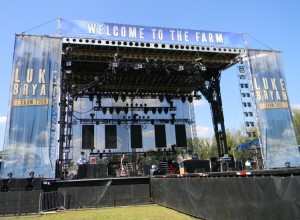 home.
After a good night of sleep on a smooth riding Prevost I awoke in Villa Rica, Georgia. This first show was on a football field, and by the time I wandered over to catering around 10 AM the mobile stage was already up, the field buzzing with activity. Luke went all out on the production for this tour, and there were no less than eight buses accompanying the five semi's full of staging, audio, lighting, video, and pyro it took to put on these mega-shows.
I was thrilled to find out that there were some other health-conscious folks in Luke's entourage, and me and Nick joined several of Luke's band-mates on a trip to the fitness facilities at the University of West Georgia. By 4 PM the stage crew was ready for our sound check, quickly dialing in our in-ear monitor mixes and a bigger than life sound through the mains of the million-dollar Claire Brothers sound system. As a guitar player, I've always struggled with in-ear mixes, lack of warmth and ambience being my main gripes, but on this lucky day I learned a new trick. Upon the suggestion of the Claire Brothers monitor engineer, we put a little reverb on my guitar in my ear mix, and this created some extra depth.
Later that night and after the first two openers, Chancie Neal, and Cole Swindell, we took the stage for the first full-band show with Rhett and Dallas. As members of the red-hot songwriting team known as "The Peach Pickers", Rhett and Dallas have 13 number one songs and countless top 20 hits between them, including a few of Luke's recent hits "Rain Is a Good Thing", "Country Girl Shake It for Me", and "I Don't Want This Night to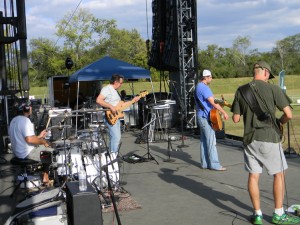 End". This fact makes it pretty easy to create a blockbuster 45 minute set which included Blake Shelton's "All about Tonight" and "Honeybee", Rodney Atkins' "Farmer's Daughter" and "Take a Back Road",  and the Trace Adkins chart topper "Honky Tonk Badonkadonk", among others. At times the crowd was singing along at a volume that was as loud, if not louder than the band! The action-packed set went by at warp speed, and it seemed like no sooner than we had started we were walking off the stage.
The stagehands helped us get our gear off the stage and by 9 PM our workday was done. A short workday is characteristic for an opening act on a major tour – you're the last to sound check and the first to play. Now it was Miller time, or in this case "Coors time", or for a few of us "Crown Royal time"! After a quick cocktail and a little chill time on the bus we went out to check out Luke's show. The level of musicianship in Luke's band is nothing short of exceptional, and their 90 minute set was a rocking good time with some stunning visual aspects as this night was a dress rehearsal for the following show which was being taped for a television special.
The following day I awoke and looked out the bus window to the view of an open, grassy field in Athens Georgia – this concert was actually taking place on a real farm! After a little morning chow I decided to take a jog down some of the surrounding roads of this picturesque farming community, Rhett's song, "Take a Back Road" having some real relevance on this warm autumn day. The day evolved similarly to the previous and the ultra-professional crew did an outstanding job erecting this mega-production in less than ideal circumstances. I later learned that the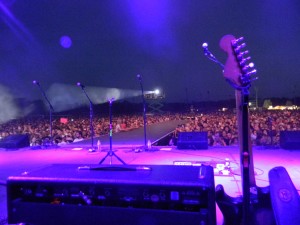 stagehands on this particular tour traveled from show to show (unlike many touring situations where stagehands are local to each venue) and this creates a continuity that helps the production run smoothly. The performances on this night went off without a hitch, with all of the bands delivering outstanding performances. Luke's show was filled with special visual effects for the filming of the television production – including a laser show, pyro, and a massive finale of fireworks to end the night.
The next day would find us in Tallahassee, Florida and I joined up with some of the guys to go work out at the fitness facilities of Florida State University. After a great workout at a great facility we were ready to get back for some lunch, but not before winding up in a "runner altercation". The runner informed us that he needed to stop at Lowe's to get some stage pins for the production crew. Of course they didn't have what he was looking for and sent us to another store that didn't have it either. An hour and a half later we caught a lucky break at a John Deere tractor store and were finally heading back to the venue with the necessary part, and some growling stomachs. Another sold out show, another night of great performances and we were off to the tour's grand finale in Macon, Georgia.
As Luke's buses were returning to Nashville after this final show and we were going on to play one more show with Dallas and Rhett at the Georgia Throwdown in Dallas' hometown of Albany, Georgia (a festival that Dallas helped organize), we had another bus arriving in Macon late morning. After the bus arrived we loaded our stuff onto it and continued about our day. As Macon is home of the final resting place of Duane Allman and Berry Oakley, a couple of us took the mile and a half walk to the Rose Hill Cemetery, a place from another world where a young Allman Brothers Band once played guitars, wrote songs, and partied into the hot Georgia nights.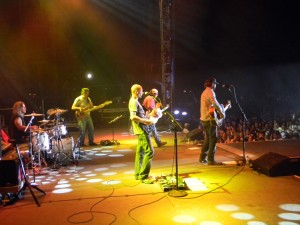 Later on we took the stage in front of 16,000 fans for a final, climactic performance on this epic tour. I've played countless big shows over my decade in Nashville, but on this particular night a special energy was present. The songs just seemed to play themselves and the crowd was singing every chorus (and many verses) at a near deafening volume. At one point I pulled out one of my in-ear monitors to really internalize the feeling of the moment. As a musician it's almost otherworldly to hear and feel your guitar coming out of 100,000 watts or so of PA speakers, and to feel the interaction between artists, band and audience on a show at this level is truly amazing! Our band was really on and Rhett and Dallas were at the top of their game, putting on a dazzling show for what looked like a sea of humanity that stretched to the horizon.
A little while later Luke and his boys played their final show of the Farm Tour, and their epic performances received over-the-top responses after each song. When the show ended all of the artists, musicians, and crew members gathered on the stage for a group photo of the entire entourage. I was sad to see this run end, but we left for Albany with the knowledge that we made a lot of people happy over the course of this week, and we had also made some great new friends! See you next year, Farm Tour!
To view a slideshow of some pics from the tour click here.
Even though the majority of the people who come to Nashville for CMA week are country music fans, you didn't have to be one to enjoy the BMI songwriter showcase-tailgate party yesterday at LP Field. This unique event was as much a foot stompin' rock concert as it was country music show, and the crowd of 3000 plus concertgoers received a rare treat on this warm, sunny afternoon. 2011 EMI songwriter of the year, Rhett Akins, and 2011 BMI songwriter of the year, Dallas Davidson, also known as the Peach Pickers, have written some of the biggest chart-toppers in recent country music history, and collectively have more hits songs currently on the radio than any of the major artists they write for.
As professional songwriters, they sit in a room with their acoustic guitars daily, writing hundreds of songs a year to come up with a handful of radio-bound gems. These songwriting sessions, and the demo recording process that follows, are quite often the first and last times they get to perform this music. So this rare occasion to play the hits they wrote in front of a large audience was as much, if not even more of a treat to the Peach Pickers as it was to anybody in attendance.
The hour-long show was off and running with the number one hit cut by Blake Shelton, "All About Tonight", a fitting start for this musical adventure. Rhett and Dallas took turns singing verses and choruses as we moved through what was essentially a "greatest hits" of modern country radio music, including the six number ones they've written in recent years. The crowd sang along throughout the show as we put our own twist on songs like Honeybee, Take a Back Road, Gimme That Girl, Put a Girl in It, Honky-Tonk Badonkadonk, This Ole' Boy, and several others.
Near the end of the show, Rhett unexpectedly pulled out a couple of surprises, performing his own hits "That Ain't My Truck", and the showstopper, "Kiss My Country Ass". At a few different points throughout the show, Rhett gave credit to the band which was comprised of Nick Forchione on drums, Mike Chapman on bass, Scott Tweten on guitar, and me on guitar and harmony vocals, the excited crowd responding with cheers of approval every time. We concluded this blockbuster set with the fitting "I Don't Want This Night to End" a number one song which was cut by Luke Bryan and had just won video of the year the night before.
The truth is that none of us wanted this night to end, it was a special moment and the unique nature of this show will make it one of the more memorable things I have been a part of in my 10+ years working in the Nashville music industry. But the good news is that we will be taking this show on the road a little later on in the summer, performing at Michael Waddell's annual Bone Collector fan club party on August 17 in Montgomery, Alabama. I want to send out a special thank you to all the fans that came out for this show, and everybody who put in a lot of hard work behind the scenes to make this event the huge success it was. Till next time, "it's all about tonight"!
Click here to view some photos from the show (courtesy Kelly Normand)
For more in-depth perspective on the behind the scenes of the Nashville music industry, please check out my book "The Nashville Musician's Survival Guide", which features an in-depth interview with Rhett as well as many others Nashville insiders.
We've done a handful of shows with Georgia native, Corey Smith over the years, and Saturday's performance at the packed Verizon Wireless Amphitheater in Alpharetta, Georgia was another blockbuster. It was a warm summer day when we pulled into the backstage area just after noon, although not quite as over-the-top as the heat and humidity we've been experiencing in Nashville this summer. Who would have thought that we would have to travel further south to experience a cooler day! We loaded in and sound checked just after 2 PM and then chilled for a couple of hours while we waited for showtime.
A little while later it was catering, showers, and a quick changeover after opener, Rachel Farley's set. We hit the stage hard and fast at 7:45, the crowd quickly showing some love for Rhett and band. 40 minutes later, after blazing through a mixture of Rhett's classic hits and some of his newer charttoppers, and we were putting the final touches on our closer, Kiss My Country Ass, the crowd now on its feet and singing along. The stagehands helped us strike our gear, and it was packed up under the bus in minutes. The guys hung out by the bus enjoying a few cold ones while Corey finished out the night.
Over the years I've played many amphitheaters and concert halls across the land, and the Verizon Wireless Amphitheater in Alpharetta is perhaps one of the nicest of them all. Kelly took some great photos throughout the day and during the show. Here's a few to give you a taste. (Nashville photographer, Dan Harr, also photographed the night and was kind enough to donate some photos, a few of which are also shown below. Dan's photos are credited accordingly). Left click on a photo to view it full size:
Even though summer hadn't yet officially started, it sure felt like it when we pulled into Ridge Ferry Park in Rome, Georgia last Saturday to play at the fifth annual 'Rome River Jam.' It was just before noon and the temperature was already approaching 95°, the air thick with humidity. Yes, it was "fixin' to be a hot one" as we would say in these parts, and that would be okay for this multiband festival.
We parked our bus in the fenced-off backstage area next to headliner, Darius Rucker's three buses and I stepped out to meet the stage manager and check out the grounds. With five acts on this bill there would be no sound check for us on this day, just a line check and monitor check immediately prior to our set – what is commonly referred to in the touring industry as "throw and go." Still, there was work to be done so I got busy.
Under my direction, the stagehands loaded in our gear to one of the "sound wings" adjacent to the main stage, and our merch to the merchandise tent. I went on a mission to commandeer our "bus stock," which, upon its arrival a short while later, was quickly devoured by our band and crew for lunch. After icing down some beverages on the bus for later, I had a runner take us over to the hotel for showers and a brief rest before our late afternoon performance.
Typically, I use this down time to check and respond to e-mails, return phone calls, and maybe squeeze in a quick nap before showering and returning to the venue. On this day, however, I did something I rarely do in hotel rooms on the road – I watched TV. Upon turning on the TV, the reality show "Pawn Stars" happened to be airing, so I gave it a chance. I would probably blow right by a show like this if scrolling through the channels at home, but for some reason, I found myself drawn in. The show was actually quite interesting, and at points, funny as hell.
A little while later we were all back at the concert site, and the first artist, Sam Hunt, was performing his set as the Park began to fill up. We began to hear about some inclement weather possibly moving in, the worst of it predicted to hit around 5:00 PM, which of course happened to be right smack in the middle of the set change prior to our performance. The local band playing just prior to our set, "Kneckdown" (which incidentally featured the events promoter, Jay Schell, on lead vocals), finished at about 4:45 and we began our set up. About 15 minutes later, almost as if on cue, the weather began to turn nasty. The wind picked up, the rain began to come down, and a portion of the crowd that had already grown to around 2500 ran for cover.
Fortunately, our stage had a pretty solid roof that extended past the edges of the stage, and this kept us and the gear dry, but it was still a frightening storm. The storm was packing wind gusts of up to 50 mph and was also accompanied by intense lightning, which was visible from the stage. I learned later that a tree fell on the adjacent property, seriously injuring two people who had to be rushed to the hospital. Resisting pressure from the stage manager and production company owner to start our set, we waited until the lightning had completely stopped to kick it off.
A few stressful minutes later the storm had passed, and the air seemed quite a bit cooler as we were now on the backside of a front that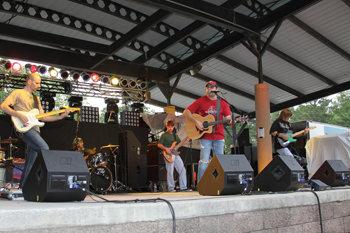 had moved through. After a brief introduction from the local DJ we were off and running. Despite the rocky changeover, we were off to a good start, and the crowd quickly piled back into the main area in front of the stage. Rhett was in a good mood, the band was playing great, and the fans got right into it. By the peak of our set the crowd had swelled to around 4000, many whom were singing along with some of Rhett's latest songwriting successes, one of which was "Honeybee," Blake Shelton's recent number one smash. We ended our 70 minute set with the anthem "Kiss My Country Ass," and the crowd roared with approval.
One of the cool things about playing festivals is the interaction between musicians and crew members from different tours. On this day I met Andrew, the merchandise person for country artist, David Nail; and Patrick, the fiddle player for Darius Rucker. Scott, our other guitarist, got to meet Darius and have a photo taken with him. Another cool thing about playing festivals is getting to hear these other artists and bands, and on this day, all the bands played great! It was a great concert, fun was had by all, and we got real lucky that the nasty storm didn't end the day early for everybody. See you next time Rome!
I would like to thank local photographer, Andy Butler, for donating the use of these pictures. – Butler Photo/Cartersville Ga
Our concert last Saturday in Speedwell, Tennessee was a wash, and not because of the rain. We arrived on site to this would-be country Woodstock a little after noon, and from the moment I stepped off the bus I knew something wasn't quite right. You could just sense and feel the tension in the air.
Everything was in place for this mega-country bash – a great lineup featuring Rhett Akins, Jimmie Van Zant, Confederate Railroad,Bush Hawg, Matt Stillwell, and several others; a great concert stage and production; vendors; campsites – yes, everything was in place, except for the people. Somehow, despite considerable advertising, there were only 100 or so folks scattered across the giant field in front of the stage on this second day of the festival.
At this point we still remained optimistic as there have been plenty of shows that started out this way and still turned out okay. But our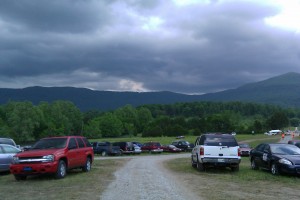 optimism would begin to fade quickly. As I began walking around looking for the promoter's office, I started overhearing conversations that the festival was falling apart. Somebody said that the promoter was running out of money and that "the beer truck and the Porta Potty Company were pulling out." Obviously, this wasn't very encouraging news.
A few minutes later I found the promoter's office and was greeted by the contact with whom I had advanced the show. When I asked him how it was going his reply was honest, but grim.
"Not good at all. The promoter is out of money and I'm not sure how this will all go down."
"I suppose this means we won't be able to get our bus stock?" I replied, half jokingly.
He responded, "That was one of the first red flags. When I told him I needed $300 to get bus stock for the different bands, he said he didn't have it."
"Ookaaay. I guess I should talk to him so we can figure out what we're doing. " I replied, realizing that if a three day festival was broke at noon on Saturday, and already losing their beer truck, that things could get ugly.
I walked into the next room to speak to the promoter, and saw that he was in a meeting with a couple of other event coordinators and three or four state police. Realizing this was not a good moment to approach him, I returned to the bus to tell Rhett and the gang of the situation. No sooner had I opened the bus door when a tall fellow wearing an orange "security shirt," and sporting some really bad teeth, poked his head in and yelled into the front lounge where Rhett was sitting.
"Is that him, is that Rhett Atkins?" he yelled, incorrectly pronouncing Rhett's last name.
"No, I'm Ricky Nelson." replied Rhett playfully.
The fellows reply was astonishing, "You ain't nothin' to me, you're just another feather in my bird!"
Quickly ushering him out the door, I assumed he was just really stupid and socially inept, or that maybe perhaps he was a meth-head.
A few minutes later I walked back to the promoter's office to find out about getting some food. I asked if we could get some meal tickets for catering and if we could at least get a case of water and a case of beer. I was presented with meal tickets which were good for some "ham sandwiches" and chips, and I was also presented with an interesting box of bus stock consisting of:
1 case of spring water
1 open case of Bud Light (with about 8 beers in it)
1 jar of peanut butter
1 bag of corn chips
1 open bag of potato chips (about half full)
"Thanks, I guess somebody was already hungry." I said, amazed that we got anything at all.
A little while later I was able to finally speak to the promoter who informed me that it was our option to play, and that he might be able to pay us "some money" but that it was unlikely he would be able to pay us our entire fee, and that this would be the case for the other bands as well. I told him I would check with the boss and get back to him.
After relaying all this to Rhett, he decided that in spite of not getting paid that we might as well play anyway, as we were already there. On the way back to the promoter's office to relay this message some other folks who were hanging around backstage told me that they had heard the Porta Potties would be pulled out by seven o'clock, at which point the police or Board of Health would shut down the festival. When I asked one of the state troopers if he had heard anything like this, his reply was "yes, I have heard those rumors too, but I can't confirm anything. I can tell you that we are pulling out our extraction team and that the remaining officers will be stationed on the perimeter." I wasn't entirely sure of this significance, but it sure didn't sound good.
As I approached the promoter's office, I could hear a loud argument. In front of the main entrance stood a big, tall state trooper, his arms folded in front in an intimidating power stance. As I got closer I heard several event workers demanding to see the promoter about their pay, as they had apparently heard rumors that they were going to get stiffed.
"I need to see him now!" demanded an angry worker.
"I'm sorry sir, nobody can see him right now." the trooper stated firmly. After another minute of yelling and arguing by the crowd of 8 or so, the trooper restated his position – "Nobody is going to see him right now, I'm just doing my job and trying to make sure that nobody gets hurt or shot!"
Over my seven years of working as a road manager, this was the first time I had ever heard or seen anything quite like this, and the angry mob-like scene was enough to send me scurrying back to the bus. Along the way back to the bus a drenching rain set in, and we overheard more angry workers with comments about people getting shot. This would-be country Woodstock was beginning to look more like Altamont – only without the masses. Despite Rhett's willingness to play for free, in light of the most recent developments, we decided it was best to head on down the road. I'll have to check, but I'm pretty sure that getting shot is not one of the requirements in our rider.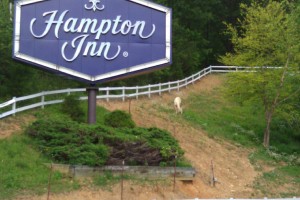 After our hasty retreat we arrived safely back to our hotel, the Hampton Inn in Carryville, TN. A little while later, Nick, our drummer, received a text from one of his friends who was playing in another band at the festival – something to the effect of "We're getting out of here before the shooting starts!"
From what we could tell, there were no riots and nobody got shot at the festival. But still, the whole situation was quite unnerving and unfortunate. Obviously, several other bands besides us were leaving town without their pay, as were many vendors and event workers. The festival goers who were in attendance were ultimately shortchanged. And the promoter obviously lost his shirt, not to mention credibility.
On a brighter note, we did have a great time hanging out at the Hampton Inn and the guys did enjoy a fabulous dinner at the local Waffle House!
Apopka, Florida here we come!
The Hampton Inn in Caryville, TN, was the most unique Hampton Inn we have ever visited – the walls of the lobby, hallways, and stairwells  covered with hundreds of old photographs, newspaper clippings, and folk art and providing a retrospective of the old South. It even had an adjacent llama farm. I'm going to try to write a blog over the next couple of days as there's not enough space to do it justice here.
After several days of heavy rain had inundated the coastal town of Darien, Georgia, I was more than pleased to view a beautiful sunny day out the window when I first walked to the front lounge of our bus last Friday morning. All week long I had feared a washout for our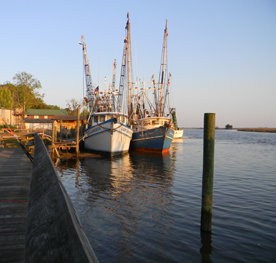 concert at the annual "Blessing of the Fleet" in the picturesque fishing community of Darien, so it was comforting to know that the weather would be on our side for this one. A little while later we landed our bus at the concert site – a homey little park lined with majestic old trees covered in Spanish moss on one side; and a long, riverside dock lined with fishing boats that abutted the river inlet that led to the Atlantic Ocean on the other.
Darien, Georgia, is a town right of southern folklore, and retains a unique feeling and charm despite its rocky history. Built right on the Altamaha River in 1736 by Scottish Highlanders, it was a historic battleground during the Civil War where black troops saw some of their first action. On June 11, 1863, the town was looted and "burned to the ground" by Federal Troops, an act that would later be referred to as a "Satanic Action" by Colonel Robert Gould Shaw, the reluctant commander whose troops committed the act. Darien was rebuilt after the Civil War ended, and would eventually become a fishing village, with wild Georgia shrimp becoming a major part of the local community's livelihood.
Of course we would be fortunate to experience some of this fine local seafood firsthand shortly after sound check when we were treated to a dinner at "Skippers Fish Camp," a cozy little restaurant that sat right on the edge of the river. After dinner and a little downtime, the sun began to set and the park began to come alive with activity. As the warmth of the sun began to fade, an amazing sunset briefly
appeared over the nearby bridge overpass, and the sky became a deep red until the sun disappeared beneath the horizon. Darkness now upon us, the grounds began to quickly fill with locals and concertgoers while a local band took the stage to heat things up for Rhett's show.
A little while later it was show-time and the park was filled to capacity. Concertgoers covered every visible square inch of grass in the park, lined the hill to our right, and filled the docks to our left. Meanwhile others enjoyed the show while hanging out on the dozens of boats that were tied to the dock. Rhett was in great form and ran through his set of radio friendly hits, a few renditions of his favorite classics, and our own versions of some of his most recent songwriting masterpieces – "The Shape I'm in" recently cut by Joe Nichols being one of the standouts.
The crowd on this warm and vibrant night was festive and on our side from the start. They were quite vocal too, cheering loudly after every song, and singing along with many. When the main part of the show ended; the strong, roaring applause warranted an encore, and we returned to the stage for a few more. By the time we left the stage for the last time on this evening, we had played an hour and 45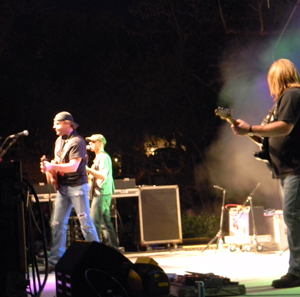 minute set, and fun was truly had by all.
I find it inspiring to see that Rhett, despite having such recent, major success as a full-time songwriter, still loves to perform live. Regardless of the kind of day he is having, when he hits the stage, he gives his all to the performance at hand, and to the people who came to see him. This kind of energy and focus makes it easy for the rest of us to play with the same kind of fervor. A small town like Darien, Georgia, with a population of around 2000, doesn't have a festival or concert on this level very often, and their appreciation of our performance was both genuine, and evident. By the time we were heading back to Nashville, we all had a good feeling about our short stay in Darien. The town had been a wonderful host, and we were happy to help this community feel good on this day.
In the world of the touring musician, years of playing live shows can render concerts to be a bit of a blur, with one show blending into the next. But all of these shows do matter – each concert can, and should be a special event. When we visit a small community like Darien for a brief moment as this, it can have a lasting impact on people. This was also the case when we performed in the small town of Winchester, Tennessee, a few weeks ago. Even though the crowd wasn't particularly large in Winchester, maybe two or three hundred folks in a local high school gym, everyone in attendance that night left with a smile. When you give your all to these folks, you might to help create a special memory that could last a lifetime, at least for some. I believe that this sense of community and goodwill is at the core of many a great performer. The great feeling we got at the show from the people of Darien last Friday is why many of us musicians love what we do, and this helps make being a musician a noble and worthy endeavor. Thanks Darien!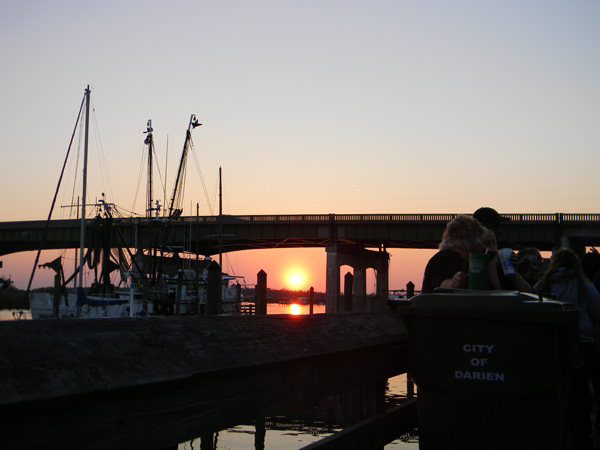 Last weekend the Rhett Akins tour rode into Harrisburg, Pennsylvania for what would be one of our coolest outings in a while. Fans of Michael Waddell and his popular hunting show "Bone Collector" were about to be treated to a special night of fun and music for the show's third annual fan club party, and it was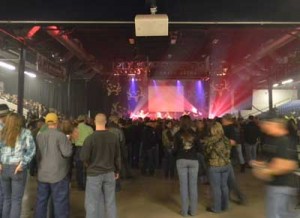 our job to provide some extra "lift" on this particular night. After a long day of setup and preparation the doors finally opened at 7 PM, and the "small arena" at the PA Farm Show Complex began to fill quickly with an excited crowd of hunting aficionados. The Bone Collector crew had laid out quite a spread, and the guests began enjoying the free buffet with a few cold ones while the sounds of Rhett's hunting songs from "The Brotherhood Album" filled the air in a hall that looked ready for an Aerosmith concert.
The place was filling up fast, and soon "Bone Collector" stars Michael, T-Bone, and Nick Mundt, were accompanied by some of the other show organizers on stage to offer a warm welcome to the crowd. After raffling off some free giveaways, the first performer, MCA recording artist Ashton Shepherd took the stage and played a short acoustic set with one of her bandmates, her clear, country voice filling the auditorium. Near the end of her set T-Bone came back out and invited a couple up onto the stage to deliver one more prize giveaway. Apparently, the couple were longtime fans of the show, and what at first looked like a raffle giveaway quickly became a more substantive moment when the fellow dropped to his knees and proposed to his unsuspecting fiancé. The woman had no idea this was going to happen, and was near tears as they danced on the stage to a touching serenade by Ashton. After a few more prize giveaways, Rhett and band took the stage.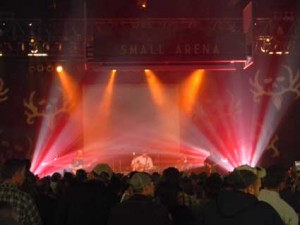 Our first tune was "My Baby Looks Good in Camouflage", one of several hunting themed songs we would perform from Rhett's latest album project, and the crowd was instantly singing along with this song that has never even been on the radio. Midway through the set, Rhett announced that we were going to play his song "Bird Dog" and asked if there was anyone in the crowd who knew the song and wanted to come up and sing along. Two fellows in the front row made their way onto the stage and joined Rhett for an "interesting" rendition, after which Rhett announced "Sorry, I won't do that again."
By the end of Rhett's first rocking performance the place was buzzing with excitement, and many of the 1200 plus fans were crowded up to the front of the stage, standing elbow to elbow in a sea of camouflage. After a few more giveaways, Michael introduced the night's unannounced "special guest" Aaron Lewis from the band Staind, and the crowd was treated to an intimate acoustic version of "It's Been a While", amidst his four song set.
It was now time for a final round of giveaways and Rhett's second and final set to cap off the night. With a few big surprises still in store, Rhett kept the first part of this set short and sweet, and by the time we had played three or four songs he was inviting Ashton back up to the stage for an unplanned sit in. The two sang a heartfelt duet of the Hank Williams Jr. classic "Dinosaur" and the crowd roared with their approval. Next, Rhett brought up Michael to play some guitar, and Nick Mundt to sing Whitesnakes "In the Still of the Night". Nick may be a hunter by trade, but it's obvious that he may have been a rock 'n roll front man in another life, as was evident from the bloodcurdling howl he let out at the beginning of the tune. His scream, combined with the sound of three electric guitars and our rhythm section thru a mega-watt PA system, threw the night into overdrive. The night was now beginning to feel like an episode of Don Kirshner's "Rock Concert" and I ran out to the center of the stage to exude a little "attitude" with Nick during this fun moment, both of us getting down in a rockstar stance.
Now it was time for the grand finale and Michael's 10-year-old son, Mason joined us to sing the final two songs. With Michael still on guitar, we launched into AC/DC's "TNT" with some real fire and fury, and it was Mason who was now running the show, the crowd instantly showing their approval for one of the world's youngest front men. While Mason worked the crowd, Nick and T-Bone sang backup vocals, the crowd now singing along too, and I was rocking out with Mike who was now showing off some of his new "guitar moves" that I had shared with him during our rehearsal earlier in the day. When the song ended, the crowd response was one of the biggest of the night, the roar almost deafening, and Nick hoisted young Mason up onto his shoulders for a victory lap. Not wanting this moment to end, we did one more song to take full advantage of our would-be rock 'n roll army, the Guns and Roses classic "Welcome to the Jungle", and again, young Mason was triumphant.
The song ended, and Michael stayed on guitar for the last song of our rock 'n roll crescendo, Rhett's rendition of "Last Chance for Mary Jane", a real rarity. I don't think I've played this many classic rock songs in a row since I moved to Nashville. It was kind of like going back in time and playing in one of my old top 40 bands, except through a million-dollar PA system, and with a bigger crowd! The concert ended and Michael was back on the mic thanking the crowd and his guests for being a part of this special night. Over the years I've played many "corporate" type events, and I can't think of any that possessed the kind of fun and spirit that was in the room on this particular night. The folks at Bone Collector sure know how to throw a good bash and I can hardly wait for the next one!
October 8, 2010 – Dallas, Texas
We left Nashville Thursday at midnight, bound for two shows deep in the heart of oil country, the first being at the oversized dance hall, Cowboys Red River in Dallas, Texas. Our regular bassist, Clint Jacobs, absent on this particular run, I sat in the front lounge chatting with his sub, friend and longtime Nashville veteran, Mike Chapman for a bit before heading to bed. This trip would normally take about 10 to 11 hours, but at about 5 AM I awoke and realized we had been stopped for a little bit. I drifted off for a while and when I got up around 10 I learned that Steve, our bus driver, got stuck in a massive traffic backup for three hours in the middle of the night, the result of an overturned tractor-trailer that had blocked the interstate. Scenarios like this are why we always allow for extra travel time on these trips. Nevertheless, the extra three hour wait added on to the middle of this 700 mile drive had left Steve exhausted, and we finally pulled into Dallas around 1:30.
As we entered the dark Honky Tonk, we noticed that musky stale beer odor inherent to these kinds of places, the kind of deep rooted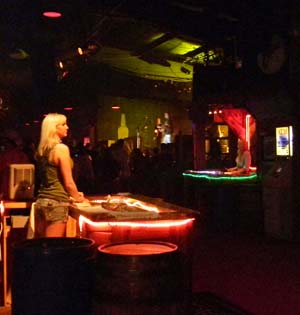 lingering odor that takes decades to create, and while barely noticeable amidst the hustle and bustle of nighttime business, is almost overbearing during the empty daytime hours. While we were setting up, Rhett had the runner take him on a brief tour Dealey Plaza, the infamous location of the assassination of JFK. A little while later he returned with some memorabilia, as apparently a JFK assassination history buff has some kind of 'merch table' at this location. I'm not sure if this is somebody's desire to inform the masses of this tragic conspiracy, or simply capitalism at its worst. (Maybe it's a little of both.)
Other than watching a little bit of a fascinating assassination documentary, the rest of this day, and night for that matter, were rather uneventful. I wish I could say that it was an exciting memorable show, like most of our shows, but it wasn't. The audience just kinda laid there. Don't get me wrong, the 1500 or so in attendance danced and drank, and even made some noise after some songs, it was just one of those nights that felt like it never quite got there. I later reiterated to Rhett one of the tour's  long standing inside jokes "Out of all the shows we've ever done together, that was definitely one of them."
Onward to Baytown
Baytown is a suburb of Houston, and a city of roughly 80,000 deep in the heart of oil country. We arrived to a hotel parking lot in the wee hours of the morning and taxied the bus over for load in around noon. On the previous day, everything had gone according to plan with no surprises, while this day would turn out to be full of surprises, the first being my discovery of a miscommunication regarding our 'bus stock'. Our bus stock is a list of beverage and food items which appears on our rider, and is required, in most cases, to be delivered to our bus upon arrival as it serves to be lunch for our crew. I never got the memo that they wouldn't be providing this and, fortunately, they were gracious enough to send somebody for it at the last-minute.
The next surprise came a couple of minutes later when the event coordinator informed me that they were having problems with the rented generator. It turns out that the generator rental company arrived earlier in the morning to drop off the generator, and then left without showing anybody how to work it. Around the same point in time I was introduced to the house sound technician whose introduction consisted of "Glad to meet you, I hope you brought a lot of patience with you because we're running way behind." "Glad to meet you too." Next would come what was perhaps the biggest hurdle we would have to overcome on this day that was quickly evolving into what I commonly refer to as "a challenge" otherwise known as a good old-fashioned pain in the ass. That being, the stage from hell.
Upon setting foot upon this tin nightmare, I was baffled to see a gaping four-inch wide "space" that ran lengthwise across the 30 foot stage at about 5 foot intervals. "Well that's a great way to break an ankle if I've ever seen one!" I commented to the promoter, who acknowledged "Yeah it is, I didn't notice that before." To make matters worse, a round piece of steel pipe protruded upward from this "space" at 6 foot intervals, serving as a strategic array of would-be landmines for everybody to trip over for the day. After some discussion with the promoter, we determined that we needed some rubber mats or plywood to place on top of this unsafe deck. A little while later I discovered a huge role of thick old industrial carpet backstage and, while it initially looked like it might serve our purpose, I quickly discovered that it was full of "fire ants". I also learned, very quickly mind you, that fire ant's bite! The bites on my fingers and hand still swollen as I write this.
One of the event coordinators suggested some four by eight sheets of rubber matting and, after I concurred that it might work, he set out for Home Depot. Around this time, I asked Scott, our other guitarist and part-time "Macgyver" if he could try to figure out the generator issue. A little while later a truck arrived with 10 sheets of rubber matting and I began to direct some stagehands to help 'rubberize' our stage while Scott dug into the genie. A couple of hours later and the stage was covered with a solid rubber matting (we had to cut holes for the protruding steel pipe with a drill and utility knife), Scott had brought the generator to life, and we began our load in and sound check.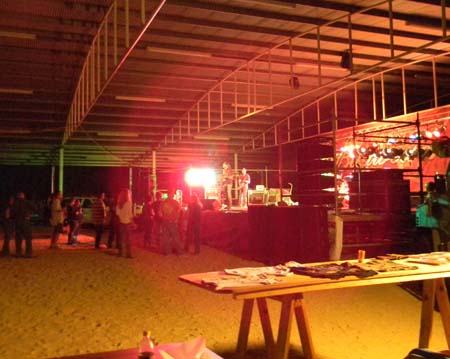 After the sound check, we all feasted on some locally famous barbecue, and went to the hotel for some downtime before the show. I returned to the venue around 7:30 hoping to catch some of up and coming and Nashville based Matt Stillwell's,  set. Unfortunately, because one of the other acts, George Dukas, was running late, their performance times were swapped, and I arrived after their show had already ended. We began our show at 9:30 on the dot, surprisingly right on time considering the chaotic mess of the day we had just encountered. This event was the annual "Helping a Hero Benefit" put on by the Baytown Police Department, and served to help raise money for a fund for families of officers lost in the line of duty. While the attendance was less than desired, the quality of the audience was anything but lacking. A handful of town folk that did show up spent quite a bit of money on some big dollar auction items for this great cause and stayed for the entirety of our 90 minute set. Mike Chapman, who had only played with us on a couple of other occasions, nailed the show to the floor, his 3+ decades working in the Nashville music industry recording with such giants as Garth Brooks, LeeAnn Rimes, and countless others, no doubt aiding in his proficiency.
This stressful day came together as the result of a lot of teamwork. Scott, with some background in electronics, was apparently the only person on site possessing the knowledge it would take to make that generator come to life and power the show. The Baytown police went and purchased the rubber mats for the stage. Our bus driver, Steve provided some of the tools that were necessary for our rubber stage modifications. Matt Stillwell and band was gracious enough to perform their show two hours ahead of schedule.  In hindsight, it's funny, even kind of ironic, that while the day before had gone so smoothly, and it's show had felt so sluggish (despite a crowd of almost 2000), that this difficult day, despite its low attendance and being full of problems, delivered a concert experience that was far more rewarding. Put these two wildly different events and shows together and you wind up with one great day and one great show – A fitting end to our 2010 touring season.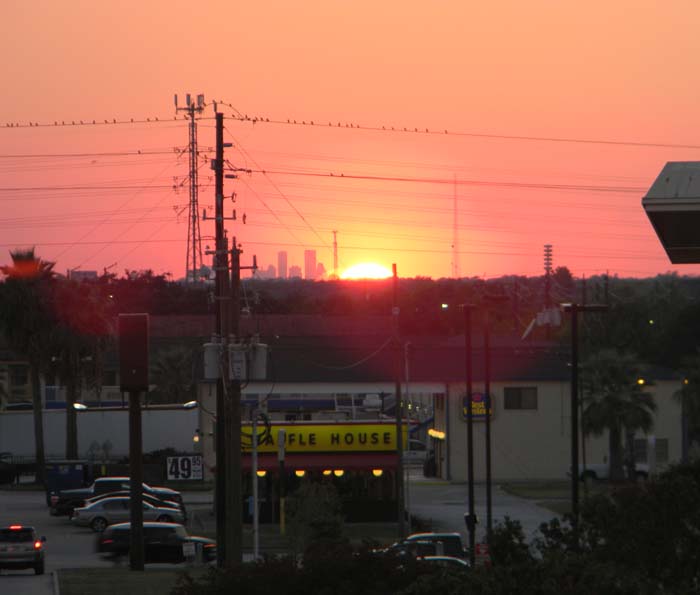 This past weekend was one of the last outings of the 2010 festival season for Rhett Akins and gang. Like many things in life, outdoor festivals are like a potluck dinner – you never know what's under the lid of that next casserole dish. That goes for not just the event itself, but to the friend and foe of every outdoor show – the weather. We'll get to the weather debacle in a minute.
The event we would be playing on this eve was 'The Old Threshers' at the Shelbina Fairgrounds, in Shelbina Missouri. For those of you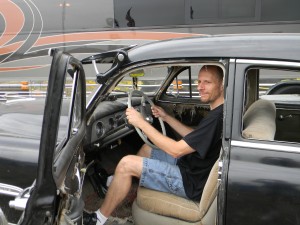 not in the know, an old threshers event is kind of a fair with a tractor theme, and this event sported some rare old beauties right out of yesteryear. After parking our bus and getting situated, we took a walk around the fairgrounds to see the sights. We didn't get but 5 feet from the bus door when the first spectacle presented itself in the form of a 51 Chevy, the owner of which notified us that this vehicle was ours to use for the day. Who needs a runner when you've got a 51 Chevy at your disposal! After a few minutes of checking out and photographing this rarity, we set out on foot, camera in hand.
Right around the corner we stumbled upon a bluegrass band consisting of a couple of fellows on acoustic guitars, two banjo players, a woman playing a mandolin, they even had a wash tub base. They were pretty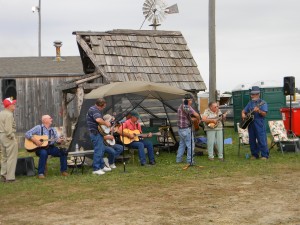 good too, and we stopped to listen for a few. It was then on to the blacksmith shop where we checked out some fine metal crafting by some locals. We dodged a few big tractors on the way over to an old schoolhouse, passing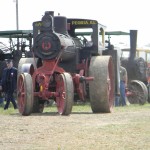 through an Amish village along the way. The old schoolhouse reeked of personality, circa late 1800s/early 1900s. As some kids were writing on the blackboard we took a look around, snapping a few more photos. This part of the day actually felt more like a class field trip than it did a gig. It was now getting to be time for load in, so we returned to the stage area to get to work.
After our gear was loaded onto the deck, we set up and went about our sound check. Once we got it dialed in pretty good we took a few minutes to learn one of Rhett's most recent songs, 'Chicks, Trucks, and Beer', a catchy little ditty with a funky beat he wrote a couple of days prior. It was then off to the hotel for showers, and this was when the weather started to go downhill. The sky grew dark, almost as black as night on the horizon, the wind picked up, and a short while later a massive downpour ensued. People were leaving in droves as we received over an inch of rain in about 45 minutes. Back on the deck, stagehands and local crew scurried to tarp the equipment, but nothing could be done to prevent the rest of this once dusty Fairgrounds from becoming one gigantic mud pit.
After the rain stopped, tractors began scraping down the mud in front of the stage. Underneath the mud was more mud, so they had to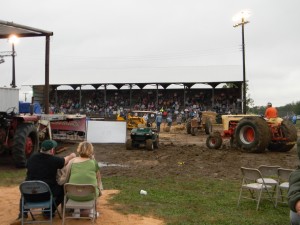 bring out bales of hay and spread straw to create acceptable conditions for the concertgoers. They also ran a series of boards for us to walk on from the stage to the bus (yes, the mud was actually that bad). Despite these obstacles we weren't going to let a little rain and mud ruin this day, and by 7:15 the opening band 'Little Dixie' was taking the stage. Even though the deluge had run off a good portion of the festival attendees, there was still at least 1000 or so that stuck around for our show. At 8:15 we were off and running and about three songs in Rhett played 'Friends with Tractors' an obvious crowd pleaser for an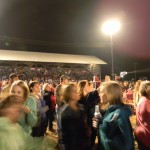 event such as this. The crowd was responsive and singing along, despite a strong prevailing wind that was a bit overbearing at times. About an hour into our show some massive lightning strikes began to appear on the horizon, so we did a couple of more songs to finish our set.
Our show complete, we tore down our gear and found our way over to the 'Bluegrass Barn' where the afternoon band was engaged in a little 'pickin' and grinnin' after party. Rhett even sat in for a couple, leading the band through the Hank Williams classic 'Honky-Tonkin' and a couple of other rarities. The spirits were high, and everyone from this nice community made us feel right at home. A little while later, Steve made a mad dash with the bus across the muddy field, tires spinning every inch of the way. When we finally made it to the street, he made a big sigh of relief, perhaps having flashbacks of having to be towed out of a mud bog in Alabama earlier in the summer. Even if we had got stuck I wouldn't have been too worried, at this show we definitely had 'friends with tractors". A  few minutes later, and we were rolling down the highway. Thanks for making it a great event Shelbina!
Saturday night's show at the U.S. Bank Balloons, Tunes and BBQ Festival in Bowling Green Kentucky turned out to be a huge success, but earlier in the day things were looking pretty bleak. All week long the weather forecast showed a strong possibility of severe weather for this area, as the remnants of Tropical Storm Hermine were projected to move through. When we arrived on site at the Warren County Regional Airport a strong steady wind was already blowing, despite an otherwise beautiful sunny day.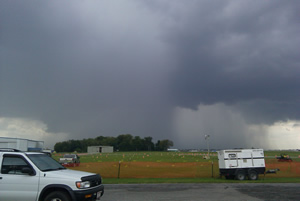 Right around the time we were about to start micing up our instruments for soundcheck, the sky grew ominously dark, and a few minutes later a strong gust of wind knocked over a large column of PA speakers. Fortunately, nobody got hurt, but it was a frightful moment. As a downpour was imminent, we quickly scrambled to put tarps over our stage gear. Minutes later we watched from the bus window as a strong steady rain pummeled the airport grounds. Just when we thought our day was completely doomed the rain subsided, and a short while later the sun returned to dry out the rain soaked grounds.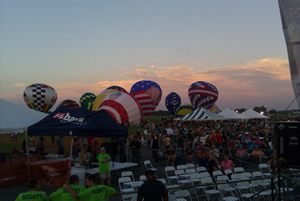 As it turns out, we got real lucky and it never did rain again. The first two days of the festival had been a complete washout due to the weather, but by late afternoon the winds had died down, and some hot air balloons began to permeate the sky for the first time on this weekend. By the time the first group, Easy Street, went on stage at 5:30 there was already a couple of thousand people in front of the large mobile stage, and their set was well received. A little while later, after the second band, Floord, was finished with their set, Nick Hoffman (Kenny Chesney's fiddle player) took the stage with his band. During Nick' set I organized and led a large meet and greet backstage with some radio station contest winners who were more than excited to meet Rhett.
At about 8:45 it was finally our turn for some stage time, the crowd had now swelled to around 10,000, and was at the peak of this annual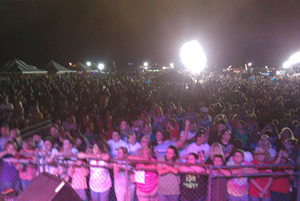 event's outing. We dug in hard for a rockin' 90 minute show, the crowd into it from the onset. About halfway through our show, Rhett brought up his son, Thomas Rhett to sing the soon-to-be classic 'Duck Blind'. After this well received rendition, a woman somewhere near the front row yelled out "He's real sexy too!" This helped prompt Rhett to prod young Thomas into doing one more song, 'Tobacco', one of Thomas's original compositions which he performed solo acoustic. Apparently, Thomas takes after his dad, who bragged about his son's first cut as a songwriter on Jason Aldeans' latest album, and the fact that "Some day soon you're going to be hearing Thomas Rhett on the radio too!" After Thomas left the stage to a roaring applause, we continued on with our set, and a little while later Rhett invited up Nick Hoffman to sit in for a couple of tunes on the fiddle. Rhett ended the show by playing a solo acoustic version of "Gimme That Girl" the blockbuster hit he wrote for Joe Nichols. This soft and soulful piece helped to wind down the electricity in the crowd, and upon its conclusion they began to slowly exit the concert grounds.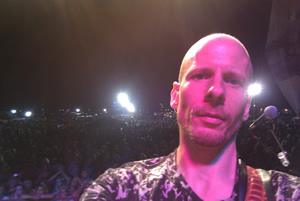 It was a long day, but a good day, and we were all thrilled that the weather wound up being on our side. While this isn't always the case with these kinds of outdoor shows, past experience has taught me to always hope for the best, while preparing for the worst. We've got two more outdoor shows on the books in the upcoming weeks. Hopefully, we'll get lucky on those too!