Music
Back in 2009, I began putting together a list of people to interview for my book, The Nashville Musician's Survival Guide, and my friend, Mike was at the top of this list. Those of you who knew Mike know that he was a very caring, giving, and humble human being. The interview he gave was not only insightful for aspiring musicians, but also a wonderful insight into his musical journey. Although he has now gone on to a better place, his music can still be heard, and his magical essence still shines through the words on these pages. It is with that spirit that I'd like to share his words with you all. Mike touched so many lives, and we are all the better for it. I miss my friend.
Use the buttons at the top or bottom of each page to move to the next page; the full interview is around 10 pages long.
During the last Nashville Berklee Jam to be held at The Rutledge, which sadly closed its doors shortly thereafter, international rock star, author, and motivational speaker, Zoro addressed a room full of hungry musicians with a heartfelt, life-changing talk. Well known as a professional drummer who's played with the likes of Lenny Kravitz, Bobby Brown, and Frankie Valli, among countless others, Zoro, often referred to as "The Minister of Groove", is also an educator who has given hundreds of clinics and authored the critically acclaimed "The Commandments of R&B Drumming". He's also known in the world of motivational speakers, having given hundreds of talks and authoring the book "The Big Gig – Big Picture Thinking for Success".
But tonight's talk was not about drumming, and while it delved into the world of professional musicians and artistry, at the core of this talk was a universal message that applies to all humans, that of finding your purpose in the world by discovering and maximizing your strengths. After his talk I was honored to participate in a performance with Zoro and A-list Session bassist, Mike Chapman.  There's a video of Zoro's talk and some of this performance at the end of the article. Here are a few excerpts from his talk: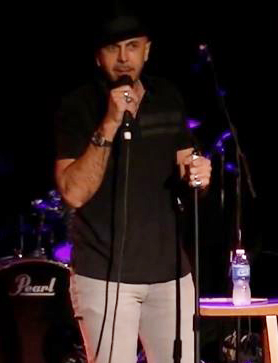 "The world has changed more in the previous 50 years that it has in the last 5000…. but there's a few foundational things that I think will never change…Each person in this room is born is born with a certain gift and a certain talent. And for many of us, it's musical talent. What will not change is excellence…no matter where the world goes or where music is headed, to me, if you have a musical gift, the most important thing is to exercise it, to develop it and to make it, point blank, excellent… I always feel that if you do something really, really well, eventually there'll be a place for it somewhere. In a world where people don't do things on a high level anymore, I still think that being excellent will make you stand out amongst the crowd…"
He spoke of diversity and the need to hone in on your strengths:
"I think each person here has more than one ability. I think your musical ability is one of them, but I think there are many. For me, I just pursued things that were naturally instinctive to me and interested me naturally. I wasn't thinking business, I wasn't thinking in 30 years I can be drumming, and be an educator, an author and speaker… I was thinking 'I like writing… I'd like to write an article to help people. I like teaching'… so everything became a natural evolution of things I was already good at… so don't worry about what you're not good at, there's going to be plenty, find out where your strengths are and then work on turning those into something that's really monumental and excellent."
I loved his take on marketing:
"The best marketing tool in the whole wide world is to just be bad-ass at what you do…because other people will tell people about you… people take notice of excellence, whatever it is. How many of you, when you go to a restaurant, take notice of someone who is an excellent server? We all notice when people do a good job…when I see a movie that's great I tell everybody about it, but when I see one that sucks I also tell everybody don't go waste your money."
Often overlooked in the music industry as well as many others is the shortage of, and need for extreme professionalism:
"Some of the things it takes to succeed are very practical, but I find they seem to slip by the musical community. Things like; being on time, coming prepared, having your stuff together, being reliable… half of success is just showing up on time and just being ready. These things to me are totally obvious, but they seem to slip by a lot of the people that are creative."
Perhaps one of the most important points he makes is that We Are in the Service Industry!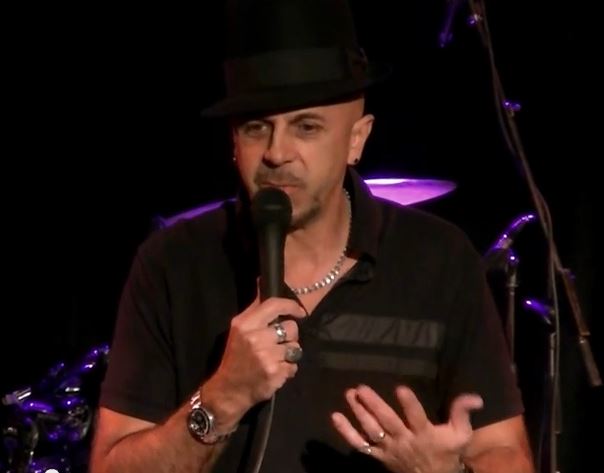 "Be accommodating. I look at everything that I do as really one thing, I'm a servant. I'm here to serve. Tonight I'm here to serve with my words, and I'm here to serve with my playing. I'm never here to be served, always here to serve… a lot of people have a perception of rock 'n roll and fame… everyone's catering to you and everyone's worshiping you… there is an element of that that's true, but I don't perceive it that way. I perceive it as I have an opportunity and a platform, and an opportunity of privilege to serve people… I'm either serving the artist I'm playing with, or the crowd that I'm playing to."
On creativity and vision:
"One of the greatest gifts human beings have… is the ability to dream… To dream up something that never existed and then to have the privilege of creating it is the greatest privilege in the world. And we all have that ability to dream and to believe that if we are willing to act on it and pursue it, we [can] turn that dream into a reality. It's a great privilege and that's what makes life really fascinating and interesting."
He began a few words about the journey of self-discovery and life with a quote from Mark Twain:
"Most of us are anxious to be praised for the one gift that we don't possess, rather than the 15 that we do."
"If you don't learn to enjoy the journey, the process, you'll never enjoy life…the joy of life is in the process itself, and the journey of learning and growing and developing, that's what life is…When people are not fulfilled it's because they're not moving toward something. You're created to have purpose, to be moving forward in a direction towards the accomplishment of something."
We've had many great guests speak at these events, all of them with unique angles, many catering to specific niches, and they've all been inspiring. This talk really got me thinking on many different levels and was one of my favorites to date. No matter what you do in life or what you do for a profession, many of life's challenges and problems are universal. We can all work to discover our gifts, to hone them, to share them, to allow them to let us shine a little light in the world. Don't let your dreams sit on the sidelines, find your gifts and make them excellent!
I would like to thank Zoro for sharing his words of wisdom and inspiration and for kicking out a great jam! I would like to thank Jeffrey Lien for helping me host this event and hooking us up with Zoro, the Rutledge and Andy Aquino for hosting our events for the past two years, Frank Sass for always providing great sound and lighting, and Jack Zander for capturing all the magic on video.
Zoro's Talk (39 minutes)
Hear My Train A Comin'
Cissy Strut (with 5 minute drum solo)
By Eric Normand

Sunny days, dusty hayfields, huge crowds, great music, great people, light beer, diesel fumes, gator balls – these were the sights, sounds and aromas of the 2014 Luke Bryan Farm Tour. I can't believe it's over, it seems like I just hopped on the bus yesterday. The 8 shows spanning two weeks whirled across the Deep South with the speed of a jet plane and the intensity of a freight train.
My role in this mega-tour as lead guitarist and bandleader for Nashville's most successful songwriting team of all time, The Peach Pickers, began with our pre-tour warm-up show at a sold out Third and Linsley in downtown Nashville on September 26. The show, which benefited The Wounded Warrior Project was a huge success, and a couple of days after this electric night we hopped aboard a bus bound for Knoxville, TN.
Even though it was October 1, it still felt like summer when I hopped off the bus around 8 AM, the temperature already approaching 80°. This day began for me like every day that would follow on this tour, a trip to catering! After some eggs, home fries and coffee I got ready for my daily trip to the gym with members of Luke's band and one of the other opening bands, Cole Swindell. While I was doing my thing at the gym, other members of our entourage walked the hayfields, while others took advantage of another luxury provided to the touring musician, sleeping late.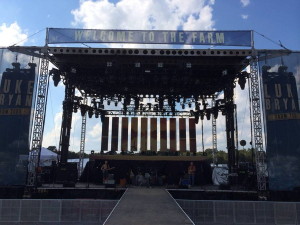 By mid-afternoon it was time for our load-in and sound check. The level of production on this tour was top notch, sporting state-of-the-art lighting, some really cool video walls, and a PA system that would rival that of any mega-rock tour. They even had a remote-controlled flying camera that captured video footage of the audience and performances, otherwise referred to as "the drone".
Luke's crew, along with the other crews (which included the world-class sound company, Claire Brothers) not only knew how to make us sound and look great, they were a pleasure to work with. After sound check it was time for a little rest, a quick shower and some dinner before taking the stage at 6:40 PM. Our 40 minute set began just a few minutes after the tour's first opener, Louisiana native and singer-songwriter, Chancie Neal. The sun was just beginning to set as the DJ introduced our show with something like:
"These three guys are the most successful songwriting team in the history of Nashville. They have 60 number one hits…230 million downloads… please welcome to the stage – Rhett Akins, Ben Hayslip, Dallas Davidson…The Peach Pickers!"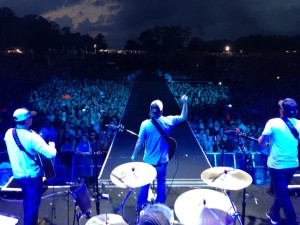 The crowd went wild and we began our onslaught of 13 number one songs with "The Only Way I Know", a Peach Pickers cut by Jason Aldean. In rapid-fire succession we played down our list, each song greeted with, and followed by the sound of 15,000 people going absolutely berserk! After a few rockers we slowed things down with the heartfelt ballad "I Don't Dance". A few of the songs towards the end of our set really seemed to hit home with themes that everybody in this crowd could relate to – "Small Town Throwdown", "Parking Lot Party", "All about Tonight", and the epic hip-shaker, "Boys Round Here". The set went by like a blur, seeming to end as quickly as it began, and the three stars of our show left the stage to a deafening applause. The crew and stagehands helped us tear down and pack up our gear with lightning speed, and by quarter of eight it was all loaded on the bus and we were done working for the night. Only six more hours until bedtime!
Our show was followed by the fast rising, Cole Swindell, another Georgia native currently enjoying his second number one song, and his four-piece band kept the party going full force. By 9 PM it was time for the Tour-D-Force of this event, Luke and gang to take the stage, his show beginning with the modern day phenomenon of thousands of cell phones being raised into the air to capture an endless barrage of digital photos.
Luke's show is an exciting ball of kinetic energy, his top notch band providing an AC/DC like "foot stompability" that kept the audience pulsating for his 90 minute set. The phrase "sing along" doesn't even begin to paint the sonic picture of the sound of 15,000 people singing at the top of their lungs at a Luke Bryan concert. After Luke's show ended, the crowd quickly dispersed the field, only to be trapped in a massive traffic jam as thousands of cars began their slow motion journeys down the one lane road that led out of this little piece of rural America.
This first day and night of the tour was a huge success, and with each following show, the tour seemed to gain momentum. The only snag of this first week was some torrential rain during Friday afternoon in Tallahassee Florida, and despite what seemed like an impending disaster, the rain subsided right before showtime and the night went off without a hitch. The following night we ended the first leg of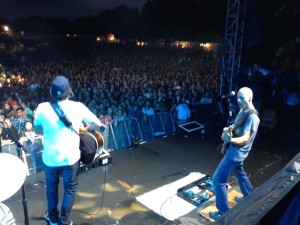 this tour to a crowd of 17,000 in Gainesville Florida, and this was, in my opinion, The Peach Pickers strongest performance yet.
A few days off and we were back at it for round two. The week started out smoothly, but late Thursday afternoon in Columbia, South Carolina it began to sprinkle, with the sounds of thunder and the view of lightning in the distance. Oh no, it was happening again! We pushed back the start of the performances by 20 minutes, and midway through Chancie's set a downpour began. With a handheld wireless microphone, this brave girl stood out in the pouring rain on the middle of the runway and kept everybody's spirits high. By the end of her show she was soaked head to toe, as was her acoustic guitar player and percussionist, Austin Marshall (who also just happens to be the Peach Pickers tour manager). The rain stopped as she exited the stage, which was now soaked, and a dozen stagehands began to dry the stage using push brooms, towels, and high-powered electric fans. We began our show with a strange hue lurking behind us in the form of some ominous storm clouds and lightning in the distance.
By the second to last show in Columbia, South Carolina our band was really beginning to hit its stride, and by the final night of the tour, Saturday in Macon Georgia, we were on fire. On the bus shortly before our set, we all talked about our agenda for the night, which basically consisted of kicking some serious ass. And that's exactly what we did! At one point of the show, me and Dallas even did a couple of moves that might have almost seemed choreographed. The show ended with our usual closer "Boys Round Here" during which Dallas, Rhett, and Ben walked the runway with their wireless microphones, slapping hands with the audience in a climactic sing along.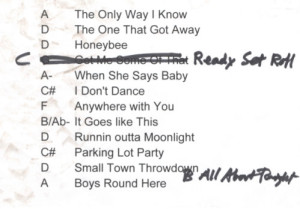 There's a really unique aspect to a Peach Pickers show. We play songs that are the most successful chart-toppers of modern-day country radio, songs written by these three guys, yet made famous by others. So the crowd knows our tunes, yet most have never heard them performed by the original writers. A Peach Pickers performance is very organic, powerful, sometimes rough around the edges, and performed by what many in Nashville would consider a "stripped down band". Most of the radio versions of our songs feature multi-tracked guitars, layers of fiddle, steel, keyboards, background vocals, etc, and most touring bands that play behind country artists consist of this instrumentation. Our group is basically like a traditional rock band – drums, bass, and two electric guitars. Nothing against modern day radio production, but I find that this stripped down approach allows us to rock a little harder while allowing the essence of the song to shine through without obstruction.
While Rhett has had success and experience on the big stage, Ben and Dallas are newer to this forum, yet they rise to the occasion every time, perhaps with an excitement and enthusiasm that would be impossible to have in any other scenario. Together, the three of them make a formidable team. It probably doesn't hurt that the rest of our band is made up of some extremely talented folks – Nick Forchione on drums and former G-men, Mike Chapman on bass and Chris Leuzinger on electric guitar. I'm extremely proud of this band, were all friends, we love playing music together, and we make it happen every time.
The farm tour might be over, but the memories are forever. Luke's entire crew, band, and management treated us with great care and respect, which speaks volumes of the man himself. We all made some new friends and strengthened the bonds between old ones, and I sure hope we get to do it again next year! In the meantime, The Peach Pickers might just have a few more surprises for you, stay tuned!

By Eric Normand
I recently read an article on Huffington Post, "Art and Music Are Professions Worth Fighting for, and while I agree with some points of this article I think the author does a major disservice in presenting the pursuit of music as a profession in a kind of "all or nothing" approach. He talks about a presentation he made at a high school career day where he suggests music as a possible career choice for young people. He says that those interested should "go for it, with abandon and furious joy, and that you do so without a plan B". This is where I disagree. I also disagree with the distinction this makes between "career musicians" and nonprofessional musicians. Just because you don't play professionally doesn't mean your music isn't valid. I agree, if you love music and want to pursue it, why not pursue it wholeheartedly, but what's the matter with pursuing music while earning a living from something else? What's the matter with pursuing music for the mere enjoyment of it? I believe you can pursue music as a career and for fun, but you need to keep your eyes open and realize that you will need a steady income stream along the way. To decide how music or a music career might fit into your life, perhaps the questions you really need to ask yourself are; why are you pursuing music, what do you want to get out of it, and what will it take to be successful? What is your definition of success?
When I was a senior in high school, if you had asked me what I wanted to be when I grew up I would have said, "a professional musician". Immediately after high school I got a job as an apprentice drywall carpenter before enrolling in the Berklee College of Music two years later. After Berklee I played professionally in nightclub bands for the next 14 years, eventually also becoming a guitar teacher. In 2002 I relocated to Nashville Tennessee where I've had the good fortune to work as a hired gun on several major tours. My first gig was as a guitar tech for Toby Keith, and I went on to play lead guitar with several country artists – Daryle Singletary, Vern Gosdin, Rhett Akins, and the hit songwriting team known as "The Peach Pickers", among others. I also wrote a book about how to navigate the Nashville music industry, "The Nashville Musician's Survival Guide".
Looking back, if you had told that starry-eyed high school kid that one day he would be a musician, painter, drywall carpenter, teacher, author, and website designer, he would've said "Naw, I'm not interested in any of that other stuff". But as they say "life is what happens while you're busy making other plans", and one of the things I've learned along the way is that you have to wear a lot of hats to survive in this world. The truth is, my original goal of being a professional musician was based on the glamorization of the musical era that I fell in love with, and I had no idea about the reality of any of it.
What do professional musicians do?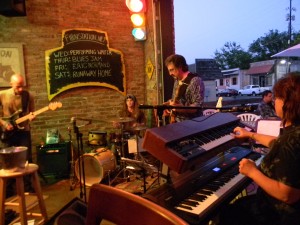 We starve! Just kidding (well, not entirely). The options for musicians trying to earn a living from their craft are somewhat limited. The way I see it you can pursue one or more of the following avenues; nightclub musician, music teacher, touring musician, or session musician. Sure, there are other gigs (orchestra musicians, jingle writing, etc.) but these four are the most practical, and out of these, the first two are the only ones that ever become reality for most. If you want to be a touring or session musician, you will need to live in a music metropolis such as Nashville, New York, or LA, and these are extremely hard (but not impossible) gigs to land.
Regarding paying gigs, I'm talking about work you can get on a regular basis that pays real money for your services. Therefore, I'm leaving out songwriters and aspiring artists because these do not pay any real money unless you become extremely successful. TV shows like "American Idol" and "The Voice" have propelled the myth that anybody that learns how to sing a good cover song can become a national recording artist and superstar. Out of the tens of thousands who audition for these shows and the hundreds that perform on them annually, how many are ever heard from again?
While I cherish many of my experiences as a professional musician, I've learned the hard way that it doesn't always pay the bills. Night club gigs still pay what they paid 25 years ago when I first got into this ($100 a night is still considered good pay) and most club gigs in Nashville don't even pay that. As far as touring musicians, most tours only pay during the part of the year that the tour is active and, unless you are on a very high profile tour, you'll have to find another income stream during the winter.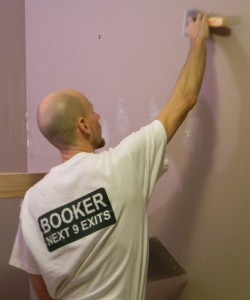 Two years ago, I went back to full-time construction work, and put my music career on part-time status. I began approaching music as simply one component of my life, and for first time since I've been in Nashville I'm actually earning a steady living year-round. I still play music, sometimes for pay, always for fun, and I get just as much reward, if not more, out of a local club gig playing for tips as I do when I perform with The Peach Pickers on the Luke Bryan farm tour in front of 15,000 people.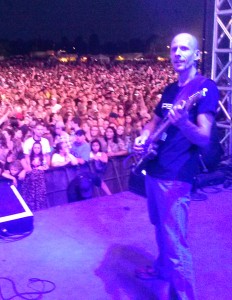 Don't get me wrong, I'm not here to talk people out of their dreams; after all, I did write a book about surviving the Nashville music industry. But if this is your dream, you need to arm yourself with knowledge and know what you're up against. If you're thinking about pursuing music or arts as a profession you must first "define your success". What is your definition of success in music? Then ask yourself why you want to do this. If it's because you think it's an easy and fun way to make a living you might want to do a little more research. It can be fun, but it's definitely not easy. If it's because you absolutely can't see yourself doing anything else, then go for it, but have a plan B, and have a way of earning a living while you pursue it.
There's nothing wrong with pursuing music as a career, and there's also nothing wrong with being a musician or artist that never becomes "professional". Music is one of the oldest forms of communication, music has the power to heal and unite people, and playing music makes you smarter. So go ahead and work at becoming a great musician, it's a noble thing to do and the world always needs good music and art. Approach your music with abandon and joy, but don't be afraid to have a plan B.
Follow Eric on Twitter and his blog at survivenashville.com
Some of my earliest childhood memories are of my dad playing records and, dare I say, reel to reel tapes of the music of Paul Butterfield, John Lee Hooker, Santana, and Derek and the Dominoes. I guess this music made an impression, because by my early teens in the early 1980's I was buying my own records, not of the pop-based FM radio music of my generation, but of the previous generations more blues-based artists. While everyone else was listening to E.L.O. and Michael Jackson, I was discovering Jimi Hendrix, the Allman Brothers, BB King and Bobby Bland. Sure, I liked some of the 80's guitar rock of the day, but always kept digging back to a more rootsy sound. Then right smack in the middle of 80's hair band mania came Stevie Ray Vaughan, and I immediately related to his music.
Stevie's music influenced a generation of guitarists and, at a moment where rock and pop music was winding itself up, almost single-handedly brought blues music back into the light. You couldn't go see a club band during the late 80's and early 90's without hearing his music. I found myself covering his renditions of blues classics like "The Sky Is Cryin'", "Empty Arms", as well as originals like "Cold Shot" and "Walkin' the Tightrope", as did many others at that time. Stevie's instrumental "Riviera Paradise" from the album 'In Step' is a beautiful piece of American roots music, and I always loved the spooky vibe created by his magical band on that song in particular.
I'll never forget the day I heard of his tragic passing, how sad it was that we had to lose such a wonderful artist at such a young age. But his music, and the influence of his music, lives on, and I, like many others, will always appreciate everything Stevie did for music, and everything his music has done for the world.
So that's why when I began hosting the Nashville Berklee Jam I felt compelled to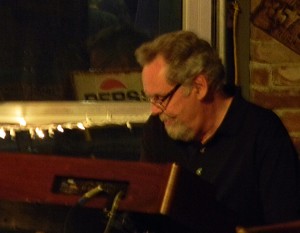 have Reese Wynans, the keyboardist who played with Stevie for the last five years of the great guitarist's life, as a special guest speaker/performer. Reese was kind enough to share his story with me and a room full of alums at our monthly Nashville Berklee Jam last Tuesday at The Fillin' Station.
Almost 20 years before he began working with SRV he was playing in cover bands in his home state of Florida, and he recounted one of his first bands playing five sets a night, six nights a week. Two of the other members were Dickey Betts and Berry Oakley and on their one day off they would play a weekly free jam, adding Duane Allman and Butch Trucks to the mix. Eventually Duane decided to start his own band and stole these key members to form The Allman Brothers.
After spending a few years in San Francisco and working with a still-unknown artist at this time, Boz Scaggs, he returned to Florida for a brief period and then worked the East Coast in a show band for a few years. Reese then migrated to Austin, Texas, a booming town full of blues-infused music by this point of the mid-70s. Of this time, Reese spoke passionately.
"It was really great for me living in Austin…everything was so rootsy…they had a great music scene back there in the 70's. They had a great blues scene, and a great blues club called 'Antone's'…and I would go and sit in at Antone's anytime I had a chance. I was ending up really lovin' the blues during this time."
By 1980 he found himself working for Delbert McClinton, playing on four of his records and touring extensively for the next five years. By 1985, Reese was ready to get off the road, and would have if not for a fateful encounter at the end of his final gig with Delbert. Apparently, Delbert's sax player had been invited to play on one song of a Stevie Ray Vaughan recording session after Delbert's concert, and at the last minute Reese was asked to join in as the other keyboardist did not show up. Things went very well at this particular recording session, one which produced the hit, "Look at Little Sister" and Reese was asked to come back and record the following day. By the end of that recording session he was asked if he wanted to join the band. Reese summed up a life lesson from this critical moment,
"When a door opens for you, you've got to be willing to walk through it, and then be able to deliver once you get through there."
The next five years would yield three Grammys, several world tours, and a reintroduction of the blues to the masses –
"We were spokesman for Texas blues…as much as Stevie didn't want to, BB King had to open for us, because we were just more popular than him. He said "no we can never, BB's always closing the show"… but finally, we had to headline…I loved playing in that band…we were all totally immersed in the blues, and we felt like were the vanguard of the blues. We were dragging Buddy Guy and Otis Rush into the light and presenting them out on our shows to people who were just hungry for that music…the stuff that we played I thought was shining a light on all the huge blues guitar players that had come before us, and that was a wonderful thing to do, I felt like it was really worthwhile."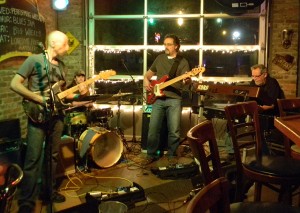 After Stevie's tragic passing, Reese wound up in Nashville, TN, a place where he has continued to record and perform on a national level. During the talk, Reese passed around his All Music Discography, which reveals a staggering body of work, including Brooks and Dunn's 2006 single of the year "Believe". He offered us some thoughts about the differences between studio and live performance –
"I like being in the studio, I like playing gigs, I like playing clubs…all you people who do studio work know it's two different things. Playing a club is really a chance to experiment…a chance to reach out in different directions and really find yourself. The studio isn't really a place for that. The studio is where you don't have to play it safe, but you've got to do something that's exactly right for the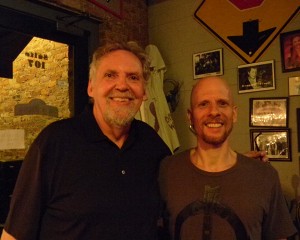 song…it's a place for finding something that works, finding something unique that works."
After his talk was finished, Reese was gracious enough to perform a set with our house band – a performance that was nothing short of inspired. I've heard his playing on many records, but there's something intangible that you can feel in the heat of live performance that goes beyond a recording, and that was evident on this night. One of the songs we played together was "Little Wing", a song that he had played on tour with Stevie, back in the day. On this song, Reese seemed to really stretch out in one of those magical musical moments in which time seems to stand still (see video below).
Eventually, this special night had to end, and we said goodbye after a quick photo op. Thanks, Reese, for sharing your wisdom, and for continuing to shine some light on that crown jewel of American music we call the blues.
When we first began planning our New England visit, sometime late last year, I had the idea to put together a special reunion show, one at which we could reconnect with our dearest friends and musician buddies from days gone past. My initial thought was to throw together a band of players from my New England nightclub days, have a few guests sit in, and that a few of our old friends might turn up too. To my delight, all that happened, and then some.
Sometime around February I began putting this all together. The first thing I had to do was pick a place. Hmmm, early August in New England? What better place to do this sort of thing than Hampton Beach! And why not pick a venue in which I used to perform regularly back in my New England heyday, Wally's Pub, which turned out turned to be the perfect spot. I would need a core band of players, so I contacted drummer, John Medeiros; and bassist, Keith Foley; both whom I once played with in my old band, Electric Blue. I wanted to have another guitar player involved as well, so I called up my friend, and former guitar student, Charles Cormier, who was a junior in high school when I left New England. Charles now plays with the seacoast jam band "Superfrog" from which I also recruited percussionist, Adams Viciguerra.
Once I had the place and the players, it was time to invite some special guests, and I began putting out some feelers months in advance. Putting together a reunion show from afar takes a lot of work, and I spent a lot of time e-mailing, talking on the phone, and sending mp3's across cyberspace. It was all well worth the effort. On a warm Sunday afternoon a few days before the show, we had one rehearsal with the core band and, thanks to everyone doing their homework, things came together pretty quickly.
So Wednesday finally arrived, and the band guys arrived around 5:00 PM to set up and sound check. Our five piece ensemble was joined by, Jeff Bissonnette, a sound engineer that I knew from the "Jet City era". We got everything dialed in and then our friends and guests began to trickle in. I hired a local videographer, Mike Maleszyk, to document the evening and he showed up about an hour before the show with one of his cohorts and three video cameras. A lot of friends that Kelly and I hadn't seen in ages started arriving and I did my best to make some rounds before showtime. Some of these friends I hadn't even seen since high school, some 25 years ago. There were so many people I wanted to talk to but so little time.
Eight o'clock came around and it was time to get down and boogie. "The Eric Normand and Friends Band" felt good right off the bat and I was excited about the vibe we were putting forth. Despite the fact that I hadn't played with any of these guys in a decade, and most of the players had never played together before, the group had a real synergy and maturity, almost as if we had been playing together for years. We played an hour-long set of my favorite tunes, blues-rock music born of another era. Songs by Freddy King, Delbert McClinton, Jimi Hendrix, and the Allman Brothers, got a good dance floor going by mid-set. A couple of high points came during our rendition of the classic "Sweet Melissa" and an extended version of "Little Wing", the former turning out to be a particularly proud moment for me when Charles took a beautiful and emotive solo. This all crescendoed with the set's climax of "Black Magic Woman", complete with full blown Santana-style percussion and an extended outro jam that nobody wanted to end.
We took a break and I made a few rounds, trying to catch up with as many of my friends and musician buddies as I could. I didn't get to talk to everybody (not for lack of trying) and I wish I could have had more time. It was time to kick off the second half of the night, and this began with a couple of songs with the core band plus friend and former Electric Blue member, Tom Martin sitting in on bass. Next would come a "Jupiter's Ghost" reunion, and this was comprised of Doug Hinton on drums, Mark Gagnon on bass, Keith Bowen on vocals, and me on guitar. We played two songs in what felt like a literal time machine, a packed dance floor from the get-go. Keith stepped down and Brandon LePere joined us on vocals for the next onslaught. Once again it was "Sherman set the way-back machine", and when I looked across the stage it felt like 1995 again. Once upon a time a lifetime ago, four guys had a little rock band called "Shockwave", and we played, and played, and played. We went through a lot together, and many great memories and feelings came rushing back during this part of the night.
Next it was time for one last reunion grouping and the crowd heard the announcement "Will Stan Jackson and George Bisson please come to the stage". Yes, that's right a partial "Jet City" reunion was about to unfold. A little "Alice in Chains" followed by some "Bad Company" kept the dance floor hopping. Sadly, the night was drawing to a close, and I had the core band return for one final number, "Whipping Post".
Have you ever experienced a moment in time that was so full of positive energy and wonderment that you hoped it would never end? An experience so pure and magical that you wish you could just live inside of that moment for eternity? For me, and maybe a few others on this particular night, this was one such moment. Life is whizzing by, and the perception of time seems to be changing, literally speeding up exponentially. This fact has recently clarified some things for me. Friends and family are of the best things in life, and to me, friends are family. The times we spend together make us who we are, and on this trip, reconnecting with the friends of our past was a powerful experience. So many people made this special night happen. People drove from as far away as Brattleboro, Vermont and Portland, Maine; Stan Jackson drove all the way up from Cape Cod to participate in this night. Thanks everybody for making it all come together!
The night did have to end, but the memories we made will last a lifetime. And besides, I don't see any reason we can't make this an annual event. Meanwhile, Kelly and I have adopted a new theme song, one from which I would like to appropriately quote for the end of this writing –
"Meanwhile I, ain't wastin' time no more,
Cause time goes by like hurricanes, and much faster things,
Don't forget the pouring rain."
I would like to send out a special thanks to Mike Maleszyk, Catherine Fraser-Dery, Athena Erickson, and Curt Comeau for the use of these photos.
Have you ever found yourself in a situation which required you to play a song you did not know? Perhaps you've had to play unfamiliar material while sitting in at a blues jam or open mic. Or maybe when an audience member shouts out a request and your band attempts it even though none of you have ever played it before. I have been in these situations countless times. I've even been in situations where an artist decides to attempt an unfamiliar tune with the band hanging on for dear life, in front of thousands of people.
In these unnerving situations I have learned to embrace some great advice from my mentor "D" – "When in doubt, lay out." That's right; if you don't know what chord or note is coming next, don't play anything. Sometimes it's better to leave some gaping holes in the music than it is to take a chance on playing "the ugly chord."
One thing I have learned is that a song won't completely fall apart if you simply miss the downbeat of a few chord changes. Songs have momentum, and a lot of this momentum is carried by the vocalist and the overall groove. As long as there is a lyric and melody happening over some kind of basic "chug factor" the audience won't miss a few guitar chords or bass notes here and there. Of course if it's the bass player that doesn't know the tune, it's a lot easier for the song to fall apart, as incorrect root motion might derail some of the other players.
One of my favorite tricks for getting through an unfamiliar tune is to avoid playing thirds. In many cases, the melody will dictate whether or not the song is in a major or minor mode. But in some situations the melody might be too ambiguous for this to be obvious. So if you only play chords containing roots and fifths, nothing will sound wrong.
Another concept I have engaged in is to play very lightly through the first verse and chorus, while intensely listening to the lead melody sang by the vocalist. By playing lightly it becomes easier to hear the vocals, giving me some time to figure out what's going on. Melody dictates harmony, so there's a lot of information in that first verse and chorus. After I make it through the first verse and chorus and know a little more about the songs melody and chord changes, I might dig in a little harder the next time around.
But by the time the song reaches that all-so-elusive bridge, this is where many players can get into trouble on unfamiliar tunes. In the words of Dirty Harry – ask yourself one question – "Do you feel lucky?" Do you feel brave enough to take a chance, and guess what chord is coming next? Maybe you'll get it right and look like a big hero. But if you guess wrong and play a big old ugly chord, you might find yourself as the conductor of a good old-fashioned train wreck and derail the whole song.
"When in doubt, lay out"
As some of you may know, and for those of you who don't know, I have just released my book "The Nashville Musician's Survival Guide." This street-level perspective of the music-related jobs in the Nashville music industry is now available in print version, and the e-book will be available within a few days. To purchase your own copy, follow this link.
Just for fun, I thought I would make a list of what I consider the top 25 greatest rock albums of all time. Growing up in the 70s and 80s, this music was the backdrop of my life, and I listened to most of it on vinyl, the medium in which I still prefer most today. In fact, I still own most of these albums and listen to many of them regularly. First of all, this was a hard list to compile. I have so many favorites and it was hard to whittle it down to just 25. What makes a great album? I think it comes down to the songs, performances, production, staying power, and popularity. Of course, excluding popularity, all of these criteria are a matter of opinion.
The following albums, in my mind, are all gems. They are all outstanding collections of great songs performed by brilliant musicians, and deliver a monumental sonic imprint to the universe. You might notice, barring a few exceptions, that most of this music was recorded before 1980. Once again, just my opinion, but I think that the majority of all great rock music was recorded during the 60s and 70s. Although some great rock records were made during the 80s, advances in recording techniques led to the tendency to "overproduce" which unfortunately dated many recordings from that period. By the 90s, the rock 'n roll party was pretty much over. While grunge and alternative did have some elements of rock, the feel-good factor (along with guitar solos) seemed to be missing.
So here it is. The music that rocked the masses, the songs that inspired so many of us to grow, the sounds that made me want to learn guitar, the records I cranked full blast on my bedroom stereo after school before the parents got home, the music I listened to in my car while cruising the beach with my buddies late at night, the songs that helped solve many of life's problems, the music of my generation and the generation just before – The greatest albums by the greatest bands from the golden era of rock!
| | |
| --- | --- |
| 1. | Boston – Boston |
| 2. | Van Halen – Van Halen |
| 3. | Are You Experienced – Jimi Hendrix |
| 4. | Led Zeppelin IV (Zoso) – Led Zeppelin |
| 5. | Dark Side of the Moon – Pink Floyd |
| 6. | Electricladyland – Jimi Hendrix |
| 7. | At Fillmore East – Allman Brothers |
| 8. | Led Zeppelin I – Led Zeppelin |
| 9. | Van Halen – Fair Warning |
| 10. | Montrose – Montrose (Sammy Hagar's first band circa 1972) |
| 11. | Bad Company – Bad Company |
| 12. | Abraxas – Santana |
| 13. | Rubber Soul – The Beatles |
| 14. | Band of Gypsies – Jimi Hendrix |
| 15. | Moving Pictures – Rush |
| 16. | Revolver – The Beatles |
| 17. | Whitesnake – Whitesnake |
| 18. | Back in Black – ACDC |
| 19. | Wheels of Fire – Cream |
| 20. | Doctor Feelgood – Motley Crue |
| 21. | Machine Head – Deep Purple |
| 22. | Woodstock Soundtrack |
| 23. | Get Your Wings – Aerosmith |
| 24. | Van Halen II – Van Halen |
| 25. | Who's Next – The Who |
What's your take? Do you think all of these albums belong at the top of the pile? Do you think any are missing? What are your favorites? I'd love to hear your thoughts and comments.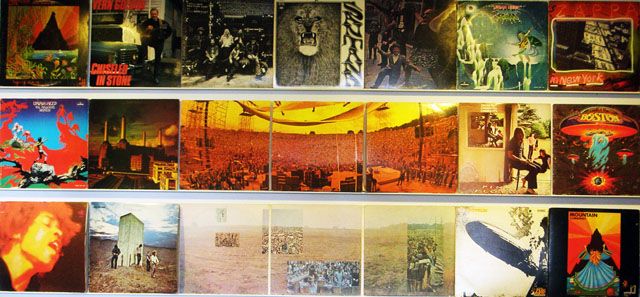 Saturday night was the first outing for my new band 'Endless Boogie', and fun was had by all who ventured out to party with us at the Fillin'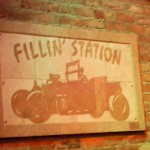 Station in Kingston Springs, TN. The club, owned by Patrick Weickenand, was the perfect setting for my long awaited rock n' blues experiment. Small, intimate, and loaded with character, the club is housed in an old garage right out of yesteryear, hence the name, and a favorite watering hole for the locals on the west side of town.
Our trio started out with a couple of instrumentals to get things going before switching to some vocal-based tunes. The place wasn't  too busy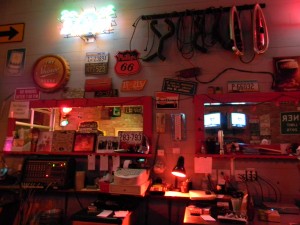 during our first set, so Patrick, who was working the bar, had time to sit in on harp for a few tunes in between slinging beers. Patrick is one of the nicest guys you'll ever meet, and undoubtedly contributes greatly to the warmth and charm of this unique place. Anyone who has ever played the Fillin' Station knows that Patrick is a great harp player, and he's frequently requested to 'sit-in' from behind the bar with many a band. So several times throughout this night he joined in for some fun jams (check out the video below).
Fran Breen (drums) and Mike Chapman (bass), aside from being good friends of mine, are seasoned pros and I was thrilled to have them on the gig. Talk about groove, boy these guys can lay it down! I had an absolute blast playing with them, and we plan to do this on a regular basis, schedules permitting. As of right now our next outing will be Friday, December 3rd back at the Fillin' Station.
By the third set, the place had erupted into a full-blown dance party which held through to the end. People were even dancing on Whipping Post (if you've ever tried to dance to this song you know why this is significant). All in all it was a triumphant beginning to this new project, a project born out of my need for "a little music for the soul".