Toby Keith
By Eric Normand
I recently read an article on Huffington Post, "Art and Music Are Professions Worth Fighting for, and while I agree with some points of this article I think the author does a major disservice in presenting the pursuit of music as a profession in a kind of "all or nothing" approach. He talks about a presentation he made at a high school career day where he suggests music as a possible career choice for young people. He says that those interested should "go for it, with abandon and furious joy, and that you do so without a plan B". This is where I disagree. I also disagree with the distinction this makes between "career musicians" and nonprofessional musicians. Just because you don't play professionally doesn't mean your music isn't valid. I agree, if you love music and want to pursue it, why not pursue it wholeheartedly, but what's the matter with pursuing music while earning a living from something else? What's the matter with pursuing music for the mere enjoyment of it? I believe you can pursue music as a career and for fun, but you need to keep your eyes open and realize that you will need a steady income stream along the way. To decide how music or a music career might fit into your life, perhaps the questions you really need to ask yourself are; why are you pursuing music, what do you want to get out of it, and what will it take to be successful? What is your definition of success?
When I was a senior in high school, if you had asked me what I wanted to be when I grew up I would have said, "a professional musician". Immediately after high school I got a job as an apprentice drywall carpenter before enrolling in the Berklee College of Music two years later. After Berklee I played professionally in nightclub bands for the next 14 years, eventually also becoming a guitar teacher. In 2002 I relocated to Nashville Tennessee where I've had the good fortune to work as a hired gun on several major tours. My first gig was as a guitar tech for Toby Keith, and I went on to play lead guitar with several country artists – Daryle Singletary, Vern Gosdin, Rhett Akins, and the hit songwriting team known as "The Peach Pickers", among others. I also wrote a book about how to navigate the Nashville music industry, "The Nashville Musician's Survival Guide".
Looking back, if you had told that starry-eyed high school kid that one day he would be a musician, painter, drywall carpenter, teacher, author, and website designer, he would've said "Naw, I'm not interested in any of that other stuff". But as they say "life is what happens while you're busy making other plans", and one of the things I've learned along the way is that you have to wear a lot of hats to survive in this world. The truth is, my original goal of being a professional musician was based on the glamorization of the musical era that I fell in love with, and I had no idea about the reality of any of it.
What do professional musicians do?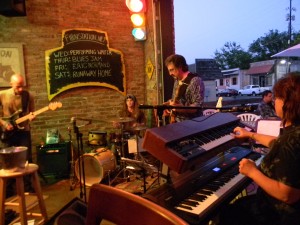 We starve! Just kidding (well, not entirely). The options for musicians trying to earn a living from their craft are somewhat limited. The way I see it you can pursue one or more of the following avenues; nightclub musician, music teacher, touring musician, or session musician. Sure, there are other gigs (orchestra musicians, jingle writing, etc.) but these four are the most practical, and out of these, the first two are the only ones that ever become reality for most. If you want to be a touring or session musician, you will need to live in a music metropolis such as Nashville, New York, or LA, and these are extremely hard (but not impossible) gigs to land.
Regarding paying gigs, I'm talking about work you can get on a regular basis that pays real money for your services. Therefore, I'm leaving out songwriters and aspiring artists because these do not pay any real money unless you become extremely successful. TV shows like "American Idol" and "The Voice" have propelled the myth that anybody that learns how to sing a good cover song can become a national recording artist and superstar. Out of the tens of thousands who audition for these shows and the hundreds that perform on them annually, how many are ever heard from again?
While I cherish many of my experiences as a professional musician, I've learned the hard way that it doesn't always pay the bills. Night club gigs still pay what they paid 25 years ago when I first got into this ($100 a night is still considered good pay) and most club gigs in Nashville don't even pay that. As far as touring musicians, most tours only pay during the part of the year that the tour is active and, unless you are on a very high profile tour, you'll have to find another income stream during the winter.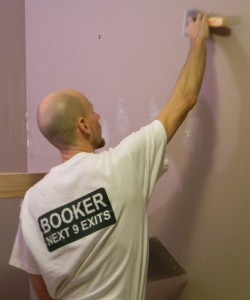 Two years ago, I went back to full-time construction work, and put my music career on part-time status. I began approaching music as simply one component of my life, and for first time since I've been in Nashville I'm actually earning a steady living year-round. I still play music, sometimes for pay, always for fun, and I get just as much reward, if not more, out of a local club gig playing for tips as I do when I perform with The Peach Pickers on the Luke Bryan farm tour in front of 15,000 people.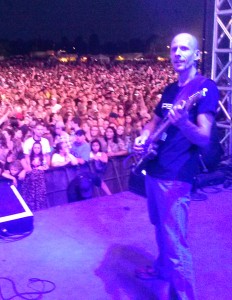 Don't get me wrong, I'm not here to talk people out of their dreams; after all, I did write a book about surviving the Nashville music industry. But if this is your dream, you need to arm yourself with knowledge and know what you're up against. If you're thinking about pursuing music or arts as a profession you must first "define your success". What is your definition of success in music? Then ask yourself why you want to do this. If it's because you think it's an easy and fun way to make a living you might want to do a little more research. It can be fun, but it's definitely not easy. If it's because you absolutely can't see yourself doing anything else, then go for it, but have a plan B, and have a way of earning a living while you pursue it.
There's nothing wrong with pursuing music as a career, and there's also nothing wrong with being a musician or artist that never becomes "professional". Music is one of the oldest forms of communication, music has the power to heal and unite people, and playing music makes you smarter. So go ahead and work at becoming a great musician, it's a noble thing to do and the world always needs good music and art. Approach your music with abandon and joy, but don't be afraid to have a plan B.
Follow Eric on Twitter and his blog at survivenashville.com
Have you ever experienced hand or arm pain, or pain in your joints when playing a musical instrument? Perhaps you experience this pain while working at a computer or a mixing console? How about weakness or numbness in your hands or fingers? If you have, or do experience any of these symptoms on a regular basis you are not alone, you, like me, are one of many who live with repetitive motion injuries.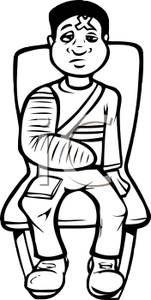 Several years ago, while working on the Toby Keith tour, I was helping the crew load some heavy cases onto a truck. Everything was going fine until one particularly hard-to-maneuver case began to fall off the ramp, with my hand still holding one of the handles. The case didn't fall completely off the ramp and we were able to pull it back up, but not without my right elbow becoming engulfed in pain. My first thought was that maybe I had sprained something, but I had sprained joints before and they didn't feel like this. This pain seemed to be centered on my right elbow, and was an intense, burning sensation, like my elbow was on fire. I also felt pain if I squeezed or gripped anything in my right hand. I was instructed by the road manager to get it checked out by a doctor as soon as we returned to Nashville.
At the time of this incident I had already been playing guitar for over 20 years, I had previously worked in construction for several years, and was currently performing a fairly physical job as a guitar tech. All of those years of daily, repetitive hand and arm motions suddenly caught up with me, hurling me full speed into the world of "repetitive motion injuries". According to the doctors, I had developed tendinitis, and while this incident with the road case may have acted as a trigger, "it had likely been a long time in the making", they explained. "So how do we heal this?" I asked.
The approach that the doctors chose for me was a regular course of anti-inflammatories, a steroid shot, an arm brace, and the recommendation to "do your best to avoid lifting or gripping anything heavy", the last piece of advice being somewhat unrealistic for a guitar tech. Although I did follow these recommendations, even adapting some of the physical elements of my job, several weeks later I was still experiencing a lot of pain on a daily basis. It still hurt to grip things with my right hand, and I was beginning to have wrist pain and numbness down my arm. With my situation worsening, the doctors now recommended physical therapy, and this is where I finally began to see some results.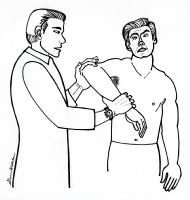 The physical therapist took an entirely different approach. He showed me several hand and arm stretches, which I was instructed to perform daily, he massaged the area of inflammation, and iced it. He showed me how to do the massages myself, and instructed me to do them every morning and night after the stretches, the application of ice always being at the end of the routine. He told me to "listen to my body" and that to perform my regular physical activities as long as they didn't cause pain. "If an action begins to cause pain, try not to do it." Making great improvements over the following weeks, I couldn't understand why the doctors hadn't recommended any of these approaches. In fact, the doctors did very little to explain the finer points of my affliction, most of what I learned about what causes tendinitis and how to deal with it, I learned from the physical therapist.
Over the following months I was able to get an upper hand on my tendinitis, and through regular stretching, didn't have any more problems for several years. Then I had a setback. One day I was making a homemade pedal board and spent several hours tightly gripping and squeezing a rivet gun. The end result was a resurgence of the pain in my right elbow as intense as that caused by the Toby Keith road case incident. I paid a couple more visits to a physical therapist who was able to help with some soft tissue manipulation, but the biggest thing he did to help me long term was to introduce me to a whole new way of stretching. The following, which I quoted from my book "The Nashville Musicians Survival Guide", is part of what I learned.
"The muscles in your arms are actually a series of overlapping interconnected muscles, tendons, and ligaments that run from your fingers all the way to your shoulder. It is because of this fact that it is important to also stretch areas of the arm that might not have any pain or problems. Performing stretches that work your wrists, triceps, and shoulders will ultimately help stretch all the muscles and tendons in between.
Stretching an arm with tendinitis is not the same as stretching a healthy arm and requires some caution. Listen to your body. The stretching should cause some sensation but should not be painful. The more you stretch, the more results you will experience. Stretch at regular intervals throughout the day, always making it a point to warm up with some light cardio before your first stretching sequence. (Stretching cold muscles can cause further injury.) If you are gigging, try to stretch before the performance, after the performance, and even in between songs if you have a chance"…
Taken a step further, it only makes sense to stretch and exercise your entire body, as everything is truly connected… the hip bone's connected to the leg bone, the leg bone's connected to the…
Keeping It at Bay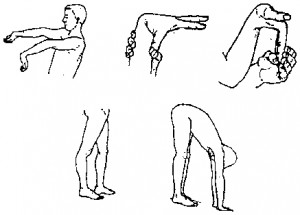 I was able to eventually get my recent tendinitis flare up under control, but this affliction still haunts me to this day, with a constant effort required to keep it at bay. If I don't stretch regularly, the pain comes back, and as the body ages it seems like we are more predisposed to injury – gravity is not on our side. That being said, something that has helped me greatly has been an investment in overall physical fitness, health and well-being. I've tried a lot of different exercise programs in recent years, my favorite being the "P90X series" of which I have done several rounds. But I must say that yoga seems to be the one exercise that has helped my overall situation the most, it's absolutely outstanding for overall flexibility.
Eating healthy food doesn't hurt either. In fact, there are certain foods that increase inflammation, and others that help to decrease inflammation.
Foods that help decrease inflammation:
Foods containing Omega-3 fatty acids like cold water fish, canola oil, and pumpkin seeds; Olive oil, nuts, fruits, vegetables, lean poultry, legumes, tofu, ginger, and some herbal teas
Foods to Avoid
Junk foods, high-fat meats, sugar, and highly processed foods are at the top of this list. Avoid anything that contains high amounts of trans fats and saturated fats like red meat and high-fat processed meats such as bacon and sausage.
For more info on what foods to eat or avoid, follow this link to read the article from which much of this nutritional information was taken, or visit the website, Do It the Hard Way, to learn some nutrition basics and find healthy recipes.
Unfortunately, we live in a society that tends to address problems only as they occur, rather than focusing on prevention. When I think back to all my years of guitar lessons, even my years of music college, no instructor ever told me that repetitive motion injuries exist, let alone how to prevent or deal with them. If you're a musician and don't yet have any of these afflictions, it's obvious that physical fitness and overall health and well-being will reduce your chances of ever having these problems. And if you are "playing with pain", you're not alone, there are many of us. But the good news is that most problems are treatable, there are solutions – they just require a little knowledge, a consistent effort, and some self-investment.
"Every human being is the author of his own health or disease."
— the Buddha
To gain some more perspective on repetitive motion injuries, as well as some of their common misconceptions, follow this link and read "A Cure for Carpal Tunnel Syndrome?" by Jennie Hoeft, as it was reposted on Nashville drummer, Stephen Taylor's blog.
Hey everybody, I apologize for the big gap in between blogs lately. I'm up to my armpits in this book project, literally swimming in it, and it's been hard to break away and write a weekly blog. But here it is! As many of you have been reading, some of my most recent blogs have been about my experiences working on the Toby Keith tour. Well here's one more to cap off that series!
It was a cold, March day in 2004 when the Toby Keith tour rolled into Portland, Maine for the final two shows of the Shock 'N Y'All Tour at the Portland

Civic Center. I thought it was a fitting finale to end this whirlwind of a touring season back in my native land of New England, kind of like coming full circle to where I began my journey into the big leagues just two short years before. Except for a couple of weeks off for the holidays, we had been running virtually nonstop since July, and many of us were ready for some real time off.
A tour on this level, or on any level for that matter, is very much like a family, everybody knows a little bit about everybody else's business, there's no escape. By this point of the tour, some 90 shows after I had begun my new vocation of guitar tech, I had become very proficient at my job, the only real debacle to date being Rich's guitar rig going down for a few panicked moments a couple weeks back. Despite the fact that I was doing my job well, it was no secret to everyone else on the tour that I desired to land a gig as a player, and that my role as tech would likely be short-lived.
I have to admit, while my job was stressful at times, my specific daily tasks, while tedious, weren't that difficult. It was the emotional quagmire of being a player stuck in a tech's body that I found most challenging. Being gone for days or weeks on end, setting up guitars and gear all day long, watching the arena slowly fill to capacity, and then right at the peak of the night finding myself standing on the sidelines watching the game. Don't get me wrong, it was still a thrill to be a part of. I stood on many a stage facing 20,000 or more concertgoers, with every note of the band's 20 song set permeating my being. It was truly electrifying! But as much of a rush as this was, I wanted to be up there playing guitar, and everybody pretty much knew this. After all, not only is it fun to play music with a band for a receptive crowd, peer recognition is also one of the validations that many of us musicians seek.
So when I first caught wind about an impromptu jam that was being organized for the end of tour party after the show on this night you can only imagine my excitement. Being barely 2 years into my Nashville journey, I viewed this jam as a chance to prove to all my coworkers that I could play music as good as I could tech. Okay, maybe I needed to prove this to myself as well.
The day went pretty smoothly, like so many other show days over the past eight months, with everybody doing their thing and setting up for another sold-out show. As this venue was on my home turf, my typical routine was broken up with a couple of guided tours I provided for some family and friends. My wife, Kelly, was in town for this show, as well as my mom and dad and my good friend Russ Littlefield and his wife. Of course they were all thoroughly impressed with the massiveness and efficiency of this organization as I took them through the various workstations throughout the venue – front of house, monitor world, guitar world, dimmer beach, video world, and of course, a big stop at catering for dinner.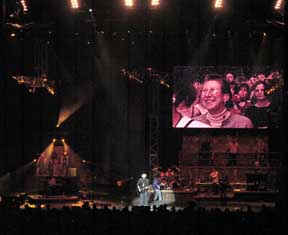 The concert went off without a hitch and my mom had a big thrill when her face appeared on the giant video wall, courtesy my friends on the video crew. A little while later the concert ended, the hall emptied, and after saying goodbye to my family and friends I rounded up a couple of crew guys to trek some band gear to the banquet room. As this was a rare two-nighter, all of the big production stayed in place, allowing this late night after party to begin at the early hour of 11 PM.
A short while later and the private banquet hall was filled with Toby Keith tour members, as well as the tours opener, Blake Shelton, and his entourage. The dinner on this night was all out – fresh Maine lobster and New York sirloin's with an open bar as well, and Kelly and I enjoyed our share. Somewhere near the beginning of this night within a night, Toby made a brief speech, personally thanking everybody for helping make this particular tour one of the highest grossing country tours to date, somewhere in the neighborhood of $43 million. To show this appreciation, he announced that everyone would be receiving a special personalized plaque, and pointed to a table off to the side at which we could all acquire these special momentos.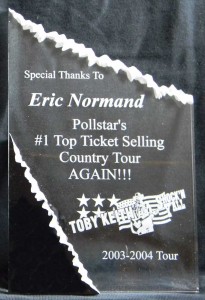 After dinner ended people began circulating around the room and the alcohol began to take effect, quickly kicking things up a notch. It didn't take long for the music to begin and somehow, I was included in the one of the first rounds of this no holds barred jam-a-thon. To the best of my recollection this grouping consisted of Toby, his drummer, Dave MacAfee; Blake's bass player; and me on electric guitar. We played with this group and for a half-hour or so, rendering a few rocking versions of barroom standards like "Keep Your Hands to Yourself", "Old-Time Rock 'n Roll", and the Doobie Brothers classic "Long Train Running" in which I unleashed a feverish solo during the ending vamp. I must have played quite well, for after this last number, Toby, who hadn't said anything more to me than the occasional "Hey brother" for the past eight months, turned to me and said "you just smoked both of my guitar players!"
Of course this comment landed me on cloud nine, and I'm sure Toby meant no disrespect towards his longtime guitar players, Rich and Joey, both whom are fine musicians. It was just one of those rare moments in life I had been waiting for, kind of a secret audition in my own mind, with Toby reacting genuinely to my over-the-top moment of guitar antics. Of course this short-lived "tech elevated to player" status yielded some great applause from my fellow crew members. All the other band members already knew I could play, but most of the crew guys had only heard me play some fragmented licks during the soundchecks. Judging by their comments afterwards and the next day they were genuinely excited to see one of their own crewmates 'kick out the jams', perhaps a few of them living vicariously through me in that unique moment.
After our set, I handed the guitar off to Joey, and Blake got up as well. Over the next couple of hours, everybody who wanted to play got to play. The party was still raging at 3 AM with a couple of tour members passed out in their seats by this point. Sometime around 4 AM it finally started to dwindle, and we headed over to the hotel room to sleep (one of the only times I didn't sleep on a bus for the entire tour).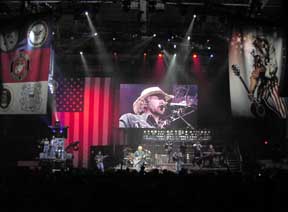 The next day we were all back to work getting ready for the final show, and many of the crew and band members were nursing significant hangovers. When Toby arrived for a brief sound check he again commented on my guitar playing with "you rocked last night!" I thanked him for the complement and we went about our day. Later that night our second show in Portland also went off without a hitch, and I said goodbye to everybody afterwards, as I was staying behind to visit family and friends.
At that moment I assumed I would be continuing this gig when it started its next leg of touring that summer. But as fate would have it, another opportunity would soon present itself and the Toby Keith tour would be my one and only foray into the world of the guitar tech. I will be forever grateful for having that opportunity, for it yielded much knowledge, great memories, and many friendships. But my wish was about to come true and it wouldn't be long before I would be standing up there on stages throughout the land, doing what I had set out to do, playing the guitar.
That said, I will never forget that special night in Portland!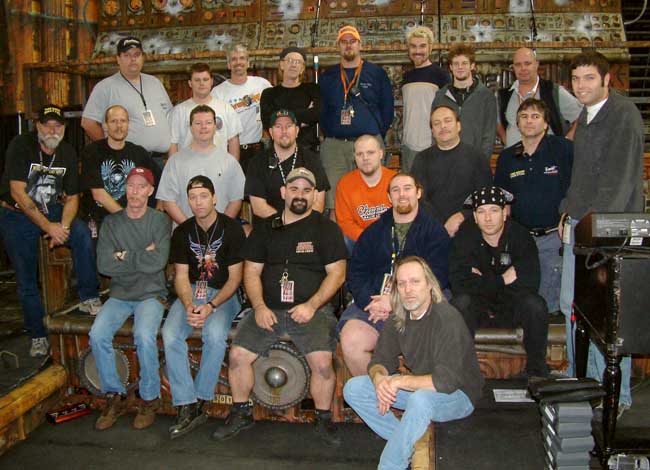 Toby Keith Crew 2003/2004
Photos courtesy Brittany Allyn
One of the best things about working as a guitar tech on a major tour is that it provides you access to the world's coolest guitar picks. When working on a high profile tour, there will be many occasions when you will share the bill with other national acts, be it award shows, multi-band festivals, and so on. As many artists and band members on this level get their own personalized custom picks by the gross, and their guitar tech is usually in charge of ordering and dispersing these picks, it's only par for the course that the tech will have many opportunities to do a little pick trading with other techs and musicians.
During my time working as a guitar tech for Toby Keith, I came into possession of some real prizes. When we did a handful of shows with Willie Nelson, I traded some Toby picks with Willie's tech and got a Farm Aid pick and a "Willie and The Dead – 30th 4th of July Picnic" pick, a couple of unique rarities. Somewhere along the way I met a tech who had worked with the Allman Brothers, and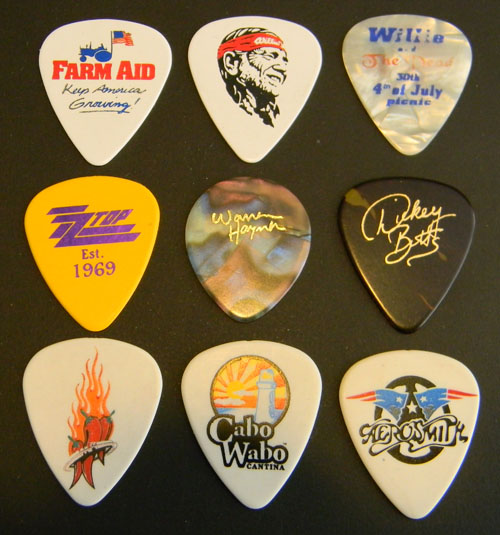 wound up with picks from Warren Haynes and Dickey Betts, two of my favorite guitarists. A few more standouts would be a Sammy Hagar "Cabo Wabo" pick, a Michael Anthony pick, and a rare Aerosmith/New England Patriots Commemorative Super Bowl pick.
Pick trading among techs is common practice and a tradition that goes way back. Some acts and techs are very laid back about their guitar picks, and often will just give you one if you are working on one of these tours and simply ask. Other tours and techs might employ a stricter rule regarding the handing out or trading of picks, only doing so sparingly, or not at all. On the Toby Tour during my tenure, the pick policy was somewhat laid-back, so trading a few picks when a good opportunity presented itself was not frowned upon.
Sometime in the fall of 2003 the tour came to an indoor sports arena somewhere in Illinois. It was just after dinner time when I returned backstage to guitar world for my preshow tuning duties. I had just barely started to dig in when a tall and lanky fellow dressed in a flamboyant outfit approached me. "Hi, Rick Nielsen of Cheap Trick here. I just want to check out what you got." It was kind of dark in the arena at this point, and I was a bit startled by this stark introduction that seemed to come out of nowhere. "I'm Eric, Toby's guitar tech. Good to meet you." I said as we shook hands. He briefly mentioned something about being a part owner of the hockey team that played in the arena, as well as being one of the owners of the arena itself, before taking a brief guided tour of our 22 guitars and basses. He seemed curious, but not overly impressed, which comes to no surprise as I had read that his collection of guitars once contained around 2000.
His demeanor was a little quirky, and his short bursts of fast-paced dialogue continued to keep me on edge. "Got any picks?" he asked out of the blue. "Yes, we sure do." I answered. "Wanna do a little trade? How about 10 for 10?" he asked briskly. This was beginning to feel like some sort of back alley drug deal. "Sure, step on over to my guitar work box" I replied beginning to rummage through the drawers. Before I could even grab one pick from each of Toby's collection for the trade, he had placed his picks on top of the work table. "Here you go." I said a minute later handing him the picks. Not but a few seconds later he barked out in an almost accusatory tone "Hey, there's only 7 here. I gave you 10. What are you trying to do?" and with this I began to have visions of buying a watch from some guy wearing an overcoat in an alleyway. "Oops, sorry. I didn't realize you were actually counting" I awkwardly confessed, and reached into the draw for a few more picks. "Thanks." He stated bluntly, and the picks were no sooner in his hand before he had disappeared from sight around the corner, into the blackness of the night.
Before this night I had traded a lot of picks, but none of my previous "deals" held this kind of weight, this was a first. Most techs don't take their pick trading as seriously as this fellow did. This guy knew what he wanted, and he knew how to get it. You've got to respect that. He drove a hard bargain, and I have the picks to prove it!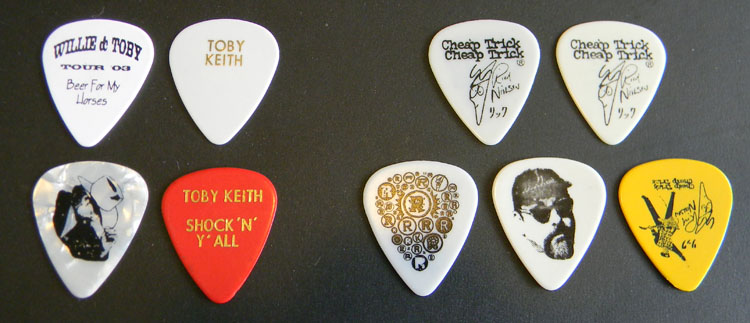 It was a couple of months into my new gig as guitar tech on the Toby Keith tour and things were going pretty well. I was getting used to this new world of touring life, had become accepted by the band and crew, and had my job down pat. Or so I thought.
This fast-paced tour was a whirlwind and most days were a blur. We were playing 20 to 30,000 seat arenas and sheds in 4 to 5 major cities a week and most shows were sold out. My job as guitar tech required me to have 22 guitars and basses (plus one fiddle) in tune, polished, and in perfect working order for each show. I was also responsible for the pedal steel guitar, the keyboard rig, the backline (excluding drums), a few pedal boards, and Chuck's (Toby's bass player and band leader) infamous MIDI pedal.
So that was the gig, make sure the gear was ready for the sound check and show, assist a few guitar swaps during the concert, and make sure all the gear made it safely onto the truck each night. The job was quite stressful, as I was responsible for maneuvering all of this expensive and delicate gear, much of which held sentimental value to the players, through a sea of crew members, stagehands, and thousand pound road cases, each day in a noisy and unfamiliar concert arena. In other words, total chaos.
So you can begin to understand how someone could lose one itty-bitty MIDI pedal within all of this chaos.
The tour was like the movie, Groundhog Day. Each day I would awake in my bunk, walk to the front lounge of the bus, and look out the window to a view of the back side of a generic concrete and steel structure. After getting dressed and going into catering for breakfast, I would patiently await a call over my two-way radio alerting me it was time to load-in my truck. After overseeing the stagehands load my backline and "guitar cart" to some temporary location inside the arena, I would set up an out of the way workstation and begin restringing guitars.
Before I could begin the next phase of my work, the placement and set-up of the backline on the deck, pretty much everything else had to be in place. The video wall had to be erected and flown, followed by the lighting truss and speaker towers, the Ford F150 truck/prop and its hydraulic "Dolly", and then the large set wall would finally be constructed, the entire process usually taking several hours.
On this particular day it was sometime just after lunch when my gear was fork lifted onto the deck. After a couple of stagehands assisted me in lifting the Hammond organ up onto the keyboard riser, I began taking the lids off of the racks and speaker cabinets behind the set wall. A little while later I had finished wiring the rigs and began placing and wiring the pedal boards. After placing Rich and Joey's boards out on the deck, I returned to my guitar work box for Chuck's MIDI pedal, only to be horrified upon opening the empty draw it was usually stored in.
OH NO!
I began searching through the other drawers of the work box and found it nowhere in sight. I asked Earl, the monitor engineer, if he had seen it, and he said he hadn't. I began a systematic search for it, looking through every road case within sight (in reality, I probably looked more like a crazed drug addict searching for his missing dope). Finally, in the midst of my frantic behavior (which was now beginning to alarm some of my fellow crew members), one of the lighting guys, a spirited fellow that everyone called "Convict", spoke up. "Are you missing something?" I answered "Yeah, I can't find Chuck's MIDI pedal". "Oh" he replied, with the slightest hint of sarcasm "Maybe you left it behind last night, I'll check with the other lighting guys."
I sensed that I was being had, but as I was still the new guy on the tour, I wasn't quite sure. A few minutes later, my panic now escalating, I asked one of the other audio guys if he had seen it. "Why don't you ask Convict?" was the reply, and I now realized that I was officially being toyed with. I went back to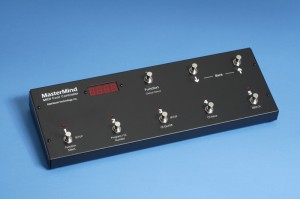 lighting world or "Dimmer Beach" as we called it, and again spoke with Convict. "Are you sure you haven't seen the MIDI pedal?" I desperately asked. "What's it look like?" he chided. "It's black, about a foot long, and has some buttons on top." "I might know where it is, but it's going to cost you." He stated matter-of-factly. "What's it going to cost?" I asked, my frustration beginning to grow. "One bottle of Jack Daniels" was his playful response. "You're holding the MIDI pedal ransom for a bottle of booze?  That's not fair." "I guess it's not that important to you." he said, and then walked off.
Furious, I stormed off and found Dave, the road manager, to complain about this obviously unfair play. After telling him my story in great detail, he replied by stating what by now should have been obvious to me "Well then, I guess you better buy him a bottle of Jack!". "That's not right." I begged. "What do you want me to do, I didn't lose the pedal." he replied dismissively. And with that I started walking off to again confront Convict. Before I was completely out of the room, he added "When you're ready, give me some cash and I'll send a runner to go buy a bottle." As I continued down the hall I swear I could've heard subdued laughter coming from the production office I had just left.
I made one last feeble attempt at convincing Convict that the right thing to do was to just hand over the pedal, but he wouldn't budge. No one was coming to my aid, and it seemed inevitable that I would need to give in to this would-be extortion. Out of time, with sound check now fast approaching, I went back to Convict with my tail between my legs. "Okay, I'll get you a bottle of Jack." And with that, he opened a nearby road case and handed me the pedal.
I did have sour grapes about this for a few days but managed to get over it. In hindsight, Convict had done a huge favor for me by grabbing the pedal. It wasn't his responsibility and he could have just left it there on the arena floor, and that would have made my life much more difficult. I never did completely figure out if this whole thing was some sort of weird initiation for the new guy, or a lesson to teach me the importance of making sure all of my gear was accounted for before quitting for the day. Needless to say, that was the first and last time that I would ever forget to pack up Chuck's MIDI pedal (or any other piece of gear for that matter).
Epilogue: A few days later, Convict invited me onto his bus for what was obviously some kind of peace offering – a toast to Chuck's MIDI pedal with shot of Jack Daniels!
It was a hot summer night in July of 2003, and I was hanging out at the Fiddle and Steel, when my good friend, Dave McAfee, told me that there was a job opening up on the Toby Keith tour. The position was for that of guitar tech, and Dave, who had been with Toby since the early days, felt that he could make it happen if I was interested.
"I know you came here to work as a player, but I think you could gain some good experience working on this tour for a while." he said. I had been in Nashville for a year and, despite having built up some steady in-town gigs, was ready to take this next step. "I could definitely use the experience of working on a major tour, not to mention some real income, but I don't have any experience working as a tech." I responded. "Don't worry about that, the job is mainly restringing and tuning guitars, and taking care of backline. They'll teach you everything you need to know." He said. "Okay, count me in! When do we leave?"
The next step was a brief phone call the following day with Toby's tour manager, Sean Sargent. Based solely on my commitment to work hard and my obvious hunger for the position, and of course the good word Dave had already put in for me, I was hired. I was now about to officially become a "road dog". I had no idea whatsoever what I was in for.
To give a little perspective here, prior to landing this gig with Toby, the most extensive touring I had done was a couple weekend outings with Vern Gosdin and BB Watson, basically one-offs within 500 miles of Nashville with 8 to 10 people traveling on one bus, our backline stowed in bays underneath. The Toby tour that year, dubbed the title "Shock'n Y'all", touted an entourage of 50 plus band and crew members, traveling by six buses, and carrying full production in six semis.
My virgin outing with this mega tour was a doozy of a trip. We were scheduled to play in Cheyenne, Wyoming on Saturday, July 19; Harrington, Delaware on Monday, July 21, and then returning to Nashville for a few days before departing for Toronto, Ontario. This is what is known in the touring industry as "deadheading", or in the country music industry as the "dartboard tour", meaning that some of these runs seemed so illogical that you might as well throw darts at a map on the wall to determine the routing.
Here's what my first five weeks of working on this tour looked like:
07/19/03   Cheyenne, WY  Frontier Days
07/21/03   Harrington, DE  Delaware State Fair
07/23/03   Paso Robles, CA  California Mid-State Fair (fly date)
07/25/03   Toronto, ON  To Be Announced
07/26/03   Ottawa, ON  Corel Centre
08/01/03   Maryland Heights, MO  UMB Bank Pavilion
08/02/03   Tinley Park, IL  Tweeter Center
08/03/03   Bonner Springs, KS  Verizon Wireless Amphitheater
08/07/03   Pelham, AL  Oak Mountain Amph.
08/08/03   Charlotte, NC  Verizon Wireless Amp. Charlotte
08/09/03   Raleigh, NC  Alltel Pavilion @ Walnut Creek
08/14/03   Corpus Christi, TX  Concrete Street Amphitheatre
08/16/03   Selma, TX  Verizon Wireless Amphitheatre
08/19/03   Meadville, PA  Crawford County Fair
08/22/03   Albuquerque, NM  Journal Pavilion
08/23/03   Phoenix, AZ  Cricket Pavilion
08/24/03   Los Angeles, CA  Staples Center
08/28/03   San Diego, CA  Coors Ampitheatre
08/29/03   Las Vegas, NV MGM Grand
08/30/03   Mountain View, CA  Shoreline Amphitheatre
08/31/03   Kelseyville, CA  Konocti Harbor Resort & Spa
I quickly learned that I was going to be gone a lot and living on the road with my new "family". Realizing that my in town gigging was about to grind to a halt, I decided to buy a "zoom" style guitar unit so I could practice my guitar via headphones on the bus to keep my chops up. I also had a laptop, a video camera, headset for my cell phone; I was totally geaked out and ready to "embrace the road".
With good intentions, but totally green behind the ears, I said goodbye to my wife, Kelly, and set out for the bus at 7:00 AM on a Friday morning. Still not completely familiar with Nashville, I got lost on the way to the bus and called my wife in a panic for a little help with MapQuest. She set me straight and I arrived to a Kroger parking lot in Hermitage at about 7:30. There were several buses parked together and, not knowing a soul other than Dave, I introduced myself to the first person I saw and told him I was looking for the "audio crew bus". "That's the bus I'm on too, the blue one right over there. You must be Eric? I'm Marty." he said. "The bottom front passenger's side bunk is available, or you could take one of the top two junk bunks." "Junk bunks?" I asked. "Those are the empty bunks that we can use for luggage." he answered, my greenness showing already.
Nashville to Cheyenne, Wyoming is 1200 miles, or about a 22 hour bus ride with a few stops. Wyoming to Delaware was another 1800 miles, or close to 40 hours with stops. So while I was loading my luggage, laptop, box of food, guitar, and briefcase full of practice equipment, the other guys were all making a food run into the nearby supermarket to stock up. It was at this moment that I committed my first bus foul (albeit unknowingly), and took a big ole' dump in the bus bathroom. The few bus trips I had previously made with BB and Vern were so short, that as chance would have it, I never had to use the bathroom, and no one on those runs had informed me of the "no poop" rule enforced on most of these buses. The reason for this rule (as I would later learn) is that anything other than peeing on a bus requires a much higher level of daily water and septic maintenance, so most tours instill this rule to save time, money, and to prevent the interiors of the buses from smelling like a sewer hole.
A few minutes later the rest of the crew returned and we set out for Cheyenne. A little while later "Pork Chop", one of the audio guys, used the bathroom, and when he reentered the front lounge exclaimed "Did somebody shit in there?" I instantly felt a sinking feeling in my stomach but instinctively chose to just sit there and say nothing, staring straight ahead, kind of like the scene in "A Christmas Story" in which Ralphie and his cohorts play dumb when Flick gets his tongue stuck to the frozen flagpole. As I was just making the acquaintance of these folks and trying to make a good impression, I didn't want to admit to being so utterly clueless. I'm pretty sure that they suspected it was me anyway.
Most of these buses have a small table in the front lounge, with a small bench seat on either side, basically enough room to seat two people somewhat comfortably. A little later in the day I decided to practice some guitar, and brought my stuff out to the front lounge. I sat down at the table and proceeded to take over the small space, spreading out my electronic gadgetry, music books, and guitar gear. For an hour so, I sat there playing guitar with headphones on, finding it somewhat difficult to do this in such a confined space. If I had ever bothered to look up, I'm sure I would've received some annoying looks from some of the other crew members, all of whom were veterans of the road.
After a while, I got up and went to go sit in the co-pilot seat next to the driver for a few, and this would be when I committed my second bus etiquette offence. Not yet realizing that seating and table space are considered prime real estate on a bus, I left my guitar and gadgetry strewn all over the table and seat. So when I returned a little while later, I was confused to see the table cleared and my stuff nowhere in sight. Apparently, somebody had moved it all to my bunk.
"I wasn't done practicing yet." I stated to a front lounge full of glaring eyes. "Yeah you are, you left that stuff there for an hour." "Oh, I didn't know you can't leave stuff out in the lounge." I said apologetically, beginning to feel like a real dork. "Oops. Sorry guys."
This is not how I wanted my introduction to the Toby Tour to begin, but it was too late, like they say, there's no such thing as a second first impression. In time, I would get the hang of how to live with others on a bus, the importance of not taking up too much space, and the communal approach one must take to live on a tour. But at this moment we were only a few hours into a trip that would span 4000 miles over five days, and my new comrades weren't exactly taking a quick liking to me. Not to mention the interior of the bus was now starting to smell kind of foul from my first debacle.
It was going to be a long ride.
Getting a good gig is largely dependent on having the right connections. While talent and skill are certainly important attributes, knowing somebody on the inside track can be an extremely important factor when it comes to finding work.
Since my arrival to Nashville, one of the more memorable and interesting tours I've been fortunate enough to be a part of was the Toby Keith 'Shock' N' Y'All' tour of 2003. I had been in Nashville for about a year with no steady income to speak of, when I received a tip from friend and Toby Keith drummer, Dave MacAfee, that Toby was in need of a new guitar tech. I had previously met Dave at some of the Tuesday night hangs at the Fiddle and Steel, where I had sat in with the band he was playing with on a few occasions. Although I had moved to Nashville to pursue a career as a player, I decided to check out this opportunity, as I was badly in need of some steady income by this point.
Dave gave my number to Toby's tour manager who hired me after a brief phone interview. I had no previous experience as a guitar tech, but I was hungry for work, and eager to learn. Ultimately, it was Dave's recommendation that got me hired. If I didn't know Dave, it is unlikely that I would have even heard of this opportunity. But even more importantly it was Dave's recommendation to Toby's tour manager that gave me instant validation. Dave had been already working for Toby for several years by this point in time, and his backing was all I needed to get my foot in the door. Once I was "in", all I had to do was make good on my commitment, which I did.
If I hadn't already established a reputation of being a competent, trustworthy, easy to work with player, Dave never would have recommended me for this position. In reality, if I didn't have my act together, I probably would have never even met Dave, as he is a standup guy and a consummate professional who associates with others who are like-minded. While the old cliché "It's not what you know, it's who you know" is essentially true, having your act together doesn't hurt either.