business
Back in 2009, I began putting together a list of people to interview for my book, The Nashville Musician's Survival Guide, and my friend, Mike was at the top of this list. Those of you who knew Mike know that he was a very caring, giving, and humble human being. The interview he gave was not only insightful for aspiring musicians, but also a wonderful insight into his musical journey. Although he has now gone on to a better place, his music can still be heard, and his magical essence still shines through the words on these pages. It is with that spirit that I'd like to share his words with you all. Mike touched so many lives, and we are all the better for it. I miss my friend.
Use the buttons at the top or bottom of each page to move to the next page; the full interview is around 10 pages long.
During the last Nashville Berklee Jam to be held at The Rutledge, which sadly closed its doors shortly thereafter, international rock star, author, and motivational speaker, Zoro addressed a room full of hungry musicians with a heartfelt, life-changing talk. Well known as a professional drummer who's played with the likes of Lenny Kravitz, Bobby Brown, and Frankie Valli, among countless others, Zoro, often referred to as "The Minister of Groove", is also an educator who has given hundreds of clinics and authored the critically acclaimed "The Commandments of R&B Drumming". He's also known in the world of motivational speakers, having given hundreds of talks and authoring the book "The Big Gig – Big Picture Thinking for Success".
But tonight's talk was not about drumming, and while it delved into the world of professional musicians and artistry, at the core of this talk was a universal message that applies to all humans, that of finding your purpose in the world by discovering and maximizing your strengths. After his talk I was honored to participate in a performance with Zoro and A-list Session bassist, Mike Chapman.  There's a video of Zoro's talk and some of this performance at the end of the article. Here are a few excerpts from his talk: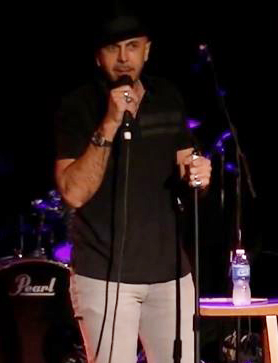 "The world has changed more in the previous 50 years that it has in the last 5000…. but there's a few foundational things that I think will never change…Each person in this room is born is born with a certain gift and a certain talent. And for many of us, it's musical talent. What will not change is excellence…no matter where the world goes or where music is headed, to me, if you have a musical gift, the most important thing is to exercise it, to develop it and to make it, point blank, excellent… I always feel that if you do something really, really well, eventually there'll be a place for it somewhere. In a world where people don't do things on a high level anymore, I still think that being excellent will make you stand out amongst the crowd…"
He spoke of diversity and the need to hone in on your strengths:
"I think each person here has more than one ability. I think your musical ability is one of them, but I think there are many. For me, I just pursued things that were naturally instinctive to me and interested me naturally. I wasn't thinking business, I wasn't thinking in 30 years I can be drumming, and be an educator, an author and speaker… I was thinking 'I like writing… I'd like to write an article to help people. I like teaching'… so everything became a natural evolution of things I was already good at… so don't worry about what you're not good at, there's going to be plenty, find out where your strengths are and then work on turning those into something that's really monumental and excellent."
I loved his take on marketing:
"The best marketing tool in the whole wide world is to just be bad-ass at what you do…because other people will tell people about you… people take notice of excellence, whatever it is. How many of you, when you go to a restaurant, take notice of someone who is an excellent server? We all notice when people do a good job…when I see a movie that's great I tell everybody about it, but when I see one that sucks I also tell everybody don't go waste your money."
Often overlooked in the music industry as well as many others is the shortage of, and need for extreme professionalism:
"Some of the things it takes to succeed are very practical, but I find they seem to slip by the musical community. Things like; being on time, coming prepared, having your stuff together, being reliable… half of success is just showing up on time and just being ready. These things to me are totally obvious, but they seem to slip by a lot of the people that are creative."
Perhaps one of the most important points he makes is that We Are in the Service Industry!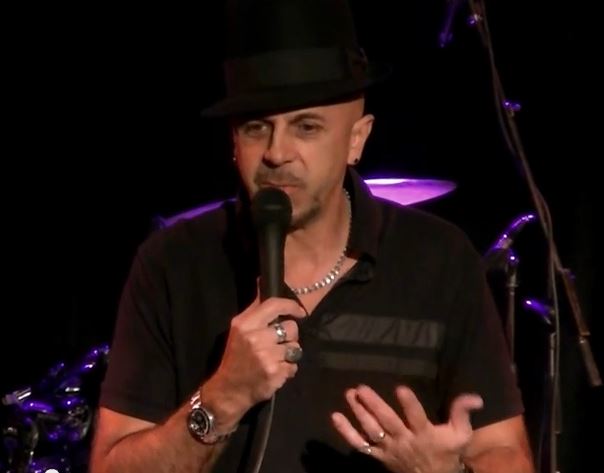 "Be accommodating. I look at everything that I do as really one thing, I'm a servant. I'm here to serve. Tonight I'm here to serve with my words, and I'm here to serve with my playing. I'm never here to be served, always here to serve… a lot of people have a perception of rock 'n roll and fame… everyone's catering to you and everyone's worshiping you… there is an element of that that's true, but I don't perceive it that way. I perceive it as I have an opportunity and a platform, and an opportunity of privilege to serve people… I'm either serving the artist I'm playing with, or the crowd that I'm playing to."
On creativity and vision:
"One of the greatest gifts human beings have… is the ability to dream… To dream up something that never existed and then to have the privilege of creating it is the greatest privilege in the world. And we all have that ability to dream and to believe that if we are willing to act on it and pursue it, we [can] turn that dream into a reality. It's a great privilege and that's what makes life really fascinating and interesting."
He began a few words about the journey of self-discovery and life with a quote from Mark Twain:
"Most of us are anxious to be praised for the one gift that we don't possess, rather than the 15 that we do."
"If you don't learn to enjoy the journey, the process, you'll never enjoy life…the joy of life is in the process itself, and the journey of learning and growing and developing, that's what life is…When people are not fulfilled it's because they're not moving toward something. You're created to have purpose, to be moving forward in a direction towards the accomplishment of something."
We've had many great guests speak at these events, all of them with unique angles, many catering to specific niches, and they've all been inspiring. This talk really got me thinking on many different levels and was one of my favorites to date. No matter what you do in life or what you do for a profession, many of life's challenges and problems are universal. We can all work to discover our gifts, to hone them, to share them, to allow them to let us shine a little light in the world. Don't let your dreams sit on the sidelines, find your gifts and make them excellent!
I would like to thank Zoro for sharing his words of wisdom and inspiration and for kicking out a great jam! I would like to thank Jeffrey Lien for helping me host this event and hooking us up with Zoro, the Rutledge and Andy Aquino for hosting our events for the past two years, Frank Sass for always providing great sound and lighting, and Jack Zander for capturing all the magic on video.
Zoro's Talk (39 minutes)
Hear My Train A Comin'
Cissy Strut (with 5 minute drum solo)
By Eric Normand
I recently read an article on Huffington Post, "Art and Music Are Professions Worth Fighting for, and while I agree with some points of this article I think the author does a major disservice in presenting the pursuit of music as a profession in a kind of "all or nothing" approach. He talks about a presentation he made at a high school career day where he suggests music as a possible career choice for young people. He says that those interested should "go for it, with abandon and furious joy, and that you do so without a plan B". This is where I disagree. I also disagree with the distinction this makes between "career musicians" and nonprofessional musicians. Just because you don't play professionally doesn't mean your music isn't valid. I agree, if you love music and want to pursue it, why not pursue it wholeheartedly, but what's the matter with pursuing music while earning a living from something else? What's the matter with pursuing music for the mere enjoyment of it? I believe you can pursue music as a career and for fun, but you need to keep your eyes open and realize that you will need a steady income stream along the way. To decide how music or a music career might fit into your life, perhaps the questions you really need to ask yourself are; why are you pursuing music, what do you want to get out of it, and what will it take to be successful? What is your definition of success?
When I was a senior in high school, if you had asked me what I wanted to be when I grew up I would have said, "a professional musician". Immediately after high school I got a job as an apprentice drywall carpenter before enrolling in the Berklee College of Music two years later. After Berklee I played professionally in nightclub bands for the next 14 years, eventually also becoming a guitar teacher. In 2002 I relocated to Nashville Tennessee where I've had the good fortune to work as a hired gun on several major tours. My first gig was as a guitar tech for Toby Keith, and I went on to play lead guitar with several country artists – Daryle Singletary, Vern Gosdin, Rhett Akins, and the hit songwriting team known as "The Peach Pickers", among others. I also wrote a book about how to navigate the Nashville music industry, "The Nashville Musician's Survival Guide".
Looking back, if you had told that starry-eyed high school kid that one day he would be a musician, painter, drywall carpenter, teacher, author, and website designer, he would've said "Naw, I'm not interested in any of that other stuff". But as they say "life is what happens while you're busy making other plans", and one of the things I've learned along the way is that you have to wear a lot of hats to survive in this world. The truth is, my original goal of being a professional musician was based on the glamorization of the musical era that I fell in love with, and I had no idea about the reality of any of it.
What do professional musicians do?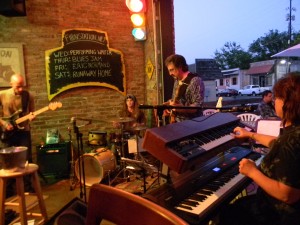 We starve! Just kidding (well, not entirely). The options for musicians trying to earn a living from their craft are somewhat limited. The way I see it you can pursue one or more of the following avenues; nightclub musician, music teacher, touring musician, or session musician. Sure, there are other gigs (orchestra musicians, jingle writing, etc.) but these four are the most practical, and out of these, the first two are the only ones that ever become reality for most. If you want to be a touring or session musician, you will need to live in a music metropolis such as Nashville, New York, or LA, and these are extremely hard (but not impossible) gigs to land.
Regarding paying gigs, I'm talking about work you can get on a regular basis that pays real money for your services. Therefore, I'm leaving out songwriters and aspiring artists because these do not pay any real money unless you become extremely successful. TV shows like "American Idol" and "The Voice" have propelled the myth that anybody that learns how to sing a good cover song can become a national recording artist and superstar. Out of the tens of thousands who audition for these shows and the hundreds that perform on them annually, how many are ever heard from again?
While I cherish many of my experiences as a professional musician, I've learned the hard way that it doesn't always pay the bills. Night club gigs still pay what they paid 25 years ago when I first got into this ($100 a night is still considered good pay) and most club gigs in Nashville don't even pay that. As far as touring musicians, most tours only pay during the part of the year that the tour is active and, unless you are on a very high profile tour, you'll have to find another income stream during the winter.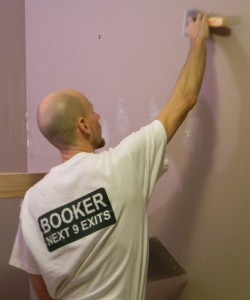 Two years ago, I went back to full-time construction work, and put my music career on part-time status. I began approaching music as simply one component of my life, and for first time since I've been in Nashville I'm actually earning a steady living year-round. I still play music, sometimes for pay, always for fun, and I get just as much reward, if not more, out of a local club gig playing for tips as I do when I perform with The Peach Pickers on the Luke Bryan farm tour in front of 15,000 people.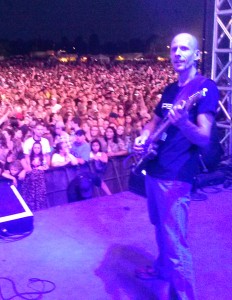 Don't get me wrong, I'm not here to talk people out of their dreams; after all, I did write a book about surviving the Nashville music industry. But if this is your dream, you need to arm yourself with knowledge and know what you're up against. If you're thinking about pursuing music or arts as a profession you must first "define your success". What is your definition of success in music? Then ask yourself why you want to do this. If it's because you think it's an easy and fun way to make a living you might want to do a little more research. It can be fun, but it's definitely not easy. If it's because you absolutely can't see yourself doing anything else, then go for it, but have a plan B, and have a way of earning a living while you pursue it.
There's nothing wrong with pursuing music as a career, and there's also nothing wrong with being a musician or artist that never becomes "professional". Music is one of the oldest forms of communication, music has the power to heal and unite people, and playing music makes you smarter. So go ahead and work at becoming a great musician, it's a noble thing to do and the world always needs good music and art. Approach your music with abandon and joy, but don't be afraid to have a plan B.
Follow Eric on Twitter and his blog at survivenashville.com
The latest Nashville Berklee Jam last Tuesday was a great success, thanks to all who attended! The weather was beautiful, so we had a very laid back talk outside on the patio at The Fillin' Station, our usual location for this event. Rich Redmond, the guest speaker on this night, has worn a lot of hats during his 15 years in Nashville – session/touring drummer, producer, clinician, public speaker, and his hour-long talk gave all in attendance some great perspective into different ways to navigate the Nashville music industry.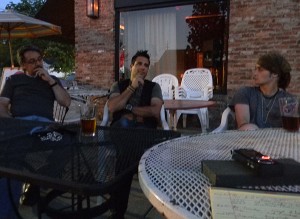 Rich spoke of the need to aggressively market yourself to find work in Nashville and how in his earliest days he obtained work by handing out demo cds of his drumming abilities to almost everyone he would meet around town. He candidly talked about those 'lean years', and that long before he was recording on hit records, touring the world with Jason Aldean, and producing acts like 'Thompson Square', he was hustling gigs on Broadway, playing in corporate party bands – whatever was necessary to insure survival.
For those who are just starting out in Nashville, he recommended that musicians "take every gig that's offered", as every new gig can potentially lead to new relationships and different career opportunities and that "If you give more to people then they expect, if you consistently exceed expectations, people are going to want to work with you."
He spoke of the need to be ultra-professional by "always returning phone calls in a timely manner, always returning e-mails in a timely manner, being professional, being flexible, having the right gear to do the job and never mailing in a performance…"
Regarding the importance of reputation he said "You can have a great website, you can Tweet 1000 times a day, you can have a fantastic business card that's got the really good paper, you know the really firm stuff that you have to pay extra for, and it's still going to come down to word-of-mouth. In this [digital] age it's so easy to be talked about in a positive or negative way, globally."
During one part of the talk he mentioned a concept he refers to as "CRASH" a phrase he coined that stands for Commitment, Relationships, Attitude, Skill and Hunger – the five key ingredients he believes are necessary to succeed. He also spoke of the importance of defining your own success, a concept I talk about in my book "The Nashville Musician's Survival Guide" (coincidentally, Rich contributed to the writing of this book).
After fielding several questions, he finished his talk and we all headed inside to make some music. Everyone who wanted to jam got a chance to sit in, and several great performances took place – ranging from classic rock covers to blues jams to originals. Rich stayed till the end making himself accessible to anyone who wanted to hang and chat, and during the middle of the jam he got behind the drum kit and played a few songs with me and several other alums. Here's an MP3 of us playing a spirited version of the Jimi Hendrix classic, 'Little Wing' Little Wing Berklee Jam w Rich Redmond low. The night ended and we all headed home, but not until gathering for a group photo.
I want to thank everybody who came out and participated to make this another great event, see you at the next one! The next Nashville Berklee Jam will be held on Tuesday, July 10 – check back in a few days for info on the guest speaker for that night.
I hope everybody is having a great winter so far and that 2012 will be a great year for us all. February is looking to be a busy month for me and I would like to tell you about some of these gigs and events.
Thursday, February 2nd I'll be playing a benefit show for "My Friend's House", a group home for boys in Williamson County, TN. The benefit will be at Mickey Roos in Franklin starting at 7 PM and will feature a ton of great Nashville talent. One of the organizers of the event, Keith Landry (currently of the band Leroux, (former credits including harmony singing for Toto and Lee Greenwood) will be fronting a set of classic rock 'n roll and coordinating the guest musicians. Some of the music we will be covering will be songs from Journey, the Doobie Brothers, Toto, Van Halen, and others. This just might be the most rock music I will have played in one night since moving to Nashville! It's a great cause, so come on out!
Tuesday, February 7th will be the first ever "Nashville Berklee Jam", featuring special guest, Nashville session bassist and former "G-man" Mike Chapman. This is something I have been working on for quite some time, and will take place on the first Tuesday of each month at The Fillin' Station in Kingston Springs, TN.
Friday, February 10th I'll be playing a gig with Nashville songwriter and artist, Carl Wayne Meekins at the world famous Puckett's Grocery in Leiper's Fork, TN. Carl is a fabulous performer and a great guy and I have been fortunate to do several gigs with him over the last several months. The band on this night will feature some top-notch Nashville session players, so come on out and support some great live music!
Saturday, February 11th will be my monthly outing at The Fillin' Station in Kingston Springs, TN. The lineup on this show will be Heston Alley on drums, Tom Good on bass, and yours truly on vocals and guitar. Patrick will be behind the bar and guesting on harmonica throughout the night. Come get your blues rock fix with us!
Towards the end of February I will be playing with upcoming Nashville artist and South African native, Mirka at Nashville's 3rd and Lindsley. Our set of original material will be part of a monthly showcase hosted by Nashville producer and guitarist, Kent Wells. The date hasn't been set yet, I'll let you know as soon as it is.
My book, "The Nashville Musician's Survival Guide" received a great review on the popular Nashville blog "Music News Nashville", follow the link above to check it out. I also submitted the book to The Country Music Hall Of Fame and there's a good chance they will start carrying it this spring!
And completely unrelated to music, I have decided to enter in an annual event called the Warrior Dash that will take place in middle Tennessee on September 22nd. This is essentially an off-road 5K race integrated with an obstacle course that includes things like climbing a rope wall, jumping over a fire pit, crawling under barbed wire through the mud, etc. I may or may not be in the shape I need to be for this event at the moment, but the goal is to be in good enough shape to kick some serious ass on this course come September! Similar events take place all over the country and you can learn more about it on the website above. Anybody out there want to take the challenge?
So that's about it, I'm excited about the possibilities that this New Year might bring and looking forward to making new friends and playing some great music!
P.S. If you haven't yet picked up a copy of my book, "The Nashville Musician's Survival Guide", you owe it to yourself to check it out! Available in hard copy and ePub.
I can't tell you how excited we are to be finally about to embark on our first trip to our native homeland of New England in seven years. I'm sorry we haven't gotten back sooner, it's not because we haven't wanted to, it just seems that whenever we've had the time we didn't have the money (we call this Nashville winter), and when we've had the money, we didn't have the time (Nashville summer). So this year, with my 25th high school reunion taking place at the end of July, we decided this was the perfect excuse we needed to block out a week in the middle of the summer and pay our old friends a visit.
Somewhere in the middle of planning this trip I got the idea to do a clinic at "The Music Workshop," a music store in Salem, NH that I used to frequent in my younger days. My idea was that this would be a great way to share some of my Nashville experiences with my peers in New England, while, of course, promoting my new book "The Nashville Musician's Survival Guide." I'm not sure how this happened, but before I knew it, I was booked at four different workshops throughout New England (some of you may have noticed my recent series of Facebook event invitations). With all this activity evolving I thought it would be cool to throw in a special show with some of my musical comrades from back in the day, and this has led to the Eric Normand and Friends Reunion Concert at Wally's Pub on Hampton Beach, on Wednesday, August 3rd at 8:00 PM.
There is a complete listing of all these workshops and events with addresses and weblinks on the new events page of my survival guide website. Here is the longhand version plus some info that's not on the website:
Wednesday, July 27, 6:00 – 8:00 PM
The Nashville Musician's Survival Guide Workshop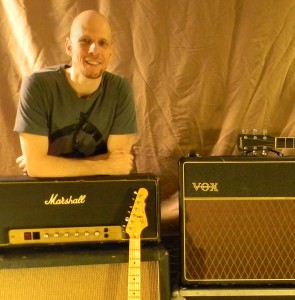 Ralph's House of Tone, Dover, NH
During this workshop I will talk about what it has been like to work as a "hired gun" in the Nashville music scene, what it's like to work on a national level tour, and some of the key differences and similarities between being a working musician in New England versus Nashville. There will also be a "Nashville guitar rig and style demonstration" and question and answer period followed by a book signing immediately afterwards.
Jam at the Station House in Dover
After the workshop, (which is free to the public) I will be attending a jam at The Station House Restaurant and Pub right down the street. The Station House usually has a jam on Thursdays, but when I contacted my old friend, Rick Landry, inquiring about any area jams on Wednesdays, he decided to put together this special jam just for this occasion, and I must say that I am quite honored. This jam will serve to be a kind of after party for the workshop and should be a great chance to catch up with some old friends and share a little music. Thanks Rick!
Thursday, July 28, 6:00 – 8:00 PM
The Nashville Musician's Survival Guide Workshop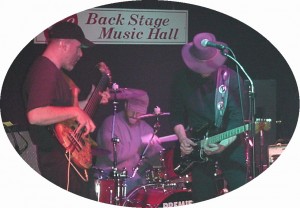 Buckdancer's Choice, Portland, ME
This workshop will be like the one in Dover, only in Portland (also a free event). Before our move to Nashville in 2002, Kelly and I lived in Kennebunk, Maine, and at that time I played many shows throughout southern Maine with my band, Electric Blue. One highpoint during that period was our regular Sunday night jams at Chancery Lane in Sanford, ME, a truly magical musical moment that occurred weekly, and one that gave birth to many friendships and even a couple of bands. We hope to see some familiar faces in Portland on this night.
Monday, August 1, 6:00 – 8:00 PM
Music Skills for Life and Rhythm Section Workshop
Music Maker's, Hampton, NH
This multifaceted workshop will be a little different than the previous two, and while I will share some of my Nashville experiences here as well, I will also spend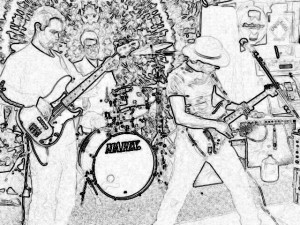 some time talking about some practical aspects about being a lifelong musician. The second half of this clinic will be an "interactive rhythm section workshop," during which students will have the option to explore some fundamental basics of rhythm section performance with me and Music Makers instructors, Mark Davenport and Tom Martin. Music Maker's is a seacoast area music school that offers private lessons on a wide range of instruments and the place in which I first began teaching guitar in the mid-90s. I'm excited to be returning to share some of what I have learned since that time with their next generation of students. This event is open to the public: cost: $20 per person – $15 for current Music Maker's students.
Jam night at Whippersnappers in Londonderry, NH
After the workshop, we are planning on attending the Monday night jam at Whippersnappers in Londonderry, NH, hosted by Gardner Berry of Mama Kicks. I used to jam with Gardner and other members of Mama Kicks back in the late 80's/early 90's when he hosted a Sunday night jam at Classics in Manchester, one of my first jam night experiences. Should be a lot of fun so come on out!
Tuesday, August 2, 7:00 – 9:00 PM
The Nashville Musician's Survival Guide Workshop
The Music Workshop, Salem, NH
This will be the final workshop of this trip and similar to my clinics in Dover and Portland the week before. Salem used to be a big part of my stomping grounds back in the day and I used to frequent the Music Workshop regularly, constantly "experimenting" with new music gear, occasionally buying some. I also used to perform regularly at the old LJ's in the Rockingham Mall, remember that place?
Blues Jam at the Roma in Haverhill, MA
After this workshop we are planning on attending a blues jam at The Roma in Haverhill, MA. My good friend and drummer extraordinaire, John Medeiros is part of the host band at this jam (John is also a former member of Electric Blue and will be part of my core band at Wally's on the third.)
Wednesday, August 3, 8:00 PM – 11:00 PM
Eric Normand and Friends Reunion Concert
Wally's Pub, Hampton, NH
This will be the last stop of our New England book tour/vacation and a very special night of music and reconnecting with old friends. It's been seven years since we last set foot on Hampton Beach, and more than ten since I last performed their regularly. When we first started planning this trip I had the idea about doing a reunion concert of sorts and I called up and presented the idea to my old friend, Kenny Gaudet from The Bars, who fast became instrumental in making this happen. The first set will consist of me on vocals and guitar, John Medeiros on drums, Keith Foley on bass, and some friends from seacoast area jam band, Superfrog – Charles Cormier on guitar and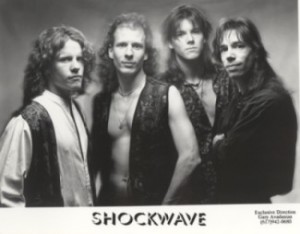 Adam Vinciguerra on percussion. A little later into the night there will be a brief reunion of my old band "Shockwave" with Doug Hinton on drums, Mark Gagnon on bass, and Keith Bowen on vocals (also possibly Brandon Lepere). Other guests will include Kenny Gaudet, Devin Cordero from Last Laugh, and possibly a partial "Jet City" reunion.
This night will mark the end of our week in New England and we are really looking forward to reconnecting with so many of our old friends and musician buddies. We are hoping to make this reunion concert an annual event, so if you like this idea at all, please come out and show some support. And for anyone who is interested in purchasing my new book, this will be your last chance before we head out of town, so if you have it in your heart to help us out with a little gas money for the ride home, pick one up, they're only $20.
While we will be leaving Thursday morning to rejoin the Rhett Akins tour for shows in Ohio and Chicago, we will be back, and next time we won't wait seven years! In the meantime, go ahead and make some plans to come out to the Wally's show and a workshop or two, we would love to see you all again! See y'all  real soon!
So far, the feedback I have received on my book has been very positive, and I'm thrilled about that. Several people who purchased the book have e-mailed me and share their thoughts; I've even had some European interest. However, a Craigslist response last week to one of my recent blogs brought up one issue that I must address.
The response was to my last blog "The Benefits of Having, and Being a Mentor" and, while it completely missed my point about mentoring, the writer stated views that "the music business is the biggest waste of human activity" and something else to the effect of 'why should young people have to spend years playing in bars to get good or make connections?' This person was obviously taking a shot at me and my book, while it was clear from the rhetoric that he or she formed opinions based only on reading a couple of my blogs, without actually reading the book.
So for the record, here are some of my thoughts regarding music careers in Nashville (or anywhere for that matter).
When I started writing this book, my intention was to present a document that would help "fill in the blanks" for both newcomers to Nashville and people who are considering relocating here. I wanted it to be full of useful information that would simply help musicians' gain perspective about what's here and I believe the finished book does just that. But it's definitely not a "get rich quick" angle. I don't make any promises; I've done my best to simply present information about the Nashville music industry from a journalistic standpoint.
In fact, nowhere in the book do I suggest that moving to, or embarking on a music career in Nashville (or anywhere else) is a good idea. For that matter, nowhere in the book do I state that it is a bad idea. People have been selling the farm and moving to Nashville to fulfill their musical dreams for decades. The way I see it, people are going to chase their dreams no matter what I write in a book or a blog, and the last thing I'm going to do is try to talk someone out of their dreams.
Do I think that the music business is a waste of human activity? It might be for some, but those folks will never know if it is until they try. And once they have it in their head that they think they can succeed, no one is going to be able to "talk them down from the ledge."
In the foreword to my book I write "many find out that the music industry of Nashville is not what they thought and are unable to achieve their dreams and aspirations, often resulting in a premature and hasty exit." This is one of the first lines in the book and reading it today makes me think of something one of my professors at Berklee once told me. It was my first day of "Harmony" class way back in 1988 and the professor began the class by saying "80% of you will not survive your first year at Berklee." He wasn't trying to paint a picture of gloom and doom, he was simply trying to instill that what we had chosen to pursue is extremely challenging, perhaps much harder than we were prepared for, and that it was simply a statistical fact that more would fail than would succeed.
This sums up the music business perfectly. It is extremely challenging, much more difficult than you could ever prepare for, and only a small number of those who try will succeed. But this doesn't mean that it is a waste of human activity, or that some people shouldn't try. Like I said, it's not my place to talk people out of their dreams. My whole angle is, if you're going to try to build a successful career in the music business, understand how hard it is and prepare yourself for the road ahead. Arm yourself with as much knowledge as you can. Practice your instrument and become a great player and play music with others often. Learn how to enjoy playing nightclub gigs, for these are the majority of gigs most musicians will play. Read as many books, magazines, and articles about music, business, and life as you can. Talk to others in the business to gain perspective. Be a good person and contribute to the community in which you live. Work hard, bring something to the table, and don't be afraid to put your chips down. And HAVE A BACKUP PLAN – be good at doing something else too!
The music business is an extremely competitive and difficult endeavor to succeed in, and making it work in Nashville is just as hard, if not harder than it is anywhere else. I don't have all of the answers, I just know what worked for me and am sharing that with the hopes it might help a few others along the way.
So what are you waiting for? Buy my book today 😉
Today marks another milestone in my self-publishing book adventure, that being the arrival of "The Nashville Musician's Survival Guide" epub and Kindle versions. I am pleased to announce that these digital formats are now available for purchase on my web-store for the low price of $9.99.
While I am still a big fan of old-fashioned paper books, and the original vision of my book was one which was printed on paper, I do see the practicality of eBooks and understand their growing popularity. In this hyper-digital world it comes as no surprise to me that printed books are starting to fall by the wayside, similarly to the demise of CDs, VCR tapes, and newspapers. But I believe there will always be a place for printed books, and therefore my book is available in both print AND electronic versions.
When the printed version of my book was complete I focused on the eBook conversion and hired a company that specializes in this work, eBook Partnership. During this process I learned a lot about the benefits and drawbacks of eBooks.
Here are a few benefits from the reader's standpoint:
A person can now carry hundreds of books in one small device.
They are delivered almost instantaneously.
They require no packing or shipping expense.
They can show links, allowing easy access to related information and websites.
Fonts can be resized to allow easier reading.
A few benefits from the self published author's standpoint:
The sale and transaction are instantaneous.
They require no packing or shipping.
They're easier to sell internationally as shipping packages abroad is very expensive.
They can be more affordable to the masses as they're typically less expensive than printed books.
They require essentially no storage space.
It all seems too good to be true, especially from an author's standpoint. Well after a bit of research I learned that they are just a little too good to be true. Despite all these advantages there are some drawbacks:
If your battery dies and you aren't somewhere where you can plug it in your screwed.
ebooks lack the look and feel of a traditional book – i.e. cover, pages, binding, etc.
Unlike traditional books there is no market for used eBooks, so a reader can't recoup some of their original investment.
And perhaps the biggest drawback from an author's standpoint is that eBooks lend themselves to piracy.
As we all know, when the music industry went digital, this was the start of the illegal filesharing era. Similarly to the MP3, the eBook is also far more prone to theft than its predecessor, the paper book. As the day on which I would release my own eBook drew near, I started looking into ways to protect my electronic book from piracy. I learned that there are protections that can be applied to my eBook to prevent this kind of theft but this would be expensive, and it would not be foolproof.
The truth is that even Kindle and ePub versions of books with the most advanced piracy protection (like the kind of protection applied to eBooks sold on websites like Amazon and Barnes & Noble) could be disabled by the savvy computer hacker. In other words, if somebody really wants to they can take any eBook, disable its copy protection, and pass it around the Internet as fast as a jar of moonshine will get passed around a Kentucky campfire.
Matt Horner, the eBook designer who worked on my project offered the following thoughts on the matter
"Overall, the value of DRM [Digital Rights Management/Copy Protection] is debatable and anyone who is set on copying your eBook would be able to strip the DRM from it within minutes by downloading free software from the Internet. My advice would be to price your eBook sensibly, accept that there may be some piracy, but assume that the majority of people are honest and would rather buy a reasonably priced eBook than download a pirated copy."
So I have priced my eBook very reasonably – hence $9.99 (thousands of hours went into this project so I can't simply offer it for free.) I hope that most musicians, the prime audience for this book, realize that this work has value, similarly to the way a songwriter or artist places value on their work.
So steal it if you must, but if you truly want to help preserve the noble endeavor that being an author or songwriter requires, follow this link and get your copy of "The Nashville Musician's Survival Guide" today!
Hey everybody, I realize that I haven't been writing very many blogs over the past couple of months and I feel like I owe y'all a few. This lack of regular blogging is mostly because of the frantic pace I kept while trying to finish the book. I'm going to do my best to put out a new blog everyday (or so) for a while.
When I first moved to Nashville, back in the summer of 2002, I was hungry for work. But gigs, especially gigs that paid well, seemed few and far between. My mentor and friend, "D" gave me tons of good advice, including networking on the town as often as I could. I followed this advice, going out on the town four or five nights a week, taking every oddball gig that was offered, sitting in whenever I could, etc. After six months of this routine, although I was making a lot of friends and connections, I still didn't have any consistent gigs that paid any real money to speak of.
So one day I told him "Things just don't seem to be evolving very fast for me. I'm going out on the town all the time, sitting in, making friends and networking, but the phone just isn't ringing very much. What am I doing wrong?"
His response was quite simple, although I wouldn't entirely comprehend the entirety of it for a couple of years.
"Patience my boy, Rome wasn't built in a day. This town goes at its own speed. You're doing all the right things and making a good impression around town. Everyone I've introduced you to likes you and you're building a good reputation for yourself. The people you are meeting today and the relationships you build with them are what is going to give you work five years from now."
Although that last statement was probably the most important thing he said during our conversation, the things that I heard the loudest were "This town goes at its own speed," and "five years." Geeesh! The Nashville music scene goes in slow motion, and I have to wait five years to get busy – NOT exactly what I wanted to hear!
But looking back at that moment, now going on 10 years into my Nashville life, those telling words make so much sense. I met a lot of people during that first hard year of Nashville – musicians, engineers, songwriters, artists, etc. – and became friends with many of them. In the years that followed, many of these friends and acquaintances would eventually call me for work. Sometimes it was a simple "one-off" gig, other times it was several gigs, sometimes it was songwriter demos.
In 2006 I did a ton of gigs on Broadway, mostly at Tootsies, but also at The Stage and a few other clubs on the strip. It was good supplemental income, good for my chops, and I met and gigged with several great players whom I became good friends with in the years that followed. These gigs all started with one phone call from a guitar player friend I had met during my first couple of months in town. He subbed out a few gigs to me, these gigs led to more gigs, and before I knew it I had all the work I could handle on the strip – All because of one relationship.
Several years later I was working more as a touring musician and no longer gigging regularly downtown. On many occasions I found myself in need of musicians for different situations, and ended up calling players I had met during those earlier years of steady gigging on Broadway. Sometimes I would need a player last minute and call someone I hadn't even spoken to for a couple of years, someone that had obviously made a good impression at an earlier point in time.
I have learned that the town (and life for that matter) does go at its own speed, and quite often that speed is slower than we would all like. But I have also learned that there really is a lot of truth to "The people you are meeting today and the relationships you build with them are what is going to give you work five years from now."
As some of you may know, and for those of you who don't know, I have just released my book "The Nashville Musician's Survival Guide." This street-level perspective of the music-related jobs in the Nashville music industry is now available in print version, and the e-book will be available within a few days. To purchase your own copy, follow this link.
April 18, 2011 – A Date That Will Live in Infamy! (Sorry, I couldn't resist). Monday, April 18 is our new, official release date for this long overdue book about the Nashville music biz'.  When I first embarked on this project, some two years ago, my thoughts were simply "there seems to be a void of information out there about the Nashville music industry, so I'm gonna write a book about it. I mean, how hard can it be?" This was probably the biggest understatement of the century. I had no idea how to write a book at that point in time, I just knew that this book needed to be written. So I wrote, and wrote, and wrote. A year later, I thought I was done writing. At that moment, it seemed finished. I turned my manuscript into a PDF and had a couple of rough drafts printed. As I read through this document I made many corrections and notes, and by the time I was finished, I realized I hadn't covered all the bases.
So then the project entered phase 2. I had a handful of new chapters that I needed to write, but I also decided to pursue some more interviews, my thought being that this would help broaden the books perspective and appeal. Around that same time I bought the book "Dan Poyntner's Self Publishing Manual." After skimming through this fascinating must-read for first-time authors, I began to compile a massive "to do" list. It seems there were dozens, if not hundreds, of little details (many that turned into huge details) I hadn't thought of – things like: writing back cover copy, purchasing an ISPN number, setting up a P.O. Box, setting it up as an e-book, photo permissions, photo captions, and of course, what is often the most neglected task of authors, marketing.
I also learned in my research that, in general, traditional book deals do very little advertising for their authors. If an author wants their book to sell, unless their name is James Patterson or Stephen King, they must promote their own book. As I am self-publishing, this means that promotion is entirely up to me. Enter Eric, the blogger. Not only has blogging turned out to be a great way to build a readership, it's been a fun and exciting learning experience as well. Writing a new blog every few days about everything from my shows on the road with Rhett Akins, to the Nashville flood, to self-help tips for musicians, to progress on my book, has been very rewarding. For instance, after writing a blog a few weeks ago about tinnitus, I got a few e-mails from different musicians informing me that they are buying earplugs.
At the same time I began blogging, I began soliciting "chapter reviews" by my peers and experts in the industry, as was suggested in the self-publishing guide. By involving other individuals as contributors, this not only served to further help market the book, but it also greatly improved its content.
The next hurdle turned out to be the interior design. Upon looking into hiring someone for this task, it quickly became obvious it would be extremely expensive. This discovery prompted me to get creative and learn how to do it myself. My wife, Kelly, acquired some tutoring help to learn Adobe's InDesign software, taught me the basics of what she learned, and then I managed to completely submerge myself in the interior of this book for the past several months.
Well doggone it, I think I finally got it. The design is essentially finished, (just waiting on a few final copy edit changes from one of my copy editors) and will soon be sent to Create Space for final approval and printing – WooHoo! I have been waiting for this moment for almost 2 years. I mean, this project has all but completely taken me over, and as much as I have learned and grown in the process, it will be nice to have my life back.
So in the meantime, check out the beautiful PDF preview (if I don't say so myself). This will give you some idea about the final version which will be released on Monday, April 18 – A Date That Will Live In… (whoops, sorry, it almost happened again!)
P.S. You can make an advance purchase of your copy of the book to our new online store we just set up. This will not only guarantee immediate delivery the day our first shipment of books arrives, it will also help me pay for some upfront printing costs.
P.S.S You may notice I have put a CD and audio downloads for sale in the store as well. This CD "Songs Without Words" is an instrumental project I recorded in 2003 while I was on a break from the Toby Keith tour. With flavorings of rock, blues, jazz, and Americana, it is an audio snapshot of where I was musically at that moment in time.