studio
Back in 2009, I began putting together a list of people to interview for my book, The Nashville Musician's Survival Guide, and my friend, Mike was at the top of this list. Those of you who knew Mike know that he was a very caring, giving, and humble human being. The interview he gave was not only insightful for aspiring musicians, but also a wonderful insight into his musical journey. Although he has now gone on to a better place, his music can still be heard, and his magical essence still shines through the words on these pages. It is with that spirit that I'd like to share his words with you all. Mike touched so many lives, and we are all the better for it. I miss my friend.
Use the buttons at the top or bottom of each page to move to the next page; the full interview is around 10 pages long.
Today I want to tell you all about an exciting monthly event I have been hosting – The Nashville Berklee Jam, and its new accessibility to everyone in the Nashville music community. The beginnings of this idea came to me a few years ago when I first attended the annual Nashville Berklee Alumni Reception. On my way home that night, I remember thinking how great it was to meet so many musicians in one night who were so passionate about their musical ambitions and so hungry for knowledge. These musical comrades were a mix of Berklee alumni residing in middle Tennessee and Berklee students who came down for the annual Nashville field trip. At this reception I made connections with other like-minded alums and students who came down on the field trip, the latter peppering me with questions about my experiences in Music City. This event was a very stimulating night as the energy of three hundred musical minds meeting and conversing seemed to create an air of camaraderie and untapped potential! Then I went home and another year passed before I got this fix again.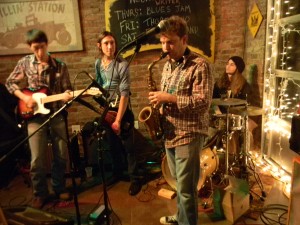 So this past winter I decided to create a monthly event to try to emulate this musical networking hoedown on a smaller scale, and The Nashville Berklee Jam was born. Held on the first or second Tuesday of the month from 7 PM to 11 PM at The Fillin' Station in Kingston Springs, TN, these events start out with an informal meet and greet, followed by a Nashville music industry guest speaker, and end with an open jam. So far the reception has been very positive, here's a recap (with links to their corresponding blogs):
February – A-list session bassist, Mike Chapman gave a great talk about being a session musician, outlining key concepts in what he calls, "the essential slices of the session player pizza". He also jammed with several alums after the talk.
March – award-winning vocal coach, producer, and hit songwriter, Judy Rodman gave an insightful talk about career paths for vocalists. She also performed a couple of songs with the house band and then critiqued and coached several vocal performances, helping vocalists make instant improvements.
April – Stevie Ray Vaughan keyboardist, Reese Wynans shared his fascinating story about being a lifelong-career musician, the life-changing moment that came on his last night with Delbert McClinton that landed him the SRV gig, and the whirlwind years that followed. After his talk, he joined us for a few inspired performances.
May – fellow alum, musician, and author of "The Nashville Number System", Chas Williams gave an introductory class on this subject. After the class, he charted one of alum, Sarah Tollerson's originals and performed it with Sarah and the house band with everybody reading the chart off a dry erase board.
June – drummer, producer, and clinician, Rich Redmond gave an inspiring talk on "Navigating the Nashville Music Industry" speaking candidly about his early "lean years" in Music City and different approaches to finding success here. After his talk he sat in for a few tunes and stuck around to chat with others in attendance.
For our next event, to be held on Tuesday, July 10, I will be giving a talk that continues last month's theme – "Navigating the Nashville Music Industry – Part Two", during which I will explore some of the concepts I write about in my book "The Nashville Musician's Survival Guide". And, this just in, for our event in August we are proud to announce that the guest speaker/performer will be none other than Nashville guitar ace, Jack Pearson, formerly of the Allman Brothers, Vince Gill and many others.
All of the guest speakers have given great talks, sharing their knowledge and providing inspiration, and these talks have been interactive with many great questions and comments from alums. My band, Skinny Buddha (comprised of Berklee alumni and others from the Nashville music community) provides backline and a starting point for the laid back jams which have covered everything from originals to classic rock to blues tunes to two-chord  jams. All of these events have been great friendship building and networking experiences for all involved, as well as educational. So far, the attendance has been mostly comprised of Berklee alumni, but as there seems to be a growing interest from others in Nashville, we are now officially making this event open to the Public. Nashville is a diverse and complex music community in which a Berklee alumni community also resides, and it is my goal to help these two worlds intersect and meld together.
So come on out to our next "Nashville Berklee Jam" On Tuesday, July 10. I hope to see you there!
P.S. if you have any comments, thoughts, or questions, please feel free to e-mail me at eric@ericnormand.com.
The latest Nashville Berklee Jam last Tuesday was a great success, thanks to all who attended! The weather was beautiful, so we had a very laid back talk outside on the patio at The Fillin' Station, our usual location for this event. Rich Redmond, the guest speaker on this night, has worn a lot of hats during his 15 years in Nashville – session/touring drummer, producer, clinician, public speaker, and his hour-long talk gave all in attendance some great perspective into different ways to navigate the Nashville music industry.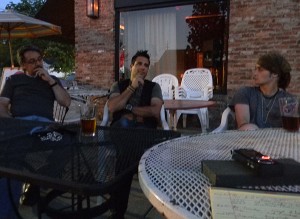 Rich spoke of the need to aggressively market yourself to find work in Nashville and how in his earliest days he obtained work by handing out demo cds of his drumming abilities to almost everyone he would meet around town. He candidly talked about those 'lean years', and that long before he was recording on hit records, touring the world with Jason Aldean, and producing acts like 'Thompson Square', he was hustling gigs on Broadway, playing in corporate party bands – whatever was necessary to insure survival.
For those who are just starting out in Nashville, he recommended that musicians "take every gig that's offered", as every new gig can potentially lead to new relationships and different career opportunities and that "If you give more to people then they expect, if you consistently exceed expectations, people are going to want to work with you."
He spoke of the need to be ultra-professional by "always returning phone calls in a timely manner, always returning e-mails in a timely manner, being professional, being flexible, having the right gear to do the job and never mailing in a performance…"
Regarding the importance of reputation he said "You can have a great website, you can Tweet 1000 times a day, you can have a fantastic business card that's got the really good paper, you know the really firm stuff that you have to pay extra for, and it's still going to come down to word-of-mouth. In this [digital] age it's so easy to be talked about in a positive or negative way, globally."
During one part of the talk he mentioned a concept he refers to as "CRASH" a phrase he coined that stands for Commitment, Relationships, Attitude, Skill and Hunger – the five key ingredients he believes are necessary to succeed. He also spoke of the importance of defining your own success, a concept I talk about in my book "The Nashville Musician's Survival Guide" (coincidentally, Rich contributed to the writing of this book).
After fielding several questions, he finished his talk and we all headed inside to make some music. Everyone who wanted to jam got a chance to sit in, and several great performances took place – ranging from classic rock covers to blues jams to originals. Rich stayed till the end making himself accessible to anyone who wanted to hang and chat, and during the middle of the jam he got behind the drum kit and played a few songs with me and several other alums. Here's an MP3 of us playing a spirited version of the Jimi Hendrix classic, 'Little Wing' Little Wing Berklee Jam w Rich Redmond low. The night ended and we all headed home, but not until gathering for a group photo.
I want to thank everybody who came out and participated to make this another great event, see you at the next one! The next Nashville Berklee Jam will be held on Tuesday, July 10 – check back in a few days for info on the guest speaker for that night.
Some of my earliest childhood memories are of my dad playing records and, dare I say, reel to reel tapes of the music of Paul Butterfield, John Lee Hooker, Santana, and Derek and the Dominoes. I guess this music made an impression, because by my early teens in the early 1980's I was buying my own records, not of the pop-based FM radio music of my generation, but of the previous generations more blues-based artists. While everyone else was listening to E.L.O. and Michael Jackson, I was discovering Jimi Hendrix, the Allman Brothers, BB King and Bobby Bland. Sure, I liked some of the 80's guitar rock of the day, but always kept digging back to a more rootsy sound. Then right smack in the middle of 80's hair band mania came Stevie Ray Vaughan, and I immediately related to his music.
Stevie's music influenced a generation of guitarists and, at a moment where rock and pop music was winding itself up, almost single-handedly brought blues music back into the light. You couldn't go see a club band during the late 80's and early 90's without hearing his music. I found myself covering his renditions of blues classics like "The Sky Is Cryin'", "Empty Arms", as well as originals like "Cold Shot" and "Walkin' the Tightrope", as did many others at that time. Stevie's instrumental "Riviera Paradise" from the album 'In Step' is a beautiful piece of American roots music, and I always loved the spooky vibe created by his magical band on that song in particular.
I'll never forget the day I heard of his tragic passing, how sad it was that we had to lose such a wonderful artist at such a young age. But his music, and the influence of his music, lives on, and I, like many others, will always appreciate everything Stevie did for music, and everything his music has done for the world.
So that's why when I began hosting the Nashville Berklee Jam I felt compelled to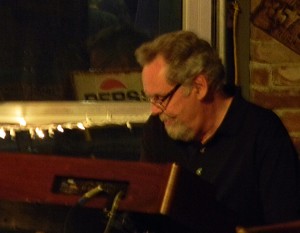 have Reese Wynans, the keyboardist who played with Stevie for the last five years of the great guitarist's life, as a special guest speaker/performer. Reese was kind enough to share his story with me and a room full of alums at our monthly Nashville Berklee Jam last Tuesday at The Fillin' Station.
Almost 20 years before he began working with SRV he was playing in cover bands in his home state of Florida, and he recounted one of his first bands playing five sets a night, six nights a week. Two of the other members were Dickey Betts and Berry Oakley and on their one day off they would play a weekly free jam, adding Duane Allman and Butch Trucks to the mix. Eventually Duane decided to start his own band and stole these key members to form The Allman Brothers.
After spending a few years in San Francisco and working with a still-unknown artist at this time, Boz Scaggs, he returned to Florida for a brief period and then worked the East Coast in a show band for a few years. Reese then migrated to Austin, Texas, a booming town full of blues-infused music by this point of the mid-70s. Of this time, Reese spoke passionately.
"It was really great for me living in Austin…everything was so rootsy…they had a great music scene back there in the 70's. They had a great blues scene, and a great blues club called 'Antone's'…and I would go and sit in at Antone's anytime I had a chance. I was ending up really lovin' the blues during this time."
By 1980 he found himself working for Delbert McClinton, playing on four of his records and touring extensively for the next five years. By 1985, Reese was ready to get off the road, and would have if not for a fateful encounter at the end of his final gig with Delbert. Apparently, Delbert's sax player had been invited to play on one song of a Stevie Ray Vaughan recording session after Delbert's concert, and at the last minute Reese was asked to join in as the other keyboardist did not show up. Things went very well at this particular recording session, one which produced the hit, "Look at Little Sister" and Reese was asked to come back and record the following day. By the end of that recording session he was asked if he wanted to join the band. Reese summed up a life lesson from this critical moment,
"When a door opens for you, you've got to be willing to walk through it, and then be able to deliver once you get through there."
The next five years would yield three Grammys, several world tours, and a reintroduction of the blues to the masses –
"We were spokesman for Texas blues…as much as Stevie didn't want to, BB King had to open for us, because we were just more popular than him. He said "no we can never, BB's always closing the show"… but finally, we had to headline…I loved playing in that band…we were all totally immersed in the blues, and we felt like were the vanguard of the blues. We were dragging Buddy Guy and Otis Rush into the light and presenting them out on our shows to people who were just hungry for that music…the stuff that we played I thought was shining a light on all the huge blues guitar players that had come before us, and that was a wonderful thing to do, I felt like it was really worthwhile."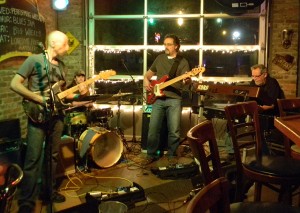 After Stevie's tragic passing, Reese wound up in Nashville, TN, a place where he has continued to record and perform on a national level. During the talk, Reese passed around his All Music Discography, which reveals a staggering body of work, including Brooks and Dunn's 2006 single of the year "Believe". He offered us some thoughts about the differences between studio and live performance –
"I like being in the studio, I like playing gigs, I like playing clubs…all you people who do studio work know it's two different things. Playing a club is really a chance to experiment…a chance to reach out in different directions and really find yourself. The studio isn't really a place for that. The studio is where you don't have to play it safe, but you've got to do something that's exactly right for the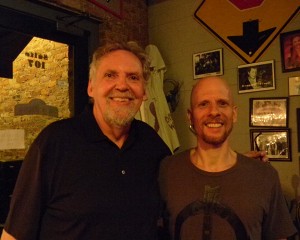 song…it's a place for finding something that works, finding something unique that works."
After his talk was finished, Reese was gracious enough to perform a set with our house band – a performance that was nothing short of inspired. I've heard his playing on many records, but there's something intangible that you can feel in the heat of live performance that goes beyond a recording, and that was evident on this night. One of the songs we played together was "Little Wing", a song that he had played on tour with Stevie, back in the day. On this song, Reese seemed to really stretch out in one of those magical musical moments in which time seems to stand still (see video below).
Eventually, this special night had to end, and we said goodbye after a quick photo op. Thanks, Reese, for sharing your wisdom, and for continuing to shine some light on that crown jewel of American music we call the blues.
Our second "Nashville Berklee Jam" at The Fillin' Station in Kingston Springs this past Tuesday was a great success! The guest speaker on this night was none other than Nashville's award-winning vocal coach, Judy Rodman. Judy has played many a role in the Nashville music industry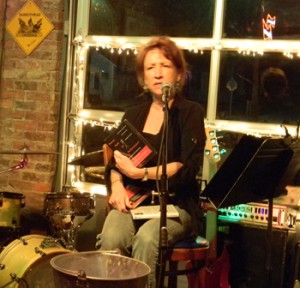 over the years – recording artist, A-list session singer, producer, hit songwriter – and on this night her talk focused on different career paths for vocalists. Judy was involved in the writing of my book "The Nashville Musician's Survival Guide" and, backing up my theory of the necessity to "wear a lot of hats", she talked about multiple streams of income for today's musicians and artists. Among the potential jobs for vocalists she outlined were artists, live singers, and session singers (jingle singers, background vocals, demo singing, and voiceovers).
Here are a few excerpts:
"Recording artists need vocal ability, because the mark is up. Even with pitch fixing, rhythm fixing…your vocal needs to be as good as it possibly can be because it's going to sound more natural and it's going to be more emotionally compelling…You also need a 'unique artist definition'…it's not good enough to be just another great singer…you really need to be unique and find your own definition as an artist – your uniqueness, your vocal uniqueness – which means you need to explore your whole voice and your life experiences that you're going to put into your art. The sound of your artistic definition is going to have to do with the sound of your voice, the choice of your instrumentation, and your message… Artistic definition takes exploration. For those of you wanting a career as a recording artist I would say don't shortcut your experimentation."
"For live background singing – you need to have the ability to trace and completely blend and go with the nuances of the voice of the singer you are looking to back…You've got to be able to change your sound as the artist wishes…you will of course have to have the ability to sing harmony parts and hear them… you have to have a specific look – whatever the artist is looking for. You need to network and find out who is gigging, who is in need of background vocalists."
"Session singing…You need great vocal technique, usually you'll need some vocal training…you really need to have surgical control of your voice for pitch, sound, blend and nuances –because time is money in the studio…You need to of course hear harmony parts quickly, you need to have the ability to read manuscript…but you also need to know the Nashville Number System."
Judy then gave some practical vocal technique tips before answering several questions from alumni. Click on the following links if you would like to hear her talk in its entirety.
Judy Rodman Talk – Part One (21 min)Judy Rodman Talk – Part 1 (21 min)
Judy Rodman Talk – Part Two (21 min) Judy Rodman Talk – Part 2 (21 min)
There is also a ton of useful and practical information for vocalists at Judy's website www.judyrodman.com.
When her talk concluded we began the jam portion of the evening with our house band backing Judy for two songs to start things out. Her second tune, "One Way Ticket", was a number one hit she wrote that was cut by LeAnn Rimes. Judy's vocal performance was emotionally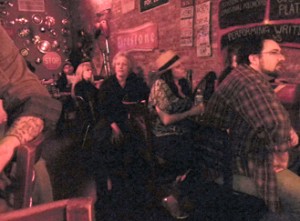 charged and inspiring to say the least, and this set the tone for the rest of the evening. A special dynamic on this night was the "optional vocal performance critique" that Judy offered for willing participants. To break the ice, I decided to go first and sang my two songs with the house band. After my first song, Judy pointed out some of the strengths about my performance and addressed a few things to work on.
The jam continued with several great performances. Brian Lucas, the house keyboardist, sang a great rendition of "Georgia", for which he took the vocal critique option. This pattern continued for the rest of the night, with literally every vocalist asking for a critique. Among these were Ted Schempp, the vocal duet "Acklen Park" (performing songs they co-wrote with alum, Shantell Ogden), Sarah Tollerson, and Michelle Lambert – all performing original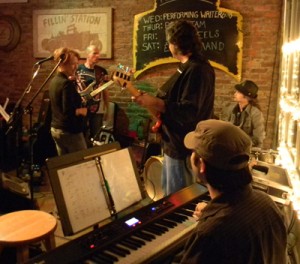 material. After the first song by each performer, Judy offered critiques and then we would try a part of the song again, seeing instant improvement in the vocals (don't get me wrong, the vocal performances were pretty strong to begin with). Alums, Elton Charles on drums and Rick Carizales on guitar, also sat in and did a fine job backing up some of the guests. Brian Lucas made a big contribution by charting out many of the songs in advance, and Shantell helped out by taking photos and some great video excerpts (see below).
It really was a special evening, fun was had by all and I think everybody learned a few things too. I want to thank Judy Rodman, our house band (Heston Alley on drums, Tom Good on bass, Brian Lucas on keys) and all the alums who participated and helped make this a special evening, I can't wait for the next one!
The next Nashville Berklee Jam will be held on Tuesday, April 10th at the Fillin' Station with special guest, Reese Wynans, formerly of Stevie Ray Vaughn & Double Trouble. His talk will share perspective on being a lifelong career musician, working with SRV, and the importance of understanding blues and roots music. Please check our website regularly for updates.
The ever churning music scene of Nashville can be kind of quirky. Even though it has downsized a bit since its heyday of the booming 90s, it's still a constant flurry of activity, with thousands of musicians of all levels and backgrounds continually searching and on the move. Searching for gigs, connections, opportunities, and quite often, searching for a pathway to a success that has yet to be defined. We're all on the hunt for something more.
That's how I felt when I first moved to Nashville, nearly 10 years ago. I didn't really know exactly what I wanted to do here; I just knew I wanted to accomplish more than I had in my previous life as a nightclub performer and music teacher in New England. I can remember the sense of impatience and anxiety I felt during that first year, the endless thirst for musical activity – no gig was too big or small.
As a fresh arrival in 2002, I knew very little about how this place worked and relied on my friend and mentor "D" to fill in the blanks. "If you are looking for paying gigs, the country scene is where it's at. It's pretty much a freelance scene, but that's where you'll make the connections you'll need to survive. Just get out there and start hitting the clubs and get to know people, sit-in whenever you can. But whatever you do, don't join a band, bands starve." All sound advice coming from a successful player who had already been here for 10 years.
"I'm really into blues and rock. Is there a scene here for that? I asked innocently. "There is, but you're going to go broke if you only play that stuff here" was his reply "Plus you'll get pigeonholed". "Well if all this activity is basically hired guns, how do you just have a band for fun?" I asked, not wanting to accept this new fate. His solution was so simple – "After you get to know and become friends with some good players, just pick a night, book a gig, and go make some music with your buddies."
While his advice made a lot of sense, it would take years for me to fully realize this new potential. I began digging in to the scene, networking, sitting in, and this approach worked. I played hundreds of gigs around the city during those first couple of years – Broadway gigs, Printers Alley gigs, gigs on the outskirts, showcases – you name it I played it. These gigs eventually lead to touring work and a couple of years later I began playing on songwriter demos too.
Now it's 2011 and I've been here for nearly 10 years. I can't believe how fast time flies, the last decade was a blur of endless activity. I didn't move to Nashville to become a superstar or a songwriter, I came here to work as a player, and I've succeeded in that endeavor. I make my living (or the bulk of it) as a freelance musician, something I was not able to do prior to my Nashville days.
But something has still been missing and I just recently figured out what it was. I haven't been playing music enough for the sheer joy of it. Nearly all of my music career dreams have come true. I've played in every state in the lower 48, Canada, parts of Europe;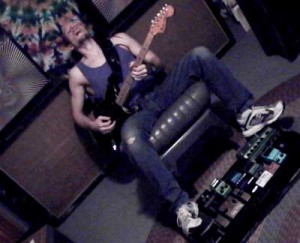 I've learned how to play guitar on recording sessions; I'm good friends with some of the finest musicians on the planet; I'm earning a living from my craft. But where's the self-expression within all of this? Don't get me wrong, there's plenty of good music involved in what I do. But a lot of the music I do for pay is the result of somebody else's expression, and at times, lacking a personal connection to me.
So last fall I finally decided it was time to follow ol' Ds advice – "Pick a night, book a gig, and go make some music with your buddies." I'm not sure if it's just because I'm getting a little older and my priorities are changing, or because working as a freelance musician allows you to be a part of everything, without actually belonging to anything, but making some music for the soul on a regular basis with my friends is now a big priority for me.
While I'm making my living as a hired gun within the country side of this town, I have a new found love for my side project "Endless Boogie", a band project that has no goal other than to simply provide me and my buddies with a night or two a month of self-expression through fun music. My good friends Fran Breen, drummer extraordinaire originally from Ireland (with the accent to prove it), and Mike Chapman, bad-ass bassist and member of Garth Brooks' famed session band, the G-Men, were the first players I called for the gig. Even though they've both been here far longer than I, perhaps their love of just getting out there and playing is even more telling about working as a career freelance musician long-term.
A few months ago, when we did one of our first gigs at the Fillin' Station in Kingston Springs, another player that new Mike walked in mid-set. He seemed surprised to see Mike on this "outside the microscope" gig and asked "What are YOU doing here?" Mike's reply was honest and telling – "I'm playing."
To me, this simple exchange says it all. What should have been obvious to the other fellow wasn't. Not every gig has to be about money, prestige, or opportunity. While my buddies and I know the importance of a little music for the soul, it is easy to understand how a lifetime of working in the music industry can change that.
So what are you waiting for?
"Pick a night, book a gig, and go make some music with your buddies."

Endless Boogie will be playing tonight, Tuesday, January 18 at the 12 South Tap Room, located next to Mafioso's on 12th Avenue South, Nashville, TN. The show starts at 9 PM and we will be playing some of our favorites from Hendrix, Allmans, Santana, Muddy, and Miles, plus a few of our own. The tap room is one of the coolest "non-Nashville" bars in Nashville and has a great menu, friendly staff, a whole bunch of fancy beers on tap, and never a cover.
12 South Tap Room
2318 12th Ave South
Nashville, TN 37204
615-463-7552
It was sometime late in the summer of 2002 and I had already been in Nashville for a couple of months when I got a phone call from my friend "D". He had been hired by a producer at a recording studio on Music Row to lay down some lead guitar tracks on a couple of songs and, as he was trying to help me become established in the Nashville music community, thought this might be a good opportunity to break me into the world of professional recording. Apparently there were two songs that would be in need of lead guitar, one being an original by a Nashville writer, the other being a cover of the Bonnie Raitt song "Something to Talk About". As I had some experience playing slide guitar, and he had some pull with the producer, he thought it would be a good idea for me to learn the slide parts and sit in on the track. Piece of cake, right? I had a couple of days to prepare, so I began wood shedding the song.
A couple of days later I met D at his house and we drove into town, arriving at a large, nondescript looking white building on Music Row. We carried our guitars in and walked down a long hallway past several recording studios, the activity inside them visible through large plexiglass windows. Whatever small amount of the jitters I was feeling in the parking lot was now replaced with intimidation and a growing amount of "freakedoutedness" as we entered a large control room with several gold records on the wall. D introduced me to Greg (the engineer/producer) telling him "My friend Eric here is a decent slide player and I brought him along to play on the Bonnie Raitt song." "Sounds good." he replied. He then introduced me to Donnie, the only other person present in the studio, telling me that he was a great song writer and that I had probably heard some of his songs on the radio over the years. I was also informed that he had written one of the songs we were working on today and both songs were demos for a female artist he was working with. Can we add a little more pressure here please?
Greg led us into a large live room adjacent to the control room which was visible through a large Plexiglas window and pointed to an old Fender amp stating "After you tune up you can play through that." After tuning my old Strat I plugged in and grabbed a pair of nearby headphones. By now Gregg and D had returned to the control room and I could hear Greg's voice coming through the headphones "Play a little so I can get a level on you." I started playing some slide licks and quickly realized the amp had little to no sustain. "Okay, I've got a level. Are you ready to make a pass?" "Okay" I sheepishly replied, and with that the count off to the song began. All the tracks to the tune had been previously laid down except for the lead guitar and I began playing the opening riffs at four bars in, just like the record. Or so I thought. The audio in my headphones seemed to stop almost as quickly as it had started, interrupted by the sound of Greg's voice "It sounds like your intonation is off a little. Why don't you check your tuning."
"This is just great!" I thought as a little sweat broke out on my forehead, "Okay, give me a minute" and I proceeded to plug into a tuner and retune my guitar. "Okay, I'm good to go" and with that we were on to take two. This time Greg let me get a little further into the song before again shutting me down, "Your pitch is still off. Try it again." Okay, this is getting ugly. After a couple more failed attempts ended in a similar fashion, D entered the tracking room to help me out. "Show me what you're playing on the intro?" he asked, and I proceeded to play the intro. "No wonder it sounds out of tune, this song is in Ab. Let's try putting a capo on the first fret." Of course I should have known this, and this was perhaps the first moment I began realizing I wasn't as prepared for this world as I thought I was. I put on the capo and D returned to his vantage point next to Greg in the control room on the other side of the Plexiglas window.
Apparently my attempts with the capo weren't much better as take after take continued to end prematurely. One more time D came back into the room to offer advice. "Try putting a slow vibrato on the end of the long notes. It will help you be more in tune." While his advice was correct, I was still unable to deliver what was needed and my passes continued to fall short. Each take continued to end abruptly with me looking up to see Greg lightly smiling and shaking his head saying things like "Intonation", "Try it again", or "Sorry, it still sounds out". D was standing next to Greg at the control board with similar facial expressions, and while they both exuded great patience, the look on Donnie's face from his seat directly behind them was that of annoyance and frustration.
Finally, after about an hour of this, probably the longest hour of my life, I had made one complete marginal pass on the tune. "I think we got it as good as we're going to get it." were the last words I heard through the headphones and, in a state of total defeat and exhaustion, I took off my guitar and walked into the control room to face what I expected would be an execution squad. "Don't worry, you did the best you could, it's your first time recording in Nashville and you were nervous." said D trying to comfort me. "You could tell I was nervous?" I asked ignorantly. "We could see you sweating bullets in there." he said with honesty. "Your asshole puckered up so tight you couldn't have shoved a number two pencil in it." Yeah, that about sums it up.
As it would turn out, the tracks I laid down that day were completely useless, and they re-recorded them after I left. Looking back on that miserable experience, by far one of the most difficult and embarrassing moments of my musical career, I now know I was far from ready to work in a professional recording studio. Of course hindsight is 20/20 and it's easy to look back and know what could be done differently. On the other hand, that recording session was a great teaching moment for me as before that day I had very little experience in recording studios. That day taught me that I still had a lot to learn and made me all the more determined to learn it.
In my blog yesterday I asked for your questions about Nashville, and received several good ones in the comments section and on my Facebook page. So I decided to put them all together with my answers in today's blog. Here's what I know about what y'all wanted to know.
Who do I need to meet and where to hang out to get exposure as a musician?
This is one of the biggest questions people ask. There is no short easy answer either. That question and the answers to it are essentially what my book project is all about. Here are the short answers:
"Who do I need to meet to gain exposure as a musician?"
Everyone in the music community that you possibly can! With each musician or music entrepreneur you meet comes a whole new set of possibilities. You never know where each new road might lead. Keep in mind that the identity of many musicians and industry professionals won't always be obvious either. You could be standing in line at the supermarket next to a record producer and not even know it. Somebody that looks like a homeless person in a bar could be a hit songwriter. And of course, just meeting these people is only a first step. Most people that become successful in this business do so by slowly nurturing relationships over a long period of time.
"Where do you need to hang out to gain exposure as a musician?"
In Nashville, the face-to-face meeting of musicians in nightclubs and music venues around the city still works best. You can't go wrong by making the rounds at the clubs on Broadway, Music Row, the Fiddle and Steel, the Bluebird Café and the Commodore Lounge for songwriters, etc.
In this day and age a lot can be accomplished via the Internet as well. I have made some amazing contacts for my book project just by sending e-mails to industry people I found on websites or Google searches. With this approach I have had correspondence with Derek Sivers (founder of CD baby), a music business professor at the University of Miami, etc. The Internet can enhance your visibility as a musician or performer but should not replace face-to-face encounters in public.
Where are the Nice Southern Gentlemen?
I'm not sure what you're looking for exactly. But I would say that most men that live in the South are somewhat 'gentlemanlike' (you know that whole Southern hospitality thing). It even wears off on some of us northern transplants eventually!
I'm wondering if it would be a good place to put some of my uncle's shows. They're all cabaret style shows. Most music based.
Nashville might be a good place for that kind of show, but then again it might not be. It all depends on whether or not he has a draw here. There are many decent music venues in Nashville, so if he has built a big enough fan base, via touring and/or the Internet, he might do okay. But if he's not known in this region he will have a hard time drawing a crowd, and the local Nashville venues won't pay much to an unknown act.  He might want to consider trying Branson, Missouri, as that city is more known for these types of shows. Of course, they will expect him to draw as well.
Favorite Restaurant?
Generally speaking, I make it a point to never eat in restaurants, as restaurant food is generally unhealthy. But there are plenty of popular restaurants here for those who do enjoy them. This 2009 article from the Nashville scene 'Best of Nashville 2009: Food and Drink' outlines some of the city's most popular places.
Personally, I would recommend buying some good healthy ingredients at Whole Foods (either at Green Hills, or in Franklin), and cooking a great meal at home. You can find some great recipes on a site called Do It the Hard Way.
What songs do you need to know if you want to jam at Fiddle and Steel?
To be prepared to sit in at the Fiddle and Steel, or any other similar bar in Nashville for that matter, knowing what I call 'The Nashville 100' is essential. The Nashville 100 is a list I have comprised of what I have found to be the most commonly covered standards played in Nashville. The list is posted on the Survival Guide site, follow this link to view it http://nashvillemusicianssurvivalmanual.com/list.html. While these aren't the only songs that might be played, knowing these songs will give you a lot of common ground with most players in town.
Best places to live? I hear a lot about east Nashville, so that must mean its over-crowded with wanna-be hipsters. Any other cool neighborhoods off the radar and reasonably priced?
The neighborhoods in east Nashville can vary greatly. There are some decent areas and some rough spots as well, but apartment rentals in that area are generally affordable. The same thing could be said about many parts of the city. Reasonably priced apartments ($600 – $750 for a single bedroom) can be found in Belmont, Bellevue, Donelson, Gallatin, and many other outlying communities.
The desirability of an area could also be determined by whether or not you will have children living with you (ie quality of school systems, crime rates, etc.), and if you will be commuting in and out of the city during daytime hours (East and North of the city generally have the worst traffic backups).
What kind of gear should a guitar player have for studio gigs vs touring gigs?
Many of the successful Nashville based session guitarists have rigs consisting of multiple guitars; Teles, Strats, Gibsons, PRS etc., multiple heads; Class A style head (Matchless, Dr. Z, etc.), Marshall style head, and maybe a Fender style head, and a refrigerator rack full of effects with some type of pedal board set up as well. This kind of setup would be more typical for a full time A list session player. There are plenty of players who work in the studio on much simpler rigs but still have the ability to deliver a wide range of tones. Of course there are some 'niche' studio players that only have one basic sound and get calls to do that one thing they do best.
As far as touring rigs go it depends on the gig. But for most country/pop/rock gigs, a Tele style guitar, Class A combo, and a pedal board with the essentials (a clean boost or compressor, overdrive, delay, and tuner) will suffice (amp and pedals in Anvil style cases). A backup guitar is always a good idea too.
How are you liking it? Bartlett St. to "oprayland"
I'm loving it! Bartlett Street in Kingston New Hampshire was a great place to grow up, but Nashville has definitely become the home of my second life. There was a bit of culture shock over the first couple of years, but I am now well adjusted. I still do miss a lot about New England – friends, family, having the ocean in my backyard, autumn foliage, summers where it's not 100° every day for four months. But the experiences I've had, the people I've met, the places I've been, the skills I've gained, I wouldn't trade it for the world!
Thanks again everybody for your participation in my informal survey, it definitely gave me a lot of perspective. Many of these questions are answered in much greater detail in my book project which is still in the works, but some of them are bringing up points I wasn't already thinking of. Ultimately, some of these new points will also be addressed in the book.
For those of you that haven't yet fully explored this site, you will find that some of these questions are addressed in more detail within it. I'm thrilled with the response I got to my query and urge you to ask more questions if you have them, preferably in the comments section of these blogs. Thanks again and happy reading!