Mike Chapman
To say that last week was heavy is probably the biggest understatement of all time. Last week was one of the most emotional times I can remember in my adult life, I can't even remember the last time I cried so much. When I first heard the news of the passing of my dear friend, Mike Chapman, I was deeply saddened, but I didn't really grasp the full meaning of this for a couple more days. It wasn't until me and Kelly arrived at Mike's "Celebration of Life" ceremony on Friday that it fully hit me, Mike really is gone.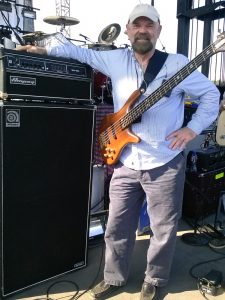 But he's not really gone. His physical being may have left this world, but all the goodness he embodied and the huge impact that had on his family and friends remain. A part of his spirit is still here and lives within all that knew him.
I met Chap about 10 years ago, while working for country artist, Rhett Akins. We were in between bass players and our drummer at that time, Cliff Thompson said Mike would be great, if he was available. It turns out he was available, and our friendship and musical adventures began on a tour bus bound for Virginia. I had no idea on that day that he would eventually become my favorite bass player to play music with, but also one of my favorite people to be around.
Those that knew Mike knew the depths of his amazing talent on the bass guitar. Millions of people who have no idea who he is have unknowingly enjoyed his playing on countless recordings. Being a world-class studio musician and playing bass on all the Garth Brooks records (and countless others) were just one part of his amazing contributions to the world. He was also a phenomenal live musician; for he could hold down the fort like no other! My good friend, Patrick Weickenand, owner of a bar in which me and Mike performed many times, the Fillin' Station, once said "Mike's unreal, he never misses!". Solid, dependable, never missing a beat – these words describe not just Mike's bass playing, but his approach to life.
So many beautiful words were said of Mike at his celebration last week by some of his closest friends and his daughter Allison. Mike's love for his family, friends, music, and life were as deep as the deepest ocean, his life had such meaning and purpose, and he lived it to the fullest. He was also the humblest guy you could ever meet, if he heard me (and everyone else) talking about him like this, he would have probably said something like "thanks, that's really nice, but you don't really have to say all that".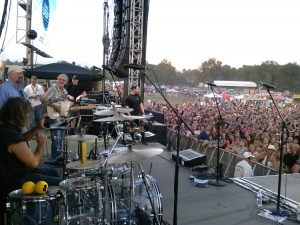 I played a lot of "big gigs" with Mike, most of the gigs with Rhett Akins and The Peach Pickers were in front of thousands of people. Some of my most memorable musical experiences were with Mike on bass backing up The Peach Pickers on the Luke Bryan Farm Tour in recent years. But hanging out with Mike on the bus, or sharing a meal or a walk, these moments were just as special.
Over the years we also played a lot of small gigs, you know the kind, 30 or 40 people in a cozy neighborhood bar (or sometimes even five or six, three of which were 2 band wives and the bartender). My wife and I were always amazed that on many occasions he would drive an hour to do these gigs with me, for nothing other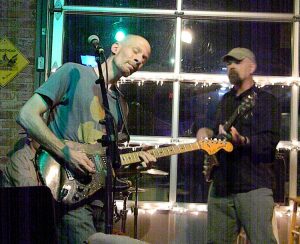 than tips and a good time. I remember him saying after one of these gigs "thanks for inviting me to the party! ", And after another "music is like ice cream!". We really did have some magical musical moments in these little bars and I am grateful for the experiences and memories I made with him. He treated every show, no matter how big or small, with the same level of importance. He really loved to play music!
What Mike has left behind for us, aside from his musical legacy, is his legacy of love, and this was so evident at his service. One of the things I loved most about Mike was the way he would greet you with a big hug and a smile, every time! And it wasn't just a little hug; he hugged you like he really meant it, as I believe he really did. And even if he didn't physically hug you, he hugged you with his smile; there was so much love in his eyes. And this went on at the service, everybody was hugging everybody, it was like a great big, teary-eyed hug-athon!
In the days since that service my wife and I have talked a lot about Mike and some of the things that were said of him on that day – things like his honesty, integrity, compassion and selflessness. He never had a bad thing to say about anyone and went out of his way to help others, ideals the world can never have too much of. He generously shared his love with everyone and that might be the greatest gift anyone can give.
Over these last few days we've stumbled across a new mantra – "Be like Mike!". If you're having a bad day and life gets a little hard, hold your head up high and be like Mike. Be like Mike in all the ways that he shared his goodness in the world. Be like Mike and smile a little more, hug often, and love always. I can think of no better way to honor our friend.
Mike once said in an interview about attaining success in the music business "you've got to be a nice guy". If there's one thing I learned through my years of knowing him, being a nice guy came very naturally to Mike Chapman. I wish I could hug him one more time and play one more gig with him, but I guess that will have to wait. So if you're listening my good friend, thanks for all the friendship, the music, and the love. And thanks for inviting us to the party!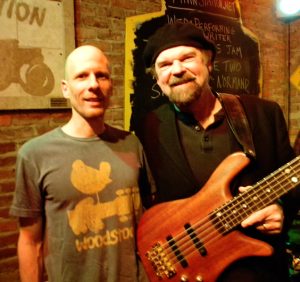 Today I want to tell you all about an exciting monthly event I have been hosting – The Nashville Berklee Jam, and its new accessibility to everyone in the Nashville music community. The beginnings of this idea came to me a few years ago when I first attended the annual Nashville Berklee Alumni Reception. On my way home that night, I remember thinking how great it was to meet so many musicians in one night who were so passionate about their musical ambitions and so hungry for knowledge. These musical comrades were a mix of Berklee alumni residing in middle Tennessee and Berklee students who came down for the annual Nashville field trip. At this reception I made connections with other like-minded alums and students who came down on the field trip, the latter peppering me with questions about my experiences in Music City. This event was a very stimulating night as the energy of three hundred musical minds meeting and conversing seemed to create an air of camaraderie and untapped potential! Then I went home and another year passed before I got this fix again.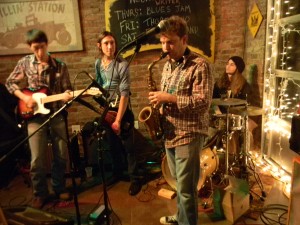 So this past winter I decided to create a monthly event to try to emulate this musical networking hoedown on a smaller scale, and The Nashville Berklee Jam was born. Held on the first or second Tuesday of the month from 7 PM to 11 PM at The Fillin' Station in Kingston Springs, TN, these events start out with an informal meet and greet, followed by a Nashville music industry guest speaker, and end with an open jam. So far the reception has been very positive, here's a recap (with links to their corresponding blogs):
February – A-list session bassist, Mike Chapman gave a great talk about being a session musician, outlining key concepts in what he calls, "the essential slices of the session player pizza". He also jammed with several alums after the talk.
March – award-winning vocal coach, producer, and hit songwriter, Judy Rodman gave an insightful talk about career paths for vocalists. She also performed a couple of songs with the house band and then critiqued and coached several vocal performances, helping vocalists make instant improvements.
April – Stevie Ray Vaughan keyboardist, Reese Wynans shared his fascinating story about being a lifelong-career musician, the life-changing moment that came on his last night with Delbert McClinton that landed him the SRV gig, and the whirlwind years that followed. After his talk, he joined us for a few inspired performances.
May – fellow alum, musician, and author of "The Nashville Number System", Chas Williams gave an introductory class on this subject. After the class, he charted one of alum, Sarah Tollerson's originals and performed it with Sarah and the house band with everybody reading the chart off a dry erase board.
June – drummer, producer, and clinician, Rich Redmond gave an inspiring talk on "Navigating the Nashville Music Industry" speaking candidly about his early "lean years" in Music City and different approaches to finding success here. After his talk he sat in for a few tunes and stuck around to chat with others in attendance.
For our next event, to be held on Tuesday, July 10, I will be giving a talk that continues last month's theme – "Navigating the Nashville Music Industry – Part Two", during which I will explore some of the concepts I write about in my book "The Nashville Musician's Survival Guide". And, this just in, for our event in August we are proud to announce that the guest speaker/performer will be none other than Nashville guitar ace, Jack Pearson, formerly of the Allman Brothers, Vince Gill and many others.
All of the guest speakers have given great talks, sharing their knowledge and providing inspiration, and these talks have been interactive with many great questions and comments from alums. My band, Skinny Buddha (comprised of Berklee alumni and others from the Nashville music community) provides backline and a starting point for the laid back jams which have covered everything from originals to classic rock to blues tunes to two-chord  jams. All of these events have been great friendship building and networking experiences for all involved, as well as educational. So far, the attendance has been mostly comprised of Berklee alumni, but as there seems to be a growing interest from others in Nashville, we are now officially making this event open to the Public. Nashville is a diverse and complex music community in which a Berklee alumni community also resides, and it is my goal to help these two worlds intersect and meld together.
So come on out to our next "Nashville Berklee Jam" On Tuesday, July 10. I hope to see you there!
P.S. if you have any comments, thoughts, or questions, please feel free to e-mail me at eric@ericnormand.com.
Last Saturday saw another outing of my new trio when we played to another standing room only, sold-out show at the Fillin' Station in Kingston Springs, TN and boy was it fun! Okay, maybe it wasn't standing room only, but I always wanted to say that, and besides, we played like it was a full house. It was another cold, wintry Saturday night in middle Tennessee and we had just received our seventh snow storm of the season a few days prior (it's already snowed more times this winter than it had in the previous seven since I've been here). So we were feeling a little housebound and it was good to get out and play.
"It's like eating ice cream." That's how Mike Chapman, my good friend and bassist in this project, described our band and the gig after the show – it's as fun as fun can ever be, and it comes without any real purpose or pretense other than to simply be fun. At this point of my career, and life for that matter, outings with this trio are perhaps the most enjoyable experiences I ever have when it comes to playing music. Not that my other musical activities and work aren't fun, I have found a way to enjoy just about every musical situation at this point, but many of them are on somebody else's dime, and that almost always creates a whole other mindset and set of expectations.
Take my job with Rhett Akins for example. It's a great job, we go on the road couple of times a month, I get to hang out with my friends, play some great shows, and get driven around the country on fancy tour buses. Of course I also have to advance shows, deal with event coordinators, production companies, etc. – there's a lot of responsibility with my job and that can often be accompanied by stress.
The same applies to working on songwriter demos, another one of the hats I wear. Building songs in my home studio, recording drums, guitar tracks, vocals – while these are still dynamic and challenging musical activities, they are on someone else's dime, therefore, I must work quickly and efficiently and put aside my creative differences in the name of pleasing my clients – the customer is always right. But it's still all music related work, and that's great, it's what I set out to do a long time ago. Not to mention, I'm making my living doing something I love.
There is one thing that I have noticed after what is now more than two decades of working in the music business full-time, it's called desensitization. After a lifetime of musical activity I have logged many thousands of hours on my instrument, played over 3000 live shows, and worked on countless studio recordings. I've also listened to thousands of recordings, as so many of us have. This oversaturation (for lack of a better word) of musical activity can take away some of that special spark that we had in our younger years. I can never again hear the music of Jimi Hendrix or the Allman Brothers for the first time again. Not to mention the power of youth, as a friend of mine once said "There's nothing like a teenager playing music, they always play with reckless abandon."
So now I'm all grown up and playing for a living and, while I am thrilled about how it all worked out, I still long for that kind of fix that I used to get daily from music in my younger years. That's where my trio comes into play. My good friend Mike Chapman is a legend in Nashville, one of the finest bass players you'll ever meet, and my experiences in the music business to date are only a small fraction of what he has experienced. The same is true of my other compadre in this project, friend and drummer extraordinaire Fran Breen. At one point Fran was so busy in the music world that he turned down an opportunity to tour with Van Morrison.
After nine years of playing and working in Nashville I have come to know these fine players as friends, in addition to working with them on different gigs over the years, and this is perhaps one of the biggest perks of living in Nashville. I wasn't going to meet Mike and Fran in my native New England. And it turns out we share some common ground. Sometimes they need a musical "fix" too, and perhaps that is why they are enjoying this trio project as much as I am. Literally every time we finish playing one of these gigs I find myself excitedly awaiting the arrival of the next one.
Touring the country, playing on big stages, working on recording projects, that's all good and well. I've worked hard to accomplish everything I have and am thankful that it has all worked out. But for me and the guys, sometimes we just want a little ice cream.