Chas Williams
Today I want to tell you all about an exciting monthly event I have been hosting – The Nashville Berklee Jam, and its new accessibility to everyone in the Nashville music community. The beginnings of this idea came to me a few years ago when I first attended the annual Nashville Berklee Alumni Reception. On my way home that night, I remember thinking how great it was to meet so many musicians in one night who were so passionate about their musical ambitions and so hungry for knowledge. These musical comrades were a mix of Berklee alumni residing in middle Tennessee and Berklee students who came down for the annual Nashville field trip. At this reception I made connections with other like-minded alums and students who came down on the field trip, the latter peppering me with questions about my experiences in Music City. This event was a very stimulating night as the energy of three hundred musical minds meeting and conversing seemed to create an air of camaraderie and untapped potential! Then I went home and another year passed before I got this fix again.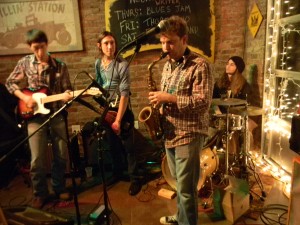 So this past winter I decided to create a monthly event to try to emulate this musical networking hoedown on a smaller scale, and The Nashville Berklee Jam was born. Held on the first or second Tuesday of the month from 7 PM to 11 PM at The Fillin' Station in Kingston Springs, TN, these events start out with an informal meet and greet, followed by a Nashville music industry guest speaker, and end with an open jam. So far the reception has been very positive, here's a recap (with links to their corresponding blogs):
February – A-list session bassist, Mike Chapman gave a great talk about being a session musician, outlining key concepts in what he calls, "the essential slices of the session player pizza". He also jammed with several alums after the talk.
March – award-winning vocal coach, producer, and hit songwriter, Judy Rodman gave an insightful talk about career paths for vocalists. She also performed a couple of songs with the house band and then critiqued and coached several vocal performances, helping vocalists make instant improvements.
April – Stevie Ray Vaughan keyboardist, Reese Wynans shared his fascinating story about being a lifelong-career musician, the life-changing moment that came on his last night with Delbert McClinton that landed him the SRV gig, and the whirlwind years that followed. After his talk, he joined us for a few inspired performances.
May – fellow alum, musician, and author of "The Nashville Number System", Chas Williams gave an introductory class on this subject. After the class, he charted one of alum, Sarah Tollerson's originals and performed it with Sarah and the house band with everybody reading the chart off a dry erase board.
June – drummer, producer, and clinician, Rich Redmond gave an inspiring talk on "Navigating the Nashville Music Industry" speaking candidly about his early "lean years" in Music City and different approaches to finding success here. After his talk he sat in for a few tunes and stuck around to chat with others in attendance.
For our next event, to be held on Tuesday, July 10, I will be giving a talk that continues last month's theme – "Navigating the Nashville Music Industry – Part Two", during which I will explore some of the concepts I write about in my book "The Nashville Musician's Survival Guide". And, this just in, for our event in August we are proud to announce that the guest speaker/performer will be none other than Nashville guitar ace, Jack Pearson, formerly of the Allman Brothers, Vince Gill and many others.
All of the guest speakers have given great talks, sharing their knowledge and providing inspiration, and these talks have been interactive with many great questions and comments from alums. My band, Skinny Buddha (comprised of Berklee alumni and others from the Nashville music community) provides backline and a starting point for the laid back jams which have covered everything from originals to classic rock to blues tunes to two-chord  jams. All of these events have been great friendship building and networking experiences for all involved, as well as educational. So far, the attendance has been mostly comprised of Berklee alumni, but as there seems to be a growing interest from others in Nashville, we are now officially making this event open to the Public. Nashville is a diverse and complex music community in which a Berklee alumni community also resides, and it is my goal to help these two worlds intersect and meld together.
So come on out to our next "Nashville Berklee Jam" On Tuesday, July 10. I hope to see you there!
P.S. if you have any comments, thoughts, or questions, please feel free to e-mail me at eric@ericnormand.com.