music business
Back in 2009, I began putting together a list of people to interview for my book, The Nashville Musician's Survival Guide, and my friend, Mike was at the top of this list. Those of you who knew Mike know that he was a very caring, giving, and humble human being. The interview he gave was not only insightful for aspiring musicians, but also a wonderful insight into his musical journey. Although he has now gone on to a better place, his music can still be heard, and his magical essence still shines through the words on these pages. It is with that spirit that I'd like to share his words with you all. Mike touched so many lives, and we are all the better for it. I miss my friend.
Use the buttons at the top or bottom of each page to move to the next page; the full interview is around 10 pages long.
By Eric Normand
At the August Nashville Berklee Jam we were fortunate to have an expert in the field of music for television and film – songwriter and CEO of Song Placement International, Kate Taylor. A native of Michigan, Kate has been in Nashville since 1999 and has had her songs placed in shows like "The Young and Restless", "Teen Nick", CMT, and countless others. Through her song placement company she has placed songs for hundreds of artists and is currently working with shows like "Grey's Anatomy", "Nashville", and "Duck Dynasty", to name a few. Here are a few highlights from her in-depth talk about the ins and outs of getting music placed in TV, film, video games and commercials. (A video of Kate's entire talk can be viewed at the end of this article.)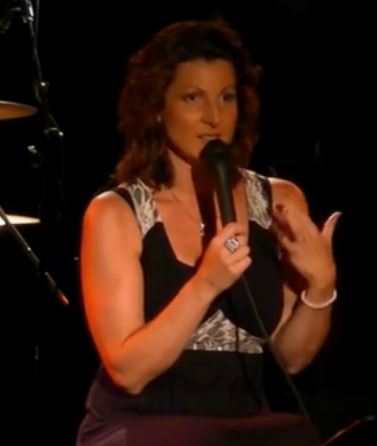 "Adam Zelkind, a dear friend of mine and a mentor to me once said 'Kate, if you can make a penny in music, take it. If you can make a penny it will become a dime. Eventually all those dimes will add up to a million dollars.' I don't know if you know who Adam is, but he's a millionaire just from making TV music."
Adam was Kate's mentor early on in her career of making music for TV and film and was pivotal in her advancement in this field. Eventually, Kate would team up with another Adam, Adam Stengal along with another music industry veteran, Howard Rosen to form her placement company "Song Placement International". Together, this trio has created a formidable force in this elusive field.
Regarding some basics about song placement Kate had a few words of wisdom to offer:
If you get in contact with a music supervisor directly, that email is gold, don't ever lose it.
When you e-mail them, ask them "how do you want the music?" (Most want a link).
Unless they are willing to pay over 25K for the initial sync fee it is not worth doing an exclusive deal. Most syncs are non-exclusive.
Steer clear of "re-titling". Re-titling is when a song placement company changes the title of a song so they can own the publishing and masters.
If you're song is vocal-based, always send the instrumental track as well.
Re-makes of known cover songs work great for T.V., just make sure you have the permission to do the re-make.
Advertising provides the most lucrative opportunities for song placement, for example, a car commercial might pay $25,000 upfront. Next in line would be TV, with major network nighttime show placements starting in the $4-$5000 range for indie artists.
Regarding genres – "They want everything…hip-hop, singer-songwriter, orchestral, driving beat…the more variety you have, the better chance you have of getting placements."
She also added that lyrical content doesn't matter so much when it comes to TV music…"it's all about the dialogue over the top of the music".
Kate expanded on many of these points at length and by the end of her talk it became clear that music placements in TV, film and video games are a largely unexplored area for many songwriters and artists. As most songwriters are striving for cuts with major artists or trying to achieve their own success as artists, many don't realize that this angle can be a means to an end while they're working towards other goals. And, perhaps even more importantly, making music for tv and film can be a more easily obtainable goal.
If you think your music is worthy of being placed in tv or film, Kate would be more than happy to hear from you. You can contact her at kate@songplacementinternational.com – please send links only, no song attachments.
Kate Taylor performing her original song "homecoming Queen"
Berklee is alive and well in Nashville! On Monday, November 7 we had our first "New to Nashville" Berklee alumni reception at the NSAI studio on Music Row, and the event was a huge success. Upon the suggestion of Berklee Alumni Affairs Officer, Karen Bell, I put this event together to welcome alum's who recently relocated to Nashville.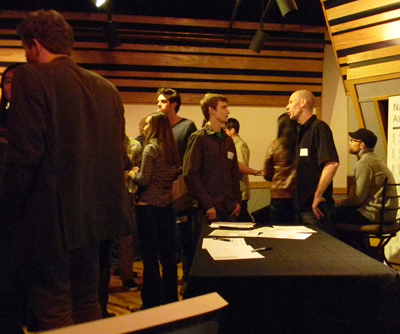 The reception was a three stage event. The meet and greet gave recent transplants a chance to reconnect with their fellow classmates while forming new relationships with some of the alumni who have already been here a while. From what I could tell, out of the 40 or so in attendance, at least half were new arrivals.
After about an hour, everybody took their seats and I gave a brief talk about my Nashville experiences. The talk evolved into a pretty good group discussion, with lots of questions about networking in Nashville. Most of my experience in Nashville has been in the areas of touring, gigging around town, and recording, and most of this discussion centered on these issues.
One alum asked about what clubs and situations would lend themselves for sitting-in with bands. Sitting-in is a great way to build your reputation while making connections that might lead to gigs, and I mentioned a few that are worth checking out – The Fiddle and Steel has a player-friendly jam every Tuesday night; Douglas Corner has "The Loud Jazz Players Jam" every other Monday night; and there are also a few blues jams around the city including one at Carol Ann's Café on Sunday nights, and The Fillin' Station on Thursday nights. I also suggested becoming a regular at some of the clubs on Broadway, as this is also a good place to meet players who are gigging regularly.
Rich Redmond, one of the contributors to my book "The Nashville Musician's Survival Guide", has one piece of great advice he gives to players who are new to town, and I passed this advice on in response to a question about evolving a music career in Nashville – "Be patient, and take every gig that is offered". Every gig will potentially lead to more gigs, and no matter how unimportant some gigs might seem, you never know where those roads might lead.
We paused briefly after my talk to give everyone a chance to stretch their legs and grab some more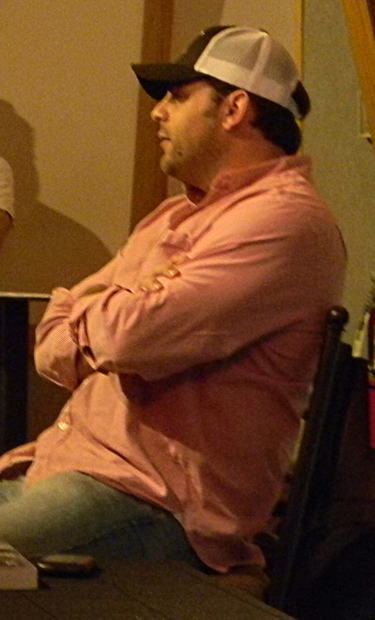 refreshments. Then everybody settled back down into their seats and I proudly introduced the night's final speaker – country music artist, hit songwriter, BMI songwriter of the year, and my current boss, Rhett Akins. For those of you who aren't in the know, Rhett is currently one of the hottest songwriters in Nashville, and he shared some great perspective, stories, and advice for all of the songwriters in the room (and judging by a show of hands a little earlier, at least half of those in attendance had come to Nashville to pursue careers in songwriting).
After Rhett's brief talk about his evolution as a songwriter and artist he also engaged in a group discussion. He spoke candidly about different aspects of being a Nashville songwriter. The Nashville uniqueness of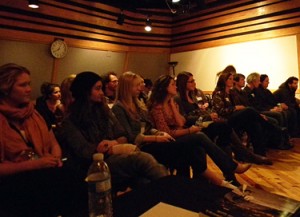 co-writing, the pros and cons of publishing deals, and his lifelong passion for music and songwriting were some major talking points.
Some of the perspective he shared that I found most interesting was the sheer number of songs that he writes, stating "I pretty much write at least one song everyday" and that to wind up with five hits songs, he's probably written 500 songs. He also said that he and his co-writers try to finish a song during each writing appointment, but that he is also interested in experimenting with writing some songs over a longer period of time, noting that "it took Gregg Allman three years to write Melissa". After his talk concluded he stuck around for a while, giving those who were interested a chance to speak with him one-on-one.
All in all, the event accomplished what we had set out to do. Some of the newest arrivals to Nashville got a chance to reconnect with former classmates that they didn't even know had moved here, others made new friendships, and many, myself included, got new insights into the ever-changing world of the Nashville music biz'.
I would like to send out a special thanks to the following people for helping make this event a success: Rhett Akins, Karen Bell, Emily Dufresne, Dave Petrelli, Meg O'Brien, NSAI, Berklee, Heston Alley, and Kelly Normand.
Epilogue: I met with Alumni Programs Officer, Emily Dufresne the following afternoon for coffee, and we discussed an idea I had about organizing a monthly "Berklee Alumni Networking Jam". More info on that will be coming soon!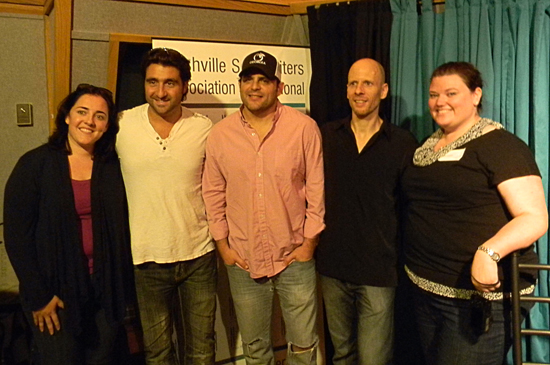 From left to right: Meg O'Brien, Dave Petrelli, Rhett Akins, Eric Normand, Emily Dufresne

So far, the feedback I have received on my book has been very positive, and I'm thrilled about that. Several people who purchased the book have e-mailed me and share their thoughts; I've even had some European interest. However, a Craigslist response last week to one of my recent blogs brought up one issue that I must address.
The response was to my last blog "The Benefits of Having, and Being a Mentor" and, while it completely missed my point about mentoring, the writer stated views that "the music business is the biggest waste of human activity" and something else to the effect of 'why should young people have to spend years playing in bars to get good or make connections?' This person was obviously taking a shot at me and my book, while it was clear from the rhetoric that he or she formed opinions based only on reading a couple of my blogs, without actually reading the book.
So for the record, here are some of my thoughts regarding music careers in Nashville (or anywhere for that matter).
When I started writing this book, my intention was to present a document that would help "fill in the blanks" for both newcomers to Nashville and people who are considering relocating here. I wanted it to be full of useful information that would simply help musicians' gain perspective about what's here and I believe the finished book does just that. But it's definitely not a "get rich quick" angle. I don't make any promises; I've done my best to simply present information about the Nashville music industry from a journalistic standpoint.
In fact, nowhere in the book do I suggest that moving to, or embarking on a music career in Nashville (or anywhere else) is a good idea. For that matter, nowhere in the book do I state that it is a bad idea. People have been selling the farm and moving to Nashville to fulfill their musical dreams for decades. The way I see it, people are going to chase their dreams no matter what I write in a book or a blog, and the last thing I'm going to do is try to talk someone out of their dreams.
Do I think that the music business is a waste of human activity? It might be for some, but those folks will never know if it is until they try. And once they have it in their head that they think they can succeed, no one is going to be able to "talk them down from the ledge."
In the foreword to my book I write "many find out that the music industry of Nashville is not what they thought and are unable to achieve their dreams and aspirations, often resulting in a premature and hasty exit." This is one of the first lines in the book and reading it today makes me think of something one of my professors at Berklee once told me. It was my first day of "Harmony" class way back in 1988 and the professor began the class by saying "80% of you will not survive your first year at Berklee." He wasn't trying to paint a picture of gloom and doom, he was simply trying to instill that what we had chosen to pursue is extremely challenging, perhaps much harder than we were prepared for, and that it was simply a statistical fact that more would fail than would succeed.
This sums up the music business perfectly. It is extremely challenging, much more difficult than you could ever prepare for, and only a small number of those who try will succeed. But this doesn't mean that it is a waste of human activity, or that some people shouldn't try. Like I said, it's not my place to talk people out of their dreams. My whole angle is, if you're going to try to build a successful career in the music business, understand how hard it is and prepare yourself for the road ahead. Arm yourself with as much knowledge as you can. Practice your instrument and become a great player and play music with others often. Learn how to enjoy playing nightclub gigs, for these are the majority of gigs most musicians will play. Read as many books, magazines, and articles about music, business, and life as you can. Talk to others in the business to gain perspective. Be a good person and contribute to the community in which you live. Work hard, bring something to the table, and don't be afraid to put your chips down. And HAVE A BACKUP PLAN – be good at doing something else too!
The music business is an extremely competitive and difficult endeavor to succeed in, and making it work in Nashville is just as hard, if not harder than it is anywhere else. I don't have all of the answers, I just know what worked for me and am sharing that with the hopes it might help a few others along the way.
So what are you waiting for? Buy my book today 😉
If I think back to when I first got out of the Berklee College of Music, back in 1989, I remember feeling excited about all I had learned. My head still spinning from the intense and rapid absorption of so much musical information, I also felt a confidence with this newfound knowledge. As I was a young man in my early 20s, this confidence, at times, perhaps bordered cockiness. But still, I had worked hard at Berklee, gained valuable knowledge about music theory, and was proud of this achievement, eager to share this fact with everyone I knew.
"There is a difference between conceit and confidence. Conceit is bragging about yourself. Confidence means you believe you can get the job done." – Johnny Unitas
But just because you're fresh off the Berklee boat doesn't mean everyone wants to hear you announcing this fact, as I would quickly learn. Right after I got out that spring I replied to a couple of classified ads that were looking for a guitarist. One of the conversations went something like this:
"Hello, this is Charlie." "Hi, my name is Eric and I just got out of Berklee. I'm calling about the ad for a guitar player." "Click." It seems I had no sooner said the word "Berklee" before he was hanging up the phone. What's up with that?
In the years that would follow, I heard similar stories from others, and would also encounter some folks who seemed to resent me simply because I had this education. I remember one time going to see a rock band in a local bar and enjoying listening to the guitar player, who was someone I knew. When I was chatting with him on a break, I asked him about a certain chord he had played in a blues song. "What was that chord you played in Stormy Monday? I've never seen it used before." "I don't know. You went to Berklee, you tell me." Ouch, I was shellshocked! I couldn't understand this hostility, as I was genuinely curious about what he had been playing.
Perhaps he didn't know the name of this particular chord and felt embarrassed. Perhaps he wishes he had been able to go to a music college and was simply jealous. Maybe I had bragged too much after getting out of school and was unknowingly being perceived as being cocky, and he simply assumed this was at least partially a result of my Berklee experience. Whatever it was, there was apparently some resentment on his behalf to the fact that I had gone to Berklee.
Of course, I wasn't entirely innocent in every situation either. I remember sitting in at a blues jam somewhere during that time period. After sitting around all night waiting for my turn to play, when it was finally my turn, I felt compelled to share every note I knew (which was a flurry of modal insanity played in rapid fire succession back then), to perhaps "enlighten" what I perceived as a bunch of simplistic, blues musicians. And then I wondered why I only got to play one song. I'm sure I wasn't the first young gun fresh out of Berklee to make this mistake.
"Knowledge is power." – Francis Bacon
That was all a long time ago. During those first years immediately following Berklee, I was still trying to figure out how to apply all that theory to practical, everyday musical situations. Slowly, over time, that knowledge began to morph into my everyday musical applications; it started to really become a part of my being. Eventually, I reached a point where I no longer thought about music theory; I just played and heard music, understanding its technicality on a more subconscious level. As theory and music became one in the same, it got easier to play music.
I never use my Berklee education as a conversation piece, unless asked. If someone asks me about my musical training, I don't hesitate to tell them I went to Berklee. If they are still interested after I tell them that, I'm genuinely excited to share more. I'm certainly not embarrassed about going to Berklee, I'm quite proud of that accomplishment, even though there is a weird stigma attached to it for some.
"Teachers open the door… You enter by yourself." – Chinese Proverb
Just because you go to Berklee doesn't automatically make you a great musician. Are all doctors great just because they went to a great medical school? I think not. The school doesn't make the doctor great, the doctor has to become great at what he does, the school only serves to get him started.
So maybe that's part of the reason why there's a weird stigma attached to "Berklee folk". It's a great school, but that doesn't mean you're automatically great just because you go there. A great college education is simply a foundation, a starting point. It's what you do with that education, how responsibly you wield your newfound knowledge, and the persona you exude that will create lasting impressions on those around you.
"You never get a second chance to make a first impression."
How would you perceive a stranger if the first thing they said to you was "Hi, I'm Joe, I just graduated from Harvard." Depending on the circumstances, my first reaction could be "What a cocky f@#k!" I'll be be more likely to like that person if they simply said "Hi, I'm Joe, I just moved to town. Good to meet you." If someone walks into a room full of people and upon being introduced says "Hi I'm Joe, I just got out of Berklee." it might come across to some as "Hi, I'm Joe, I just got out of Berklee, and therefore, I'm probably better than you, as many musicians don't have this level of education."
You never know what preconceived notions someone might have about a particular music school or other entity. To some, it might be a good thing, but to others, it will instantly bring to mind whatever their preconceived notion might be, and they will instantly associate you with that previous perception, even if it's incorrect. Don't give them that opportunity. Let them form their own opinions of you based on a neutral starting point.
So don't wave your credentials in the face of others, but don't hide them either. Don't play every note in your arsenal just because you can. And if you have a music education, whether it's from Berklee or another college, don't expect that fact alone to open doors. Knowledge is power, and it will definitely come in handy. But an education doesn't define people or make them great; it's simply a foundation that should serve to make them better.
This is another question I was asked in an interview by Wendy Willis for her upcoming book 'Making It In Nashville'. The question made me think of a few different scenarios regarding how auditions are conducted in the Nashville music industry. The following exemplifies two of the most common types of auditions.
The Gretchen Wilson Cattle Call
By 2004 I had already been in Nashville for a couple of years when Gretchen Wilson's 'Redneck Woman' hit the airwaves, launching her into immediate super stardom. A few weeks after this song debuted on the radio, I heard through the grapevine that she was holding auditions to find an acoustic guitar player for her touring band. By the time I heard about these auditions, the rest of this band had already been assembled. By making a few phone calls I was able to track down a contact within her camp. During a very brief phone conversation he gave me the names of two songs to learn, 'Redneck Woman' and 'When I Think about Cheatin', and a timeslot to audition at the Sound Check rehearsal facility. I learned the songs and showed up to Sound Check about a half hour early on the day of my audition. As the auditions were running late, I picked a spot in the hallway outside of the rehearsal room amidst a sea of other hungry guitarists, all with their acoustics in hand, many wearing what was obviously their best stage clothes.
The high point of this day for me was not actually my audition, but listening to the band Journey rehearsing in one of the other rooms down the hall. They sounded magnificent and were truly inspiring! I even got to meet Neal Schon when they took a break. Standing outside their practice room door and listening to them play helped me to take my mind off of the nerve-racking moment that still awaited me. But this brief detour into my rock 'n roll dreams of yesteryear ended when my name was finally called. I entered the cavernous room, which I believe was the biggest room at the facility, and the intimidating scene quickly came into focus. A large stage filled with gear and musicians and fronted by a substantial PA system was staring me in the face from the opposite end of the room. I was greeted near the doorway by Gretchen's manager who chatted with me briefly, asking a few questions about my experience. I headed to the stage where the musicians that comprised her nearly complete touring band, none of whom I knew, patiently waited. After plugging in and getting a quick monitor level, Gretchen entered the room and sat on a stool about 30 feet in front of the stage.
So there I was, standing on the stage surrounded by strangers, and performing for an audience of country music's newest superstar and her management. The band counted off 'Redneck Woman' and I began strummin' away. While sitting on the stool, she belted out the song as if she were an arena filled to capacity, watching my every move. The song ended to a stone cold silence which was quickly interrupted by somebody yelling out 'When I Think about Cheatin', which was immediately counted off. That song ended, seemingly as soon as it started, and my audition was over. A couple of the players said "Good job" and her manager said "Thanks , we'll let you know something by the end of the week."
Fearing that I didn't make the grade, I left the rehearsal hall and drove home not having a clue about how I was perceived. They did call me a few days later to notify me that I was not chosen. I remember hearing later that the player they chose for the spot had already been chosen before that day of auditions. Perhaps they were trying to see if there were any other options, looking for a backup, or appeasing the management. All in all, it was a fairly miserable and stressful experience, but it was educational. This was my first cattle call style audition, and while it did not land me the gig, it did help prepare me for future auditions. Since that day, I've done several other cattle call style auditions, all of which were somewhat similar. Until you ever get to do one of these, the term "cattle call" will only have a vague meaning to you. But after you stand in the middle of a long line of auditioning players, get quickly corralled in it out of the feeding lot, tagged, tested, and sent on your way, you will immediately understand.
Rhett Akins Showcase for BNA Nashville
It was late summer, 2005, and right in the middle of touring season, when Rhett Akins, one of the artists I was working for at the time, told me we needed to prepare for a record label showcase. His management had helped him gain the attention of Joe Galante and some other executives from the record label, BNA. We had about two weeks to prepare for it, so a couple of rehearsals were scheduled for us to build and hone a short set of his strongest material that would hopefully land him a new deal.
His management made arrangements for the showcase to take place in a small comfortable nightclub located on Third Avenue in downtown Nashville. We arrived to the venue early in the afternoon on the day of the showcase, loaded in our stage gear and monitor rig, and began setting up. We did a sound check and rehearsed a few of the tunes. It was tough to get a good sound in this particular room as the acoustics were less than desirable, but after several adjustments, we arrived at an acceptable place. After sound check we chilled for a bit, ate some dinner, and waited for downbeat.
The showcase was scheduled for seven o'clock, and around six o'clock some patrons began to arrive. It had been encouraged for us to all invite and bring as many friends and family as possible to help create a warm and inviting atmosphere for the big wigs. The turnout was pretty good, and the club was near full just a few minutes before showtime when Galante and his entourage arrived to be seated at a reserved table, one that had been strategically chosen for sight and sound.
Just a couple minutes before we hit the stage we all gathered in a back room to have a quick pep rally, kind of like a football team going into one last huddle before game time. If Rhett was nervous, he wasn't showing it, he was cool as a cucumber. I was probably more nervous than he was. Dressed in our best, we hit the stage hard and fast, and the first two songs, played back-to-back, were over before I knew it. The crowd roared with approval, and Rhett began to turn on the charm, addressing the room as a whole and putting everyone at ease. He had been working out hard all year and was in great shape, not only giving off the vibe of a superstar, but also showing off a youthful physique, similar to that of his college quarterback days of yesteryear. We stomped through the rest of our 50 minute set with Rhett talking occasionally between songs, even getting some laughs out of the table of executives. The set ended and we began to break down our gear while Rhett courted the table of potential business partners.
As far as these kinds of showcases go, this one went off without a hitch. Rhett performed brilliantly, the band played well, the crowd loved it, and, more importantly, the folks from BNA loved it. After a couple more weeks of negotiations, Rhett was signed to BNA Nashville. So I guess we passed the audition!
What have been your audition experiences been like?
Becoming a successful musician or an entertainer in the 21st century is a tough endeavor. It's probably as difficult as becoming a successful actor in Hollywood. In this field of extreme competitors, you need to have every advantage you possibly can. Even if you aren't going after the big prize, for many musicians, a lifetime of pursuing their craft will still take its toll. This is why it is in the best interest of most musicians to be physically fit.
If you are a musician, whether you play guitar, drums, sing, saxophone, or other, you inevitably fall into one of two categories; 1.) Professional musicians, semi professional musicians, and musicians aspiring to become professionals, or 2.)  Amateur musicians, hobbyists, and musicians that play solely for expression, art, or the fun of it, regardless of compensation.
If you are either working as a professional musician, or aspiring to do so, you probably already know how competitive this field is (if you don't, you might want to take a look around you). To earn a living as a musician in this day and age, or at least a partial living, a great many things must come into alignment. Talent, social skills, looks, longevity, and luck are some of the essential components. Since you really can't control luck, and assuming you have some talent and social skills and are already honing those traits, that leaves looks and longevity up for grabs. This is where physical fitness comes into play.
Looking Good
I chose to address this factor first because so much of what happens in the entertainment industry is based on appearances.  As superficial as this may be, it is simply a fact, and one that shouldn't be overlooked. While I do feel that looks and talent shouldn't have to be tied together, the focus here is on the music business, so I'll save that discussion for another time.
We have a strange way of approaching how we look in our society, that being that we tend to put makeup on a pig. I'm sure you've heard that expression before, but here's my spin on it. How many times have you seen some performer, whether on TV or in a nightclub, who has obviously put a lot of thought into his or her wardrobe and appearance? $300 haircuts, pre-ripped and pre-faded designer jeans, fancy shirts, eye-catching jewelry, makeup, even an obvious obsession with tanning is evident for some. Yet when you look at the performer's arms , there isn't a hint of muscle tone to be found anywhere. Even though they aren't obviously overweight, you can't help but notice their ass looks just a little too big for the outfit struggling to hide it. Or perhaps he or she has no ass all, flat as a board on the backside due to the fact that they have no muscles there either. Of course this description would describe many people in almost any field. As most Americans are now overweight, each year the numbers steadily increasing, so is our desire to attempt to mask this fact with fancy haircuts, designer clothes, spray-on tans, and makeup.
But if you are aspiring to be a professional musician, you are different than most people, you are in the world of showbiz. This means that, in many cases, your appearance is directly tied to your career, and sooner or later you will be judged on your looks. So rather than continuing to follow the trend of 'putting makeup on a pig' why not address the issue at its core and put more emphasis on physical fitness. There is a difference between being skinny, a little overweight, and being physically fit. I have been skinny for most of my life, but I have not always been fit. When you are physically fit clothes automatically hang better, your skin color looks better, and your face looks younger. People who are physically fit tend to have increased energy and stamina, and this helps to project a more youthful vibe in general. Not to mention the increased confidence and sex appeal that can come with being in great shape. With the music and entertainment industries now more competitive than ever, there is simply no excuse to not look as good as you possibly can. A fancy haircut and designer clothes aren't going to fool everybody.
Longevity
To me, the need for longevity makes the best case for being physically fit, and this applies to all musicians, pro or otherwise. From the time we were teenagers, through our 20s, even into our 30s, typically, our bodies are still functioning under their original drivetrain warranty, meaning that, at least for most of us, things aren't yet starting to go wrong on the grand scale that they eventually will. If you are a young person and reading this, you're probably thinking "That's the kind of crap my grandfather used to tell me." Well I hate to say it, but ol' grandpa was right. As our bodies age our joints begin to wear, we become more susceptible to injuries, injuries take longer to heal, and a whole host of other problems ranging from high blood pressure to heart disease and beyond start becoming more likely. I've had tendinitis for five years now, and sometimes it interferes with my playing. Some of my musician friends, after decades of problem free careers, are now starting to have their own problems too. Everything from back problems to carpal tunnel and even diabetes and strokes are now interfering with their careers and lives.
The effects of aging can and will happen to people from all walks of life, but the hard lifestyles of many musicians can further amplify the effects of aging. Being a musician is stressful, often requires extensive travel, and for many of us, requires a repetitive hand, arm, or leg motion that is certain to lead to problems. Being physically fit is the only way to combat these problems. Alcohol or drugs, whether prescribed or other, are only a band-aid, and for many, masking the pain in this way can lead to further injury. Being a career musician, I often have little to no choice about the gigs I need to take to make a living. Sometimes I will play a 3 1/2 hour show nonstop. This requires great stamina and, even though I am in good shape, sometimes my whole body aches after a long hard gig. How much worse would I hurt if I didn't take care of myself? I still have to load my gear into my car regularly and my Vox amp weighs almost 100 pounds. Over the years, I've thrown out my back doing this on more than one occasion, being physically fit helps combat this as well. Regular exercise has been the best weapon against my tendinitis too. Without regular stretching and exercise it quickly becomes almost unbearable.
In the world in which we live and work, a world full of extreme competition, an extreme approach to health and fitness simply makes sense. Some people say that America has the best workforce in the world. If this is true, shouldn't the best workers be in tip top shape? You can either continue 'putting makeup on the pig', or you can work towards becoming fit and give yourself a real leg up on the competition. Even if you don't aspire to play professionally being fit will help ensure the likelihood of enjoying your hobby or art for years to come. As far as achieving an extreme level of physical fitness, there is no shortcut. It can only be achieved with good old-fashioned hard work which involves a lifelong commitment to regular exercise and healthy eating.
Do you want to look good when you're 50? Do you want to still be able to play music effortlessly when you're 60? I do.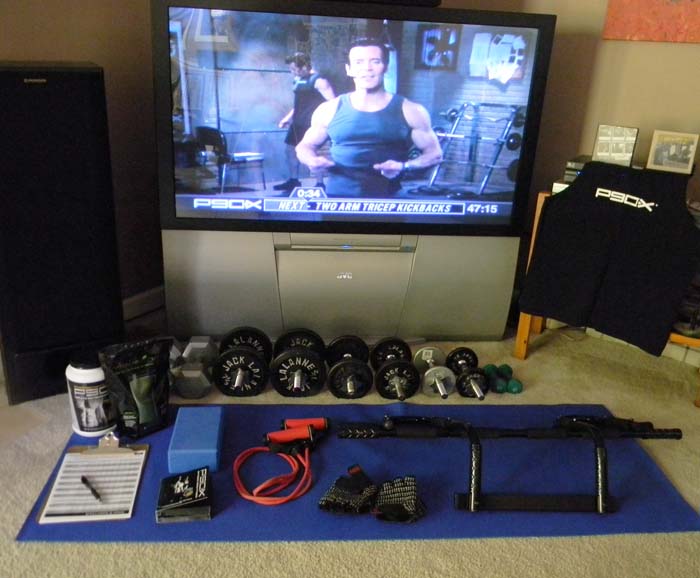 The other day I was answering a questionaire for author, Wendy Willis' upcoming book 'Making It In Nashville' when one of the questions created a moment of pause – "What or who did you have to leave in order to chase your Nashville dreams?" The question was harder to answer than you might think and allowed for a great deal of reflection. As this factor is often underestimated if not ignored by those considering relocation to Nashville, I felt it was worthy of a post here.
The old saying "You never know what you have until it's gone" is so true, and one that me and my family have come to fully understand upon relocating to Nashville. Shortly after I left my native homeland of New England I remember thinking "I'll still be able to come home and visit once in a while. And of course I can always just call my friends and family on the phone when I miss them." While initially this sounded like a good plan, the reality is that once you move 1300 miles away from your home, regular visits become impractical. And once those closest to you are no longer a part of your daily routines, some of these relationships can slowly begin to fragment.
Who did I have to leave to chase my Nashville dreams? When I left New England I left behind about 40 guitar students, many of whom I had been teaching for years and had become good friends. My parents and direct family, friends I had grown up with, people I played in bands with, and my wife and son's family and friends were also rendered to essentially telephone and e-mail correspondence. You never realize how much you'll miss these people until some time passes. Even though I do still keep in touch with my old friends and family, it's still tough. In spite of the occasional visit back home, it's almost as if many of them were part of another life.
What did I leave behind to chase my Nashville dreams? – Comfort, stability, my teaching career, my peers, my career as a nightclub musician, a familiar way of life, almost every relationship that ever meant anything to me, a 10 minute drive to the ocean, and all the familiar landmarks and places I had seen daily for 33 years. I also left behind harsh winters, as many bad habits as I could, and a music scene in which I could not find fulfillment. (In hindsight this lack of 'fulfillment' might actually have been more related to how I perceived myself than any fault of the music scene.)
The passage of time does change one's perspective on life. It's taken me almost a decade of working in Nashville to realize that I took a lot of things for granted in my earlier life. Nashville is a massive music industry full of opportunities that can't be found elsewhere. While this is a good thing in some ways, it also creates an atmosphere of extreme competition, and a social atmosphere I often call 'the land of the permanent job interview'. It wasn't like that back home, and sometimes I miss that more carefree musical atmosphere. Most people in the Nashville music industry have an agenda and this can make it harder to find 'real friends'. Sometimes I find myself yearning for the past, where genuine and deep relationships were more obvious.
While adjusting to the absence of all things familiar has been difficult, and I do miss my old life and friends, I am still glad I made this move. The journey has been far and wide, a life-changing experience that has taken me down many unsuspecting roads. Had I not embarked on this journey, I would not be the person I am today.
Anyone who has ever gigged in Nashville knows that it is hard to make any real money by playing in the clubs around town. Aside from a very small handful of gigs that might pay $75-$100 per player, most offer minimal to no pay – some offering a base pay $20 to $30 plus tips, a lot more offer tips only (which often means essentially playing for free), and a few are even pay to play. Even on the base pay plus tips gigs quite often a player will only take home $25 or $30.
So from time to time the "playing for free" debate rears up in conversations. Some say that performing music in public for free is the only way they can gain experience, obtain exposure, make connections, and have any sort of musical life beyond practicing in the basement. Others claim that playing for free makes it harder to receive fair (or any) compensation for their services. Why would clubs and venues pay for bands and players if most will do it for free?
While both are legitimate arguments, to understand why things are the way they are I think it is important to consider the overall role of music and musical performers throughout history, not just in today's world.
Daniel Levitin, in his book "This Is Your Brain on Music" talks about music being at the heart of human evolution.
"No known human culture now or anytime in the recorded past lacked music. Some of the oldest physical artifacts found in human and protohuman excavation sites are musical instruments."
He continues
Even more so in non-industrialized cultures than in modern Western societies, music is and was a part of the fabric of everyday life. Only relatively recently in our own culture, 500 years or so ago, did a distinction arise that cut society in two, forming separate classes of music performers and music listeners. Throughout most of the world and for most of human history, music making was as natural an activity as breathing and walking, and everyone participated. Concert halls, dedicated to the performance of music, arose only in the last several centuries.
With that, I state my case that music has always been there and is an important and crucial part of our being. It is perhaps the earliest form of communication. Somewhere along the way this art form, this way of life, morphed into a product, or a commodity.
In the book "Muse Power: How Recreational Musicmaking Heals Depression and Other Symptoms of Modern Culture" by Cheri D. Lunn writes:
Prior to the 20th century, the concept of selling music wasn't really commonplace. One of the very first to consider music as a marketable commodity, was Wolfgang Amadeus Mozart. "In the mid-to-late 1700s, performers and composers such as Wolfgang Amadeus Mozart began to seek commercial opportunities to market their music and performances to the general public." (5 Wikipedia /Dear Constanze The Guardian) Before that, in more traditional cultures, the Griots, bards, and musicians were cared for by their communities, as equals in the tribe doing their part to contribute. In Europe, up until the 1700's music was supported by patronage from the aristocracy, or the church, and so there was no need for artists to sell themselves; and so the concept of selling music had just not yet come to be.

A crucial change in the history of folk music began during the twentieth century with folk artists adopting the very western concept of "marketing for money," or "selling" the music of the people. In this time, a new genre of popular music arose that basically became an imitation to the original traditions of folk music as it was sung by ordinary people. These "folk" artists marketed themselves alongside more popular and modern emerging artists and created a niche for themselves by performing traditional music and songs in amplified concerts, and disseminating their work by recordings and broadcasting.
But along with the commercialization of music and musical performers, especially now in the digital age, comes somewhat of a desensitization to music, or what I call a 'dumbing down' of the masses in this regard. In today's world, music is heard everywhere – from traditional advertising like TV and radio commercials to ring tones and ring backs, from video games to iPods, today's Internet generation is saturated with digital music overload. In many situations, recorded music is now free, and with the advent of software like garage band, millions can now make homemade recordings to further flood the airwaves. In the midst of this oversaturation, TV shows like "American Idol", "Nashville Star", and "America's Got Talent" have perpetuated the false reality that the masses can also now obtain superstardom.
Put all this together, and you've got more people than ever trying to get into the "music business". But as millions more each year try to enter this world, the opportunities for them will inevitably shrink. There are only so many bars and nightclubs that need live music.
If you consider this history, it is fair to say that the concept of being paid for your music, or paid to play your music, is relatively new and largely an invention of our modern capitalistic society. Don't get me wrong, I'm not suggesting we abandon this concept, this is how I am currently earning the bulk of my living. What I am suggesting is that the evolution of the paid musical performer may have been accidental, and is not necessarily a sustainable vocation in this modern world.
Music belongs to everybody. We need to better understand the role that music has played in our history, and how the cultivation of music as a part of our culture can benefit our world as well as the futures of our children. Does our future hold a world in which musical performers are paid for their 'services', or will the performance of music one day return to something that is shared by everybody? Did society really benefit when music was turned into  a product? Do we deserve to be "paid to play"? I don't know if I'll always be able to earn a living from music, but even if one day I can't, I'll always play music, doing so enriches my life.
What is music, and the art of performing it worth to you?
Last week I posted a blog in which I asked you (the reader) what questions you would ask somebody from a record label if you had access. That blog prompted some pretty interesting questions, and when I conducted my interview today with EJ Bernas, Senior Director of Southwest region of Universal Music Group, those questions made up the bulk of what I asked him. The interview was lengthy and informative, and a lot of work lies ahead (transcribing, editing, proofing, etc.) before this fascinating conversation will be print ready. So for now, I would just like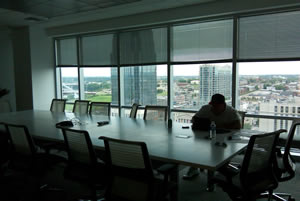 to share a few high points of this unique experience.
I arrived in downtown Nashville just before 1 PM and found a parking spot in front of the Bridgestone arena. After feeding some quarters into the meter (three dollars only got me two hours) I walked a couple of blocks over to the UMG headquarters, located on Commerce street. After taking the elevator to one of the top floors of an otherwise unsuspecting office building, I emerged into the lobby and found my way to the receptionist. The friendly young lady informed EJ that I had arrived, and a moment later he came out to meet me. We retreated into a large comfortable conference room which had a spectacular view of downtown Nashville.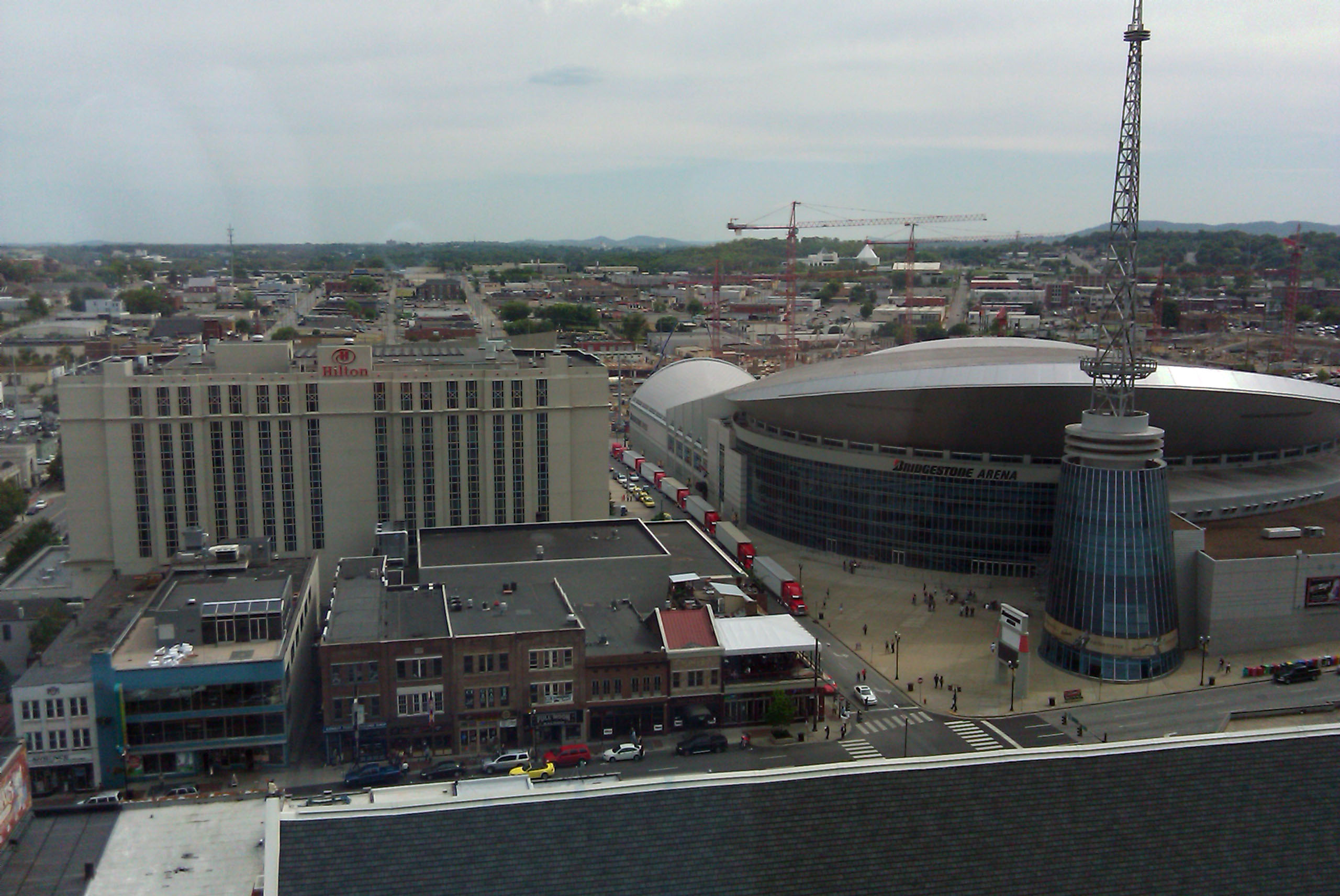 I could write an entire article just about what I saw in those few short seconds gazing out that window. The roof of the Ryman Auditorium just below us, the hustle and bustle of people milling about on Broadway, the Bridgestone arena, the controversial new skyscraper still being constructed, the Cumberland River in the distance – a city truly alive in so many ways. Behind every window of the hundreds of buildings visible from this spot was a story. For every car that passed by on the streets below, another story. Some say that this is a city built on dreams, and from this vantage point I could literally feel that kind of intangible element that fuels such a mysterious place.
"This is an amazing view. Do you have a view this cool from your office too?" I asked. "You bet, my office is right next door. You can see the roof of the old church (Ryman) below" he said as we both gazed across the vast expanse. With that, we each took a comfortable spot at the table and dug into an hour and a half discussion about the state of the recording industry, radio, and how today's aspiring artists fits into that world (at times the discussion became more like how the recording industry and radio fit into the world of the aspiring artist.) Like I said,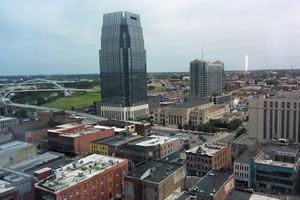 the contents of this interview still need to be transcribed and reviewed before I can share any of it, so for now you'll have to just settle for me simply bragging about this day.
At one point during the interview, EJ's boss walked through the room and I received a brief introduction. A little while later another man walked through, and I was again introduced, this time to the head of A&R. EJ explained to me that UMG (Universal Music Group) consists of MCA, Mercury, and Lost Highway Records and represents artists like Billy Currington, Julianne Hough, Reba McEntire, Randy Rogers Band, George Strait, Sugarland, Jamey Johnson, Josh Turner and Shania Twain, among others. Even though I'm not aspiring for any sort of success as a radio star, it did occur to me just how fortunate I am to know someone like EJ – a warm and open individual gracious enough to give this glimpse into a world in which so many aspire, yet so few ever travel.
After the interview was over, he walked me back out to the lobby where I had the receptionist snap a quick picture of the two of us. I thanked him again and made my way back to my car. It was definitely a learning experience for me and I know this interview will add much valuable perspective to all the aspiring artists and musicians who will eventually read it. Thanks again EJ for making my day, and my book.