records
It's the first week of this brand-new year of 2013 and, not that I believe in New Year's resolutions, one of the things I'm going to try to do differently in this new year is to get back to blogging more regularly. In that spirit, I also want to learn how to write shorter blogs. Let's see how I do at my first attempt.
2012 was an interesting year, a lot happened in our world. A long-winded, and divisive election season came and went, it was one of the most extreme years of extreme weather since record-keeping began; our military is still in the midst of several conflicts around the globe; the tragic Sandy Hook shooting in Connecticut terrified us all, gun control is now a national conversation, and Facebook is still here after a disastrous stock market ploy.
I also had a few big moments. I played a handful of shows with The Peach Pickers (Rhett Akins and Dallas Davidson) on the sold-out Luke Bryan Farm Tour (you can read more about that adventure here), I hosted a monthly Berklee Alumni Jam, got to play music with Jack Pearson (read "Jack Pearson at the Nashville Berklee Jam) and Reese Wynans (read "Stevie Ray Vaughan keyboardist, Reese Wynans talks at Nashville Berklee Jam"), I ran in my first-ever 5K road race, met a lot of cool people, listened to a lot of great records, and cooked and ate a lot of good food!
I'm not sure what lies ahead in 2013, I've got a lot of big ideas and plans – we'll see what happens. One thing that's on my 2013 to-do list is to get out on the town little more often. After 23 years of being a professional musician I found that it's still easy to get myself off the couch for a gig, but much harder to just go out and hang. I'm going to try to change that. I plan to still host the Berklee Alumni Jam (we are now going to be doing it quarterly). Thanks to my wife, Kelly, I've learned to enjoy running, and we are both training for our first half marathon in April. I'm trying to reassert myself into my musical craft, to take another step, and therefore practicing the guitar and vocals daily and learning new material is a top priority. Basically, I'm trying to stay healthy, inspired, and viable, while trying to help a few folks along the way.
So that's about it for now. Let me know what you've got going on and don't be afraid to drop me a line. I hope this New Year brings much happiness and success to you and your family. Thanks for reading!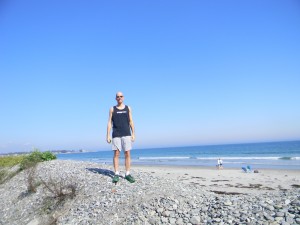 Some of my earliest childhood memories are of my dad playing records and, dare I say, reel to reel tapes of the music of Paul Butterfield, John Lee Hooker, Santana, and Derek and the Dominoes. I guess this music made an impression, because by my early teens in the early 1980's I was buying my own records, not of the pop-based FM radio music of my generation, but of the previous generations more blues-based artists. While everyone else was listening to E.L.O. and Michael Jackson, I was discovering Jimi Hendrix, the Allman Brothers, BB King and Bobby Bland. Sure, I liked some of the 80's guitar rock of the day, but always kept digging back to a more rootsy sound. Then right smack in the middle of 80's hair band mania came Stevie Ray Vaughan, and I immediately related to his music.
Stevie's music influenced a generation of guitarists and, at a moment where rock and pop music was winding itself up, almost single-handedly brought blues music back into the light. You couldn't go see a club band during the late 80's and early 90's without hearing his music. I found myself covering his renditions of blues classics like "The Sky Is Cryin'", "Empty Arms", as well as originals like "Cold Shot" and "Walkin' the Tightrope", as did many others at that time. Stevie's instrumental "Riviera Paradise" from the album 'In Step' is a beautiful piece of American roots music, and I always loved the spooky vibe created by his magical band on that song in particular.
I'll never forget the day I heard of his tragic passing, how sad it was that we had to lose such a wonderful artist at such a young age. But his music, and the influence of his music, lives on, and I, like many others, will always appreciate everything Stevie did for music, and everything his music has done for the world.
So that's why when I began hosting the Nashville Berklee Jam I felt compelled to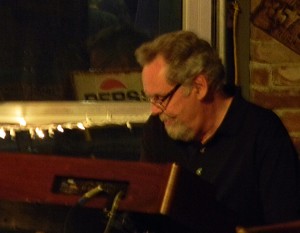 have Reese Wynans, the keyboardist who played with Stevie for the last five years of the great guitarist's life, as a special guest speaker/performer. Reese was kind enough to share his story with me and a room full of alums at our monthly Nashville Berklee Jam last Tuesday at The Fillin' Station.
Almost 20 years before he began working with SRV he was playing in cover bands in his home state of Florida, and he recounted one of his first bands playing five sets a night, six nights a week. Two of the other members were Dickey Betts and Berry Oakley and on their one day off they would play a weekly free jam, adding Duane Allman and Butch Trucks to the mix. Eventually Duane decided to start his own band and stole these key members to form The Allman Brothers.
After spending a few years in San Francisco and working with a still-unknown artist at this time, Boz Scaggs, he returned to Florida for a brief period and then worked the East Coast in a show band for a few years. Reese then migrated to Austin, Texas, a booming town full of blues-infused music by this point of the mid-70s. Of this time, Reese spoke passionately.
"It was really great for me living in Austin…everything was so rootsy…they had a great music scene back there in the 70's. They had a great blues scene, and a great blues club called 'Antone's'…and I would go and sit in at Antone's anytime I had a chance. I was ending up really lovin' the blues during this time."
By 1980 he found himself working for Delbert McClinton, playing on four of his records and touring extensively for the next five years. By 1985, Reese was ready to get off the road, and would have if not for a fateful encounter at the end of his final gig with Delbert. Apparently, Delbert's sax player had been invited to play on one song of a Stevie Ray Vaughan recording session after Delbert's concert, and at the last minute Reese was asked to join in as the other keyboardist did not show up. Things went very well at this particular recording session, one which produced the hit, "Look at Little Sister" and Reese was asked to come back and record the following day. By the end of that recording session he was asked if he wanted to join the band. Reese summed up a life lesson from this critical moment,
"When a door opens for you, you've got to be willing to walk through it, and then be able to deliver once you get through there."
The next five years would yield three Grammys, several world tours, and a reintroduction of the blues to the masses –
"We were spokesman for Texas blues…as much as Stevie didn't want to, BB King had to open for us, because we were just more popular than him. He said "no we can never, BB's always closing the show"… but finally, we had to headline…I loved playing in that band…we were all totally immersed in the blues, and we felt like were the vanguard of the blues. We were dragging Buddy Guy and Otis Rush into the light and presenting them out on our shows to people who were just hungry for that music…the stuff that we played I thought was shining a light on all the huge blues guitar players that had come before us, and that was a wonderful thing to do, I felt like it was really worthwhile."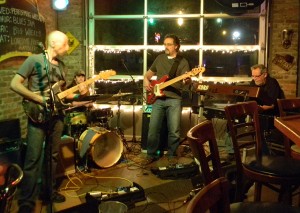 After Stevie's tragic passing, Reese wound up in Nashville, TN, a place where he has continued to record and perform on a national level. During the talk, Reese passed around his All Music Discography, which reveals a staggering body of work, including Brooks and Dunn's 2006 single of the year "Believe". He offered us some thoughts about the differences between studio and live performance –
"I like being in the studio, I like playing gigs, I like playing clubs…all you people who do studio work know it's two different things. Playing a club is really a chance to experiment…a chance to reach out in different directions and really find yourself. The studio isn't really a place for that. The studio is where you don't have to play it safe, but you've got to do something that's exactly right for the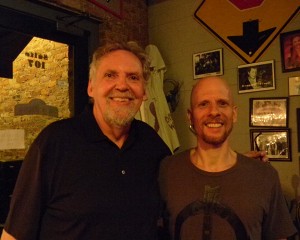 song…it's a place for finding something that works, finding something unique that works."
After his talk was finished, Reese was gracious enough to perform a set with our house band – a performance that was nothing short of inspired. I've heard his playing on many records, but there's something intangible that you can feel in the heat of live performance that goes beyond a recording, and that was evident on this night. One of the songs we played together was "Little Wing", a song that he had played on tour with Stevie, back in the day. On this song, Reese seemed to really stretch out in one of those magical musical moments in which time seems to stand still (see video below).
Eventually, this special night had to end, and we said goodbye after a quick photo op. Thanks, Reese, for sharing your wisdom, and for continuing to shine some light on that crown jewel of American music we call the blues.
It was a warm summer afternoon in a small town in southern New Hampshire, back in the summer of '79, and it had finally arrived. Summer vacation had just begun, and for this group of friends gathered around the family pool, the air was ripe with the kind of optimism and mystery that only a teenager can have – you know, that "anything can happen" feeling that occupies the youthful soul. Staring at the pool in cheerful content, they basked in the warmth of the sun while listening to the "Woodstock" soundtrack booming out a bedroom window. The youngest in this pack, a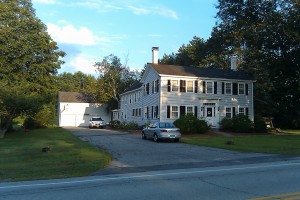 couple of eleven year old boys who were a few months away from starting junior high, seemed more than intrigued by some of these "new" electric sounds permeating this virgin summer air.
"What's the name of this band?" asked one of the youths.
"That's 'Sly and the Family Stone", answered Dave, the boyfriend of one of the younger lads' older sisters.
"Wow, this is really cool!" the excited boy answered.
Up until this moment, these youngsters, like most pre-teens from this era, had been mostly hearing the corporate radio music of the day – a post-disco fallout period with bands and artists like E.L.O., Michael Jackson, and The Eagles providing a daily dose of saccharine for the masses – "Don't bring me down…..Brrrruuucccce!"
"If you like Sly, you're really going to love the last side of this record!" he confidently announced, and a short while later, everything changed.
It was as if a bomb had gone off – suddenly, the music coming out of the speakers sounded more like a science fiction movie soundtrack than it did the groovy "freedom rock" that had played just minutes before. Sounds that seemed to begin as single guitar notes ended as explosions – harmonic cascades and otherworldly sounds swirling into the stratosphere – "sheets of sound". This music spoke of the epic joys and tragedies of the human struggle – war, hunger, love, peace, poverty, anarchy, inequality – it was all there, yet not a single lyric had been sung.
Near speechless, one of the 11 year olds turned to his friend and managed to say "this is amazing!"
"I thought you might like this" was the response, and they continued to marvel in the sonic wonderment, this new discovery rendering a near out of body experience.
With each passing moment came a new level of heightened awareness for the one boy in particular. It wasn't as if he had never heard great music; many years before, his dad had turned him on to Santana, John Lee Hooker, and many other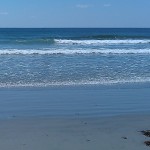 greats from the golden era of blues and rock. But this was different. This music transcended all of the traditional music forms that he had heard before. Melodically, it was free from the constraints of the pop song, or even blues format, yet it was bluesy. Rhythmically, it seemed connected to the earth in an intangible way, kind of tribal, with roots going deep into the African jungle. It was as if these sounds came right out of the sky, from the heavens, not a speaker in a window.
This music "spoke" to the young boy with a clarity he had not yet experienced in life, rendering this otherwise insignificant summer day the birth of the universe for him. It felt like a calling, like this was the day his life really began, the birth of an endless pursuit to the new sense of self and spirituality that permeated his being on that warm day in the sun long ago –  like ocean waves meeting a sandcastle at high tide.
That was the day I first heard the music of Jimi Hendrix.
Just for fun, I thought I would make a list of what I consider the top 25 greatest rock albums of all time. Growing up in the 70s and 80s, this music was the backdrop of my life, and I listened to most of it on vinyl, the medium in which I still prefer most today. In fact, I still own most of these albums and listen to many of them regularly. First of all, this was a hard list to compile. I have so many favorites and it was hard to whittle it down to just 25. What makes a great album? I think it comes down to the songs, performances, production, staying power, and popularity. Of course, excluding popularity, all of these criteria are a matter of opinion.
The following albums, in my mind, are all gems. They are all outstanding collections of great songs performed by brilliant musicians, and deliver a monumental sonic imprint to the universe. You might notice, barring a few exceptions, that most of this music was recorded before 1980. Once again, just my opinion, but I think that the majority of all great rock music was recorded during the 60s and 70s. Although some great rock records were made during the 80s, advances in recording techniques led to the tendency to "overproduce" which unfortunately dated many recordings from that period. By the 90s, the rock 'n roll party was pretty much over. While grunge and alternative did have some elements of rock, the feel-good factor (along with guitar solos) seemed to be missing.
So here it is. The music that rocked the masses, the songs that inspired so many of us to grow, the sounds that made me want to learn guitar, the records I cranked full blast on my bedroom stereo after school before the parents got home, the music I listened to in my car while cruising the beach with my buddies late at night, the songs that helped solve many of life's problems, the music of my generation and the generation just before – The greatest albums by the greatest bands from the golden era of rock!
| | |
| --- | --- |
| 1. | Boston – Boston |
| 2. | Van Halen – Van Halen |
| 3. | Are You Experienced – Jimi Hendrix |
| 4. | Led Zeppelin IV (Zoso) – Led Zeppelin |
| 5. | Dark Side of the Moon – Pink Floyd |
| 6. | Electricladyland – Jimi Hendrix |
| 7. | At Fillmore East – Allman Brothers |
| 8. | Led Zeppelin I – Led Zeppelin |
| 9. | Van Halen – Fair Warning |
| 10. | Montrose – Montrose (Sammy Hagar's first band circa 1972) |
| 11. | Bad Company – Bad Company |
| 12. | Abraxas – Santana |
| 13. | Rubber Soul – The Beatles |
| 14. | Band of Gypsies – Jimi Hendrix |
| 15. | Moving Pictures – Rush |
| 16. | Revolver – The Beatles |
| 17. | Whitesnake – Whitesnake |
| 18. | Back in Black – ACDC |
| 19. | Wheels of Fire – Cream |
| 20. | Doctor Feelgood – Motley Crue |
| 21. | Machine Head – Deep Purple |
| 22. | Woodstock Soundtrack |
| 23. | Get Your Wings – Aerosmith |
| 24. | Van Halen II – Van Halen |
| 25. | Who's Next – The Who |
What's your take? Do you think all of these albums belong at the top of the pile? Do you think any are missing? What are your favorites? I'd love to hear your thoughts and comments.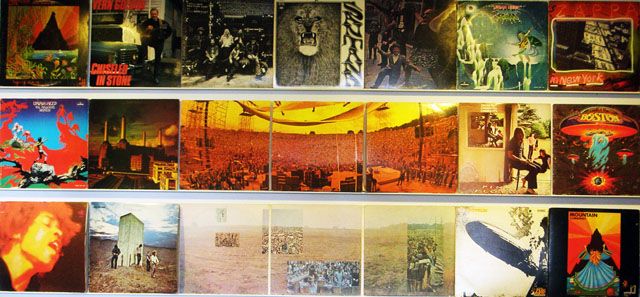 Friday Morning at the Shack Up Inn
Friday morning came a little too early when we were awoken by some sort of tweety bird chirping right outside our bedroom window
around 7 AM. With the help of some earplugs, we were able to fall back asleep for a couple more hours with hardly a sound from the outside world audible from inside our little shack. After eating some breakfast while listening to a little Robert Johnson, I decided to go on a photo taking expedition around the grounds. It might not be right for everyone, but I found the decor around the Shack Up Inn immensely interesting. Rusted old farm equipment decorated the lawn, old Coca-Cola signs were placed at random, a tree was covered with blue and green bottles – these folks had figured out how to turn what might otherwise be considered junk into art, and this helped make the Inn feel like some sort of living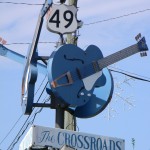 museum of the old American South.
We set out a little while later to begin exploring downtown, and our first stop was to take a few photos of the 'crossroads' sign at Highway 49. The picture in my mind of this place where Robert Johnson allegedly made his deal with the devil is of course nothing like this modern touristy version, as this intersection is now surrounded with businesses including the adjacent Churches Chicken. It was still worth a few pictures, and later in the day I accidentally found another intersection in town that looked eerily like the crossroads I envisioned.
Downtown Clarksdale
As we continued driving towards downtown we began to notice how poor this community is, seeing many run down buildings, once occupied by businesses and services, now empty, their exteriors slowly deteriorating. Upon arriving downtown we easily found a free parking spot near the Delta Blues Museum and began our first walk around amidst some light foot traffic. Our first stop would be Blues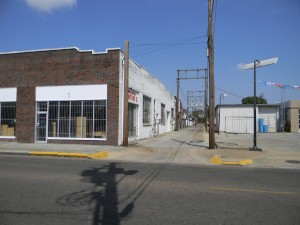 Town Music, a local music store filled with cool old gear, worthy of the store's namesake. An Asian man was sitting on a stool and playing some traditional blues on an open tuned guitar – "I saw you play at Ground Zero last night. Great playing!" he commented. "Thanks. I'm Eric, pleased to meet you." "My name is Gypsy, and I'm here on vacation from Japan." he informed me, and after some conversation I learned this was his 10th trip to Clarksdale. We continued our stroll, taking in the sights of this obviously once booming town, now struggling for its very survival. The downtown area had pockets of activity, and other areas that seemed void of all life. Many of the buildings looked like they hadn't been painted in decades, some with boards on the windows, others with bars on them. As we continued our walk on some of these near empty streets, this kind of sporadic hot and cold ghost town feeling was almost a bit unnerving, however, not once did we feel in danger.
We walked over to the Ground Zero Blues Club to snap a couple of quick pictures in the daylight, and continued onward in search of the legendary 'Red's Blues Club', the infamous juke joint everyone seemed to hold in such high regard and our destination for later that night. Coming out the back side of the Ground Zero parking lot we came to a large abandoned blue brick building touting the sign 'Delta Wholesale Hardware Co.' before crossing the train tracks. A little further down the road we spotted another old brick building with a couple of smokers sitting on the curb in front. Somehow we just knew this was Red's and ventured closer to take a peek. If you didn't know what you were looking for you would never think to stop at this Sanford and Sonesque place, it's curb littered with a beat up old couch, a broken toilet, and several large pieces of homemade barbecue apparatus. Above a tattered old canopy the faded words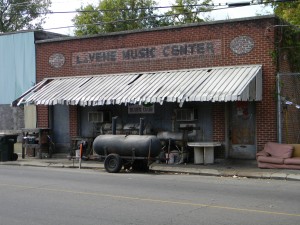 'LaVENE MUSIC CENTER' were stenciled onto the brick, perhaps remnants of another failed business out of yesteryear. Only once right upon the sidewalk did the sign 'Red's Blues Club' become visible. It was a curious moment of realization knowing that a few hours later we would likely be experiencing something very unique and special.
We began walking back to our car to return to the shack for some lunch when a friendly local volunteered to take our picture. For a split second we both had the vision of the scene in National Lampoon's 'European Vacation' when a local runs off with the tourists camera, but that didn't happen, this local was quite genuine.
Cat Head Delta Blues and Folk Art
Upon returning downtown a couple of hours later our first stop would be at 252 Delta Ave, home of Cat Head Delta Blues and Folk Art. The place was kind of a cross between a gift shop and an art gallery for blues aficionados containing CDs, DVDs, books, T-shirts, and some amazing local folk Art. They had a large collection of documentaries and books about blues history and culture available and I could have easily spent a small fortune. Not having grown up in the South, I asked the man behind the counter about the origins of the term 'Cat Head'. He explained to me that "In the early 1900's 'Cat Head' was a company that made giant biscuits, biscuits so large they were the size of a cat head." In addition to being a store selling everything related to the blues, Cat Heads website is kind of a central gathering point for information pertaining to not just Clarksdale's live music scene and points of interest, but to blues related events throughout the Delta. After browsing the store for a little while longer while listening to some obscure blues recordings over the speakers, we went on down the road.
Located on East Second Street, (a little bit off the beaten path) we found our way into the museum and were greeted by 'Theo'. Theo is originally from Europe and the owner of the museum and, above all else, Theo loves American blues music, history, and culture. After paying the minimal entry fee of five dollars a head, well worth every penny mind you (not to mention helping this great nonprofit organization), we began exploring this massive collection of American roots music culture. "Roots to Fruits", Theo explained, is the theme of this museum, and if you walk through the museum on the recommended path, it shows the evolution of the earliest blues artists and recordings, and how that music transcended across generations and continents giving birth to early blues influenced rock and roll artists like Elvis, the Beatles, and the Stones before morphing into the roots of modern rock with artists like Jimi Hendrix, Led Zeppelin, the Who, and beyond. Amidst this collection of rarities, which I learned was moved here from Europe about five years ago, were some of the earliest and rarest blues records, concert posters, early record players and jukeboxes, even an old barber chair that came from a local barber shop in which John Lee Hooker and many other legends got haircuts back in the day. We saw the Muddy Waters record which gave birth to the Rolling Stones namesake, its title bearing 'Rolling Stone'. The original contract offer form for the Who's performance at Woodstock, where they received $6250.00 for their historic performance. Pencil drawings by John Lennon, the controversial Jimi Hendrix 'Electric Lady Land' album sleeve bearing several nude ladies, and Muddy Water's 'contract rider'. We could've stayed in there all day, and this would have been especially easy to do as Theo loves to talk, but we said goodbye as we still needed to check out the Delta Blues Museum.
This nonprofit museum is also a must see for anyone who wants to learn more about American blues culture. We arrived a bit late in the day, only about 45 minutes before closing, so we had to breeze through a little faster than we might have preferred. However, the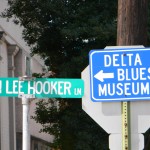 place is magnificent. Early blues recordings can be heard playing over the loudspeakers upon entering the lobby. After we paid our entrance fee of seven dollars each, we walked into a giant room that seemed to radiate from another era. The walls were covered with records, plaques, and drawings of blues legends that came from this part of the Delta. Guitars, clothing, and other memorabilia from artists like Charlie Patten, Son House, Ike Turner, and countless others who had grown up within a few miles of this place were beautifully displayed within plexiglass cases. Perhaps the deepest moment of experience we had within this giant roomful of blues was the Muddy Waters exhibit. The original sharecropper shack in which Muddy Waters grew up had been placed inside this room, complete with one of his old Fender Twin amplifiers, and a legendary guitar commissioned for the museum by Billy Gibbons that had been built from one of the pieces of wood from this shack. Inside the shack, videos showed archival footage of Muddy as well as interviews with his peers, all to a soundtrack of his rootsy music. The moment was revealing knowing the hard life this man must have endured, growing up with his family in such a small coarse space in pre-civil-rights America. It was difficult to pull ourselves away, and we gradually made our exodus as the museum was about to close.
The Crossroads
Having thoroughly explored the streets and sites of this unique downtown during the daylight hours, we returned to our shack for dinner and a shower, anxious for our second nighttime adventure into this land of the blues. I had noticed earlier in the day that the intersection of the road leading into the Shack Up Inn, especially from one particular angle, looked a bit like the crossroads of the Robert Johnson era that I had many times pictured in my mind. So right before dinner, with the sun low in the western sky, I snapped a few photos to see if I could capture the unique feeling of standing at such a foreboding spot out of American folklore. A little while later I couldn't help but to experiment with my picture in Photoshop, and with a few quick adjustments, I had a photo that, at least to me, looked like 'the crossroads' where Robert might have made his deal.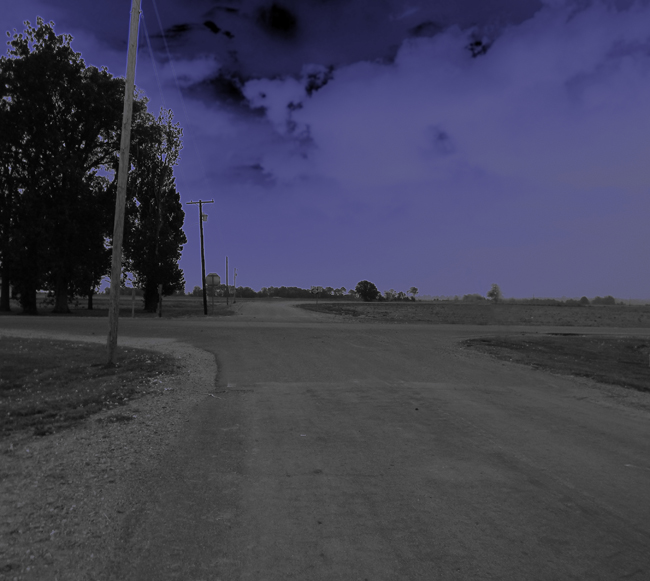 Red's Blues Club
We arrived at Red's just after 9:00 PM and 'Big Anthony' was getting ready to play. The place was still near empty and, after paying a five dollar cover charge, we found a seat and began to take in the sultry scene. Red was working behind the bar and sporting a pair of dark sunglasses in an already dimly lit room. I'm not sure if it's intentional or not, but the lighting in Red's is just that – red. Red colored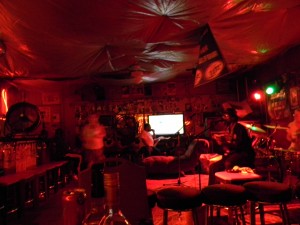 neon signs scattered throughout and a couple of red colored lights aimed at the stage create a kind of reddish hue that was inescapable. The place was fairly small, about 20 x 40, and sheets of plastic haphazardly covered the ceiling. Every square inch of the walls was covered with something, be it photos, posters, beer signs, or the lone flat screen TV which never went off. The place had 2 air conditioners which occupied the only windows in the place and a series of fans placed strategically (or randomly) at different locations throughout. The furnishings were comprised of several varieties of barstools, tables, chairs, and couches, all mis-matched and old looking, yet amazingly comfortable. The performance area faced the bar, and its central location seemed to optimize the room. On either side of the 'stage' stood a giant column of four or five speakers, circa 1980's, although it only seemed like a couple of them were being used.
Anthony spotted me from across the room and made his way over asking "Did you bring a guitar?" "Yeah, but I came to hear you play. I'll get it in a little while." A few minutes later a friendly older gentleman, who seemed to know everybody, walked on over to our table and said "I'm going to sit with you folks tonight, if that's okay." "Of course, have a seat." I said, later learning his name to be Dingo. We ordered a couple of beers and set our bottle of tequila on the table next to Dhingo's bottle of Evan Williams whiskey. Beer is the only alcohol sold at Reds, therefore allowing a BYOB for liquor only.
Anthony's show began as perhaps the most subtle start to a performance I have ever seen. Also wearing sunglasses, "A" was sitting on a stool with a cigarette hanging out of his mouth when he began playing some blues guitar licks, backed only by a drummer. There were maybe only six or eight of us in the room at this point, and the feeling was relaxed and comfortable as Anthony played his brand of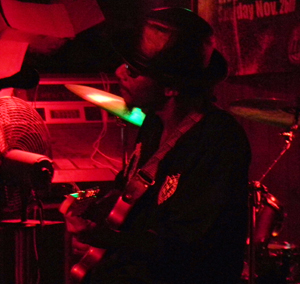 Delta blues. He must have played seven or eight blues instrumentals, for nearly an hour, before the vocal portion of his night would begin. The music was earthy and hypnotic and it felt as if time had stood still. As his deep voice resonated some mournful passages, I felt transported to another era. Gradually the night picked up and people started coming in. Another local sat in on backup vocals for a couple of songs, and then Dingo was up to sing a little too. The dance floor (or carpeted area in front of the band) had a few eruptions of activity throughout the night whenever locals and tourists felt the mood. At one point Anthony asked different folks around the room where they were from. The answers were as diverse as imaginable – Italy, Canada, Switzerland, New Orleans, Japan, San Francisco, Tennessee, Australia – people from all over somehow knew about this hidden blues universe.
Now pretty far into this evening and feeling fine, I asked Anthony between songs if I could play a couple with him. He nodded yes, so I went out and grabbed my guitar and amp. I joined him and his band of drummer 'the Clarksdale All-Stars' for two or three up-tempo blues, a high point coming on the last song with a little 'head cutting'. Already having played two and a half hours straight, Anthony suggested I sing a couple while he took a break. His drummer stayed on and I played a couple of blues classics before launching into a funky version of Hendrix's 'Voodoo Child' which received a roaring applause. I returned to the stage to Anthony, and a little while later when we were getting ready to leave, Red made his introduction. "You should come back tomorrow night, 'T-Model Ford' will be here and it's gonna' be a good time. Bring your guitar too. The old guys don't mind other musicians playing with them." "Were supposed to go to Memphis tomorrow, but if we can rent our room for one more night we just might do that. Are you sure it would be okay for me to play with him?" I asked. "This is my place, just come on down and bring your guitar." I then grabbed the unopened bottle of Evan Williams, Red's whiskey of choice, from the back of my amp and presented it to Red. "We read on the Internet that this is your favorite whiskey, so we brought you a bottle as our way of saying thanks."
With that, we headed back to the shack. Having had such an amazing experience so far, the idea of leaving for Memphis in the morning was growing less likely by the minute.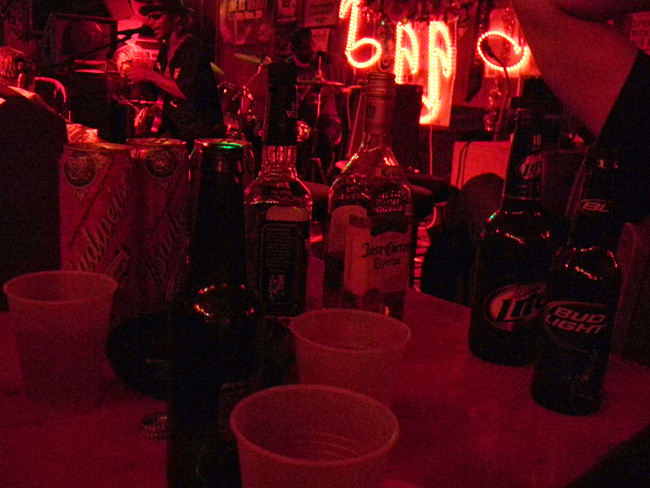 Last weekend my wife and I embarked on what turned out to be the most exciting vacation we've ever taken. Our three days and nights in historic Clarksdale, Mississippi, birthplace of many of America's greatest blues artists, was as much an education on American history and culture as it was a vacation. In this small, struggling, yet proud town born in one of the darkest periods in American history, we met some of the friendliest and most soulful people you could ever meet. All the locals made us feel welcome and at home, and we also met and became friends with visitors from several other countries, as well as many other parts of the states. The experience was so massive and life enriching that I will not be able to share it in just one article, so I will spread out my writings about this adventure over several.
Several years ago my wife, Kelly, and I watched a fascinating documentary about an old Mississippi juke joint that was still continuing the traditions of 'old-school' Delta blues music. At the time, we talked about how great it would be to go to Mississippi and experience this tradition born out of a time and place that gave birth to so much of our favorite music. By the time we got around to exploring that possibility a couple of years later, sadly, we learned that the place had closed down. So, this year, as her birthday approached, I did a little research to see if there were any other juke joint experiences on which we could embark.
I remembered hearing something about Morgan Freeman owning a nightclub in Mississippi and, also aware of his ongoing work to preserve American roots music, this was where my research would begin. A quick Internet search revealed that he is the co-owner of "The Ground Zero Blues Club", the namesake of this club derived from its location in Clarksdale, Mississippi, a town in which many of America's greatest blues artists were born. Artists like Muddy Waters, John Lee Hooker, Son House, and many more. At about 300 miles from Nashville, or a 5 hour drive, the trip was easily feasible, so this idea for a birthday vacation/blues exploration became an instant hit.
When we began looking on the Internet for hotels in the Clarksdale area, we stumbled across what sounded like the perfect place to stay. "The Shack-up Inn", located on the historic Hopson Plantation, is a series of renovated "sharecropper houses and/or tenant houses" and, after reading what must've been 50 or 60 glowing reviews on trip advisor, we booked a couple of nights at the shack that seemed to get the most comments, the Robert Clay shack. Among the amenities toted on the Shack Up Inn website are; AC and heat, running water – both hot and cold, indoor bathrooms, and wireless Internet "which tends to work better if you are near the lobby". While there is a television in each of these units, the sets receive and play only one channel – Sirus radio's Bluesville. Our particular shack would also be outfitted with a full kitchen, and old piano, and a screened in porch. The Inn also touts themselves not as a bed and breakfast, but as a "B and B" which they will tell you stands for bed and beer, as they don't serve breakfast. Another uniqueness offered is the option of using a loner acoustic guitar, available by request in the main lobby.
In the midst of all this research we also began learning about the current live music scene of Clarksdale. While the Ground Zero blues club had some decent reviews, further digging revealed that "Reds Blues Club", right around the corner, offers a real juke joint experience and is "the real deal", regularly featuring some of the finest local talent. Of course this town built on such a rich history of musical heritage has plenty to see in the daytime as well. The Delta Blues Museum, Cat Head Delta Blues and Folk Art, and the Rock and Blues Museum all came up in numerous reviews as must sees in Clarksdale.
So our plan was to check in to our shack on a Thursday afternoon, attend the weekly blues jam at Ground Zero that night, explore the town on Friday, party at Reds Friday night, and leave Saturday morning for Memphis where we planned to see Graceland in the afternoon, Beale Street at night, and then spend the night at a local hotel before driving back to Nashville on Sunday. Sounds like fun, right? Well as it would turn out, fun would be the understatement of the year, and we wound up changing some of our plans at the last-minute. As you will read later, the only thing we would see in Memphis would be a view of it from our van window as we passed it on our way home.
Last week I posted a blog in which I asked you (the reader) what questions you would ask somebody from a record label if you had access. That blog prompted some pretty interesting questions, and when I conducted my interview today with EJ Bernas, Senior Director of Southwest region of Universal Music Group, those questions made up the bulk of what I asked him. The interview was lengthy and informative, and a lot of work lies ahead (transcribing, editing, proofing, etc.) before this fascinating conversation will be print ready. So for now, I would just like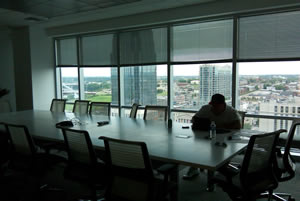 to share a few high points of this unique experience.
I arrived in downtown Nashville just before 1 PM and found a parking spot in front of the Bridgestone arena. After feeding some quarters into the meter (three dollars only got me two hours) I walked a couple of blocks over to the UMG headquarters, located on Commerce street. After taking the elevator to one of the top floors of an otherwise unsuspecting office building, I emerged into the lobby and found my way to the receptionist. The friendly young lady informed EJ that I had arrived, and a moment later he came out to meet me. We retreated into a large comfortable conference room which had a spectacular view of downtown Nashville.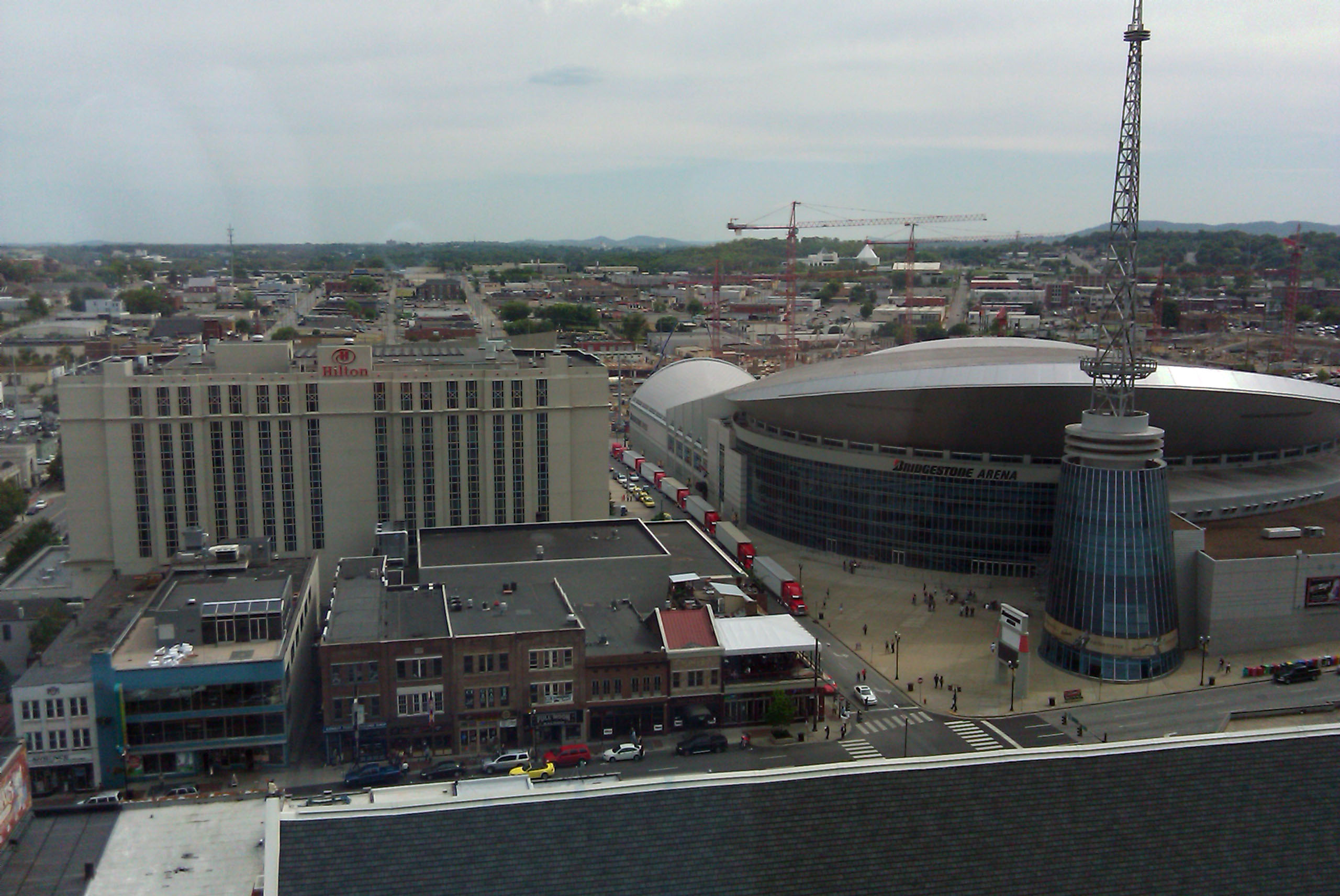 I could write an entire article just about what I saw in those few short seconds gazing out that window. The roof of the Ryman Auditorium just below us, the hustle and bustle of people milling about on Broadway, the Bridgestone arena, the controversial new skyscraper still being constructed, the Cumberland River in the distance – a city truly alive in so many ways. Behind every window of the hundreds of buildings visible from this spot was a story. For every car that passed by on the streets below, another story. Some say that this is a city built on dreams, and from this vantage point I could literally feel that kind of intangible element that fuels such a mysterious place.
"This is an amazing view. Do you have a view this cool from your office too?" I asked. "You bet, my office is right next door. You can see the roof of the old church (Ryman) below" he said as we both gazed across the vast expanse. With that, we each took a comfortable spot at the table and dug into an hour and a half discussion about the state of the recording industry, radio, and how today's aspiring artists fits into that world (at times the discussion became more like how the recording industry and radio fit into the world of the aspiring artist.) Like I said,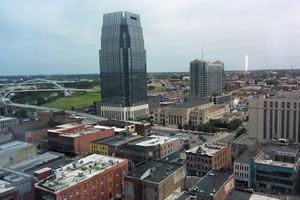 the contents of this interview still need to be transcribed and reviewed before I can share any of it, so for now you'll have to just settle for me simply bragging about this day.
At one point during the interview, EJ's boss walked through the room and I received a brief introduction. A little while later another man walked through, and I was again introduced, this time to the head of A&R. EJ explained to me that UMG (Universal Music Group) consists of MCA, Mercury, and Lost Highway Records and represents artists like Billy Currington, Julianne Hough, Reba McEntire, Randy Rogers Band, George Strait, Sugarland, Jamey Johnson, Josh Turner and Shania Twain, among others. Even though I'm not aspiring for any sort of success as a radio star, it did occur to me just how fortunate I am to know someone like EJ – a warm and open individual gracious enough to give this glimpse into a world in which so many aspire, yet so few ever travel.
After the interview was over, he walked me back out to the lobby where I had the receptionist snap a quick picture of the two of us. I thanked him again and made my way back to my car. It was definitely a learning experience for me and I know this interview will add much valuable perspective to all the aspiring artists and musicians who will eventually read it. Thanks again EJ for making my day, and my book.
Next week I'm conducting one more interview for my book project 'The Nashville Musician's Survival Guide'. Upon a recent review of the book's manuscript I realized I haven't thoroughly addressed the role that record labels play in the Nashville music industry. So this has prompted me to set up an interview with one of my colleagues at MCA/Universal Group. I've got a full hour to discuss the current state of the 'record industry' and would like your input.
I have a few questions I already plan on asking;
In regards to signing new artists and acts, what are record companies looking for?
Are solo artists more attractive to the label than bands?
How important is it for a prospective artist or band to have a following prior to signing with a record label?
How does an obscure startup artist in Nashville gain the attention of the labels in a community that is so oversaturated with talent?
Do you think FM radio has any future?
These are the first questions that come to my mind, but as I'm not interested in pursuing a record deal I may not be as tuned in to this world as someone who is. I want to know what you want to know. Pretend for a minute that you have the ear of someone at MCA for five minutes. What three questions would you ask? And please, no smart aleck questions like "Will you come see my band next Wednesday at the Cadillac Ranch?" or "Can I give you one of my CDs?"
If anyone out there can present me with some intriguing questions, I'll include them in my interview next week and post the responses.
Thanks for participating!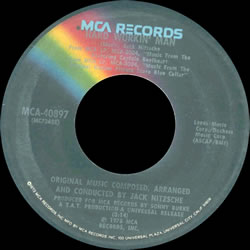 Where do you get your inspiration from? As a lifelong musician, I've now been playing music since the age of eight, about 34 years. But I've been listening to music even longer. As a young child, some of my earliest memories are of my dad playing records in our Boxford, MA home. Many an evening or weekend the sounds of the Woodstock era filled the air – Santana, Derek and the Dominoes, John Lee Hooker, even the Woodstock soundtrack. The mysterious black discs spinning around created a sense of wonderment, and even more alluring were the sounds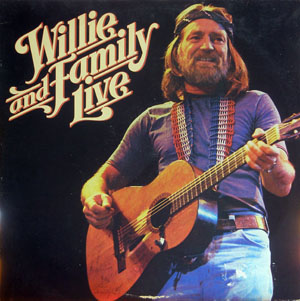 they put forth.
I love music, and I especially love the sound of music that originates from vinyl recordings. There's really nothing like it. As a teenager growing up in southern New Hampshire in the early 80s, I owned my own stereo and turntable and began buying albums regularly. In fact, I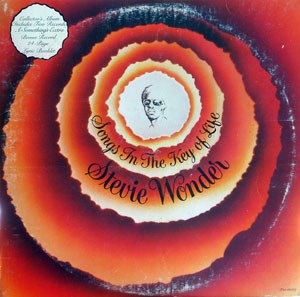 worked at an afterschool job just to support my vinyl habit (okay, maybe a few other habits at that time as well). Every week I would venture to the strawberries record store with my weekly pay burning a hole in my pocket. A short time later I would arrive home to give the new disk a spin, the sounds of Jimi Hendrix, BB King, Led Zeppelin, and others permeating my world daily. It wasn't just an auditory experience, many records came with amazing artwork, of course you have the great double album which additionally lent itself to a variety of uses. Some albums even came with songbooks or posters.
Several years into this foray, along came CDs. They kind of looked like mini albums, but with noticeably less artwork. They also had a few other tendencies, for instance the unmusical sound of a digital skip. It took me a while, but I eventually climbed aboard the "CD wagon", albeit kicking and screaming. It only took me a couple of years to realize the shortcomings of this new "digitally recorded music", but I eventually did notice. The music just didn't sound quite as real, warm, or friendly, but this was fast becoming the new medium. It wasn't long before all my favorite record stores had replaced the bins for records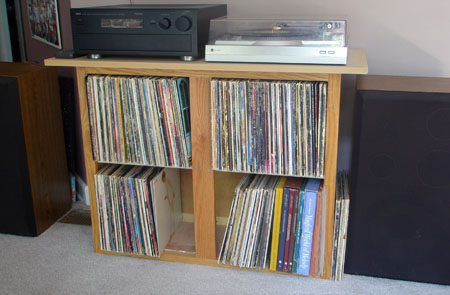 with CDs. Not long after that point in time I stopped listening to my vinyl, as all new music I was purchasing was on CD.
Fast-forward to 2010, and CDs are now being phased out in favor of MP3s, an even harsher sounding representation of music. And of course, the MP3, often living in "the cloud" or an ipod, is completely void of artwork.
Stop, I've had enough! Earlier this year I made the realization that I wasn't listening to music as much as I used to. At first I thought this might have been because I listened to so much music in my earlier years that I might be just "all listened out". But then I got my turntable repaired, something I had been meaning to do for some time, and slowly, began rediscovering the magical world of vinyl.
I set up the turntable in my living room and began to check out some of my favorite old records. Right away I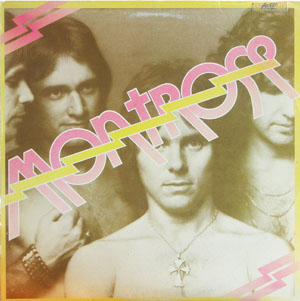 noticed they sounded so good, noticeably better than their harsh digital counterparts my ear had become accustomed to. This rediscovery led me to a few recent trips to a local used record store – let the bargains begin. I can't believe some of the gems I've purchased for just a dollar or two. One in particular was a mint condition copy of "Montrose" Sammy Hagar's earliest band, and this gem was just 68 cents! Delbert McClinton, James Taylor, Beethoven's Moonlight Sonata – all for just a dollar apiece?
Among some other recent scores were a mint condition copy of AC/DC's Back in Black, Stevie Wonder's Songs in the Key of Life, and BB King live in London. A couple of weeks ago I found a yard sale with a collection of 4000 records all from the mid-70s or earlier.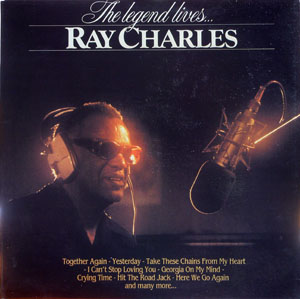 Kelly and I spent about an hour pilfering through about half the collection and walked away with 25 gems for $20.
I'm hooked, what can I say. Since this recent vinyl resurrection I am listening to more music regularly than I have in years. It really does sound better. Listening to music like this reminds me of why I became so involved with music in the first place – why I became a musician. When I put a record on, it feels like I'm in the room with the band. The drums sound real, the guitars sound right, the bass is tight, and the vocals are deep. I know I can't listen to these sounds in my car, and beyond the walls of my home the rest of world continues to suffer from the sounds of the sterile digital status quo and all of its shortcomings.
I know a lot of people enjoy digital music, I'm not saying it can't be done. But if you haven't ever ever experienced the joys of vinyl, check it out if you ever have the chance. If you're ever over a friends house and you spot a turntable, request a side. I challenge you to listen to your favorite artist on vinyl and not be able to hear something new in their music.
Well I've got to go now, it's time to give my new Ray Charles record a spin.