writing
During the last Nashville Berklee Jam to be held at The Rutledge, which sadly closed its doors shortly thereafter, international rock star, author, and motivational speaker, Zoro addressed a room full of hungry musicians with a heartfelt, life-changing talk. Well known as a professional drummer who's played with the likes of Lenny Kravitz, Bobby Brown, and Frankie Valli, among countless others, Zoro, often referred to as "The Minister of Groove", is also an educator who has given hundreds of clinics and authored the critically acclaimed "The Commandments of R&B Drumming". He's also known in the world of motivational speakers, having given hundreds of talks and authoring the book "The Big Gig – Big Picture Thinking for Success".
But tonight's talk was not about drumming, and while it delved into the world of professional musicians and artistry, at the core of this talk was a universal message that applies to all humans, that of finding your purpose in the world by discovering and maximizing your strengths. After his talk I was honored to participate in a performance with Zoro and A-list Session bassist, Mike Chapman.  There's a video of Zoro's talk and some of this performance at the end of the article. Here are a few excerpts from his talk: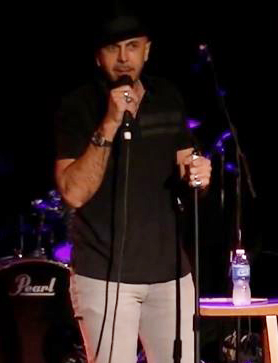 "The world has changed more in the previous 50 years that it has in the last 5000…. but there's a few foundational things that I think will never change…Each person in this room is born is born with a certain gift and a certain talent. And for many of us, it's musical talent. What will not change is excellence…no matter where the world goes or where music is headed, to me, if you have a musical gift, the most important thing is to exercise it, to develop it and to make it, point blank, excellent… I always feel that if you do something really, really well, eventually there'll be a place for it somewhere. In a world where people don't do things on a high level anymore, I still think that being excellent will make you stand out amongst the crowd…"
He spoke of diversity and the need to hone in on your strengths:
"I think each person here has more than one ability. I think your musical ability is one of them, but I think there are many. For me, I just pursued things that were naturally instinctive to me and interested me naturally. I wasn't thinking business, I wasn't thinking in 30 years I can be drumming, and be an educator, an author and speaker… I was thinking 'I like writing… I'd like to write an article to help people. I like teaching'… so everything became a natural evolution of things I was already good at… so don't worry about what you're not good at, there's going to be plenty, find out where your strengths are and then work on turning those into something that's really monumental and excellent."
I loved his take on marketing:
"The best marketing tool in the whole wide world is to just be bad-ass at what you do…because other people will tell people about you… people take notice of excellence, whatever it is. How many of you, when you go to a restaurant, take notice of someone who is an excellent server? We all notice when people do a good job…when I see a movie that's great I tell everybody about it, but when I see one that sucks I also tell everybody don't go waste your money."
Often overlooked in the music industry as well as many others is the shortage of, and need for extreme professionalism:
"Some of the things it takes to succeed are very practical, but I find they seem to slip by the musical community. Things like; being on time, coming prepared, having your stuff together, being reliable… half of success is just showing up on time and just being ready. These things to me are totally obvious, but they seem to slip by a lot of the people that are creative."
Perhaps one of the most important points he makes is that We Are in the Service Industry!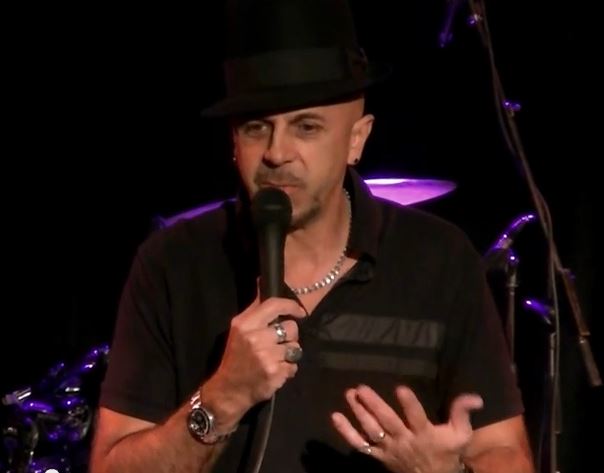 "Be accommodating. I look at everything that I do as really one thing, I'm a servant. I'm here to serve. Tonight I'm here to serve with my words, and I'm here to serve with my playing. I'm never here to be served, always here to serve… a lot of people have a perception of rock 'n roll and fame… everyone's catering to you and everyone's worshiping you… there is an element of that that's true, but I don't perceive it that way. I perceive it as I have an opportunity and a platform, and an opportunity of privilege to serve people… I'm either serving the artist I'm playing with, or the crowd that I'm playing to."
On creativity and vision:
"One of the greatest gifts human beings have… is the ability to dream… To dream up something that never existed and then to have the privilege of creating it is the greatest privilege in the world. And we all have that ability to dream and to believe that if we are willing to act on it and pursue it, we [can] turn that dream into a reality. It's a great privilege and that's what makes life really fascinating and interesting."
He began a few words about the journey of self-discovery and life with a quote from Mark Twain:
"Most of us are anxious to be praised for the one gift that we don't possess, rather than the 15 that we do."
"If you don't learn to enjoy the journey, the process, you'll never enjoy life…the joy of life is in the process itself, and the journey of learning and growing and developing, that's what life is…When people are not fulfilled it's because they're not moving toward something. You're created to have purpose, to be moving forward in a direction towards the accomplishment of something."
We've had many great guests speak at these events, all of them with unique angles, many catering to specific niches, and they've all been inspiring. This talk really got me thinking on many different levels and was one of my favorites to date. No matter what you do in life or what you do for a profession, many of life's challenges and problems are universal. We can all work to discover our gifts, to hone them, to share them, to allow them to let us shine a little light in the world. Don't let your dreams sit on the sidelines, find your gifts and make them excellent!
I would like to thank Zoro for sharing his words of wisdom and inspiration and for kicking out a great jam! I would like to thank Jeffrey Lien for helping me host this event and hooking us up with Zoro, the Rutledge and Andy Aquino for hosting our events for the past two years, Frank Sass for always providing great sound and lighting, and Jack Zander for capturing all the magic on video.
Zoro's Talk (39 minutes)
Hear My Train A Comin'
Cissy Strut (with 5 minute drum solo)
By Eric Normand
At the August Nashville Berklee Jam we were fortunate to have an expert in the field of music for television and film – songwriter and CEO of Song Placement International, Kate Taylor. A native of Michigan, Kate has been in Nashville since 1999 and has had her songs placed in shows like "The Young and Restless", "Teen Nick", CMT, and countless others. Through her song placement company she has placed songs for hundreds of artists and is currently working with shows like "Grey's Anatomy", "Nashville", and "Duck Dynasty", to name a few. Here are a few highlights from her in-depth talk about the ins and outs of getting music placed in TV, film, video games and commercials. (A video of Kate's entire talk can be viewed at the end of this article.)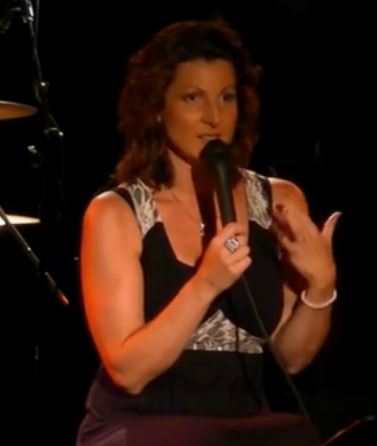 "Adam Zelkind, a dear friend of mine and a mentor to me once said 'Kate, if you can make a penny in music, take it. If you can make a penny it will become a dime. Eventually all those dimes will add up to a million dollars.' I don't know if you know who Adam is, but he's a millionaire just from making TV music."
Adam was Kate's mentor early on in her career of making music for TV and film and was pivotal in her advancement in this field. Eventually, Kate would team up with another Adam, Adam Stengal along with another music industry veteran, Howard Rosen to form her placement company "Song Placement International". Together, this trio has created a formidable force in this elusive field.
Regarding some basics about song placement Kate had a few words of wisdom to offer:
If you get in contact with a music supervisor directly, that email is gold, don't ever lose it.
When you e-mail them, ask them "how do you want the music?" (Most want a link).
Unless they are willing to pay over 25K for the initial sync fee it is not worth doing an exclusive deal. Most syncs are non-exclusive.
Steer clear of "re-titling". Re-titling is when a song placement company changes the title of a song so they can own the publishing and masters.
If you're song is vocal-based, always send the instrumental track as well.
Re-makes of known cover songs work great for T.V., just make sure you have the permission to do the re-make.
Advertising provides the most lucrative opportunities for song placement, for example, a car commercial might pay $25,000 upfront. Next in line would be TV, with major network nighttime show placements starting in the $4-$5000 range for indie artists.
Regarding genres – "They want everything…hip-hop, singer-songwriter, orchestral, driving beat…the more variety you have, the better chance you have of getting placements."
She also added that lyrical content doesn't matter so much when it comes to TV music…"it's all about the dialogue over the top of the music".
Kate expanded on many of these points at length and by the end of her talk it became clear that music placements in TV, film and video games are a largely unexplored area for many songwriters and artists. As most songwriters are striving for cuts with major artists or trying to achieve their own success as artists, many don't realize that this angle can be a means to an end while they're working towards other goals. And, perhaps even more importantly, making music for tv and film can be a more easily obtainable goal.
If you think your music is worthy of being placed in tv or film, Kate would be more than happy to hear from you. You can contact her at kate@songplacementinternational.com – please send links only, no song attachments.
Kate Taylor performing her original song "homecoming Queen"
I can't tell you how excited we are to be finally about to embark on our first trip to our native homeland of New England in seven years. I'm sorry we haven't gotten back sooner, it's not because we haven't wanted to, it just seems that whenever we've had the time we didn't have the money (we call this Nashville winter), and when we've had the money, we didn't have the time (Nashville summer). So this year, with my 25th high school reunion taking place at the end of July, we decided this was the perfect excuse we needed to block out a week in the middle of the summer and pay our old friends a visit.
Somewhere in the middle of planning this trip I got the idea to do a clinic at "The Music Workshop," a music store in Salem, NH that I used to frequent in my younger days. My idea was that this would be a great way to share some of my Nashville experiences with my peers in New England, while, of course, promoting my new book "The Nashville Musician's Survival Guide." I'm not sure how this happened, but before I knew it, I was booked at four different workshops throughout New England (some of you may have noticed my recent series of Facebook event invitations). With all this activity evolving I thought it would be cool to throw in a special show with some of my musical comrades from back in the day, and this has led to the Eric Normand and Friends Reunion Concert at Wally's Pub on Hampton Beach, on Wednesday, August 3rd at 8:00 PM.
There is a complete listing of all these workshops and events with addresses and weblinks on the new events page of my survival guide website. Here is the longhand version plus some info that's not on the website:
Wednesday, July 27, 6:00 – 8:00 PM
The Nashville Musician's Survival Guide Workshop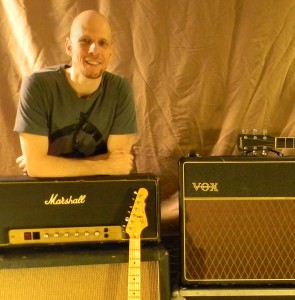 Ralph's House of Tone, Dover, NH
During this workshop I will talk about what it has been like to work as a "hired gun" in the Nashville music scene, what it's like to work on a national level tour, and some of the key differences and similarities between being a working musician in New England versus Nashville. There will also be a "Nashville guitar rig and style demonstration" and question and answer period followed by a book signing immediately afterwards.
Jam at the Station House in Dover
After the workshop, (which is free to the public) I will be attending a jam at The Station House Restaurant and Pub right down the street. The Station House usually has a jam on Thursdays, but when I contacted my old friend, Rick Landry, inquiring about any area jams on Wednesdays, he decided to put together this special jam just for this occasion, and I must say that I am quite honored. This jam will serve to be a kind of after party for the workshop and should be a great chance to catch up with some old friends and share a little music. Thanks Rick!
Thursday, July 28, 6:00 – 8:00 PM
The Nashville Musician's Survival Guide Workshop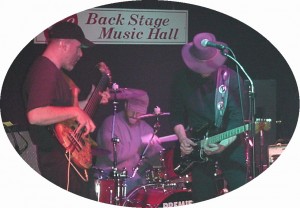 Buckdancer's Choice, Portland, ME
This workshop will be like the one in Dover, only in Portland (also a free event). Before our move to Nashville in 2002, Kelly and I lived in Kennebunk, Maine, and at that time I played many shows throughout southern Maine with my band, Electric Blue. One highpoint during that period was our regular Sunday night jams at Chancery Lane in Sanford, ME, a truly magical musical moment that occurred weekly, and one that gave birth to many friendships and even a couple of bands. We hope to see some familiar faces in Portland on this night.
Monday, August 1, 6:00 – 8:00 PM
Music Skills for Life and Rhythm Section Workshop
Music Maker's, Hampton, NH
This multifaceted workshop will be a little different than the previous two, and while I will share some of my Nashville experiences here as well, I will also spend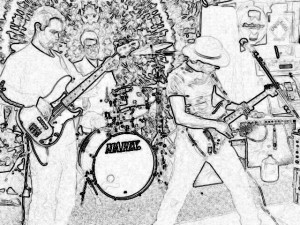 some time talking about some practical aspects about being a lifelong musician. The second half of this clinic will be an "interactive rhythm section workshop," during which students will have the option to explore some fundamental basics of rhythm section performance with me and Music Makers instructors, Mark Davenport and Tom Martin. Music Maker's is a seacoast area music school that offers private lessons on a wide range of instruments and the place in which I first began teaching guitar in the mid-90s. I'm excited to be returning to share some of what I have learned since that time with their next generation of students. This event is open to the public: cost: $20 per person – $15 for current Music Maker's students.
Jam night at Whippersnappers in Londonderry, NH
After the workshop, we are planning on attending the Monday night jam at Whippersnappers in Londonderry, NH, hosted by Gardner Berry of Mama Kicks. I used to jam with Gardner and other members of Mama Kicks back in the late 80's/early 90's when he hosted a Sunday night jam at Classics in Manchester, one of my first jam night experiences. Should be a lot of fun so come on out!
Tuesday, August 2, 7:00 – 9:00 PM
The Nashville Musician's Survival Guide Workshop
The Music Workshop, Salem, NH
This will be the final workshop of this trip and similar to my clinics in Dover and Portland the week before. Salem used to be a big part of my stomping grounds back in the day and I used to frequent the Music Workshop regularly, constantly "experimenting" with new music gear, occasionally buying some. I also used to perform regularly at the old LJ's in the Rockingham Mall, remember that place?
Blues Jam at the Roma in Haverhill, MA
After this workshop we are planning on attending a blues jam at The Roma in Haverhill, MA. My good friend and drummer extraordinaire, John Medeiros is part of the host band at this jam (John is also a former member of Electric Blue and will be part of my core band at Wally's on the third.)
Wednesday, August 3, 8:00 PM – 11:00 PM
Eric Normand and Friends Reunion Concert
Wally's Pub, Hampton, NH
This will be the last stop of our New England book tour/vacation and a very special night of music and reconnecting with old friends. It's been seven years since we last set foot on Hampton Beach, and more than ten since I last performed their regularly. When we first started planning this trip I had the idea about doing a reunion concert of sorts and I called up and presented the idea to my old friend, Kenny Gaudet from The Bars, who fast became instrumental in making this happen. The first set will consist of me on vocals and guitar, John Medeiros on drums, Keith Foley on bass, and some friends from seacoast area jam band, Superfrog – Charles Cormier on guitar and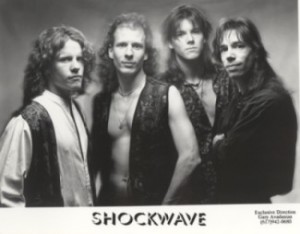 Adam Vinciguerra on percussion. A little later into the night there will be a brief reunion of my old band "Shockwave" with Doug Hinton on drums, Mark Gagnon on bass, and Keith Bowen on vocals (also possibly Brandon Lepere). Other guests will include Kenny Gaudet, Devin Cordero from Last Laugh, and possibly a partial "Jet City" reunion.
This night will mark the end of our week in New England and we are really looking forward to reconnecting with so many of our old friends and musician buddies. We are hoping to make this reunion concert an annual event, so if you like this idea at all, please come out and show some support. And for anyone who is interested in purchasing my new book, this will be your last chance before we head out of town, so if you have it in your heart to help us out with a little gas money for the ride home, pick one up, they're only $20.
While we will be leaving Thursday morning to rejoin the Rhett Akins tour for shows in Ohio and Chicago, we will be back, and next time we won't wait seven years! In the meantime, go ahead and make some plans to come out to the Wally's show and a workshop or two, we would love to see you all again! See y'all  real soon!
Today marks another milestone in my self-publishing book adventure, that being the arrival of "The Nashville Musician's Survival Guide" epub and Kindle versions. I am pleased to announce that these digital formats are now available for purchase on my web-store for the low price of $9.99.
While I am still a big fan of old-fashioned paper books, and the original vision of my book was one which was printed on paper, I do see the practicality of eBooks and understand their growing popularity. In this hyper-digital world it comes as no surprise to me that printed books are starting to fall by the wayside, similarly to the demise of CDs, VCR tapes, and newspapers. But I believe there will always be a place for printed books, and therefore my book is available in both print AND electronic versions.
When the printed version of my book was complete I focused on the eBook conversion and hired a company that specializes in this work, eBook Partnership. During this process I learned a lot about the benefits and drawbacks of eBooks.
Here are a few benefits from the reader's standpoint:
A person can now carry hundreds of books in one small device.
They are delivered almost instantaneously.
They require no packing or shipping expense.
They can show links, allowing easy access to related information and websites.
Fonts can be resized to allow easier reading.
A few benefits from the self published author's standpoint:
The sale and transaction are instantaneous.
They require no packing or shipping.
They're easier to sell internationally as shipping packages abroad is very expensive.
They can be more affordable to the masses as they're typically less expensive than printed books.
They require essentially no storage space.
It all seems too good to be true, especially from an author's standpoint. Well after a bit of research I learned that they are just a little too good to be true. Despite all these advantages there are some drawbacks:
If your battery dies and you aren't somewhere where you can plug it in your screwed.
ebooks lack the look and feel of a traditional book – i.e. cover, pages, binding, etc.
Unlike traditional books there is no market for used eBooks, so a reader can't recoup some of their original investment.
And perhaps the biggest drawback from an author's standpoint is that eBooks lend themselves to piracy.
As we all know, when the music industry went digital, this was the start of the illegal filesharing era. Similarly to the MP3, the eBook is also far more prone to theft than its predecessor, the paper book. As the day on which I would release my own eBook drew near, I started looking into ways to protect my electronic book from piracy. I learned that there are protections that can be applied to my eBook to prevent this kind of theft but this would be expensive, and it would not be foolproof.
The truth is that even Kindle and ePub versions of books with the most advanced piracy protection (like the kind of protection applied to eBooks sold on websites like Amazon and Barnes & Noble) could be disabled by the savvy computer hacker. In other words, if somebody really wants to they can take any eBook, disable its copy protection, and pass it around the Internet as fast as a jar of moonshine will get passed around a Kentucky campfire.
Matt Horner, the eBook designer who worked on my project offered the following thoughts on the matter
"Overall, the value of DRM [Digital Rights Management/Copy Protection] is debatable and anyone who is set on copying your eBook would be able to strip the DRM from it within minutes by downloading free software from the Internet. My advice would be to price your eBook sensibly, accept that there may be some piracy, but assume that the majority of people are honest and would rather buy a reasonably priced eBook than download a pirated copy."
So I have priced my eBook very reasonably – hence $9.99 (thousands of hours went into this project so I can't simply offer it for free.) I hope that most musicians, the prime audience for this book, realize that this work has value, similarly to the way a songwriter or artist places value on their work.
So steal it if you must, but if you truly want to help preserve the noble endeavor that being an author or songwriter requires, follow this link and get your copy of "The Nashville Musician's Survival Guide" today!
That's right everybody, the book really is finally done and now available to all who have been patiently awaiting its arrival. Orders for the print version will be processed and shipped this week, the e-book and Kindle version will be ready and available by the middle of next week, and I can't tell you how excited I am to finally be at this point in time! Others involved in the project are getting excited too. Check out these back cover blurbs that a couple of folks offered after checking out advance copies:
"Awesome! Required reading for any musician moving to Nashville, especially as a hired gun.
Hundreds of hours of priceless advice condensed into one thorough and brilliant book
– an incredibly helpful masterpiece. Makes me want to move there now!"
— DEREK SIVERS, Founder of CD Baby
And:
"If you are making or want to make money in the music industry of Nashville, "The Nashville Musician's Survival Guide" should be your next purchase. Eric Normand's beautiful and comprehensive book contains invaluable insider information and practical advice from pros actually making a living in the industry now. A terrific read for anyone interested in peeking into the unique world of music Nashville. Even the pictures rock!"
— JUDY RODMAN, Vocal Coach, Producer, Hit Songwriter
As you could imagine, there was a big celebration at the Normand house when these e-mails arrived!
When I embarked on this journey two years ago last January, I had no idea I would be entering the world of book self publishing. In fact, when I initially began writing the content that became the foundation of this book, I had no intention of writing a book at all, or even the knowledge about how to go about doing this. At that point in time, I was simply trying to help a few folks on Craigslist and other message boards who wanted some info about the Nashville music biz'. The next thing I knew I was writing a book, almost by accident. The more I wrote, the more I began to understand the massive scope of this project, and the work it would entail to finish it – Internet research, extensive recorded interviews, photo taking excursions, etc. At some point along the way the book began writing itself. It was as if I was a mere conduit, the end result first being the story of the modern-day Nashville music industry magically appearing on my computer screen, and now in this wonderment of a book.
I couldn't have done it alone either. Dozens and dozens of people have contributed their time and resources to this project and for this I am eternally thankful, their contributions have made this a far greater book than I could have produced alone. While the entirety of this project has been a massive undertaking (there were many times that I felt as if I would be writing this book for the rest of my life), this has truly been a labor of love – my way of paying forward all that I have learned in this strange place we call Music City, and I am absolutely thrilled with the end result.
So if you've been waiting for this book, it really is finally here. Thanks for your patience and I hope you enjoy reading "The Nashville Musicians Survival Guide!"
P.S. If you live in middle Tennessee, I would like to invite you to our official book release party at The Fillin' Station in Kingston Springs on Saturday, April 30 from 7 to 11. Many of the contributors to the project will be in attendance on this night, there will be music performed by my band (Mike Chapman will be on bass and Fran Breen on drums), and the first three people to ask will receive a free copy of the book.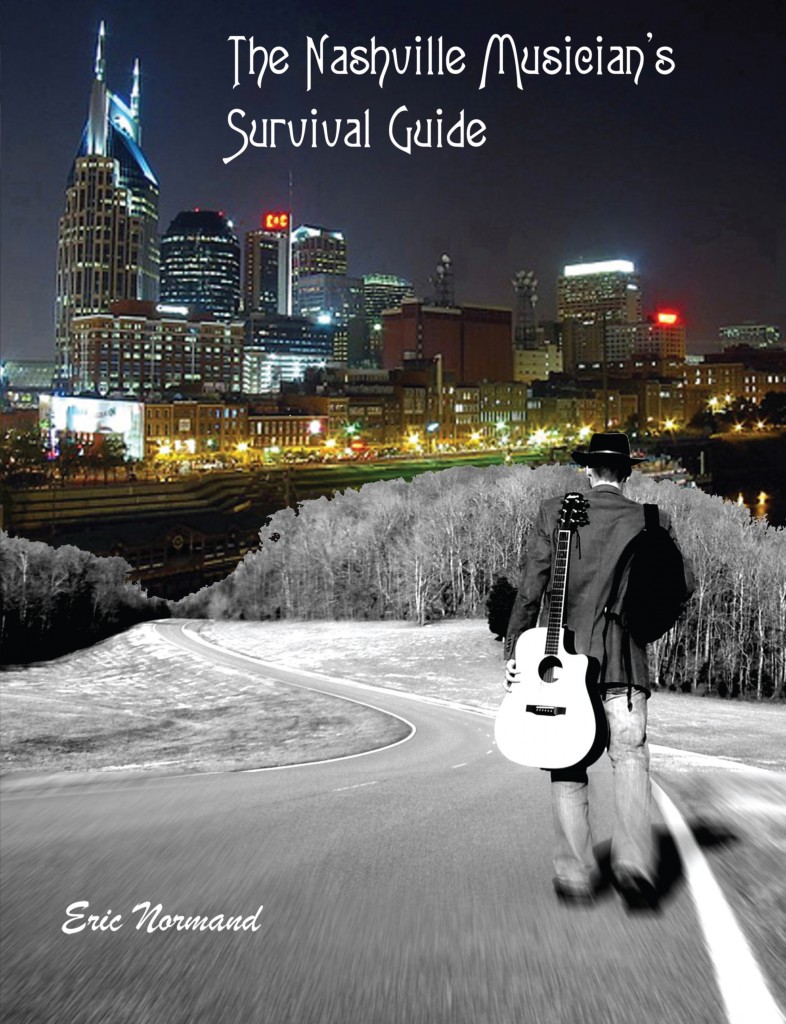 It amazes me how every day is so packed full of tasks. As soon as I'm finished with breakfast, I excitedly walk up to my office, sit down at my computer, and dig in to this book project that has all but consumed my life for the past two years. I'm about two days away from sending the finished PDF off to the printer, yet it still seems like it's never actually going to happen.
Yesterday's big task was all about finishing the cover design. I had some major help with this all-so crucial and final last step. This help came in the form of the world's greatest graphic designer (AKA my wife, Kelly). The cover came out great. The front cover art was completed last year, but we still had to design the spine, and the back cover. According to "Dan Poynter's Self-Publishing Manual," the back cover is the most important element of your books exterior. For it is the back cover text that will ultimately cause a potential customer to look inside, and hopefully purchase the book, or, put it back on the shelf and pass on it. And of course, it must have a look and feel that makes people want to read it when they pick it up.
We looked at several other books for ideas as a starting point for our cover design. One of them was "I, Alex Cross" by James Patterson, a very cool looking, and eye-catching book exterior. After hours and hours off trial and error, experimenting in Photoshop, etc., we arrived at a finished design that does justice to this manuscript. While the cover concept was completely Kelly's brainchild, I was the chief laborer in this massive endeavor. Almost every time I had a question, her answer was simply "Google it." This was not because she didn't know the answer, but because she knew I was capable of figuring it out myself – and that by figuring it out myself, I would actually learn something:)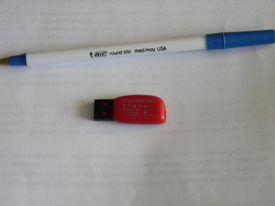 There was one other interesting moment in the last couple of days. Last week I took a flash drive down to Staples and had them print out the entire manuscript on premium copy paper, and then fasten it together with a ring binder. This was so we could give the book one last proof read, check for photo resolution, formatting, etc. (there's a lot of stress involved when you're about to spend thousands of dollars to print a book no one has even read yet.) But the funny moment came just before leaving for Staples when I put the flash drive on the kitchen table and made the comment "So there it is, my entire life's work for the last two years reduced to one, microscopic flash drive, barely the size of a walnut." It seemed so strange and surreal.
Anyway, just a few more details and I will be done with all the "tasks" required to get this long awaited book out into the world. I really am getting close, but it still seems like I will never finish. Well that's it for now; got to get back to those tasks …I'll keep you posted!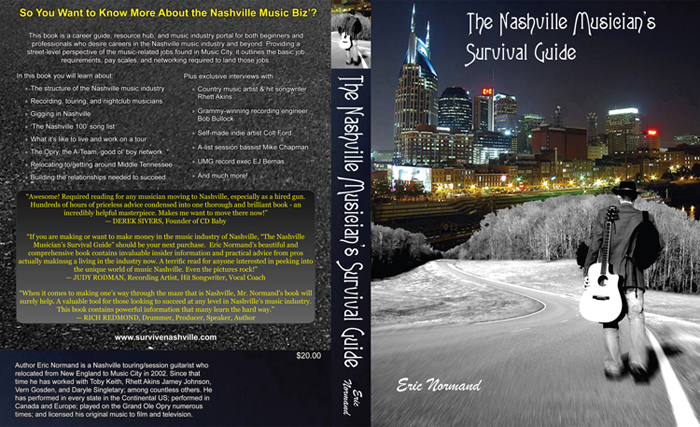 April 18, 2011 – A Date That Will Live in Infamy! (Sorry, I couldn't resist). Monday, April 18 is our new, official release date for this long overdue book about the Nashville music biz'.  When I first embarked on this project, some two years ago, my thoughts were simply "there seems to be a void of information out there about the Nashville music industry, so I'm gonna write a book about it. I mean, how hard can it be?" This was probably the biggest understatement of the century. I had no idea how to write a book at that point in time, I just knew that this book needed to be written. So I wrote, and wrote, and wrote. A year later, I thought I was done writing. At that moment, it seemed finished. I turned my manuscript into a PDF and had a couple of rough drafts printed. As I read through this document I made many corrections and notes, and by the time I was finished, I realized I hadn't covered all the bases.
So then the project entered phase 2. I had a handful of new chapters that I needed to write, but I also decided to pursue some more interviews, my thought being that this would help broaden the books perspective and appeal. Around that same time I bought the book "Dan Poyntner's Self Publishing Manual." After skimming through this fascinating must-read for first-time authors, I began to compile a massive "to do" list. It seems there were dozens, if not hundreds, of little details (many that turned into huge details) I hadn't thought of – things like: writing back cover copy, purchasing an ISPN number, setting up a P.O. Box, setting it up as an e-book, photo permissions, photo captions, and of course, what is often the most neglected task of authors, marketing.
I also learned in my research that, in general, traditional book deals do very little advertising for their authors. If an author wants their book to sell, unless their name is James Patterson or Stephen King, they must promote their own book. As I am self-publishing, this means that promotion is entirely up to me. Enter Eric, the blogger. Not only has blogging turned out to be a great way to build a readership, it's been a fun and exciting learning experience as well. Writing a new blog every few days about everything from my shows on the road with Rhett Akins, to the Nashville flood, to self-help tips for musicians, to progress on my book, has been very rewarding. For instance, after writing a blog a few weeks ago about tinnitus, I got a few e-mails from different musicians informing me that they are buying earplugs.
At the same time I began blogging, I began soliciting "chapter reviews" by my peers and experts in the industry, as was suggested in the self-publishing guide. By involving other individuals as contributors, this not only served to further help market the book, but it also greatly improved its content.
The next hurdle turned out to be the interior design. Upon looking into hiring someone for this task, it quickly became obvious it would be extremely expensive. This discovery prompted me to get creative and learn how to do it myself. My wife, Kelly, acquired some tutoring help to learn Adobe's InDesign software, taught me the basics of what she learned, and then I managed to completely submerge myself in the interior of this book for the past several months.
Well doggone it, I think I finally got it. The design is essentially finished, (just waiting on a few final copy edit changes from one of my copy editors) and will soon be sent to Create Space for final approval and printing – WooHoo! I have been waiting for this moment for almost 2 years. I mean, this project has all but completely taken me over, and as much as I have learned and grown in the process, it will be nice to have my life back.
So in the meantime, check out the beautiful PDF preview (if I don't say so myself). This will give you some idea about the final version which will be released on Monday, April 18 – A Date That Will Live In… (whoops, sorry, it almost happened again!)
P.S. You can make an advance purchase of your copy of the book to our new online store we just set up. This will not only guarantee immediate delivery the day our first shipment of books arrives, it will also help me pay for some upfront printing costs.
P.S.S You may notice I have put a CD and audio downloads for sale in the store as well. This CD "Songs Without Words" is an instrumental project I recorded in 2003 while I was on a break from the Toby Keith tour. With flavorings of rock, blues, jazz, and Americana, it is an audio snapshot of where I was musically at that moment in time.
Whether you are an obscure musician trying to get your music heard, a first-time author putting forth a new book, or an independent filmmaker introducing your first film, you all share something in common; a desire to introduce your art to a world that has yet to learn of it. How do you create an awareness of your project? These are tough times and the aforementioned endeavors are not easy ones. The list doesn't stop there either. Photographers, artists, songwriters, and others are in the same boat.
The new global economy and a variety of other factors has created an extremely competitive dog eat dog world when it comes to business, and this means we all might have to take some alternative approaches to getting the word out. Without the proper publicity and promotion, no one will know about your great project, products or services. Traditional advertising is too expensive for most, and not necessarily that effective anymore. There is no right or wrong approach, but many believe that social media combined with Internet marketing are essential to most startup creative businesses at this point in time. If you're ready to take the plunge, here's how you can dive in.
Build your social pool: Interact regularly on Facebook to slowly build a group of friends, fans, and followers on the Internet. With hundreds of millions of users, it shouldn't be hard to find a couple hundred that are interested in you. Over time this can grow into thousands. Twittering can be productive as well.
Start blogging: At this point in time, blogging is a powerful tool and can be used to promote literally any business. Create your own blog and write about your areas of expertise. The information you put forth should not only be directly or indirectly related to your products and services, it should also be useful to your targeted audience.
Build a website: While a .com domain is optimum and will help to give your business a legitimate "face", not everyone can afford one initially. There's nothing wrong with starting out with a free WordPress (or similar) site. This will allow you to begin building your brand. Your blog should be built into this site or linked to it. This website/blog will serve as a central hub to all your Internet activity, with links to Facebook, Twitter, etc.
Guest Blogging: It can take a while to create heavy traffic on your site. Blogging as a guest on a higher traffic site can help build your readership and drive more traffic to your site.
Online Discussions: Find message boards with themes that relate to your project and interact with group discussions. Offer advice and perspective where pertinent and provide links to articles on your site.
There is a recent article regarding working in the new social media paradigm that offers some useful tip's that I highly recommend reading – Top Seven Reasons Why Artists Strongly Resist Social Media by Ariel Hyatt.
The online social interaction approach to publicity is no secret, but it is still a new concept to many. Over time, if done correctly, you will build a "readership" that is genuinely interested in what you have to say, so always strive to provide useful information. By building a large group of readers, or "friends", fans, and followers, you are connecting with an audience that will potentially come to your shows, buy your book, watch your film, and enjoy your art.
Is this easy to accomplish? No. Does this take time and effort? Absolutely, but then again so does any career. Without the proper promotion, nobody will ever hear about your project. If you think you have something good to offer the world, put it out there. Sometimes the best way to learn how to swim is to just dive in to the pool. You might sink and then again you might not, but you'll never know if you don't try.
Are you ready to take the plunge yet?
For those of you who following my progress on this project, here is a status report.
Writing a book is quite a process, a process I knew nothing about when I embarked on this journey nearly 18 months ago, but one that I am fast learning about. A couple of months ago I purchased the book "Dan Poynter's Self-Publishing Manual" and it has turned out to be a godsend. I learned that in this day and age, a niche book, such as mine, stands a greater chance of success with self-publishing as opposed to traditional publishing routes. That recent discovery has prompted Kelly and I to launch our own publishing company, Just Ducky Publishing.
I've also learned that editing and interior book designing can be quite expensive, so we are taking on these tasks as well. Kelly is an outstanding Web designer and has extensive abilities with computer-based graphic design. We already own a program commonly used for book design – Adobe's Indesign, so now it just comes down to the learning curve regarding that software.
I recently conducted an in-depth interview about songwriting with one of the best in the business, my friend (and boss) Rhett Akins. This eye-opener will be included in the book.
One of the things recommended in the self-pub manual is peer reviews of chapters and content, as this not only serves as a fact checking mission, it also helps promote the book. For this I am enlisting the help of a wide range of experts and professionals. Included in this list so far is; Rich Eckhardt – lead guitarist for Toby Keith, Dan Kimpel – instructor at the Musicians Institute in California, James Wood – BMI, Kevin Neal – Buddy Lee Booking Agency, Serona Selton – University of Miami, and Brenda Coladay – The Grand Ole' Opry,  amongst many others.
This process is a bit time consuming but well worth it. The feedback I have received so far has allowed me to further tweak some of my writings, and I am grateful for the participation of these highly respected peers.
Not unlike everything in business and life, completing this book is taking longer than I initially projected. And with that I am now aiming to go to print in January. As much as I would like to have this completed for my original planned release date of September, at this point I feel it is imperative to get it right and not be hasty with a premature release.
So while I continue marching forward with this project I will continue to post articles regularly about music and music business topics on the Survival Guide blog. I recently added the much requested "Nashville 100" song list to the website and will try to add some more tidbits in the coming months as well.
Thanks again for your continued support and readership.
Peace
Eric