social networking
Hey everybody, I realize that I haven't been writing very many blogs over the past couple of months and I feel like I owe y'all a few. This lack of regular blogging is mostly because of the frantic pace I kept while trying to finish the book. I'm going to do my best to put out a new blog everyday (or so) for a while.
When I first moved to Nashville, back in the summer of 2002, I was hungry for work. But gigs, especially gigs that paid well, seemed few and far between. My mentor and friend, "D" gave me tons of good advice, including networking on the town as often as I could. I followed this advice, going out on the town four or five nights a week, taking every oddball gig that was offered, sitting in whenever I could, etc. After six months of this routine, although I was making a lot of friends and connections, I still didn't have any consistent gigs that paid any real money to speak of.
So one day I told him "Things just don't seem to be evolving very fast for me. I'm going out on the town all the time, sitting in, making friends and networking, but the phone just isn't ringing very much. What am I doing wrong?"
His response was quite simple, although I wouldn't entirely comprehend the entirety of it for a couple of years.
"Patience my boy, Rome wasn't built in a day. This town goes at its own speed. You're doing all the right things and making a good impression around town. Everyone I've introduced you to likes you and you're building a good reputation for yourself. The people you are meeting today and the relationships you build with them are what is going to give you work five years from now."
Although that last statement was probably the most important thing he said during our conversation, the things that I heard the loudest were "This town goes at its own speed," and "five years." Geeesh! The Nashville music scene goes in slow motion, and I have to wait five years to get busy – NOT exactly what I wanted to hear!
But looking back at that moment, now going on 10 years into my Nashville life, those telling words make so much sense. I met a lot of people during that first hard year of Nashville – musicians, engineers, songwriters, artists, etc. – and became friends with many of them. In the years that followed, many of these friends and acquaintances would eventually call me for work. Sometimes it was a simple "one-off" gig, other times it was several gigs, sometimes it was songwriter demos.
In 2006 I did a ton of gigs on Broadway, mostly at Tootsies, but also at The Stage and a few other clubs on the strip. It was good supplemental income, good for my chops, and I met and gigged with several great players whom I became good friends with in the years that followed. These gigs all started with one phone call from a guitar player friend I had met during my first couple of months in town. He subbed out a few gigs to me, these gigs led to more gigs, and before I knew it I had all the work I could handle on the strip – All because of one relationship.
Several years later I was working more as a touring musician and no longer gigging regularly downtown. On many occasions I found myself in need of musicians for different situations, and ended up calling players I had met during those earlier years of steady gigging on Broadway. Sometimes I would need a player last minute and call someone I hadn't even spoken to for a couple of years, someone that had obviously made a good impression at an earlier point in time.
I have learned that the town (and life for that matter) does go at its own speed, and quite often that speed is slower than we would all like. But I have also learned that there really is a lot of truth to "The people you are meeting today and the relationships you build with them are what is going to give you work five years from now."
As some of you may know, and for those of you who don't know, I have just released my book "The Nashville Musician's Survival Guide." This street-level perspective of the music-related jobs in the Nashville music industry is now available in print version, and the e-book will be available within a few days. To purchase your own copy, follow this link.
That's right everybody, the book really is finally done and now available to all who have been patiently awaiting its arrival. Orders for the print version will be processed and shipped this week, the e-book and Kindle version will be ready and available by the middle of next week, and I can't tell you how excited I am to finally be at this point in time! Others involved in the project are getting excited too. Check out these back cover blurbs that a couple of folks offered after checking out advance copies:
"Awesome! Required reading for any musician moving to Nashville, especially as a hired gun.
Hundreds of hours of priceless advice condensed into one thorough and brilliant book
– an incredibly helpful masterpiece. Makes me want to move there now!"
— DEREK SIVERS, Founder of CD Baby
And:
"If you are making or want to make money in the music industry of Nashville, "The Nashville Musician's Survival Guide" should be your next purchase. Eric Normand's beautiful and comprehensive book contains invaluable insider information and practical advice from pros actually making a living in the industry now. A terrific read for anyone interested in peeking into the unique world of music Nashville. Even the pictures rock!"
— JUDY RODMAN, Vocal Coach, Producer, Hit Songwriter
As you could imagine, there was a big celebration at the Normand house when these e-mails arrived!
When I embarked on this journey two years ago last January, I had no idea I would be entering the world of book self publishing. In fact, when I initially began writing the content that became the foundation of this book, I had no intention of writing a book at all, or even the knowledge about how to go about doing this. At that point in time, I was simply trying to help a few folks on Craigslist and other message boards who wanted some info about the Nashville music biz'. The next thing I knew I was writing a book, almost by accident. The more I wrote, the more I began to understand the massive scope of this project, and the work it would entail to finish it – Internet research, extensive recorded interviews, photo taking excursions, etc. At some point along the way the book began writing itself. It was as if I was a mere conduit, the end result first being the story of the modern-day Nashville music industry magically appearing on my computer screen, and now in this wonderment of a book.
I couldn't have done it alone either. Dozens and dozens of people have contributed their time and resources to this project and for this I am eternally thankful, their contributions have made this a far greater book than I could have produced alone. While the entirety of this project has been a massive undertaking (there were many times that I felt as if I would be writing this book for the rest of my life), this has truly been a labor of love – my way of paying forward all that I have learned in this strange place we call Music City, and I am absolutely thrilled with the end result.
So if you've been waiting for this book, it really is finally here. Thanks for your patience and I hope you enjoy reading "The Nashville Musicians Survival Guide!"
P.S. If you live in middle Tennessee, I would like to invite you to our official book release party at The Fillin' Station in Kingston Springs on Saturday, April 30 from 7 to 11. Many of the contributors to the project will be in attendance on this night, there will be music performed by my band (Mike Chapman will be on bass and Fran Breen on drums), and the first three people to ask will receive a free copy of the book.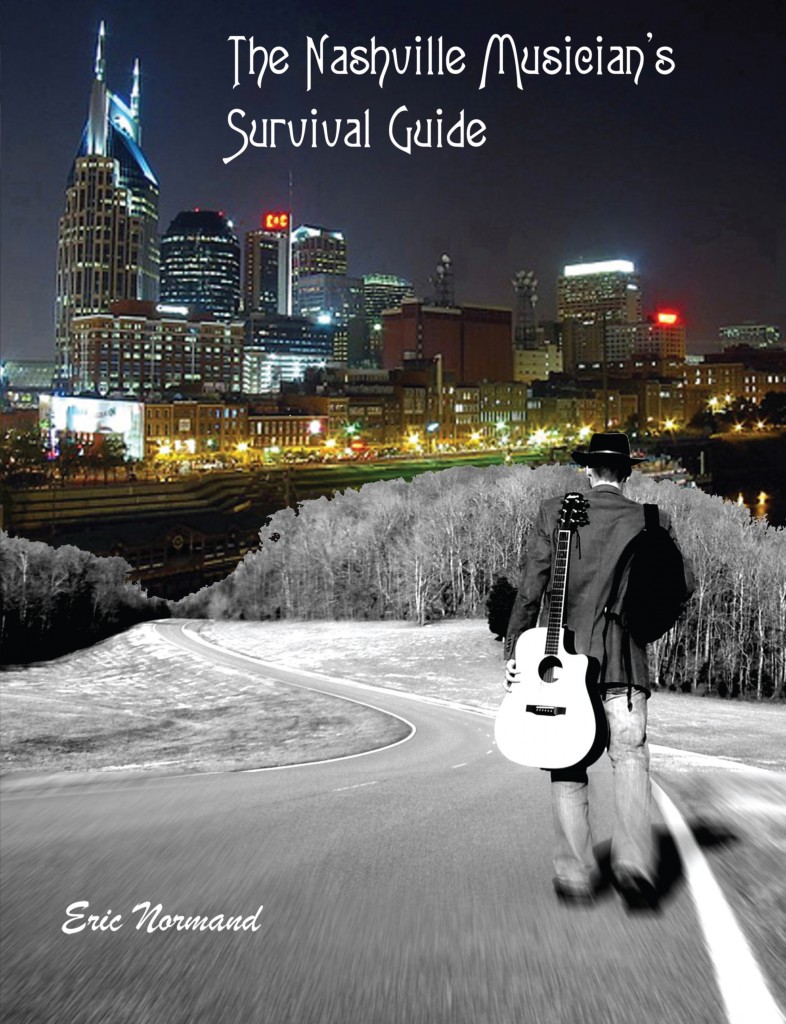 If I think back to when I first got out of the Berklee College of Music, back in 1989, I remember feeling excited about all I had learned. My head still spinning from the intense and rapid absorption of so much musical information, I also felt a confidence with this newfound knowledge. As I was a young man in my early 20s, this confidence, at times, perhaps bordered cockiness. But still, I had worked hard at Berklee, gained valuable knowledge about music theory, and was proud of this achievement, eager to share this fact with everyone I knew.
"There is a difference between conceit and confidence. Conceit is bragging about yourself. Confidence means you believe you can get the job done." – Johnny Unitas
But just because you're fresh off the Berklee boat doesn't mean everyone wants to hear you announcing this fact, as I would quickly learn. Right after I got out that spring I replied to a couple of classified ads that were looking for a guitarist. One of the conversations went something like this:
"Hello, this is Charlie." "Hi, my name is Eric and I just got out of Berklee. I'm calling about the ad for a guitar player." "Click." It seems I had no sooner said the word "Berklee" before he was hanging up the phone. What's up with that?
In the years that would follow, I heard similar stories from others, and would also encounter some folks who seemed to resent me simply because I had this education. I remember one time going to see a rock band in a local bar and enjoying listening to the guitar player, who was someone I knew. When I was chatting with him on a break, I asked him about a certain chord he had played in a blues song. "What was that chord you played in Stormy Monday? I've never seen it used before." "I don't know. You went to Berklee, you tell me." Ouch, I was shellshocked! I couldn't understand this hostility, as I was genuinely curious about what he had been playing.
Perhaps he didn't know the name of this particular chord and felt embarrassed. Perhaps he wishes he had been able to go to a music college and was simply jealous. Maybe I had bragged too much after getting out of school and was unknowingly being perceived as being cocky, and he simply assumed this was at least partially a result of my Berklee experience. Whatever it was, there was apparently some resentment on his behalf to the fact that I had gone to Berklee.
Of course, I wasn't entirely innocent in every situation either. I remember sitting in at a blues jam somewhere during that time period. After sitting around all night waiting for my turn to play, when it was finally my turn, I felt compelled to share every note I knew (which was a flurry of modal insanity played in rapid fire succession back then), to perhaps "enlighten" what I perceived as a bunch of simplistic, blues musicians. And then I wondered why I only got to play one song. I'm sure I wasn't the first young gun fresh out of Berklee to make this mistake.
"Knowledge is power." – Francis Bacon
That was all a long time ago. During those first years immediately following Berklee, I was still trying to figure out how to apply all that theory to practical, everyday musical situations. Slowly, over time, that knowledge began to morph into my everyday musical applications; it started to really become a part of my being. Eventually, I reached a point where I no longer thought about music theory; I just played and heard music, understanding its technicality on a more subconscious level. As theory and music became one in the same, it got easier to play music.
I never use my Berklee education as a conversation piece, unless asked. If someone asks me about my musical training, I don't hesitate to tell them I went to Berklee. If they are still interested after I tell them that, I'm genuinely excited to share more. I'm certainly not embarrassed about going to Berklee, I'm quite proud of that accomplishment, even though there is a weird stigma attached to it for some.
"Teachers open the door… You enter by yourself." – Chinese Proverb
Just because you go to Berklee doesn't automatically make you a great musician. Are all doctors great just because they went to a great medical school? I think not. The school doesn't make the doctor great, the doctor has to become great at what he does, the school only serves to get him started.
So maybe that's part of the reason why there's a weird stigma attached to "Berklee folk". It's a great school, but that doesn't mean you're automatically great just because you go there. A great college education is simply a foundation, a starting point. It's what you do with that education, how responsibly you wield your newfound knowledge, and the persona you exude that will create lasting impressions on those around you.
"You never get a second chance to make a first impression."
How would you perceive a stranger if the first thing they said to you was "Hi, I'm Joe, I just graduated from Harvard." Depending on the circumstances, my first reaction could be "What a cocky f@#k!" I'll be be more likely to like that person if they simply said "Hi, I'm Joe, I just moved to town. Good to meet you." If someone walks into a room full of people and upon being introduced says "Hi I'm Joe, I just got out of Berklee." it might come across to some as "Hi, I'm Joe, I just got out of Berklee, and therefore, I'm probably better than you, as many musicians don't have this level of education."
You never know what preconceived notions someone might have about a particular music school or other entity. To some, it might be a good thing, but to others, it will instantly bring to mind whatever their preconceived notion might be, and they will instantly associate you with that previous perception, even if it's incorrect. Don't give them that opportunity. Let them form their own opinions of you based on a neutral starting point.
So don't wave your credentials in the face of others, but don't hide them either. Don't play every note in your arsenal just because you can. And if you have a music education, whether it's from Berklee or another college, don't expect that fact alone to open doors. Knowledge is power, and it will definitely come in handy. But an education doesn't define people or make them great; it's simply a foundation that should serve to make them better.
As I'm now nearing the end of this book writing project, I'm realizing that I have neglected the Survival Guide site a bit. While I have managed to put up a new blog at least once a week for the past year, it's been quite some time since I've added any new content anywhere else on the site. I've wanted to make some changes for a while, and this week, along with the help of the world's greatest webmaster, Kelly Normand of Just Ducky Designs, we added several new useful features, or "Extras" to the site.
In a recent conversation with a talented singer songwriter from Maine considering moving to Nashville, he inquired about what clubs would be worth checking out. I told him that The Bluebird, The Commodore Grill, and Douglas Corner all hosted popular weekly writers' nights, and it would serve him well to check these out when he comes down. (BTW -the singer/songwriter's name is Chris Ross and he's a great talent, definitely worth checking out! Here's a link to one of his inspired Youtube performances). But the conversation gave me another idea. My site, that refers to itself as "a central point of information geared towards helping musicians, singers, songwriters, engineers, and others find their way in the Nashville music industry." was missing something. After a fair amount of digging and e-mailing, I have put together a thorough listing of some of the the most popular writers night's, blues jams, and open mics in middle Tennessee. More will be added later, but this is certainly enough to get you started. If you host one of these types of events and would like it posted here, just send me an e-mail.
I also created another new section of the site I've wanted to develop for quite a while now, "Road Manager Resources". This will be all practical stuff for tour managing on any level. Right now, if you go to that page, I'm offering a free download of my itinerary template. This is an ideal starting point for you to build your own custom day sheets for your tour or band. Have you ever been on a tour that seemed void of all pertinent information? I have. I've been on tours where the tour manager didn't provide itineraries and didn't have many answers to the most basic questions. Every day would come and go with most of the tour members asking him questions all day long. Questions like "what time is sound check?", "what time is dinner?", "when are we going to the hotel?", and "what time will we be getting back?" A good itinerary, placed strategically in the front lounge of your bus or van, will not only provide all this info, it gives the tour manager the ultimate response to most questions he or she will be peppered with throughout their day – "Check the day sheet"!
When I get around to it, I plan on adding some more "tour manager goodies", among them, an easy to use merch spreadsheet, links to some of my favorite "Road manager friendly" websites for booking hotels, flights, rental cars and more, and periodic updates to my "Tour Manager Tip of the Week" (check the site to learn this week's tip).
I also added a brief excerpt from the book about the Nashville Recording Industry to the site. It's kind of a precursor to some more extensive writings about this topic that will be explored in the book.
And lastly, I would love your feedback! If there's something you'd like me to blog or write about, or another feature you would like to see added to the website, let me know and I'll see what I can do.
So that's it for now, there's a lot in the works, and the book is just about to go to print. Check back next week for a major announcement about its release.
P.S. If you live in Middle Tennessee and are looking for something to do this Saturday night (March 5), I'll be playing at The Fillin' Station in Kingston Springs, TN with Mike Chapman and Fran Breen – 7 to 11, no cover, tons of fun, come on down!
The Drive
It was noon on Thursday, September 23 when we left our Pegram, TN home bound for Clarksdale, Mississippi. Our route took us west on Interstate 40 for about 200 miles to Memphis, and while this stretch of I-40 is typically a rather boring drive, on this hot summer day, whatever was lacking in visual stimulation was replaced with anticipation. Although we had done a fair amount of research, we still didn't know exactly what to expect in Clarksdale, so our excited conversations ultimately kept us from noticing that the scenery out the car window hadn't changed much for the first three hours of the trip.
At Memphis we turned south onto Interstate 55 and entered Mississippi, and while the first hour of I-55 wasn't anything visually 
extraordinary, as soon as we turned west on to Highway 278 it felt like we entered a new world. The dense forest that had occupied both sides of the road only minutes before vanished to reveal a wide open view of the Delta plane. Cotton fields stretching to the horizon, cut in two by the road on which we traveled, a seemi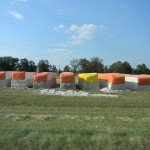 ngly endless road, straight, flat, and disappearing as far into the distance as the eye could see. Aside from other vehicles on the highway, the occasional farmhouse, and farm equipment sparsely scattered throughout the fields, the vastness of this geography was otherworldly. Although this last 40 or so miles was the shortest leg of the drive, our virgin viewing of this fertile Delta plane was empowering and made us feel a bit the wiser, almost as if we were the first explorers to set foot upon a newly discovered continent.
The Shack Up Inn and The Robert Clay Shack
Upon entering Clarksdale, located in Coahoma County, Mississippi, we turned south onto Highway 49 for a couple of miles and found
our way to the Hopson Plantation and the location of the place we would be staying, The Shack Up Inn. As we crossed over some  railroad tracks, several old 'barn-like' buildings covered with rusty corrugated tin came into view, and we passed a row of shacks as we began searching for the lobby. At first glance the main entrance appeared to be a cross between an antique store and a junkyard, and if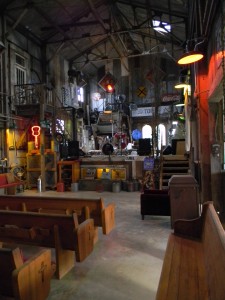 it were not for a small red sign bearing the hand-painted word 'lobby', we might have driven right by. We were greeted warmly by Marc, the woman working at the front desk, and she checked us in while giving us a quick overview of the Inn and some other local attractions. The main lobby is housed within an enormous 'cotton gin', and on the other side of the lobby walls the large open space has been transformed into a music hall. After checking in we took a few moments to explore this magnificent room which featured a stage at one end, and church pews and other miscellaneous seating at the other. After a few minutes of soaking in some very unique rustic folk art, which seemed to cover every square inch of this huge room, we headed over to our shack to get settled.
We fell in love with 'the Robert Clay shack' almost as soon as we set foot within. Blues music, courtesy a small TV tuned to Sirus radio's Bluesville (the only channel available) was playing softly as we took a look around and, like the lobby, this interior was a folk art spectacle as well. As I would later learn from Bill, one of the owners, this is their 'flagship shack', and it showed. A bedroom at one end, a small bathroom, and an open concept kitchen that expanded into a living room all felt warm and inviting. An old church pew made for a bench, a  slightly out of tune piano in the corner, and a screened in back porch only added to the charm. Much of the furnishings and decor looked like 1950's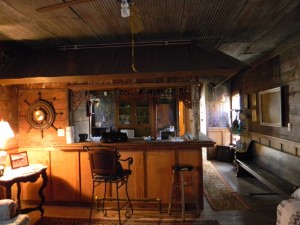 era or earlier, and this is obviously part of the intended experience. Bill would later tell me a little history about this shack.
In another town in Mississippi, a sharecropper named Robert Clay lived his entire life in this humble abode, raising several sons by himself. When he was an old man, his sons, having moved out many years prior, tried to get him to leave this place and come live with them but he refused. He died an old man in the home in which he lived most of his life, and sometime after his death the shack was moved to it's current location. After renovating the main body of the shack, the workers, upon exploring the attic to install duct work, discovered a whiskey still, making at least one reason apparent as to why Robert refused to leave. This kind of history just can't be had at a Holiday Inn or Best Western and only added to the mystique.
One Amazing Sunset
After getting settled in and eating dinner we decided to walk around the grounds for a bit to take in some sites. While exploring the courtyard, the sun began to set on the distant horizon. We stood in wonderment as the sky transformed through a myriad of colors while the sun grew bigger and bigger before disappearing beneath the edge of the earth. In the last few moments before it became invisible beneath the horizon, the sky was on fire and time seemed to stand still. We took a few pictures to preserve the moment, and even though the photos are quite striking, it seems that some magical moments are intended for a single moment in time, coming and going like a breath of wind.
Blues Jam at Ground Zero
A little while later we headed out to the Ground Zero Blues Club, co-owned by Coahoma county resident Morgan Freeman, in downtown Clarksdale to attend the weekly Thursday night blues jam. This week it was being hosted by a local favorite, Big Anthony, and he was already on stage playing some fiery blues with his band when we walked in. Walking into a dark and unfamiliar night club with my guitar slung over my shoulder is something I've done many times before, but on this warm summer night in the deep South I must admit I was a little nervous, at least initially. The doorman was friendly enough, as was our waitress, and we gradually began to feel more comfortable after ordering a couple of beers and enjoying some of the show. Big Anthony, backed by a strong rhythm section of bass and drums, was playing some authentic Delta blues, his deep voice full of character, his guitar playing driving and relentless.
They took a break and then got up the first jammer, an older gentleman on vacation with his wife from Canada. After loaning this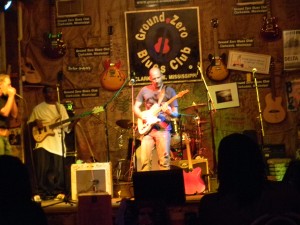 fellow his guitar for a couple of songs Anthony returned to the stage and called me up. Backed by the house drummer and bassist, I ripped through 'Done Somebody Wrong', 'Goin' Down', and 'Rock Me Baby', and was quite pleased to receive a response that was somewhat over-the-top. Before leaving the stage, I announced that it was Kelly's birthday and that we had come to Clarksdale to celebrate it, and several people applauded. As I exited the stage I got several compliments from other musicians who were waiting their turns in the wings. A few minutes later I walked over to the bar to get another beer and an older woman said to me "You were really good, but you don't look like a blues musician." "Blues musicians come in all shapes and sizes." was the clarifying response I gave her before returning to my seat.
By this point we were starting to get kind of tired so we headed back to the shack. Our first day of this three-day trip drawing to a close, we sipped a beer on the back porch reminiscing our experiences. So far, this little town of Clarksdale had been a wonderful host, and we turned in for the night, excited for what Friday might bring.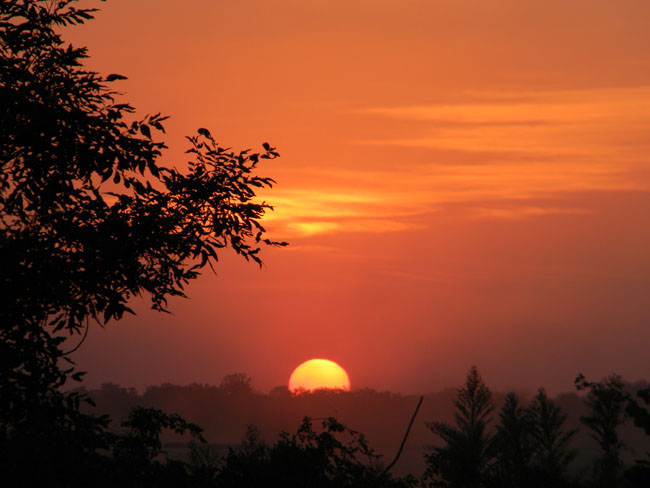 Whether you are an obscure musician trying to get your music heard, a first-time author putting forth a new book, or an independent filmmaker introducing your first film, you all share something in common; a desire to introduce your art to a world that has yet to learn of it. How do you create an awareness of your project? These are tough times and the aforementioned endeavors are not easy ones. The list doesn't stop there either. Photographers, artists, songwriters, and others are in the same boat.
The new global economy and a variety of other factors has created an extremely competitive dog eat dog world when it comes to business, and this means we all might have to take some alternative approaches to getting the word out. Without the proper publicity and promotion, no one will know about your great project, products or services. Traditional advertising is too expensive for most, and not necessarily that effective anymore. There is no right or wrong approach, but many believe that social media combined with Internet marketing are essential to most startup creative businesses at this point in time. If you're ready to take the plunge, here's how you can dive in.
Build your social pool: Interact regularly on Facebook to slowly build a group of friends, fans, and followers on the Internet. With hundreds of millions of users, it shouldn't be hard to find a couple hundred that are interested in you. Over time this can grow into thousands. Twittering can be productive as well.
Start blogging: At this point in time, blogging is a powerful tool and can be used to promote literally any business. Create your own blog and write about your areas of expertise. The information you put forth should not only be directly or indirectly related to your products and services, it should also be useful to your targeted audience.
Build a website: While a .com domain is optimum and will help to give your business a legitimate "face", not everyone can afford one initially. There's nothing wrong with starting out with a free WordPress (or similar) site. This will allow you to begin building your brand. Your blog should be built into this site or linked to it. This website/blog will serve as a central hub to all your Internet activity, with links to Facebook, Twitter, etc.
Guest Blogging: It can take a while to create heavy traffic on your site. Blogging as a guest on a higher traffic site can help build your readership and drive more traffic to your site.
Online Discussions: Find message boards with themes that relate to your project and interact with group discussions. Offer advice and perspective where pertinent and provide links to articles on your site.
There is a recent article regarding working in the new social media paradigm that offers some useful tip's that I highly recommend reading – Top Seven Reasons Why Artists Strongly Resist Social Media by Ariel Hyatt.
The online social interaction approach to publicity is no secret, but it is still a new concept to many. Over time, if done correctly, you will build a "readership" that is genuinely interested in what you have to say, so always strive to provide useful information. By building a large group of readers, or "friends", fans, and followers, you are connecting with an audience that will potentially come to your shows, buy your book, watch your film, and enjoy your art.
Is this easy to accomplish? No. Does this take time and effort? Absolutely, but then again so does any career. Without the proper promotion, nobody will ever hear about your project. If you think you have something good to offer the world, put it out there. Sometimes the best way to learn how to swim is to just dive in to the pool. You might sink and then again you might not, but you'll never know if you don't try.
Are you ready to take the plunge yet?