Even though summer hadn't yet officially started, it sure felt like it when we pulled into Ridge Ferry Park in Rome, Georgia last Saturday to play at the fifth annual 'Rome River Jam.' It was just before noon and the temperature was already approaching 95°, the air thick with humidity. Yes, it was "fixin' to be a hot one" as we would say in these parts, and that would be okay for this multiband festival.
We parked our bus in the fenced-off backstage area next to headliner, Darius Rucker's three buses and I stepped out to meet the stage manager and check out the grounds. With five acts on this bill there would be no sound check for us on this day, just a line check and monitor check immediately prior to our set – what is commonly referred to in the touring industry as "throw and go." Still, there was work to be done so I got busy.
Under my direction, the stagehands loaded in our gear to one of the "sound wings" adjacent to the main stage, and our merch to the merchandise tent. I went on a mission to commandeer our "bus stock," which, upon its arrival a short while later, was quickly devoured by our band and crew for lunch. After icing down some beverages on the bus for later, I had a runner take us over to the hotel for showers and a brief rest before our late afternoon performance.
Typically, I use this down time to check and respond to e-mails, return phone calls, and maybe squeeze in a quick nap before showering and returning to the venue. On this day, however, I did something I rarely do in hotel rooms on the road – I watched TV. Upon turning on the TV, the reality show "Pawn Stars" happened to be airing, so I gave it a chance. I would probably blow right by a show like this if scrolling through the channels at home, but for some reason, I found myself drawn in. The show was actually quite interesting, and at points, funny as hell.
A little while later we were all back at the concert site, and the first artist, Sam Hunt, was performing his set as the Park began to fill up. We began to hear about some inclement weather possibly moving in, the worst of it predicted to hit around 5:00 PM, which of course happened to be right smack in the middle of the set change prior to our performance. The local band playing just prior to our set, "Kneckdown" (which incidentally featured the events promoter, Jay Schell, on lead vocals), finished at about 4:45 and we began our set up. About 15 minutes later, almost as if on cue, the weather began to turn nasty. The wind picked up, the rain began to come down, and a portion of the crowd that had already grown to around 2500 ran for cover.
Fortunately, our stage had a pretty solid roof that extended past the edges of the stage, and this kept us and the gear dry, but it was still a frightening storm. The storm was packing wind gusts of up to 50 mph and was also accompanied by intense lightning, which was visible from the stage. I learned later that a tree fell on the adjacent property, seriously injuring two people who had to be rushed to the hospital. Resisting pressure from the stage manager and production company owner to start our set, we waited until the lightning had completely stopped to kick it off.
A few stressful minutes later the storm had passed, and the air seemed quite a bit cooler as we were now on the backside of a front that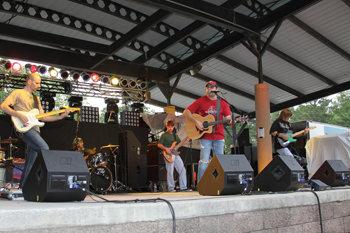 had moved through. After a brief introduction from the local DJ we were off and running. Despite the rocky changeover, we were off to a good start, and the crowd quickly piled back into the main area in front of the stage. Rhett was in a good mood, the band was playing great, and the fans got right into it. By the peak of our set the crowd had swelled to around 4000, many whom were singing along with some of Rhett's latest songwriting successes, one of which was "Honeybee," Blake Shelton's recent number one smash. We ended our 70 minute set with the anthem "Kiss My Country Ass," and the crowd roared with approval.
One of the cool things about playing festivals is the interaction between musicians and crew members from different tours. On this day I met Andrew, the merchandise person for country artist, David Nail; and Patrick, the fiddle player for Darius Rucker. Scott, our other guitarist, got to meet Darius and have a photo taken with him. Another cool thing about playing festivals is getting to hear these other artists and bands, and on this day, all the bands played great! It was a great concert, fun was had by all, and we got real lucky that the nasty storm didn't end the day early for everybody. See you next time Rome!
I would like to thank local photographer, Andy Butler, for donating the use of these pictures. – Butler Photo/Cartersville Ga
2 Responses to Rhett Akins Plays Rome River Jam 2011