volume
Are you ever in complete silence? During the quietest moments of your life, lying in bed about to fall asleep or sitting alone in a quiet room, can you hear the sound of nothing? I wish I could say I can but I can't. My ears ring constantly, every second of every day, and it's been that way for over 10 years now. I have permanent nerve damage in my ears from the result of playing music too loudly for extended periods of time without ear protection. I have tinnitus.
"Tinnitus" is derived from the Latin word tinnire, which means to ring. As stated in Wikipedia, it can be caused by a variety of situations; ranging from exposure to excessive sound pressure levels for extended periods of time, ear infections, foreign objects in the ear, nose allergies that prevent or reduce fluid drain, or wax buildup. But sounds at excessive volume seem to be the most common cause. It is an extremely common condition, affecting as many as 50 million Americans (of which about 12 million have it severe enough to seek medical attention). And sadly, it is a condition for which there is no cure.
"You´re head is humming and it won´t go in case you don´t know…" – Robert Plant – Stairway to Heaven
That's right, once you have it you will always have it, and it can progress if preventative measures (they're called earplugs) aren't taken.
"I have severe hearing damage. It's manifested itself as tinnitus, ringing in the ears at frequencies that I play guitar. It hurts, it's painful, and it's frustrating." says Pete Townshend. The excessive volume of The Who's live performances combined with the deafening volume in which he (and John Entwhistle) listened to playbacks through studio headphones has resulted in tinnitus so severe that some reports have said he can't even hear his phone ring. His affliction with tinnitus has caused him to abandon electric music performance more than once in recent years, rendering it only practical to play acoustic music live, as has also been the case with artists like Neil Young and Bob Dylan.
It's not just caused by loud music either. It can be caused by any regular prolonged exposure to excessive volume. For instance, many members of our armed forces are exposed to everything from explosions to jet engines and gunfire to loud machinery, one recent article in the New Yorker estimating it affects nearly half the soldiers exposed to blasts in Iraq and Afghanistan.
How much volume can your ears handle?
How many times have you walked into a venue in which a band was playing and thought it was too loud? The human ear was simply not meant to withstand the sound pressure levels produced by megawatt PA systems, electric guitar amps, and even the acoustic, unamplified drum kit in close proximity (especially when played with some conviction). The following chart from the OSHA website shows what is considered permissible noise exposures:
| | |
| --- | --- |
| Duration per day, in hours | Sound level in dB* – Decibel level |
| 8 | 90 |
| 6 | 92 |
| 4 | 95 |
| 3 | 97 |
| 2 | 100 |
| 1.5 | 102 |
| 1 | 105 |
| 0.5 | 110 |
| 0.25 or less | 115 |
Your ears can be exposed to sound pressure levels of 90 dB for eight hours, after which point hearing damage can occur. This ratio is a sliding scale, so when the decibels are increased to 110 decibels (the volume of an average rock band), hearing damage can begin to occur in 30 minutes. The louder the SPLs become (sound pressure levels) the less duration your ears can handle.
Decibel Levels of Environmental Sounds (also from the OSHA website)
Source–Dangerous Level

dBA SPL

Produces Pain

120-140

Jet Aircraft During Takeoff (at 20 meters)

130

Snowmobile
Tractor Without Cab

120

Rock Concert

110

Die Forging Hammer
Gas Weed-Whacker
Chain Saw
Pneumatic Drill

100-105

Home Lawn Mowers

95 to 100 dB

Semi-trailers (at 20 meters)

90
| | |
| --- | --- |
| Source– | dBA SPL |
| Discomfort Level | Above 80 |
| Heavy Traffic | 80 |
| Automobile  (at 20 meters) | 70 |
| Vacuum Cleaner | 65 |
| Conversational Speech (at 1 meter) | 60 |
| Quiet Business Office | 50 |
| Residential Area at Night | 40 |
| Whisper, Rustle of Leaves | 20 |
| Rustle of Leaves | 10 |
| Threshold of Audibility | 0 |
Mitigation and Prevention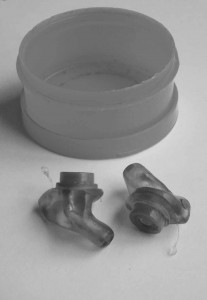 A friend of mine who lives in New England, one of my former guitar students, recently told me his ears have been ringing for about two years now. He plays in a popular regional jam band on the rise, Superfrog, a spirited group of young players making their mark across the Northeast. As did I in my earlier New England gigging days, they play with an energetic reckless abandon, and they, along with their loyal followers, are living in the magical moments of some of those roaring nightclub dance parties. When he first told me of the recent development of his tinnitus I don't think he realized the true nature of this beast, how it can slowly progress over many years until it reaches the near unmanageable level of the Pete Townshend's of the world. Upon discussing it with me he has now decided to invest in some custom musicians ear plugs, with his fellow bandmates also following suit. Some of the other guys in his band don't have tinnitus yet, and adopting earplugs into their world may ensure they never do.
Living with Tinnitus
"Yes, it's in my left ear. It's excruciating…I mean, it's the worst thing 'cause it's not…It never…It does go away – it's not true to say that it doesn't but, uhh…It doesn't…The doctors say it won't…It isn't actually going away – you've just gotta suppress…They try to come to terms with what it actually… Why some people fear it – that's the psychology behind it. They know it's there but why is it such a horrible sound? Well, you can say why is a guy scratching at a window with his nails such a horrible sound – I couldn't put up with that! This is worse!" – Jeff Beck from an MTV interview in June 1993
The thing about tinnitus, and perhaps one of the reasons it's hard to detect in its earliest stages, is that you don't notice the ringing all the time, even though it's always there. It depends on the threshold of the sound around you. If you are on the go from the moment you wake up till the moment you lay down to go to sleep at night, you likely won't hear the ringing throughout your day, as many of the sounds of everyday life will mask it. It's the quietest moments when it chooses to show itself. The concept of "masking" is quite useful, if not essential, for many tinnitus sufferers. I have a noise generator beside my bed that plays sounds of the ocean while I sleep. I set it on a volume that is just above the volume of my ringing, and this masks the ring enough for me to fall asleep. Some severely afflicted tinnitus sufferers use portable noise generators or play MP3s of soft music or different types of noise for most of their day, all in an effort to mask the relentless sounds in their head.
Some findings might suggest that avoiding or cutting back on alcohol, caffeine, and salt, among other substances, can help reduce the ringing. As tinnitus is considered partly a subjective condition, it becomes difficult to gauge how different variables affect the level of the ringing. I can't say that I have personally had any success by adding or omitting any parts of my diet.
Stopping It Cold In Its Tracks
"Later in the evening as you lie awake in bed, with the echo from the amplifiers ringing in your head."
– Bob Seger – Turn the Page
You can't get rid of it but you can stop its progression. The one thing that has become completely obvious to me is that earplugs during exposure to loud sounds are ABSOLUTELY ESSENTIAL to prevent the ringing from escalating. I have been wearing custom molded musician's earplugs, which can be acquired for about $150 with a visit to your local audiologist, for about 12 years now. I wear them not only when performing live with a band, but when mowing the lawn, vacuuming, operating a power saw, anything that causes excessive SPLs. When I'm sleeping on a tour bus, I sleep with foam earplugs to cut down on the rumble of the road. If I fly, I wear earplugs the whole time on the plane.
I've also learned how to turn down my music a bit. I've experimented with using less powerful guitar amps, speaker attenuators, and drummers that don't "bash" quite so much. I'm cautious when recording with headphones as well, watching the volume and taking breaks often.
I urge everyone to heed this message. If you play loud music regularly, either live or in the studio, consider the earplugs option, it will be the best $150 you'll ever spend on gear. And think about your audience too. Are you blowing them out of the room with your guitar amp, lead vocal, or snare drum? Is your band louder than it needs to be to get its point across? Are your ears ringing regularly from your construction job or your job at the airport? Are your kids listening to iPods on 11 all day long? If you think the answer might be yes to any of these, don't wait until it's too late to become proactive. Act now or you might wind up hearing the sound of a continual dog whistle for the rest of your life.
So when you have a quiet moment, ask yourself, your family, and your friends this one simple question –
Do you ever hear the sound of true silence?