guitar playing
Friday Morning at the Shack Up Inn
Friday morning came a little too early when we were awoken by some sort of tweety bird chirping right outside our bedroom window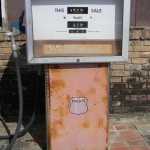 around 7 AM. With the help of some earplugs, we were able to fall back asleep for a couple more hours with hardly a sound from the outside world audible from inside our little shack. After eating some breakfast while listening to a little Robert Johnson, I decided to go on a photo taking expedition around the grounds. It might not be right for everyone, but I found the decor around the Shack Up Inn immensely interesting. Rusted old farm equipment decorated the lawn, old Coca-Cola signs were placed at random, a tree was covered with blue and green bottles – these folks had figured out how to turn what might otherwise be considered junk into art, and this helped make the Inn feel like some sort of living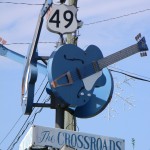 museum of the old American South.
We set out a little while later to begin exploring downtown, and our first stop was to take a few photos of the 'crossroads' sign at Highway 49. The picture in my mind of this place where Robert Johnson allegedly made his deal with the devil is of course nothing like this modern touristy version, as this intersection is now surrounded with businesses including the adjacent Churches Chicken. It was still worth a few pictures, and later in the day I accidentally found another intersection in town that looked eerily like the crossroads I envisioned.
Downtown Clarksdale
As we continued driving towards downtown we began to notice how poor this community is, seeing many run down buildings, once occupied by businesses and services, now empty, their exteriors slowly deteriorating. Upon arriving downtown we easily found a free parking spot near the Delta Blues Museum and began our first walk around amidst some light foot traffic. Our first stop would be Blues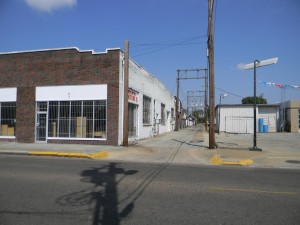 Town Music, a local music store filled with cool old gear, worthy of the store's namesake. An Asian man was sitting on a stool and playing some traditional blues on an open tuned guitar – "I saw you play at Ground Zero last night. Great playing!" he commented. "Thanks. I'm Eric, pleased to meet you." "My name is Gypsy, and I'm here on vacation from Japan." he informed me, and after some conversation I learned this was his 10th trip to Clarksdale. We continued our stroll, taking in the sights of this obviously once booming town, now struggling for its very survival. The downtown area had pockets of activity, and other areas that seemed void of all life. Many of the buildings looked like they hadn't been painted in decades, some with boards on the windows, others with bars on them. As we continued our walk on some of these near empty streets, this kind of sporadic hot and cold ghost town feeling was almost a bit unnerving, however, not once did we feel in danger.
We walked over to the Ground Zero Blues Club to snap a couple of quick pictures in the daylight, and continued onward in search of the legendary 'Red's Blues Club', the infamous juke joint everyone seemed to hold in such high regard and our destination for later that night. Coming out the back side of the Ground Zero parking lot we came to a large abandoned blue brick building touting the sign 'Delta Wholesale Hardware Co.' before crossing the train tracks. A little further down the road we spotted another old brick building with a couple of smokers sitting on the curb in front. Somehow we just knew this was Red's and ventured closer to take a peek. If you didn't know what you were looking for you would never think to stop at this Sanford and Sonesque place, it's curb littered with a beat up old couch, a broken toilet, and several large pieces of homemade barbecue apparatus. Above a tattered old canopy the faded words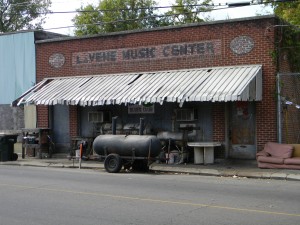 'LaVENE MUSIC CENTER' were stenciled onto the brick, perhaps remnants of another failed business out of yesteryear. Only once right upon the sidewalk did the sign 'Red's Blues Club' become visible. It was a curious moment of realization knowing that a few hours later we would likely be experiencing something very unique and special.
We began walking back to our car to return to the shack for some lunch when a friendly local volunteered to take our picture. For a split second we both had the vision of the scene in National Lampoon's 'European Vacation' when a local runs off with the tourists camera, but that didn't happen, this local was quite genuine.
Cat Head Delta Blues and Folk Art
Upon returning downtown a couple of hours later our first stop would be at 252 Delta Ave, home of Cat Head Delta Blues and Folk Art. The place was kind of a cross between a gift shop and an art gallery for blues aficionados containing CDs, DVDs, books, T-shirts, and some amazing local folk Art. They had a large collection of documentaries and books about blues history and culture available and I could have easily spent a small fortune. Not having grown up in the South, I asked the man behind the counter about the origins of the term 'Cat Head'. He explained to me that "In the early 1900's 'Cat Head' was a company that made giant biscuits, biscuits so large they were the size of a cat head." In addition to being a store selling everything related to the blues, Cat Heads website is kind of a central gathering point for information pertaining to not just Clarksdale's live music scene and points of interest, but to blues related events throughout the Delta. After browsing the store for a little while longer while listening to some obscure blues recordings over the speakers, we went on down the road.
Located on East Second Street, (a little bit off the beaten path) we found our way into the museum and were greeted by 'Theo'. Theo is originally from Europe and the owner of the museum and, above all else, Theo loves American blues music, history, and culture. After paying the minimal entry fee of five dollars a head, well worth every penny mind you (not to mention helping this great nonprofit organization), we began exploring this massive collection of American roots music culture. "Roots to Fruits", Theo explained, is the theme of this museum, and if you walk through the museum on the recommended path, it shows the evolution of the earliest blues artists and recordings, and how that music transcended across generations and continents giving birth to early blues influenced rock and roll artists like Elvis, the Beatles, and the Stones before morphing into the roots of modern rock with artists like Jimi Hendrix, Led Zeppelin, the Who, and beyond. Amidst this collection of rarities, which I learned was moved here from Europe about five years ago, were some of the earliest and rarest blues records, concert posters, early record players and jukeboxes, even an old barber chair that came from a local barber shop in which John Lee Hooker and many other legends got haircuts back in the day. We saw the Muddy Waters record which gave birth to the Rolling Stones namesake, its title bearing 'Rolling Stone'. The original contract offer form for the Who's performance at Woodstock, where they received $6250.00 for their historic performance. Pencil drawings by John Lennon, the controversial Jimi Hendrix 'Electric Lady Land' album sleeve bearing several nude ladies, and Muddy Water's 'contract rider'. We could've stayed in there all day, and this would have been especially easy to do as Theo loves to talk, but we said goodbye as we still needed to check out the Delta Blues Museum.
This nonprofit museum is also a must see for anyone who wants to learn more about American blues culture. We arrived a bit late in the day, only about 45 minutes before closing, so we had to breeze through a little faster than we might have preferred. However, the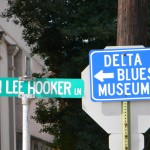 place is magnificent. Early blues recordings can be heard playing over the loudspeakers upon entering the lobby. After we paid our entrance fee of seven dollars each, we walked into a giant room that seemed to radiate from another era. The walls were covered with records, plaques, and drawings of blues legends that came from this part of the Delta. Guitars, clothing, and other memorabilia from artists like Charlie Patten, Son House, Ike Turner, and countless others who had grown up within a few miles of this place were beautifully displayed within plexiglass cases. Perhaps the deepest moment of experience we had within this giant roomful of blues was the Muddy Waters exhibit. The original sharecropper shack in which Muddy Waters grew up had been placed inside this room, complete with one of his old Fender Twin amplifiers, and a legendary guitar commissioned for the museum by Billy Gibbons that had been built from one of the pieces of wood from this shack. Inside the shack, videos showed archival footage of Muddy as well as interviews with his peers, all to a soundtrack of his rootsy music. The moment was revealing knowing the hard life this man must have endured, growing up with his family in such a small coarse space in pre-civil-rights America. It was difficult to pull ourselves away, and we gradually made our exodus as the museum was about to close.
The Crossroads
Having thoroughly explored the streets and sites of this unique downtown during the daylight hours, we returned to our shack for dinner and a shower, anxious for our second nighttime adventure into this land of the blues. I had noticed earlier in the day that the intersection of the road leading into the Shack Up Inn, especially from one particular angle, looked a bit like the crossroads of the Robert Johnson era that I had many times pictured in my mind. So right before dinner, with the sun low in the western sky, I snapped a few photos to see if I could capture the unique feeling of standing at such a foreboding spot out of American folklore. A little while later I couldn't help but to experiment with my picture in Photoshop, and with a few quick adjustments, I had a photo that, at least to me, looked like 'the crossroads' where Robert might have made his deal.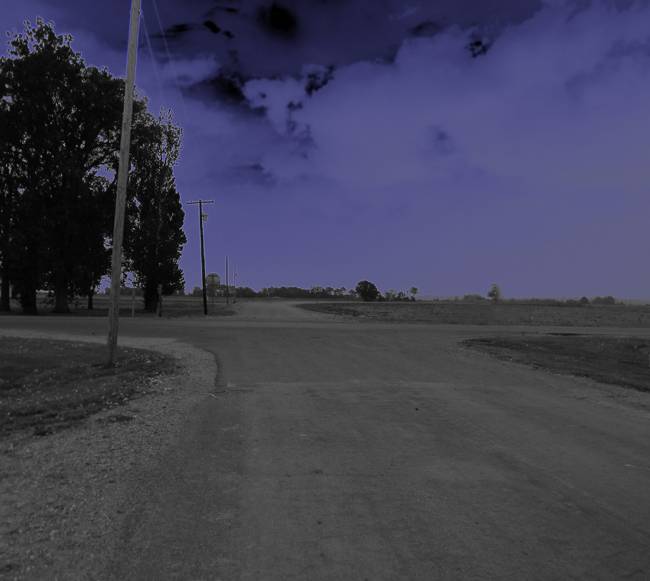 Red's Blues Club
We arrived at Red's just after 9:00 PM and 'Big Anthony' was getting ready to play. The place was still near empty and, after paying a five dollar cover charge, we found a seat and began to take in the sultry scene. Red was working behind the bar and sporting a pair of dark sunglasses in an already dimly lit room. I'm not sure if it's intentional or not, but the lighting in Red's is just that – red. Red colored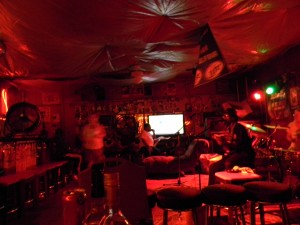 neon signs scattered throughout and a couple of red colored lights aimed at the stage create a kind of reddish hue that was inescapable. The place was fairly small, about 20 x 40, and sheets of plastic haphazardly covered the ceiling. Every square inch of the walls was covered with something, be it photos, posters, beer signs, or the lone flat screen TV which never went off. The place had 2 air conditioners which occupied the only windows in the place and a series of fans placed strategically (or randomly) at different locations throughout. The furnishings were comprised of several varieties of barstools, tables, chairs, and couches, all mis-matched and old looking, yet amazingly comfortable. The performance area faced the bar, and its central location seemed to optimize the room. On either side of the 'stage' stood a giant column of four or five speakers, circa 1980's, although it only seemed like a couple of them were being used.
Anthony spotted me from across the room and made his way over asking "Did you bring a guitar?" "Yeah, but I came to hear you play. I'll get it in a little while." A few minutes later a friendly older gentleman, who seemed to know everybody, walked on over to our table and said "I'm going to sit with you folks tonight, if that's okay." "Of course, have a seat." I said, later learning his name to be Dingo. We ordered a couple of beers and set our bottle of tequila on the table next to Dhingo's bottle of Evan Williams whiskey. Beer is the only alcohol sold at Reds, therefore allowing a BYOB for liquor only.
Anthony's show began as perhaps the most subtle start to a performance I have ever seen. Also wearing sunglasses, "A" was sitting on a stool with a cigarette hanging out of his mouth when he began playing some blues guitar licks, backed only by a drummer. There were maybe only six or eight of us in the room at this point, and the feeling was relaxed and comfortable as Anthony played his brand of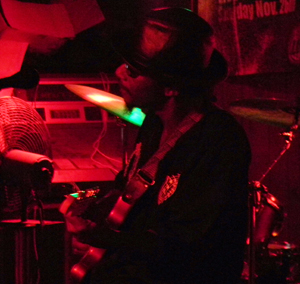 Delta blues. He must have played seven or eight blues instrumentals, for nearly an hour, before the vocal portion of his night would begin. The music was earthy and hypnotic and it felt as if time had stood still. As his deep voice resonated some mournful passages, I felt transported to another era. Gradually the night picked up and people started coming in. Another local sat in on backup vocals for a couple of songs, and then Dingo was up to sing a little too. The dance floor (or carpeted area in front of the band) had a few eruptions of activity throughout the night whenever locals and tourists felt the mood. At one point Anthony asked different folks around the room where they were from. The answers were as diverse as imaginable – Italy, Canada, Switzerland, New Orleans, Japan, San Francisco, Tennessee, Australia – people from all over somehow knew about this hidden blues universe.
Now pretty far into this evening and feeling fine, I asked Anthony between songs if I could play a couple with him. He nodded yes, so I went out and grabbed my guitar and amp. I joined him and his band of drummer 'the Clarksdale All-Stars' for two or three up-tempo blues, a high point coming on the last song with a little 'head cutting'. Already having played two and a half hours straight, Anthony suggested I sing a couple while he took a break. His drummer stayed on and I played a couple of blues classics before launching into a funky version of Hendrix's 'Voodoo Child' which received a roaring applause. I returned to the stage to Anthony, and a little while later when we were getting ready to leave, Red made his introduction. "You should come back tomorrow night, 'T-Model Ford' will be here and it's gonna' be a good time. Bring your guitar too. The old guys don't mind other musicians playing with them." "Were supposed to go to Memphis tomorrow, but if we can rent our room for one more night we just might do that. Are you sure it would be okay for me to play with him?" I asked. "This is my place, just come on down and bring your guitar." I then grabbed the unopened bottle of Evan Williams, Red's whiskey of choice, from the back of my amp and presented it to Red. "We read on the Internet that this is your favorite whiskey, so we brought you a bottle as our way of saying thanks."
With that, we headed back to the shack. Having had such an amazing experience so far, the idea of leaving for Memphis in the morning was growing less likely by the minute.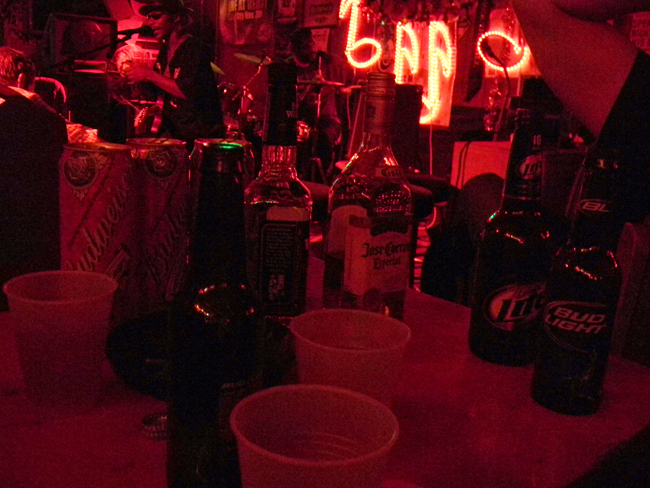 The Drive
It was noon on Thursday, September 23 when we left our Pegram, TN home bound for Clarksdale, Mississippi. Our route took us west on Interstate 40 for about 200 miles to Memphis, and while this stretch of I-40 is typically a rather boring drive, on this hot summer day, whatever was lacking in visual stimulation was replaced with anticipation. Although we had done a fair amount of research, we still didn't know exactly what to expect in Clarksdale, so our excited conversations ultimately kept us from noticing that the scenery out the car window hadn't changed much for the first three hours of the trip.
At Memphis we turned south onto Interstate 55 and entered Mississippi, and while the first hour of I-55 wasn't anything visually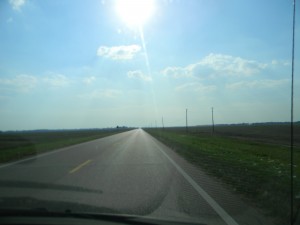 extraordinary, as soon as we turned west on to Highway 278 it felt like we entered a new world. The dense forest that had occupied both sides of the road only minutes before vanished to reveal a wide open view of the Delta plane. Cotton fields stretching to the horizon, cut in two by the road on which we traveled, a seemi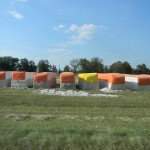 ngly endless road, straight, flat, and disappearing as far into the distance as the eye could see. Aside from other vehicles on the highway, the occasional farmhouse, and farm equipment sparsely scattered throughout the fields, the vastness of this geography was otherworldly. Although this last 40 or so miles was the shortest leg of the drive, our virgin viewing of this fertile Delta plane was empowering and made us feel a bit the wiser, almost as if we were the first explorers to set foot upon a newly discovered continent.
The Shack Up Inn and The Robert Clay Shack
Upon entering Clarksdale, located in Coahoma County, Mississippi, we turned south onto Highway 49 for a couple of miles and found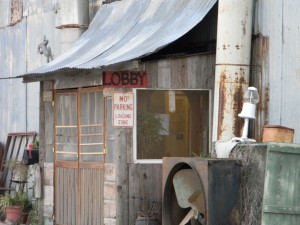 our way to the Hopson Plantation and the location of the place we would be staying, The Shack Up Inn. As we crossed over some  railroad tracks, several old 'barn-like' buildings covered with rusty corrugated tin came into view, and we passed a row of shacks as we began searching for the lobby. At first glance the main entrance appeared to be a cross between an antique store and a junkyard, and if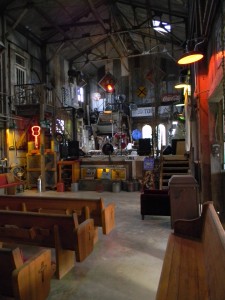 it were not for a small red sign bearing the hand-painted word 'lobby', we might have driven right by. We were greeted warmly by Marc, the woman working at the front desk, and she checked us in while giving us a quick overview of the Inn and some other local attractions. The main lobby is housed within an enormous 'cotton gin', and on the other side of the lobby walls the large open space has been transformed into a music hall. After checking in we took a few moments to explore this magnificent room which featured a stage at one end, and church pews and other miscellaneous seating at the other. After a few minutes of soaking in some very unique rustic folk art, which seemed to cover every square inch of this huge room, we headed over to our shack to get settled.
We fell in love with 'the Robert Clay shack' almost as soon as we set foot within. Blues music, courtesy a small TV tuned to Sirus radio's Bluesville (the only channel available) was playing softly as we took a look around and, like the lobby, this interior was a folk art spectacle as well. As I would later learn from Bill, one of the owners, this is their 'flagship shack', and it showed. A bedroom at one end, a small bathroom, and an open concept kitchen that expanded into a living room all felt warm and inviting. An old church pew made for a bench, a  slightly out of tune piano in the corner, and a screened in back porch only added to the charm. Much of the furnishings and decor looked like 1950's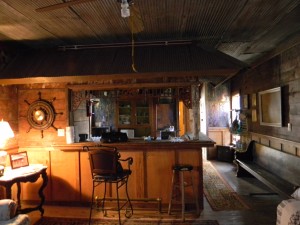 era or earlier, and this is obviously part of the intended experience. Bill would later tell me a little history about this shack.
In another town in Mississippi, a sharecropper named Robert Clay lived his entire life in this humble abode, raising several sons by himself. When he was an old man, his sons, having moved out many years prior, tried to get him to leave this place and come live with them but he refused. He died an old man in the home in which he lived most of his life, and sometime after his death the shack was moved to it's current location. After renovating the main body of the shack, the workers, upon exploring the attic to install duct work, discovered a whiskey still, making at least one reason apparent as to why Robert refused to leave. This kind of history just can't be had at a Holiday Inn or Best Western and only added to the mystique.
One Amazing Sunset
After getting settled in and eating dinner we decided to walk around the grounds for a bit to take in some sites. While exploring the courtyard, the sun began to set on the distant horizon. We stood in wonderment as the sky transformed through a myriad of colors while the sun grew bigger and bigger before disappearing beneath the edge of the earth. In the last few moments before it became invisible beneath the horizon, the sky was on fire and time seemed to stand still. We took a few pictures to preserve the moment, and even though the photos are quite striking, it seems that some magical moments are intended for a single moment in time, coming and going like a breath of wind.
Blues Jam at Ground Zero
A little while later we headed out to the Ground Zero Blues Club, co-owned by Coahoma county resident Morgan Freeman, in downtown Clarksdale to attend the weekly Thursday night blues jam. This week it was being hosted by a local favorite, Big Anthony, and he was already on stage playing some fiery blues with his band when we walked in. Walking into a dark and unfamiliar night club with my guitar slung over my shoulder is something I've done many times before, but on this warm summer night in the deep South I must admit I was a little nervous, at least initially. The doorman was friendly enough, as was our waitress, and we gradually began to feel more comfortable after ordering a couple of beers and enjoying some of the show. Big Anthony, backed by a strong rhythm section of bass and drums, was playing some authentic Delta blues, his deep voice full of character, his guitar playing driving and relentless.
They took a break and then got up the first jammer, an older gentleman on vacation with his wife from Canada. After loaning this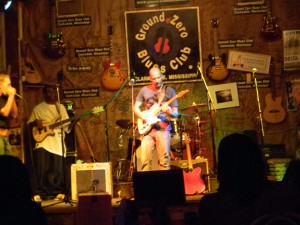 fellow his guitar for a couple of songs Anthony returned to the stage and called me up. Backed by the house drummer and bassist, I ripped through 'Done Somebody Wrong', 'Goin' Down', and 'Rock Me Baby', and was quite pleased to receive a response that was somewhat over-the-top. Before leaving the stage, I announced that it was Kelly's birthday and that we had come to Clarksdale to celebrate it, and several people applauded. As I exited the stage I got several compliments from other musicians who were waiting their turns in the wings. A few minutes later I walked over to the bar to get another beer and an older woman said to me "You were really good, but you don't look like a blues musician." "Blues musicians come in all shapes and sizes." was the clarifying response I gave her before returning to my seat.
By this point we were starting to get kind of tired so we headed back to the shack. Our first day of this three-day trip drawing to a close, we sipped a beer on the back porch reminiscing our experiences. So far, this little town of Clarksdale had been a wonderful host, and we turned in for the night, excited for what Friday might bring.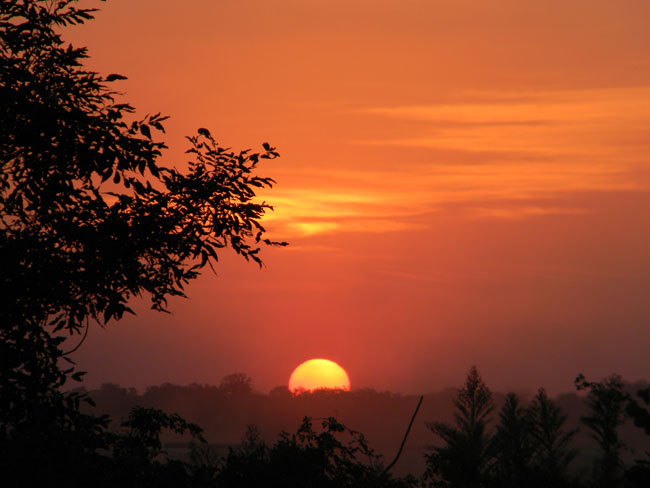 When I was 12 years old I was inspired to learn how to play the guitar after hearing the music of Jimi Hendrix. As I began learning, I quickly realized I would have to put a lot of effort into this endeavor to be able to make the kind of music that Jimi inspired me to make. So I dug in, and the more I dug in and applied myself, the better I became at my craft. As I got better, it started to become more fun too. Early on I made the connection that the more I applied myself (by practicing, wood shedding, experimenting, etc.) the more I enjoyed guitar playing. For me, practicing my guitar, and enjoying the act of guitar playing go hand-in-hand, and I never viewed practicing as a chore I had to do.
As the years churned on I never stopped applying myself. I eventually went to Berklee, began playing professionally, and still work at improving and honing my skills 20 years later (even though I can maintain a decent level of proficiency without doing so). While some people along the way have suggested that I practice more than I need to, I disagree. Putting in such a big effort over a long period of time has not only made me a better musician, it's made me a better person. It's benefited my life in ways that go way beyond music. If you can teach yourself self-discipline through the mastery of your craft, you will forever have an increased self-discipline in every facet of your life, more patience, problem-solving skills, the list goes on.
In my opinion, too many musicians coming up in the world today learn a bare minimum of proficiency early on and then just coast. So many are consumed by aspirations of fame and fortune that they miss out on the rewarding feeling one can get from just working towards being great at something. Whether you you play music as a career or just for fun, I believe that the more you put into developing your craft, the better your whole life will be. Practice might not make you perfect, but it will make you better.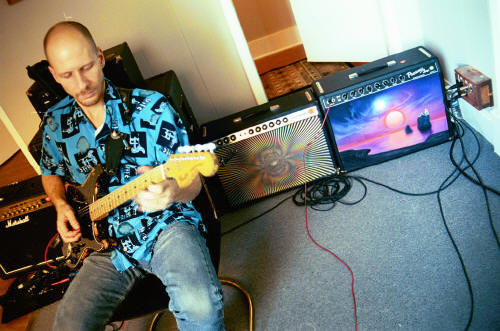 I was talking to a college student a while back who said he was interested in becoming a tour manager. It turns out that one of his best friends is an aspiring young artist with a bright future, one who will likely need a tour manager someday. "What does a tour manager do?" he asked. The specific duties can vary depending on the tour, but in general, the tour manager oversees all aspects of the touring entourage and coordinates each concert with the event buyer, production company, and all other pertinent parties. My job as tour manager for Rhett Akins requires me to wear a lot of hats; tour manager, band leader, lead guitarist – officially; and guitar tech, stage manager, assistant merch person, travel agent, part-time bartender, and occasional guidance counselor – unofficially. There are eight members of our entourage – Rhett, myself, three other band members, a sound engineer, a merch person, and a bus driver, and it is my job to make sure they are well taken care of when we are touring. To give some perspective, I thought it might be fun to take you on a recent one off with Rhett and gang. This post will be a bit long, but then again so is the day of a tour manager.
Rhett Akins
09-04-10 – Clay County Days Festival – Manchester Kentucky
It was about 11:30 PM on Friday, September 3rd when Kelly and I arrive to the bus near Opryland in Nashville, TN. Most of the other guys are already there and our sound engineer, Mike Jaeger, and bassist, Clint Jacobs, help me load my gear , Rhett's merch, and some bus stock into the bays underneath the bus. Assistant tour manager and merch specialist, Kelly Normand, begins stocking the refrigerator with bottled waters and putting away some of the other supplies (paper plates, solo cups, etc.). On this run we have a substitute driver, and after making his acquaintance, I give him some paperwork and discuss some specifics of the trip. A little while later we pull out, bound for London, KY, the location of the hotel we would be using for our show at Rawlings Stinson Park in Manchester Kentucky. My official duties complete for this workday, I enjoy some chill time in the front lounge with the guys for a bit before heading to bed (or heading to bunk, rather).
Like most of our weekend runs, our bus arrives to a hotel parking lot sometime early morning and I awake a few hours later to begin my day. My first duty is getting checked into our hotel rooms, and this can require a special skill set (called charm) to get into these rooms at the early hour of 9 AM (most hotel check-in's are between 1 and 3 PM). After offering a warm greeting to the hotel front desk clerk, I introduce myself – "My name is Eric Normand, I'm the tour manager for Rhett Akins and we've got four rooms booked with you. I realize it's still kind of early, but I was wondering if any of them are ready." "We should have a couple of rooms cleaned and ready in about 20 minutes and the other two in about an hour" she notifies me. "Great, thanks." I return to the bus and eat some breakfast before returning to the hotel lobby for the room keys.
By noon, most everyone is up and hanging out in the front lounge. Were watching "Stand by Me" on the flatscreen TV as we head off for the venue, a 20 mile, 30 minute drive. While enroute I call my contact at the event to notify him we are almost there. We arrive on site and back the bus into a fire station parking lot across the street from the park. This is the closest the bus will be able to get to the stage which is located about an eighth of a mile away, and I quickly realize I'm going to get in a fair amount of walking on this sunny 70° day. I walk off the bus and meet, Gene, my go-to guy from this event for the day. "Tell me what you guys need, and I make it happen." he informs me. "Everybody's pretty hungry, so the bus stock would be great. After that we'll need a pickup truck and some stagehands to cart the gear over the stage, and a runner to take our driver back to the hotel." A few minutes later our bus stock is arriving, and I began to coordinate the load in.
After everybody eats, I find the runner who then takes our driver back to the hotel to sleep, and we begin our set up and sound check. As I still have a lot of details to tend to, I try to set up my gear as quickly as possible. Before I can finish, the event buyer requests a brief meeting with Rhett, as well as the handling of settlement (payment). Gene takes me via golf cart back to the bus so we can bring Rhett to meet the owner who is down the street cooking our BBQ dinner on a giant smoker. A little while later I'm back to the stage with sound check in full swing. Mike has done a good job of 'ringing out the monitors' and we are pretty much ready for Rhett. After running through two songs and making a few minor adjustments everybody's pretty happy with the sound, so we 'spike and strike' our monitors and pedal boards to make room for the opening act.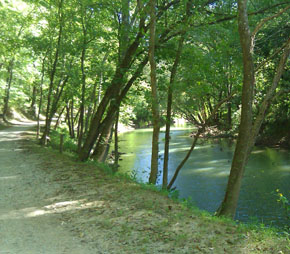 Typically, the conclusion of sound check would mean that we're all returning to hotel rooms for showers, but as this day had a late afternoon sound check with an early show time, there wasn't enough time. I told everyone this in advance, and most of them had already taken a quick shower late morning at the hotel. So today, it's a couple hours of downtime on-site. Some of the guys go walking around the festival for a bit, others hang out on the bus watching college football, while Kelly and I explore a walking trail off the back side of the park. Dinner was served in the firehouse at five o'clock – a massive spread of pulled pork, ribs, potato salad, and some outstanding homemade creamed corn. In fact, the creamed corn tastes so much like corn, that I realize how little so many other 'corn products' actually taste like corn.
After dinner it's time to set up our merch station, so I accompany Kelly to her tent to make sure she has everything she needs. Upon our arrival to her side stage location, I see that the event has provided a 10×10 pop-up tent, table, and a half a dozen folding chairs. While Kelly begins setting up her merch, I find one of the production company workers and ask him to run some power over to the tent for lighting. Once the lighting is set I begin preparing for Rhett's meet and greet by texting him to notify him that it's 10 minutes out. I verify with Gene that the meet and greet party has gathered, and deliver Rhett, sharpie in hand, to the green room. During the middle of this autograph-signing photo-op I get a text from Kelly stating that she needs more change and that one of her lights has a burned-out bulb. I locate a spare bulb and $100 worth of 5's,  make another walk to the stage area, and return to help wrap up the meet and greet.
I escort Rhett back to the bus, put a fresh battery in his in-ear wireless belt pack, and return to the stage to reset my gear. The opening band now finished and the stage clear, I place my pedal board, tune my guitar, and check my rig with a few quick power chords. I continue on to Rhett's position, tuning his acoustic and checking it for signal, checking his vocal mic in the monitors and in the house, installing a pic clip with guitar pics to his mic stand, and placing set lists and a beverage on the stage floor by his monitor. The other band members are all at their stations checking their rigs, and a DJ is selling himself over the mic in that nonstop annoying ramble that only a DJ can do. The park is filled to capacity, somewhere around 4000, and we're ready to go. I make one more walk back to the bus to shuttle Rhett over via golf cart. A few minutes later and were off and sailing on our 90 minute 'countrified' rockathon.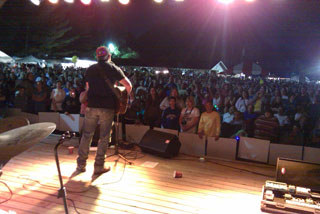 In a day so full of endless details, the nightly concert is by far the high point for me. For these 90 minutes I get to play my guitar with a great band, behind a great front man, and it's all about the music for me. Rhett, being the quintessential performer, possesses the uncanny ability to render a crowd in the palm of his hands in about as much time as it takes him to walk out onto the stage. The concertgoers on this particular night are no exception to this rule, and Rhett quickly wins them over. For this brief period, it doesn't even seem like I'm working, after all, this is what I set out to do in the first place. Aside from our usual repertoire, one standout is an impromptu performance of Bon Jovi's 'Wanted Dead or Alive' (playing in all those early cover bands sure comes in handy every once in a while) and Rhett's son, Thomas Rhett, joining us to sing a great rendition of 'Duck Blind'.  90 minutes later our performance is complete, and the captive audience slowly makes their retreat as Rhett rides back to the bus via golf cart while the band tears down the gear. I quickly transition from musician mindset back to road manager and instruct Gene to pull up a truck next to the stage for load out. We load the gear, ride over to the bus, and load it into the bays. I send the runner to pickup our driver, they return about an hour later, and we fire up the bus to ride off into the night. My workday done, I enjoy a frosty beverage in the front lounge with the gang. I awake on the bus the next morning back in Nashville, load my car, and get the fuel receipts and some other paperwork from the bus driver. "Great job everybody, see you next week!"
This one-off is typical for a small to midsized tour, such as ours. On tours of this size and nature, the tour manager advances these details over the days and weeks preceding the show (quite often it is these advance phone calls and e-mails that make or break how well each show day and show goes). In the days after a weekend run, the tour manager addresses payroll, bank deposits, bus lease payment, and some light accounting duties while advancing upcoming shows. On a larger more active tour, there would simply be more tour members, more tour buses, and more equipment, and they would likely be staying out for longer periods of time. A day similar to the one I just described would be repeated in succession, kind of like Groundhog Day, each day beginning the same  as the last – the view of an obscure parking lot from the bus window, somewhere far from home. On one of these tours, the 'TM' would still be the grand overseer, but would be delegating many of these roles to others – stage managers, guitar techs, etc. He still has to deal with all the same kinds of details, he just doesn't have to wear as many hats. Don't get me wrong, I'm not complaining about wearing so many hats, he probably doesn't get to play guitar during the show.
My name is Eric Normand and welcome to 'Country Concerts'!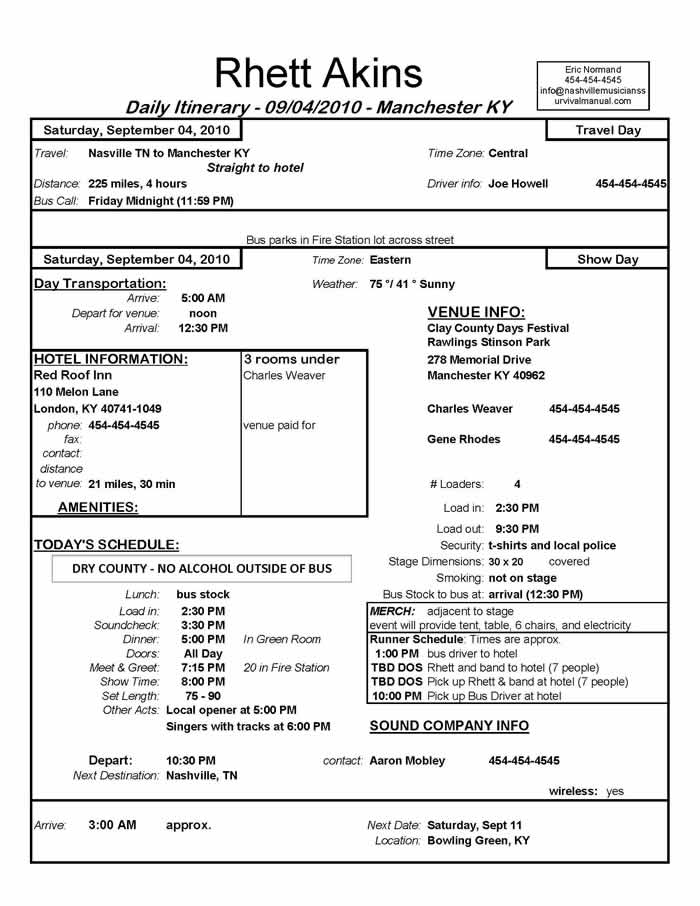 Have you ever challenged yourself with something really, really hard. I mean something so difficult that initially you weren't even sure if you could do it? Challenges like running a marathon or completing a triathlon, learning to speak a new language, losing 100 pounds, or mastering a musical instrument are all daunting tasks that can take months or years to accomplish and require an extreme level of "stick-to-it-ness". Initially, this challenge might not be something that you  need to do, but something that you want to do, or maybe even feel compelled to do. You take on this challenge simply to see if you can do it  and because you sense it will make you a better person. The reward might be unknown at the onset and not come for a long time if ever, but still you march on with this challenge because it feels right.
Many years ago I was faced with such a challenge when I was playing guitar in the New England-based band "Crossfire". The year was 1990 and the bands leader, Rob Gourley, suggested that I learn the Eric Johnson instrumental "Cliffs of Dover", as he felt it might be a good showcase for me at our shows. He said that this was not something he expected me to do, but that if I wanted to learn it, the band would play it.
At this point of my life I had just finished my Berklee education, an extremely challenging experience in and of itself, so the idea of learning a four-minute piece of complex guitar music didn't sound too daunting. At least that was my initial perception.
So I embarked on this new guitar journey. I outfitted a makeshift studio in an empty bedroom at my friend, Pete's house with a practice amp, a boombox, a reel to reel tape deck, a metronome, and a music stand. I went out and purchased a copy of Eric Johnson's "Ah Via Musicom" on CD as well as the guitar transcription and got to work. And work it was. When I had first heard this piece of guitar magic on the radio I recognized its brilliance, but Johnson's impeccably fluid technique almost masks the songs difficulty. He made it sound easy, and easy was something I quickly discovered this song was not.
By the time I had put a couple of afternoons into it I realized this process was going to take weeks, maybe even months to be able to do the song justice, but that was no deterrent. I quickly realized if I could master this piece, not only would it be a great showcase for me with my band, it was going to make me a better guitar player in the process.
Crossfire was a steady working band and my only job at this point in my life, performing all over New England 3 to 4 nights a week. So my daily routine during this phase consisted of sleeping late, eating a late breakfast or early lunch, and then heading over to my "guitar studio" for an afternoon of extreme woodshedding.
I began with the intro and learned as much of the opening passage as I could by ear. When I came across a phrase I couldn't interpret I used the sheet music. When things still didn't make sense, I used the reel to reel tape deck to slow the song down to half speed. Gradually, one phrase at a time, it began coming together. After a couple of weeks of this I could make it halfway through the song, granted with many mistakes and not very smoothly. I labored on. After about five or six weeks I knew the entire song note for note but could still not play all of it at tempo. So I began practicing the most difficult passages at slower tempos, one phrase at a time, sometimes running a one bar phrase over and over for 10 or 15 minutes, gradually nudging up the tempo of the metronome. Of course a one bar phrase of Cliffs of Dover might be a flurry of 10 or 12 notes played in about a second.
Finally, after about three months of making my friends and family crazy, shredding my fingers to the bone, and a couple of ugly moments when I almost threw the guitar through a window, I was ready to present it to the band. We made a few passes one day during a sound check/rehearsal and we were good to go. The crowd loved it when we played it later that night, and it became a staple in our set for the next two years. My performance on this piece gradually improved over that period, as the experience of playing it live helped me to further kick it up a notch. The song was so difficult to execute that I still practiced it daily during this period. Eventually I left Crossfire for another band and although I continued to play this piece, it wasn't long before I put it aside.
Looking back, Cliffs of Dover was the hardest piece of music I have ever learned. I probably put between 200 and 300 hours into it prior to ever playing it with the band. But I do remember feeling instant results after I could play it. Performing less technical songs and solos became easier. My hands and fingers were stronger and my stamina had improved. My ear had also improved making it forever easier to learn new pieces of music.
Lately I've been feeling the need to challenge my playing again so I decided to bring this piece out of the closet. I sat down with it a couple of weeks ago and have been working it back up to speed ever since. It's been 15 years, and the process of sitting down with it again is like visiting an old friend. Although not as daunting for me as it was back in 1990, it's still a bitch, and I have a ways to go yet. Once I can get it to a point I feel comfortable with, I'll post a video for you all to check out.
Completing this challenge was hard back then, and it's hard again right now. But I believe it is these kinds of challenges, self-imposed or other, and the new horizons they lead us to that encapsulate the best of the human spirit.