touring
It was almost midnight on a Friday in late September, 2006 when I pulled up to the bus near Opryland in Nashville, TN. The Longbranch saloon in Raleigh, North Carolina would be the destination for Rhett Akins and band, and this ten hour – 540 mile trip would be a one-off. The driver, Ed, was sitting in the driver's seat when I opened the door to enter the bus, and I immediately noticed a few peculiarities. To the right of his dash-mounted GPS was a little platform upon which sat a laptop, screen open and powered on. On the floor to his right was a large igloo cooler. On his head sat an oversized telephone headset (think AT&T operators of yesteryear) which was wired to a cell phone also mounted on the dash. "Hi, I'm Ed. Pleased to meet you" he said, and with this enthusiastic introduction I thought 'Okay, I guess I'll have to give this guy a chance, even though he looks like he's wired for a moon landing.'
A short while later we were loaded up and headed east on interstate 40, and I went to my bunk to go to sleep. Now anybody that's done this ride before knows that I40 through eastern Tennessee and North Carolina is a mountainous region, full of steep inclines and hard grades. 'The gorge' is one particularly harrowing mountain pass in the middle of this trip that requires some careful navigating, as do a few other spots. It was in these mountain passes where I first realized that Ed was a bit less than great when I awoke in my bunk with my face pressed up against the wall. I could hear the sounds of the diesel engine moaning loudly as he dug in hard up one incline after the next. I eventually fell back asleep but not without a few restless hours of wondering if he was going to drive the bus off of a cliff, as his bouts with the rumble strip occurred at regular intervals. The sway factor was also pretty intense, almost as if he was conducting experiments in weightlessness for NASA. I found out the next day that Cliff Thompson, our drummer, has slammed his head into the bathroom wall as a result of some rough braking during the night, and that a guitar had fallen out of junk bunk. Sometime midmorning I sleepily crawled out of my bunk feeling a bit like a tossed salad.
"Did you sleep well?" Ed unknowingly exclaimed as I entered the now stationary front lounge. "Actually, I didn't, the ride was kind of rough. I could feel quite a bit of side to side sway in my bunk." I said in the most neutral tone I could muster. "Yeah, I noticed that a little bit too. Maybe the suspension on this bus needs to be adjusted." "Maybe you could just drive a little bit slower on the ride home" I requested and he agreed to try. By this point of my touring life I had already been on many bus rides with many different bus drivers, some great, some terrible, and many in between. From my experiences they all think they're great, I mean let's face it, nobody thinks they suck. So usually by the time you figure out your driver sucks you're well into your trip, it's too late to do anything about it, and criticizing him or her can go either way.
By noon we were loading into the club and I was sending Ed off to his hotel room to get some sleep. "Can you put me on the guest list for tonight?" he asked "I might come back a little early and catch the last part of the show." "Sure" I answered to this more than typical request. We went about our day, sound checking, hotels, dinner, meet and greet, etc. We hit the stage at 11:00 PM to a packed house and nothing seemed too out of the ordinary until midway through our set when I spotted our driver line dancing with some locals on the dance floor. That was the only time I noticed him in the club during our show, but immediately afterwards our merch person told me that Ed had come up to the merch table with a girl under one arm, and alcohol on his breath. A little while later I was the first tour member onto the bus and was astonished to be greeted by Ed and some unknown floozy. "Great show!" He gleefully exclaimed as they stepped off the otherwise empty bus. Is this guy for real? You would think he was the one on tour.
We loaded our gear, climbed aboard, and settled in for another frightful trip through the gorge. I wasn't alone in my distaste for this driver, as everyone else had commented throughout the day on the rough ride and his odd behavior. Right before we set out on the voyage home I made one more attempt at coercing a smoother ride from this brainless wonder, but a short while later it was obvious that he just plain sucked. Bobby Dancy, our bass player at the time, also suspected that we were in for another 10 hour hell ride and grabbed the unopened bottle of Crown Royal from the countertop. "This is the only thing that's going to put me to sleep tonight." and with that he took a big swig. "I agree. With this clown at the wheel we're going to have to change the name of the tour to Bob Weaver and the Wanderers" and with that I took a swig. We all but killed off that bottle by four or five in the morning on this would-be roller coaster ride thru hell, at which point we each began slowly retreating to our bunks, wondering if this might be the last bus trip of our lives.
Amazingly, we did eventually pull back into Nashville and the boat-like motion finally came to an end. Aside from a nasty three-day hangover, the only thing that was damaged was Cliffs forehead (from hitting the bathroom wall), and the drivers pride from the ass reaming I unleashed on him just before I drove off. I learned later from Kelly, that at one point Scott had walked to the front of the bus to discover Ed surfing on match.com on his laptop while going 75 down the highway.
I don't remember the name of the bus company we were using at this point, it was one of several $300 a day companies that disappointed us during this time. There's no free lunch in this world, if you try to save money with buses, you'll still pay in the end – whether through stress, lost sleep, breakdowns, whatever. Ultimately, it was a handful of bad experiences like this one that would lead us to the decision to switch to top shelf bus companies. Because if you try to skimp out, the money you save on busses, you will spend on whiskey instead.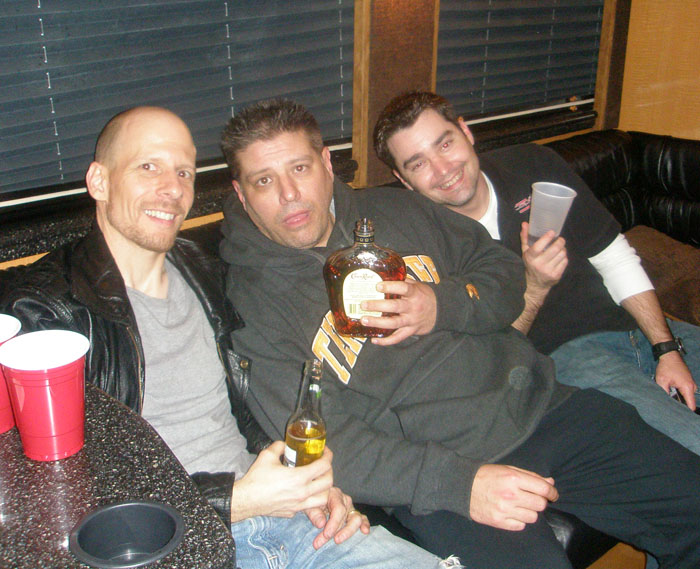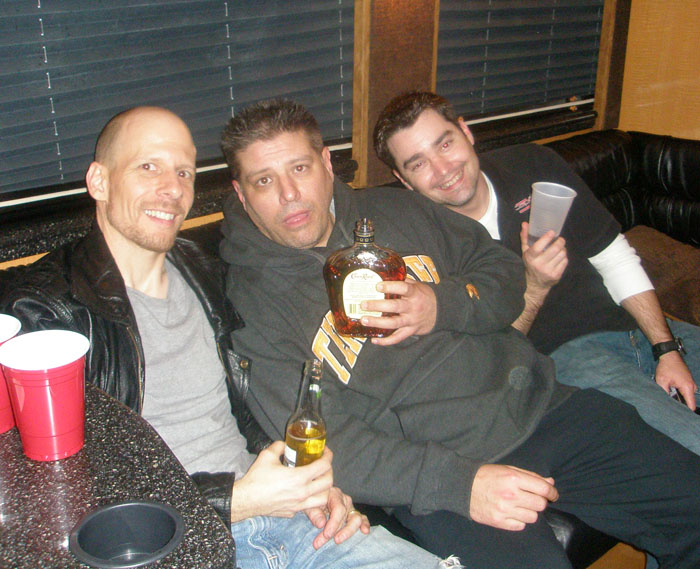 My experiences with a brake happy novice bus driver this past weekend have prompted me to write a few articles on the do's and don'ts of driving an entertainer coach. This article will be the first of a series I will be writing in the next couple of weeks.
Working for Rhett Akins over the past few years I've become a bit spoiled regarding how we travel around the country. We regularly lease top-of-the-line tour busses from Roberts Brothers Coach, one of the best bus companies on the planet, and as most of our activity are weekends runs, it's usually a different bus each time. Usually this kind of one-off leasing means  a different driver each time too, but we've been fortunate to wind up with an arrangement that allows us to have the same driver, Steve Pope, for most of these trips. This has turned out to be a best case scenario as he is an exceptional driver, and a great guy too. The downside is that he is so good that most others pale in comparison.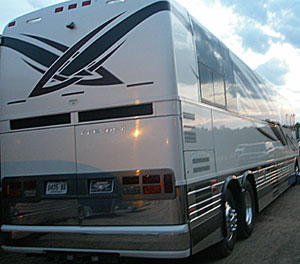 Well on this past weekends' run, unfortunately as it turned out, Steve had to take the weekend off and we were stuck with a substitute driver. As bad luck would have it, the bus was sub leased through another company as well. So last Friday we set out from Nashville at 11 AM with our 'mystery driver' for the weekend. You never know how good or bad a driver will be until you're down the road a ways, but on this trip it didn't take long to figure out that this guy wasn't very good.
We all noticed that he was a bit 'brake happy' before we even get out of the city, and by the time we were going 70 mph down I 65 we could feel some excessive side to side sway as well. A short while after our departure, the sounds of country music could be heard loudly in the front lounge, emitting from the driver's seat stereo. At one point during the drive I asked him if he had been driving buses for very long, and he said "I just recently started driving buses, but before that I drove semi's for a long time." I felt like saying 'I'm not surprised.' but decided to refrain. I couldn't help but notice several CD jackets and CDs strewn about the floor by his feet. Perhaps it might have served him well to spend a bit more time focusing on the road rather than his CD collection. By the time we arrived in Troy, Alabama six hours later, I was fairly worn out from the excessive G-force this novice driver delivered.
We arrived at Troy University and the driver pulled the bus over to figure out where our final destination would be, which seemed odd considering I had already given him an itinerary with the venue's street address and he was using a GPS. When I asked him what street we were on he exclaimed "I don't know." It seemed like there just was not a lot going on upstairs with this fellow. So I got my contact at the fraternity on the phone and he guided us in. After the bus had landed, I asked him to level the bus with the air shocks as we were parked on an incline. After a few failed attempts he gave up, either because the leveling function on this bus didn't work, or the leveling function in his brain didn't work.
We sent the driver off to a hotel room to sleep and went about our day loading in, sound checking, hotel time, etc. We played our show, loaded out, and waited for our driver to return to embark on leg two of this bounce-athon. Shortly after he returned, we departed for the 430 mile, eight hour ride to Kentucky. After several minutes of 'testing' the brakes on the way out of the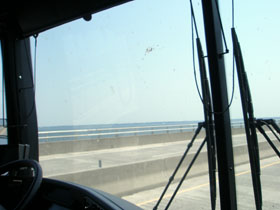 parking lot, we were rolling down the highway and I went to bed. After about a half hour or so of being tossed around in my bunk I felt the bus come to a quick, hard stop, almost as if he had slammed on the brakes. This was the last straw, I couldn't take it anymore. I walked to the front of the bus and confronted our driver.
"What's going on up here?" I asked. "Sorry, the light came up kind of quick." He apologized. With this, I could no longer refrain and unleashed on him "You need to look ahead more and allow yourself more time. I wasn't going to say anything, but this whole trip has been pretty rough so far. You're really hard on the brakes. If you can't deliver a smoother ride, none of us are going to get any sleep, and we badly need our sleep tonight."
I returned to my bunk, and I must say that the quality of the ride did improve, at least for the next six or seven hours. I was awake in my bunk when he took an exit and pulled into a mini mart a little while later, the braking considerably smoother. The side to side sway had improved as well. Unfortunately his new habits were short-lived and I was awoken around 10 AM to what seemed like an endless tour of a Hampton Inn parking lot. After what must have been some sort of 15 point turn followed by some more brake 'testing' we had finally landed. He then notified me that he needed to add some water to the bus's septic as it had run out. It was also at this point he admitted that he didn't actually know how to do this. A couple of other things that he apparently didn't know he was supposed to do were the emptying of the trash, and a quick once over cleaning of the front lounge after each drive. We played our show and did safely arrive back to Nashville later that night, but not without a rough ride and some unnecessary stress.
Driving a tour bus goes way beyond simply keeping the bus on the road. A good bus driver thinks of his job as not just driving a bus full of people, but driving a bus full of people who are sleeping. This means a smooth ride must be delivered throughout the duration of the trip, especially the last part of the trip. People stay up late on these tours, so when the bus is finally landing in the morning, it is crucial not to wake the passengers as the mornings are often when they get most of their sleep. Avoiding unnecessary distractions (like cranking a stereo, or fumbling through CDs) is another big no-no. Most tour buses are 45 feet long and weigh over 30,000 pounds, they are not particularly maneuverable, nor can they stop on a dime. How can you hear the horn of another vehicle if you've got your stereo cranked? How would you be able to avert an accident if you are staring down at your CD collection? A good bus driver should know his equipment too – how to add water, bus leveling, GPS programming, etc.
So what did this guy do wrong? Perhaps a question with a shorter answer might be, what did this guy do right? Well, he didn't kill us, I guess that's one thing he did right. You know how at Christmas time somebody always gets a big box of mixed chocolates? And you grab one, excited at the prospect that you might get the one with an almond inside, but fearful that you might get the one with the cherry? Well that's what it's like with bus drivers, some are wonderful, and some will make it so you don't like chocolate anymore. After last weekend, I'm sick of chocolate.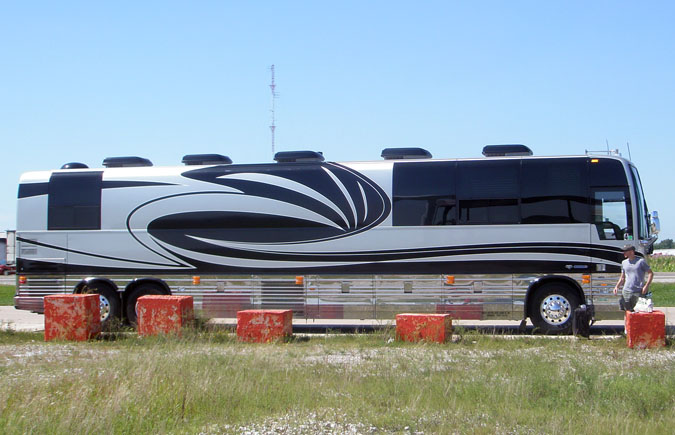 It was about 10 AM on Saturday morning when I crawled out of my bunk to peek out the front lounge window of our tour bus. All week long the weather forecast showed a good chance of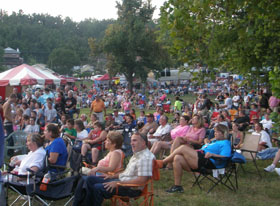 rain, and I thought our outside show was doomed when I viewed the rain coming down on the already soaked Hampton Inn parking lot. A little while later we pulled our bus into the festival grounds along the shore of Lake Barkley in Kuttawa Kentucky. The rain had now stopped, but the grounds were soaked. The night before had been a late one, as frat parties usually are, and most of the band had not gone to sleep until around four or five. So the 11:00 AM load in felt a bit sluggish, especially as it seemed we had dragged the hot humid air we had felt in Alabama with us.
Fortunately, it never rained again and the sun came out which helped to dry the wet field. We set up, sound checked, and then returned to the hotel for some brief downtime and showers. Upon our arrival back to the bus at dinner time, the guys were excited to see several Styrofoam containers of various and assorted BBQ – brisket, pulled pork, ribs – heck, who needs sides with such a varied selection of pork products! A little while later I accompanied Rhett to the meet and greet, which actually wound up being more of an eat and greet, as the banquet room in which it was held boasted a table of food for the guests.
Back to the bus, and we were ready for the show. Our performance began at 7:00 PM and by the time we were three songs in, the crowd had swelled to about 3000, as the music drew in the rest of the festival goers from other areas within the grounds. The crowd was quite vocal, singing along and cheering loudly after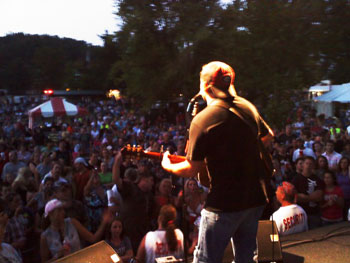 every song. Rhett's show now contains several hunting songs from his upcoming Warner Brothers release, 'Bone Collector' and judging by the response to these numbers, it's safe to assume that there are a lot of hunters in Kentucky. The show also featured a couple more of Rhett's recent chart busters 'It's All about Tonight' recorded by Blake Shelton and currently sitting at the number one spot on Billboard, and the funky New Orleans style 'All over Me' recorded by Josh Turner and also sitting high on the charts. The show ended with one of our usual encore numbers, Tom Petty's 'Last Chance for Mary Jane' which Rhett introduced with a brief story about his experience seeing Tom Petty in concert earlier in the week.
Upon the show's conclusion, Rhett was escorted via golf cart back to the bus. We loaded out and returned to the bus, everyone more than ready for some more BBQ and a few cold ones. Our weekend of shows now over, it was time to head back to Nashville. Tired but happy, we rode off into the night.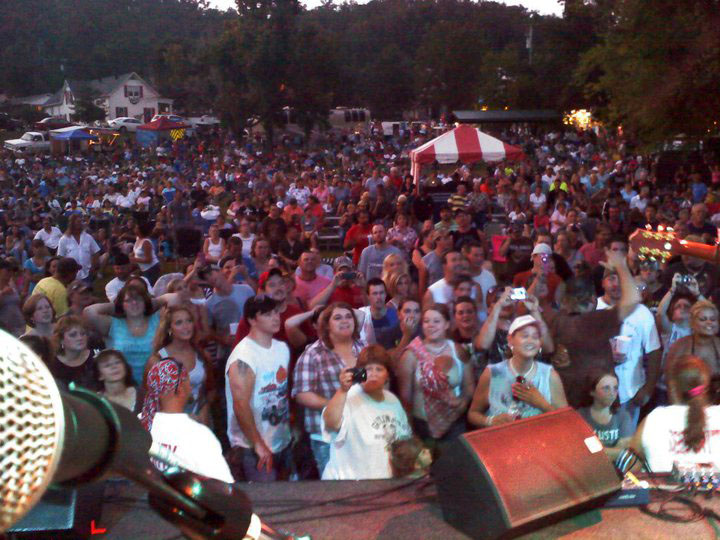 It was about 5:00 PM when we pulled our tour bus up to the newly built Lambda Chi Alpha frat house on this hot and humid summer day in the deep South. The kids greeted us with much
excitement as this party was the first to be held in their brand-new frat house. Upon entering the party room where we would be performing we were a bit surprised at the rooms size – about 30 x 30 with the stage and PA system taking up almost half of the available space. But isn't this what frat parties are all about? Packing as many drunk college kids as you can into a small intimate setting conducive to chaos and mayhem. It was perfect. All the right ingredients were there.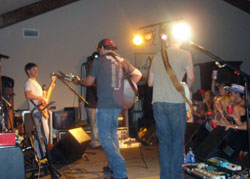 We loaded in our gear, set up, and began our sound check. The Rhett Akins band is as much a rock band as it is a country band, and when we began checking our drums and instruments we were a bit concerned as the volume seemed ungodly in this tiny space. Granted, the room was empty at this point, so we were hopeful that the addition of some bodies would help tame down the volume a bit for the show. This proved to be the case, and by the time we hit the stage for our 11:30 PM start time the kids were raring to go.
"Down South" our typical opening number for shows in this part of the country, rendered us off to a roaring start, and the sounds of the band booming out the open doors and windows began drawing in more patrons from the adjoining courtyard. By the end of our second song "I Brake for Brunettes" the room was packed full and the energy was building by the second. A good-looking crowd, as far as frats go, the front row of folks were right up to the edge of the stage, with several attractive girls dancing and singing along in close proximity for some added inspiration. At one point during the show a couple of cuties hopped up on to the stage, dancing and singing with Rhett for a song.
The festivities maintained a high level of excitement right through to the very end of our blistering two hour set, and by the time we walked from the stage we were all dripping with sweat. We packed up our gear, loaded the bus, and said goodbye to the more than appreciative fraternity brothers. Their house had now been officially "broke in" and it was our honor to bust the cherry for them. Thanks Lambda Chi Alpha – we had a great time!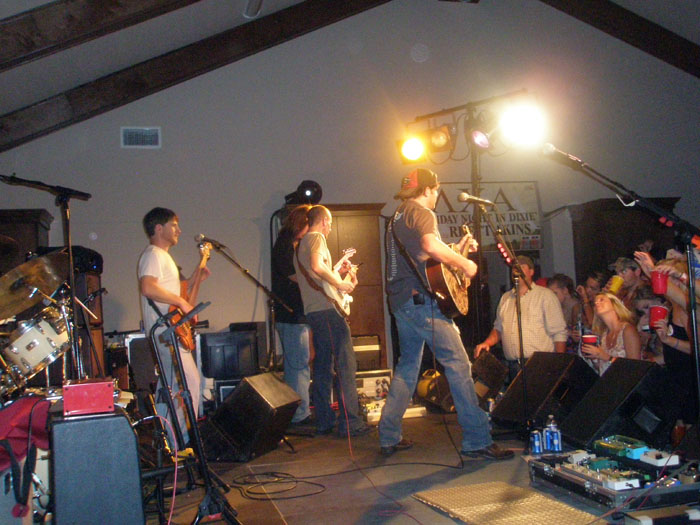 I read an interesting message board post the other day in which this question was raised. The post was written by a musician who had just opened for Grand Funk Railroad. His account tells of an exciting day and show for his local band (and the 4000+ in attendance). They were treated well by the event staff, had their own backstage area, and performed to a packed house through state-of-the-art production. They were even able to bring their families to share in this experience.
The only negative was his perception of the day's headliner. While giving GFR credit for having exceptional musicianship and putting on a "killer show", he went on to say that they were "tremendous jerks". This was apparently based on the fact that the band was nowhere to be found throughout the day despite an interest from some fans for autographs, and a desire for the musicians in the opening band to meet them. The fact that they were not hanging around backstage all day was interpreted to mean "GFR wanted nothing to do with the unwashed masses". He went on to comment that there was a cooler backstage marked "Grand Funk Only" and that he opened it up only to find that "there was nothing in there but fruit juice anyway."
Lastly he mentioned that he met a man with his son in the parking lot and that the young boy wanted his sticks signed by Grand Funk's drummer. So during Grand Funk's set this local musician takes the young boys sticks to a security guard requesting the autograph. Apparently the security guard declined, prompting the comment in this fellow's post "How do you behave like that?"
This brings up some common false perceptions that many people have about national level touring acts and high profile artists.
First of all, touring is hard work. Despite what might be portrayed on some VH1 episode of behind the music, the life of a touring artist or band is not all that glamorous. When I went to Grand Funk's website I noticed this particular show was a one-off, with no dates preceding or following it by a week. Likely, this appearance in Webster MA was a fly date for the band and crew. For a band like Grand Funk performing a show of this nature, they probably flew in the day of the show. They might have gotten up as early as 5 or 6 AM to drive to an airport, spent 8 to 10 hours trekking suitcases and guitars through airports, onto planes, through more airports and planes, eventually winding on a van ride to a hotel somewhere near the venue. They might have appeared at the venue for a mid-afternoon sound check and then returned to the hotel for dinner and a shower before the show. By the time they hit the stage for their performance at eight or nine at night they might have been up for 12 to 14 hours. Regardless of their daily activities and methods of transportation, it sounded like the concert was their primary focus as they supposedly put on a "killer show".
According to Grand Funk's website, one run of shows earlier in the summer brought them from back-to-back concerts in California, to Michigan, back to California, to Montana, Oregon, and then Washington, all in less than 10 days. Judging by the routing, these were undoubtedly fly dates with some long van rides likely in the mix. Just one fly date can be exhausting, let alone eight in a row. Other touring scenarios put acts like Grand Funk and others on a tour bus as a means of travel. While a half million dollar Prevost XLII might seem plush upon first examination, it is still, just a bus. And this means they are sleeping in a bunk about the size of a coffin while rolling down the highway at 75 mph. Sometimes the location of concert dates requires as much as 500 to 1000 miles of bus travel between shows (8 to 16 hours of driving time). I don't care how nice the bus is, traveling thousands of miles in a week is exhausting.
This is all part of the job of a touring band, artist, or musician, and most take it in stride. While the musical performance might be the high point of the day, the long hours of travel, isolation from family and friends, and constantly being around other people causes many performers to cherish the occasional privacy they may have on the road.
So just because you didn't "see them" doesn't mean they weren't there at some point before the show. Or maybe travel arrangements didn't even get them on site until minutes before the show. Maybe they were on site well before showtime and hanging in some dressing room, tired from traveling and saving their strength to put on a "killer show". Maybe the cooler was labeled "Grand Funk Only" because they only drink fruit juice, and this was their only beverage for the night. Many artists are required by event buyers to put on a "Meet and Greet" in which case they might have to meet, be photographed with, and sign autographs with as many as 50 people or more, likely all of whom are complete strangers. These Meet and Greets are not typically optional, and if an artist is tired or even ill they must put on a happy face and go out to shake hands with this roomful of strangers.
It would be no different than if you were standing in line at the bank on your lunch break and a complete stranger started talking to you and demanding your undivided attention. You might talk to him because you're a nice person, but you might have actually preferred to be left alone, to enjoy your own privacy.
High profile bands, musicians, and artists are just people. Touring on a national level is just a job for these folks, and a hard job at that. All the public sees at a concert is the finished product, a concert hall prepped for hours before the doors are even opened. The version of their favorite band or artist they see is the "showbiz" face all artists are required to wear. But the reality is that by the time that performer hits the stage they have likely had a hectic and busy day. They will likely leave that concert venue after the show only to do it all over again the next day. On the one day out of the year that you saw them in concert, they might be having a great day, or, they might be tired, sick, or having a not so great day. They might be missing their kids, experiencing marital problems, or even going through financial hardships. They are just people that happened to choose music as a profession – real people that experience real human emotions, have lives away from their job, and go through all of the same kinds of problems that life throws at the rest of us. The only difference is their profession doesn't allow for sick days.
So, what do bands and artists owe the public and their fans? The answer is quite simple – a great show. Nothing less, and nothing more.
During the summer of 2008 when the Rhett Akins band was between bass players, our sound engineer Penn Robertson threw out the idea of calling his friend Oteil Burbridge to sub a few gigs, as he was currently on hiatus from his regular gig with the Allman Brothers. Apparently the brothers were on an extended break that summer and Oteil happened to be available and interested in coming out with us. The next thing I knew we were doing a handful of gigs with him and riding around on a bus listening to first-hand stories about my childhood idols. While the gigs and stories were great fun, it was the sound checks that were most memorable.
As Rhett and band are well-versed in the Allman Brothers classic material, our sound checks during this time period contained several songs from their repertoire; Blue Sky, Statesboro Blues, Don't Keep Me Wonderin', and Aint Wastin' Time No More. These moments contained some great improvised jams propelled by Oteil's masterful groove and melodic sensibility. It was almost as if a little piece of one of America's greatest bands fell from the sky and landed on our doorstep, to be shared only in the moment with a few appreciative friends. Eventually our stint with Oteil came to an end but it was an inspired road to travel on while it lasted. One I will always remember with fondness and never forget. Thanks Oteil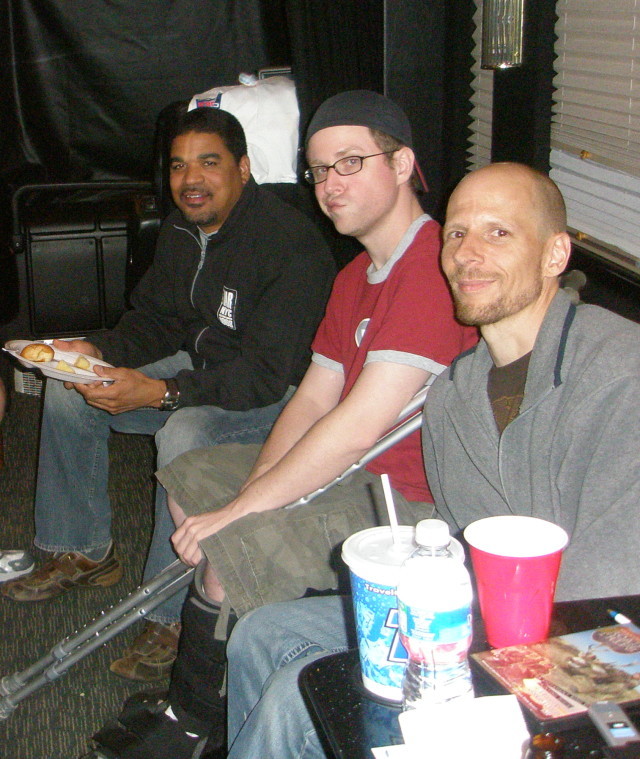 Multi-band shows on any level, be it a national act with a local opener in a concert hall, a battle of the bands at a local high school, or the Bonnaroo Festival, can be a great musical experience for both the performers, and audience. They can also be a logistical nightmare for event organizers, production companies, crew members, and the musicians. The key to these kinds of events running smoothly is highly organized and coordinated advanced planning and an overall spirit of teamwork.
Typically, the most well run multi-band shows have a designated stage manager, usually hired by the event, the production company, or the headlining act. In the days and weeks prior to the event, the stage manager will coordinate between the event buyer, the production company, local crew, and the tour managers of the bands and artists involved. In a perfect world, the proper planning and effort will result in a painless day of load-ins and load-outs, sound checks, line checks, and performances, all happening glitch free and on-time. Unfortunately, we don't live in a perfect world.
Some of the problems that can arise might range from performers and equipment arriving late, bad weather, equipment problems, a shortage of stagehands, ineffective communication, and often, just poor planning. I was recently involved in a show that suffered from literally all of these problems.
At any multi-band show, especially on a national level, there are some unspoken rules and protocols that come into play. If the event has hired a national act, they probably signed a contract and agreed to the terms of that acts rider. Usually these riders will provide very specific guidelines regarding all of the details pertaining to the daily activities and performance requirements of that artist or band. In many situations, it also gives the artist and tour manager final say regarding opening acts, set lengths, backstage traffic, etc. All of this must be mutually agreeable in advance, but after both parties have signed off on the rider, each will have specific responsibilities and expectations. In short, the tour manager of the headlining act and the event buyer will have complete authority over the performance related events of a given show day.
If there is more than one national act, the other acts tour managers will also have a big say, but all in accordance to each acts specific rider and the agreements made when the show was advanced. This is where it can get a little grey as some artists riders might conflict with another's. In these situations an unspoken rule comes into play, that being that the headliner has the ultimate say, followed by the artist with the second billing, followed by third billing, etc. if there are two or more acts that each receive equal billing (co-headliners), there is usually a mutual decision making between tour managers and the event buyer. The lines can become greatly blurred on a smaller scale, such as local bands performing together in a nightclub, or regional festivals, as these situations seldom have signed contracts.
Regardless of a given events level of profile, or organizational efficiency, being a team player is of utmost importance for all involved, especially the musicians.
On a recent Rhett Akins show I worked, we were co-headlining with another national artist, Ashton Shepherd. Several days prior to the show, the events stage manager contacted me and asked if our drummer would be willing to use Ashton's drummers kit, both to save time, and much-needed stage space. After checking with our drummer, I agreed to this request, as did the band scheduled to play before us, Matt Stillwell. The event had four bands total, and the first band scheduled to play, a regional act, would be setting up their drums in front of the other drum kit. The sound checks were scheduled to take place in reverse order of the performances, and would be starting at 1:00 PM on the day of show for a 4:00 PM showtime. Sounds simple enough, right?
Not. The first thing to throw the schedule off was bad weather, as it rained in the morning pushing back the production set up. Ashton's band began their set up at 2:00, and it was understood and accepted that the show would probably not start on time. About a half-hour into their set up, I walked out to the stage to discover the openers enormous eight piece drum kit being constructed in the middle of the undersized stage. When I asked the drum tech why he was setting up these drums before the other bands had sound checked, he replied "The stage manager said I have to have these setup by 4:00 no matter what." I told him that the stage manager was wrong to request this, as there was simply not enough space on the tiny stage for three other bands to set up their backline and sound check. This resulted in a big argument between me and the unyielding drum tech, which resulted in another big argument with the stage manager.
The stage manager didn't want to budge on his decision, despite the fact that he had discussed none of this with me in advance. Of course he was wrong in his actions, as this kind of decision-making was a complete breach of our rider, in addition to being just plain stupid. So rather than continue with the stalemate, I suggested asking Ashton's drummer, Brian, if he would be willing to share the use of his kit with one more band. Brian agreed, asking simply that the positioning of his drums not be altered, a request that both Rhett and Matt Stillwell's drummers had both previously agreed to. Perfect. Problem solved, right?
Nope. When the openers drummer was presented with this option, he said "I can't play these drums without moving them. I need to change a few things. The height of the symbols, the height and angle of the toms, I need to move the hi hat cymbal stand so I can replace your kick pedal with my double kick pedal." The look on Brian's face was that of "you've got some nerve, kid", but in the spirit of making this all work out, he agreed to let this unenlightened fellow make some of these changes.
In the end, it all worked out. The show started late, but all four bands play their shows to an enthusiastic crowd. This story underscores a few great points. Ashton's drummer presented a grand gesture of goodwill will by offering to share the use of his drum kit. This is not expected in these kinds of situations, and is actually quite rare, but when it is offered, it's another unspoken rule to simply not move the positioning of the drums, especially when specifically requested. His initial generosity, and his willingness to budge on his own principles for the common good, exemplify the meaning of the phrase 'team player'. On the contrary, the opening band's drummer and his tech acted in poor taste. They created an unnecessary tension between musicians and crew members and "took" something that was not offered. They created a feeling of ill will. They were essentially, a stick in the mud.
Every event contains two drastically different groups of people. The people that go to the show, and the people that are working the show. If you're part of a band and performing at an event that has multiple bands, try to think of yourself as part of a team. A team of musicians, stagehands, crew members, and event staff all working together to present one great day or night of musical performances. You're all on the same team, and need to work in harmony. You need to watch each other's backs, protect each other's gear, and work in a spirit of cooperation, not competition. No matter where you fall in the pecking order, being a team player and working towards the common good of all involved is ultimately what makes a great show. And being organized doesn't hurt either.
Saturday, June 19, 2010 started out innocent enough when I awoke on our tour bus in a motel parking lot in Montgomery Alabama. The fact that the nearest location of any hotel to this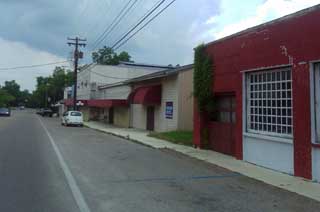 venue was a 30 mile, hour long bus ride, might have been the first clue that this was going to be a rough day. We set out at noon for this four band extravaganza at the Extreme Mud Sports Park in Eclectic, Alabama and the temperature was already into the 90s. The view from the bus window was picturesque as we wound thru this sparsely populated area of rural Alabama. The sky was beginning to cloud up a bit as we turned off the main road and began following a four wheeler down the half-mile or so "gravel" road that led into the park. The road was not in very good shape, and by the time that we realized we might be in trouble if it rained, it was too late, as we we're already committed with no place to turn around. We came around the final corner to the "concert area" and almost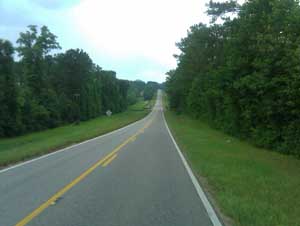 got stuck in the soft ground just backing the bus into place.
"If it rains at all, we are never going to get up that hill." were my first words to one of the event coordinators after a brief introduction. "We got plenty of big tractors round here, don't worry we'll getcha out" was the response I got, and I must admit that I felt hardly reassured. I had the runner take our driver Steve to the hotel and then met the "stage manager", a local radio station employee whom I will refer to as "Puff the magic DJ". I deemed him this nickname because he magically organized the daily activities by chain-smoking cigarettes while sitting in a van that was parked about 50 feet from the stage, and facing the opposite direction.
It had already rained a bit that morning, so the sound crew was running behind and our sound check had to be pushed back. We were sharing this bill was Ashton Shepherd, and were allotted the third time slot, scheduled to play at 6 PM just before Ashton. One of the only saving graces of this entire day was a selfless gesture made by Ashton's drummer, Brian, who volunteered the use of his drum kit to the other bands to save time and stage space. Of course such a grand gesture became needlessly complicated when 'Puff' instructed the first band to begin setting up their drums in the middle of this tiny stage during Ashton's band's set up. It was inevitably up to me, apparently the only person on site to attend stage-managing school, to sort things out, and the unneeded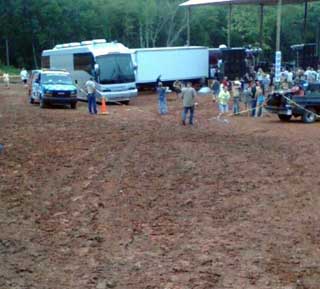 drum kit quickly vanished after a brief conversation between me and the drummers.
Then the rain came. It started coming down lightly sometime around 2:30, and by 3:00 it was pouring. At four o'clock it was still pouring. We watched in horror from the bus window as the only exit route, a couple of hundred feet of uphill clay colored dirt in front of us, became a nasty sea of orange mud. Meanwhile, out the other window of the bus, we viewed about 50 or so muddy looking Alabamans standing under the covered stage area in front of the sound equipment now covered in plastic, while mud covered trucks and four wheelers played in a muddy pit just beyond the stage.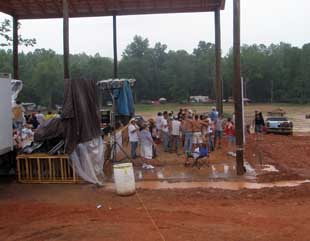 Finally, around 5:30 the rain subsided, and I sent a runner to pick up Steve at the hotel, as we now needed to figure out how we would get the bus out of this hellacious valley of mud. Meanwhile, Ashton's band finished setting up their backline, and the first band went on just after 6:00. As the event was running two hours behind, we were now foregoing our sound checks and in "throw and go" mode. I asked 'Puff' to find us a table and chairs for the merch area (a request that I had previously asked him earlier in the day, earlier in the week by telephone, and in an e-mail). His response came off as this was the first time he was hearing of this and stated "I don't know what they have here, I'll work on it. We'll find something", and then he hopped back in his smoke-filled van to continue his daylong duty of staring out the window. Needless to say, the requested items never appeared despite further repeated inquiries, although Kelly was able to eventually share a table provided by Matt Stillwell's band.
From mid afternoon on, every trip from the bus to the stage or elsewhere on the grounds required a slippery trek through three or 4 inches of heavy wet mud, caking to our feet like ankle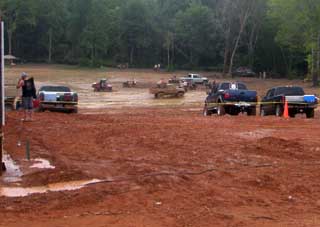 weights. At about 6:30, Steve arrived back on site, and I could see the look of amazement on his face as he appeared on the top of the hill, staring down at our pristine white bus as if it was sitting on a deserted island in the middle of the Pacific Ocean. After conversing with Steve, I approached the owners and they presented their plan to scrape off the top three or 4 inches of mud from the road with a tractor, and then to tow the bus out. Shortly after this, they began scraping, and the rest of us continued stressing.
By 7:45, the second band 'Matt Stillwell' was just finishing their set and we loaded our gear onto the deck to prepare for our show. At about 8:15 we were ready to go, and Puff asked me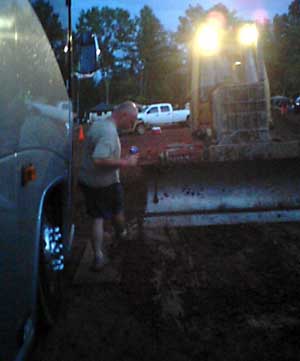 if there was anything specific he should say regarding Rhett's introduction. I told him to mention a few of Rhett's radio hits, and that Rhett has just released a new CD of hunting songs with Michael Waddell called 'Bone Collector' which is available at the merch area. So, of course, Puff delivers an intro void of any of this, and after rambling some fast talking Alabama DJ bullshit, exudes "Ladies and gentlemen please welcome to the stage Rhett Akins."
Midway through our set, we all witnessed what was perhaps the most exciting event of the day, that of our bus slowly moving up the hill, towed by a large tractor. I literally wanted to stop mid song and applaud as I saw it slowly disappearing from site, well on its path to solid ground. Upon this, I waved Kelly over to the stage, and asked her to organize after show transportation to the bus. She went and found Puff and requested that he had a ride ready for Rhett as soon as the set was complete, and transportation for the rest of us and our gear a few minutes later. We rocked the small but enthusiastic, mud covered crowd for about 60 minutes total, and needless to say Rhett walked off the stage to find no vehicle awaiting him. After quickly packing up our gear and clearing the stage, I went and found Puff and said "Where's the ride? Rhett's been waiting 10 minutes already." "It's not here yet?" he exclaimed. "I asked them to send somebody 5 minutes ago." And with that, he quickly hopped in his van and drove off, never to be seen again. I can't say I was surprised as it had long become obvious that either his memory, or his sincerity was literally nonexistent.
I found one of the owners, organized our exit, and a few minutes later we were back at the bus on the street above. The valley of mud now behind us, we could finally begin to relax. None of this kind of turmoil is ever funny in the moment, but as time is the ultimate healer, we were quickly able to see this horrific day a little more cheerfully, although we we're now completely drained. Kelly grabbed the bottle of Crown and some solo cups, and poured a much-needed round of shots. I proposed a toast to cap off our adventures in the valley of mud. "Here's to friends with tractors!"
I would like to add a special thanks to the guys with the big tractors, and everyone in Ashton Shepherd's group for their generous sharing of backline, and overall team spirit.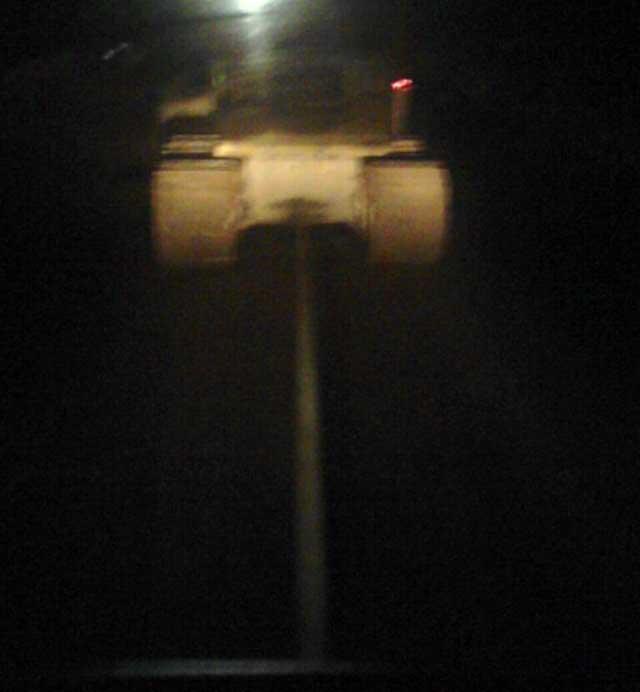 Getting a good gig is largely dependent on having the right connections. While talent and skill are certainly important attributes, knowing somebody on the inside track can be an extremely important factor when it comes to finding work.
Since my arrival to Nashville, one of the more memorable and interesting tours I've been fortunate enough to be a part of was the Toby Keith 'Shock' N' Y'All' tour of 2003. I had been in Nashville for about a year with no steady income to speak of, when I received a tip from friend and Toby Keith drummer, Dave MacAfee, that Toby was in need of a new guitar tech. I had previously met Dave at some of the Tuesday night hangs at the Fiddle and Steel, where I had sat in with the band he was playing with on a few occasions. Although I had moved to Nashville to pursue a career as a player, I decided to check out this opportunity, as I was badly in need of some steady income by this point.
Dave gave my number to Toby's tour manager who hired me after a brief phone interview. I had no previous experience as a guitar tech, but I was hungry for work, and eager to learn. Ultimately, it was Dave's recommendation that got me hired. If I didn't know Dave, it is unlikely that I would have even heard of this opportunity. But even more importantly it was Dave's recommendation to Toby's tour manager that gave me instant validation. Dave had been already working for Toby for several years by this point in time, and his backing was all I needed to get my foot in the door. Once I was "in", all I had to do was make good on my commitment, which I did.
If I hadn't already established a reputation of being a competent, trustworthy, easy to work with player, Dave never would have recommended me for this position. In reality, if I didn't have my act together, I probably would have never even met Dave, as he is a standup guy and a consummate professional who associates with others who are like-minded. While the old cliché "It's not what you know, it's who you know" is essentially true, having your act together doesn't hurt either.
It was Saturday morning when I suddenly was awakened in my bunk to the sensation of a rough ride on a bumpy road somewhere in southern Pennsylvania. Our destination was the little town of Reinholds, PA, and a short while later we pulled our tour bus in to the parking lot of the Black Horse Lodge and Suites, just a few miles from the concert site. Just after noon we rode the bus over to the site, commenced load in, and enjoyed a healthy lunch.
The event coordinator, Larry Wolf, was on top of the details, as he has been helping to organize this annual outdoor summer concert series  for over 20 years. The walls on the backstage greenroom were like a who's who in country music history, with signed posters of artists like Reba McEntire, Johnny Paycheck, Brad Paisley, Kenny Chesney, Tracy Lawrence, and many others lining the walls. After lunch we began our sound check, and this would be the second day in a row that we would build an arrangement for one of Rhett's recent chart toppers 'All Over Me', which was cut by Josh Turner. When Rhett began strumming and singing this piece on his acoustic, it seemed to warrant a feel somewhat reminiscent of Little Feet or Dr. John, and we brought a hint of New Orleans to this hot humid afternoon in the north.
A few hours later, after our typical routine of showers at the hotel and a catered meal, we were back on the bus waiting for showtime while a local opening band performed. Midway through the opener's set the crowd of 2000 plus ran for cover when a torrential downpour let loose. We feared that we were done for the night, but fortunately about a half-hour later the rain subsided and the opener returned to finish their set.
We hit the stage at about 9:15 with our usual set openers of 'Down South', 'I Brake for Brunettes', and 'Don't Get Me Started' and the crowd responded warmly. As Pennsylvania is literally the hunting capital of the world, we could do no wrong by playing some of the cuts from Rhett's recent hunting album 'Bone Collector'. Despite never hearing these songs before, the audience instantly fell in love with songs like 'My Baby Looks Good in Camouflage', 'Granddaddy's Gun', and 'Duck Blind'.
Our shows with Rhett have evolved into an interesting mix of music that represents every facet of his 15 year career. On this show, as on most shows at this point, the audience would hear his first wave of radio hits from the mid to late 90s, songs from recent releases 'People like Me' and 'Down South', some of the new hunting songs, a few classics from his idols, and a barrage of original versions of his most recent songwriting chart busters recorded by other artists. This all makes for an action-packed, exciting show, and the crowd's energy on this muggy summer night was building steadily throughout our electric 90 minute performance. By the encore, the sea of audience members sitting in lawn chairs could still be seen beyond the couple hundred that were now standing directly in front of the stage.
We are fortunate that nearly all of our shows seem to have some kind of magic happen at different points throughout the performance. But on this particular night Rhett and band were particularly on, the crowd was in tune, the sound was happening, and it was one of those magical nights where everything seems to come into alignment. The kind of musical inspiration that we, as performers, live for. It's hard to imagine that anybody, band or audience,  could go away from a concert experience like this without feeling a little better about life.
Inspiration on this level isn't something you can plan on, or make happen, so when it does, don't take magic for granted.