Tennessee
It was sometime in the fall of 2002 and my wife, Kelly and I were attending our weekly Tuesday night outing at the Fiddle and Steel. Already having sat-in earlier in the night, we were getting ready to leave as it was getting kind of late, when Ronnie Pittman, the singer and host of this unofficial jam night, approached us at the bar. "Hey man, I need a guitar player to play some Monday nights with me at the Second Fiddle. Are you interested?" he asked. "I'd love to, thanks for asking." I replied, further adding "One thing I should tell you upfront is that I'm not totally up on all the old country stuff yet." "That's no problem; we don't do that many old country tunes. And besides, the last thing I need is another guitar player that constantly plays 'dubadibby dabaduboo dubadibby dabaduboo'." he explained, mimicking a cliché sounding rapid-fire guitar lick. "Great, I'm there!" I exclaimed.
The following Monday I arrived early to the Second Fiddle on Broadway, double parked to load in my gear, and then drove around for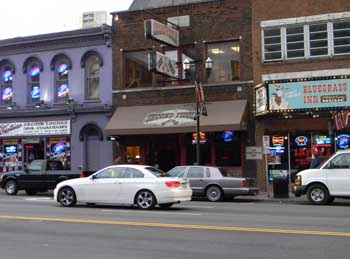 about 20 minutes looking for a free parking space. After setting up my stuff and hanging for a bit with Ronnie and the band, our night of music began. Ronnie played a mix of contemporary country ranging from Travis Tritt to Little Texas, some 80s and 90s country/pop from groups like Exile, a few old school country tunes, R&B from the likes of Delbert McClinton and Van Morrison, and some classic rock from groups like the Eagles, the Allman Brothers, and Steve Miller. His wife also sang harmony and lead vocals and fronted the band on a few songs by artists like Martina McBride and the Dixie Chicks.
I knew a lot of the material and managed to feel my way through the songs I didn't know. We played a couple of long sets with a break in the middle and, although people wandered in and out of the club all night, I don't think the crowd ever got above 15 or 20. Nevertheless, the music was enjoyable and we all had a good time playing. At the end of the night I tore down my gear and waited for Ronnie to count the tips (I think the grand total was something like $28 apiece including the base pay of $20 each). The short pay was all right with me, as I was still trying to gain experience and make connections. Ronnie thanked me and asked me if I wanted to play the following Monday, which of course I did, and told him so.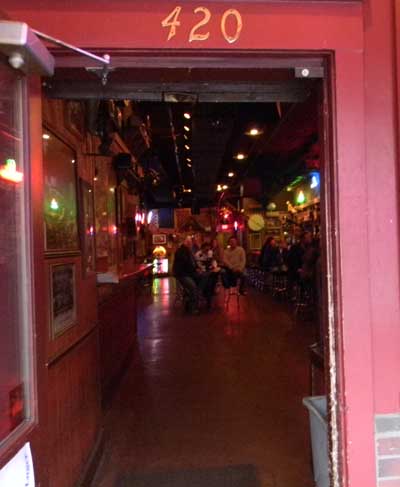 So this became my first regular in town gig. And it was perfect. Ronnie was a real laid-back singer to work for, he always had a decent rhythm section, and his repertoire consisted of a lot of pop, rock, and R&B; styles I was already familiar with. He did play just enough contemporary and classic country for me to explore my new chops in that area as well.
Gigging with Ronnie also created some other opportunities. After a month or so of these gigs I did an out of town weekend with Ronnie and his band in Georgia. It was on that gig where I met a keyboard player Ronnie had hired named Gordon, and it was through Gordon that I landed the house gig at Libby's in Kentucky.
Another connection I made was through one of our regular attendees, a truck driver named 'Bud' who worked for Charlie Daniels and took a liking to my guitar playing. He stopped in for our gig once in a while when he was in town, eventually hooking me up with a friend of his who had an indie band called "The Watercolor Project". I wound up doing some recording sessions with this trippy rock band, a project and genre that allowed me to gain some studio experience in a far more relaxed setting than my virgin studio outing , a debacle that almost sent me packing a couple of months prior.
So I was getting my country/pop thing happening by gigging with Ronnie on Monday nights, and honing my chops on traditional country on the weekends in Kentucky. While it was a lot of activity it still didn't add up to enough to pay the bills, so I was still working the eBay/pawn shop angle pretty hard. One of my eBay sales, that of an old Tube Screamer that I sold for $75, was bought by another Nashville guitarist who suggested meeting in town to buy the pedal rather than shipping it. I e-mailed him about meeting at my Monday night gig, and the following week he arrived to do the transaction. This led to one of the biggest eye openers I had in that first year.
I arrived downtown for my regular Monday night gig with Ronnie and set up my gear. After the first set I was still standing on the stage for a few minutes when a long-haired fellow approached me. "Are you Eric?" he asked. "Yes." I answered "You must be Mark." After exchanging a few brief words I presented him with one slightly beat up Ibanez Tube Screamer and he paid me $75 in cash. He then asked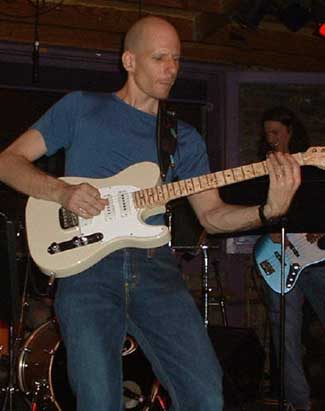 me how long I had been in town, to which I answered "I've been here for about six months." He reacted with surprise, acknowledging my accomplishments with "Wow, that's great. Six months and you're already gigging." He then added "I'm still working towards playing out, I'm not quite there yet, but I'm getting close. I've been in a couple of different bands so far, but nothing that's made it out of the practice hall yet." "How long have you been here?" I asked innocently. "Five years." He answered and a deafening silence engulfed the moment.
The stark reality that there are musicians trying to find their way in Nashville that are here for years had yet to stare me in the face with such clarity. It was almost as if an atomic bomb had been dropped right outside of the club. "I'm sorry to hear that, best of luck to you with that." I mean, what else can you really say? A minute or so later we said goodbye, and the long-haired struggling stranger sauntered out the door.
For me, that moment clarified a lot of things. It made me realize that there are far more musicians here than there are opportunities for them. It reaffirmed some of the advice I had received from my mentor, D, one piece being "Whatever you do, don't join a band, band's starve." It made me further appreciate the fact that I was lucky enough to have a mentor here in the first place. It allowed me to view all of my gigs and performance opportunities with much more optimism. And it made me realize, in a town where so many struggle, just how fortunate I had been so far.
As my first summer in Nashville was drawing to a close, I was basically jobless, running out of savings, and fast realizing that I had a long way to go to become proficient at playing country music, a style that was quite new to me. For many newcomers to Nashville, sitting in, gigging, and networking around town can make you feel like you are under a microscope, as was also the case for me. I had converted the basement of my rented home in Gallatin into a studio where my daily ritual consisted of learning country standards and practicing my chicken pickin' technique (I was also conducting an eBay campaign and gradually selling off everything I could stand parting with). But all this practicing alone wasn't enough. I needed some practical live experience but, after my recent debacle on Broadway, needed to accomplish this outside of the microscope for a bit. So when I got a phone call from Gordon, a keyboard player I had recently met, about playing in a house band for a country music talent show in Kentucky, I jumped at the offer.
Libby Knight, owner of Libby's Steakhouse in Daysville, Kentucky, had been a longtime supporter of country music, hosting his talent show "Live at Libby's" since 1984. During the show's heyday there was a live radio broadcast, and it was from this venue that many singers like Garth Brooks, Tracy Lawrence, JoDee Messina, Trisha Yearwood, and others once performed in obscurity, some, arguably getting their start there (it is rumored that at one time record deals for some artists began to take shape in the front lobby). The boom days of this once would-be Opry style country music house now long gone, this was the perfect low-pressure opportunity I needed to hone my country chops.
During my phone call with Gordon, he explained to me that the Friday night show was an audition night for singers. Libby would pick the best vocalists to come back and rehearse with the band Saturday afternoon from 1 to 4, after which the band would be provided a dinner followed by the Saturday night concert from 8 to 11. For our services, each band member would receive $100 total for both nights. While this was not the greatest pay, I didn't mind as I greatly needed the experience. Not to mention that a hundred dollars was a lot more than I was earning on most weekends at this point in time, which was typically nothing. Of course my first weekend at Libby's was an audition for me as well. I had already done a gig with Gordon and he liked my playing, but the band leader had yet to hear my playing and I would have to win him over to be offered a regular spot.
I left Gallatin late in the afternoon on a Friday to make the hour and a half drive north into Kentucky. The scenic drive was mesmerizing at times as I found my way through a maze of picturesque back roads laced with cornfields, cattle grazing across rolling pastures, and the occasional small town.  I arrived to the rural community of Daysville and pulled into Libby's, a long barnlike structure that sat adjacent to a large field and reeked of another era. After loading in my gear and meeting Libby and the other musicians, I went over to a long row of tables at which several of the players had gathered, organizing their charts. "We've got charts for pretty much everything we'll be playing." said Gordon "Here's a set list that shows the order of the singers, and the songs they'll be doing." I grabbed my charts, put them in order, and got ready to play.
Libby was a colorful character, upbeat and generally excited about these events, and this enthusiasm was evident a little while later when the show began with his announcements. Well dressed in a white shirt, Wrangler jeans, cowboy boots, and 10 gallon hat, he spoke from side stage with a deep resonant voice infested with a thick southern drawl and introduced the show as if it were the Grand Ole' Opry. He disappeared behind the curtain while the audience was still applauding and we were off and running. After the first two songs, which featured the house band, he returned to announce the first vocalist to audition. We began playing the intro to 'Walkin' After Midnight' as he walked off and an attractive young lady dressed for success walked onto the stage and saddled up to the mic. The band, which was comprised of some great players, was instantly cookin', the young lady sang well, and the song was well received. Libby returned to the stage to rally some more support from the crowd and announced the next singer.
The material we played throughout the night was a mix of classic and new country, and the Nashville style number charts were of immense help. Some of these songs I knew, many I had heard but never played, and some were completely foreign to my ears. For the songs that required a lead guitar intro that I didn't know, the bass player helped me out by humming the phrase right before the count off. All in all, I played well, enjoyed playing with the other musicians and singers (maybe not all of the singers), and everyone seemed to like my playing. We played two long sets with this format which had a surprisingly smooth flow, largely due to Libby and the band leader's organization, and the night came to an end.
I returned the next afternoon for the rehearsal and ran through tunes with the best singers chosen from the night before. Each singer was allotted two songs for Saturday night's show, so we spent much of this time learning songs we hadn't played the night before. The rehearsal was kind of long, but the atmosphere was relaxed. We broke for dinner, a feast which consisted of your choice of one of Libby's famous steaks or fried catfish with sides of baked potato, hush puppies, coleslaw, and sweet tea – a Southern delight. Making the mistake of over-eating, or perhaps just underestimating the fat content of this meal, I felt a bit "heavy" after dinner so I attempted to walk some of it off in the parking lot before the show.
A little while later I was back at the "chart table" with the other players organizing my stack of charts for the night. At eight o'clock sharp we were off and running after another excited send-off from Libby. Similarly to the night before, everything went real smooth. Vocalist after vocalist took the stage – young ladies sporting big hairdo's and dressed in evening gowns, men clad in jeans, plaid shirts and cowboy hats, a couple of teenage prodigy's – even an elderly gentleman in his 60's sang country classics giving it their all. The crowd was attentive and even sang and clapped along at times. Adding an element of showbiz to the night, Libby would walk out from behind the curtain every once in a while and raise his arms in the air to incite additional applause after modulations and solos.
Just as we did the night before, the band played great, and most of the singers were excellent. The afternoon rehearsal allowed the band and singers to become comfortable with the material and really dig in during the show. Nothing like the helter-skelter nature of the in-town Nashville club scene, this gig was relaxed and outside of the microscope, but still had a professional edge.
I left the gig in good spirits and made the long drive home. It would be a little while before I was asked to return as I was subbing and the other lead player had not yet made a permanent exit, but a few weeks later I was asked to become a permanent member of the house band. I had passed the audition and landed what turned out to be the perfect gig for me to hone my country chops. Live at Libby's – country music basic training!
During the summer of 2002 I was aggressively exploring the live music scene of Nashville. Upon the recommendation of my friend, D, I was regularly making the rounds at clubs on Broadway, Printers Alley, and other spots around the city to better understand the scene, and to begin building the relationships I would need to succeed here. For the most part I was in kind of a watch and learn mode, often finding a table with my wife at the back of these clubs and just listening to the performers, sometimes even writing down the names of unfamiliar songs on napkins to learn later. Most of my musical background is rooted in rock, blues and jazz, so the repertoire played by most of these artists and bands, being mostly country, was largely foreign to me. Not to mention the art of country guitar playing, partly based on a technique called "chicken pickin", was something I had yet to conquer.
I had already successfully sat in on a few occasions, carefully choosing situations that would allow me to showcase on songs and styles that were familiar to me, but for the most part I had avoided sitting in with bands that played mainly country. D had conveyed to me the importance of slowly building a great reputation – "Good news travels slow, but if you fart on stage they will immediately hear about it all over town." So I was slowly and carefully building my reputation. But this cautious approach prevented me from sitting in on many occasions, fearful that I would get in over my head. D respected the fact that I was being cautious, but he also knew that I was beginning to become pigeonholed as a rock player as I never sat in on country tunes. So maybe that was part of the reason he invited me to a 6 to 10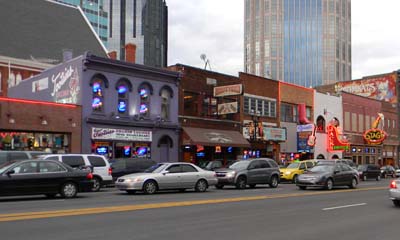 shift he was playing on a Saturday night in the front room of Tootsies.
My wife, Kelly, and I arrived downtown around seven o'clock and found a parking spot. The summer air was hot and thick and people were out in abundance. We walked into Tootsies, which was packed to the gills, and found a spot to stand near the bar a few feet from the tiny stage. D spotted us and gave me a nod. He was playing with a stripped down Broadway unit of drums, bass, and guitar, fronted by an otherwise typical looking country singer sporting a cowboy hat, cowboy boots, denim shirt, and Wrangler jeans. The band was cranking out country standards in rapid succession, the tempos were fast, the music was loud, and the crowd was partying heavily. After an hour or so D looked over at me and said "Do you want to play a couple?" Feeling that I needed to rise to this occasion, I nodded yes and walked over to the stage.
As I hopped up on to the overcrowded stage he handed me his guitar and said "Just ask the bass player if you don't know the changes, he'll help you through." I had just barely strapped on the guitar when the singer shouted out "OK boys, Rocky Top in G", a country standard I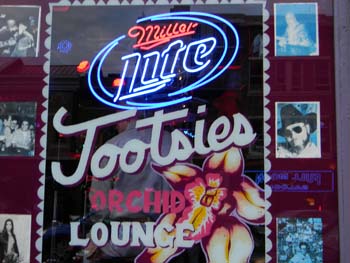 had heard on several occasions but had yet to play. It just so happened that the singer was playing an acoustic and, as the first verse is just acoustic and vocals, this gave me time to figure out the chord progression. So when the whole band came in after the first chorus, I was right there with them, sort of. While I did manage to improvise, or fumble, my way through the first solo without any glaring problems, apparently I was a little heavy handed on the rhythm of the next verse, probably due to years of playing in rock bands combined with almost no experience playing country. D motioned from his spot at the bar to hush my volume a little and I attempted to do so. I managed to get all the way to the end of the main part of the song, hanging on by a thread, before it began to get ugly.
For those of you unfamiliar with this Broadway classic, the main body of the song is played with a half-time feel, the song modulates up a whole step, and then the song kicks into double time for a long-winded fiddle solo outro. So, being the only soloist in this situation, it was my job to mimic the fiddle solo, and I managed to do so quite poorly. While I had been practicing my chicken pickin' technique daily for a couple of months by this point, this was probably my first practical application. I quickly learned that practicing this style with a metronome or CD at home, and improvising a would-be fiddle solo at warp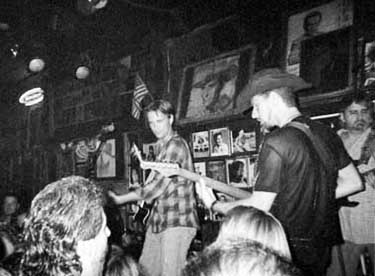 speed with a band in a nightclub are two different things. No matter what I heard in my head, my fingers just wouldn't do it. I hacked, chopped, and butchered my way through two long choruses that seemed to drag on for eternity.
The song ended and the crowd of tourists cheered, completely oblivious to my train wreck. But I am certain that the other players on stage did hear every single ugly note I played. D certainly did as he quickly came to my rescue, snatching the guitar from my hands before I could do any more damage. "That one got away from you a little bit." he kindly said as I left the stage. Feeling less than excited about hanging around after this awkward moment, we left after a couple more songs.
The next day D called me and we spoke about my debacle. "I think you should stay away from Broadway for a little while, at least until you get a little more familiar with the songs and the style. The guys I was playing with last night are cool and know you're still learning, so there's no harm done there. But you definitely don't want to want to do anything like that again."
I had already been playing guitar for over 20 years and could play rock and blues as good as most. But country music wasn't yet in my vocabulary, and chicken pickin' was as foreign to me as French Morocco. It was like learning how to play guitar all over again. That one train wreck made it apparent to me that I was going to have to practice for three to four hours a day for quite a while to learn this new language. So that's just what I did. I obtained recordings of as many country standards as I could and burned mix CDs. I began dissecting the songs, writing number charts for them, learning arrangements, rhythms, solos, even bass lines. As chicken pickin' is essential to traditional country guitar playing, I followed one piece of great advice from D "Put on a CD of old-school country and improvise solos over entire songs using the chicken pickin' technique." I forced myself to do this and, although I sometimes felt like throwing my guitar through the window, slowly began to see improvement. I was determined to never have another moment like my debacle on Broadway ever happen again. And while I did eventually get the hang of chicken pickin', to this day, I still cringe every time I hear Rocky Top!
It was sometime late in the summer of 2002 and I had already been in Nashville for a couple of months when I got a phone call from my friend "D". He had been hired by a producer at a recording studio on Music Row to lay down some lead guitar tracks on a couple of songs and, as he was trying to help me become established in the Nashville music community, thought this might be a good opportunity to break me into the world of professional recording. Apparently there were two songs that would be in need of lead guitar, one being an original by a Nashville writer, the other being a cover of the Bonnie Raitt song "Something to Talk About". As I had some experience playing slide guitar, and he had some pull with the producer, he thought it would be a good idea for me to learn the slide parts and sit in on the track. Piece of cake, right? I had a couple of days to prepare, so I began wood shedding the song.
A couple of days later I met D at his house and we drove into town, arriving at a large, nondescript looking white building on Music Row. We carried our guitars in and walked down a long hallway past several recording studios, the activity inside them visible through large plexiglass windows. Whatever small amount of the jitters I was feeling in the parking lot was now replaced with intimidation and a growing amount of "freakedoutedness" as we entered a large control room with several gold records on the wall. D introduced me to Greg (the engineer/producer) telling him "My friend Eric here is a decent slide player and I brought him along to play on the Bonnie Raitt song." "Sounds good." he replied. He then introduced me to Donnie, the only other person present in the studio, telling me that he was a great song writer and that I had probably heard some of his songs on the radio over the years. I was also informed that he had written one of the songs we were working on today and both songs were demos for a female artist he was working with. Can we add a little more pressure here please?
Greg led us into a large live room adjacent to the control room which was visible through a large Plexiglas window and pointed to an old Fender amp stating "After you tune up you can play through that." After tuning my old Strat I plugged in and grabbed a pair of nearby headphones. By now Gregg and D had returned to the control room and I could hear Greg's voice coming through the headphones "Play a little so I can get a level on you." I started playing some slide licks and quickly realized the amp had little to no sustain. "Okay, I've got a level. Are you ready to make a pass?" "Okay" I sheepishly replied, and with that the count off to the song began. All the tracks to the tune had been previously laid down except for the lead guitar and I began playing the opening riffs at four bars in, just like the record. Or so I thought. The audio in my headphones seemed to stop almost as quickly as it had started, interrupted by the sound of Greg's voice "It sounds like your intonation is off a little. Why don't you check your tuning."
"This is just great!" I thought as a little sweat broke out on my forehead, "Okay, give me a minute" and I proceeded to plug into a tuner and retune my guitar. "Okay, I'm good to go" and with that we were on to take two. This time Greg let me get a little further into the song before again shutting me down, "Your pitch is still off. Try it again." Okay, this is getting ugly. After a couple more failed attempts ended in a similar fashion, D entered the tracking room to help me out. "Show me what you're playing on the intro?" he asked, and I proceeded to play the intro. "No wonder it sounds out of tune, this song is in Ab. Let's try putting a capo on the first fret." Of course I should have known this, and this was perhaps the first moment I began realizing I wasn't as prepared for this world as I thought I was. I put on the capo and D returned to his vantage point next to Greg in the control room on the other side of the Plexiglas window.
Apparently my attempts with the capo weren't much better as take after take continued to end prematurely. One more time D came back into the room to offer advice. "Try putting a slow vibrato on the end of the long notes. It will help you be more in tune." While his advice was correct, I was still unable to deliver what was needed and my passes continued to fall short. Each take continued to end abruptly with me looking up to see Greg lightly smiling and shaking his head saying things like "Intonation", "Try it again", or "Sorry, it still sounds out". D was standing next to Greg at the control board with similar facial expressions, and while they both exuded great patience, the look on Donnie's face from his seat directly behind them was that of annoyance and frustration.
Finally, after about an hour of this, probably the longest hour of my life, I had made one complete marginal pass on the tune. "I think we got it as good as we're going to get it." were the last words I heard through the headphones and, in a state of total defeat and exhaustion, I took off my guitar and walked into the control room to face what I expected would be an execution squad. "Don't worry, you did the best you could, it's your first time recording in Nashville and you were nervous." said D trying to comfort me. "You could tell I was nervous?" I asked ignorantly. "We could see you sweating bullets in there." he said with honesty. "Your asshole puckered up so tight you couldn't have shoved a number two pencil in it." Yeah, that about sums it up.
As it would turn out, the tracks I laid down that day were completely useless, and they re-recorded them after I left. Looking back on that miserable experience, by far one of the most difficult and embarrassing moments of my musical career, I now know I was far from ready to work in a professional recording studio. Of course hindsight is 20/20 and it's easy to look back and know what could be done differently. On the other hand, that recording session was a great teaching moment for me as before that day I had very little experience in recording studios. That day taught me that I still had a lot to learn and made me all the more determined to learn it.
The names of some of the musicians in this story have been changed to protect the innocent guilty.
I first arrived to my new home in Gallatin, TN, some 30 miles north of Nashville on a warm summer night in June of 2002. My family and I had just spent two days driving across the country with all of our personal belongings stuffed into the back of a rented Ryder truck and, despite being exhausted, we unloaded the truck at about 8 PM before collapsing into a deep sleep. All I knew about this new world called Nashville was the vague description of a gigantic music community conveyed by my friend  "D", a world which I knew little about, but one I needed to explore quickly. While we did have some savings, employment was a priority, so after a day of unpacking, we ate dinner, took showers, and headed for the city to start getting acclimated.
At some point during the drive in we stopped and picked up a copy of "The Scene", Nashville's biggest arts and entertainment newspaper. The words "Open Blues Jam 9 to 1 at The French Quarter" seemed to be calling my name from a section of club listings, and that would be our first stop. We walked into the dimly lit room to see a crowd of 10 or 12 listening to a four piece band meandering through some blues standards. After a while they called me up and, not knowing a soul in the place, I played two or three songs which, to my relief, were well received. Upon returning to my table, a moderately well dressed gentleman approached me and said "Hi, my name is Freddie. I really enjoyed your playing. I've got my own band and we are in need of a guitar player. Are you looking for a gig?"
I couldn't believe what I was hearing. Fresh off the boat and without a job in site, this seemed too good to be true. Now keep in mind that I still didn't know how the Nashville music scene or community worked, so any gig being offered seemed like a good thing. "Yeah, I'm definitely interested in doing some gigs." And with that we exchanged phone numbers. Of course I would later learn that in Nashville not all gigs are created equal (more on that later). After chatting with Freddie for a while the next day I accepted his three or four upcoming local gigs and agreed to attend a few rehearsals with his band to prepare. The next day I met him at a Mini Mart where he gave me a CD of his material. Always wanting to be prepared, I went home and anxiously dug in. This was where I would receive my first surprise.
After popping the disc into my CD player I began to listen to a marginal recording of my new "band" and was a bit disappointed. The songs weren't all that great, the musicianship was average at best, and the vocals were downright scary. "Well, maybe they'll sound a little better live." my wife, Kelly, optimistically encouraged. I learned the stuff and showed up for my first rehearsal at Freddie's home south of Nashville, guitar and amp and hand. Shortly after rehearsal began it became apparent to me that the level of musicianship in this band was unlike what I had previously heard at the Fiddle and Steel and other clubs around town when visiting the city a few months prior. And when I say "unlike" I don't mean in a good way. Again, I chalked it up as "Maybe they're holding back because it's a rehearsal and will sound better live." Of course in hindsight, I should have known better, but hey, I was new to town and just happy to have some gigs lined up.
That brings us to our first gig a couple of weeks and uninspired rehearsals later (and by the way, I did get paid something like $15 per rehearsal for gas money). The Radio City Café is a small, but friendly bar somewhere on the east side of the city, and while being inside the club itself felt fairly safe, the surrounding neighborhood streets did not. The other band guys were already there and, running a little late due to getting lost in this still unfamiliar city, I quickly set up my gear after a brief reprimand from Freddie for my tardiness. Then Freddie said "Okay everybody, let's have our preshow band meeting backstage." We followed Freddie to the "backstage" area (otherwise known as the kitchen of this fine establishment) to engage in Freddie's little pep rally. "Okay everybody, we're going to play the first two songs back to back and then I'll address the crowd. We'll play the third song and then I'm going to tell a joke. At the end of the joke I want you (points at drummer) to play a little 'ba dat boom' you know, like they sometimes do on the late show. Keep an eye on your set lists, I've made notes where I'm going to pause to speak and tell jokes." Oookaaay. "And one more thing, I want everybody to walk out onto the stage in the right order, in other words, Joe, because you're on the furthest side of the stage you should go first."
This all seemed a little overproduced and over-the-top for the gig at hand, but hey, you can't fault the guy for taking this $20 dive gig in East Nashville as serious as a show at the MGM Grand. To become successful, one must project a successful image at all times, right? So we walked out onto the stage single file and barreled through the first two poorly written blues numbers, after which, the audience of my wife plus 12 went mild. Freddie introduced himself and we played the third number which was followed by his first joke. While I can't remember the specifics of the joke, I do remember that it was long, rambling, and not the least bit funny to me or anyone else in the place. The drummer's "ba dat boom" didn't help much either. We dug back into a couple of more songs which, unfortunately, were also played with no more power or conviction then the weak renditions we had limped through at the rehearsals. So this was the show, we would play a couple of uninspired songs, then Freddie would tell a bad joke, a couple more songs, more bad jokes. The jokes were so bad that, after a while, you could hear groans from the crowd as soon as they realized he was going to tell one.
Still, bad jokes and all, I did manage to have some fun, after all, I was now playing in Nashville so I was pretty excited because of that fact alone. Plus, sometimes when you're playing with a band on stage it's hard to be objective about the overall situation. I finished out the night, loaded out my gear, got paid my $20 and hopped in the car with Kelly for the 45 minute drive home. The gig had been awkward and we began the drive with a deafening silence which I bravely interrupted by asking "So what did you think?" "Well, you were good. Freddie, not so good. He can't sing very good, the songs are terrible, and his jokes are downright painful. The drummer was pretty bad as well." she answered honestly. "Yeah, I was kind of afraid that's what you're gonna say. I guess I'll give it one more shot."
That one more shot turned out to be a gig back at the French Quarter a couple weeks later. It just so happened that on the night of this gig my friend "D" was playing the Opry and had invited Kelly to go along, so she didn't arrive at my gig until near the end of the show. She didn't miss much. While they were getting the royal treatment on the other side of town, I was living a nightmare that was literally an exact duplicate of my first gig with Freddie, only in a nicer club. I mean, it was carbon copy, the same preshow meeting, single file onto the stage, same type of milk toast performance, same bad jokes, same "ba dat boom" following the same bad jokes. Oh yes, there were a few subtle differences; this club, despite being considerably larger than the Radio City Café, had an even smaller crowd (I think six was the magic number on this night), it was in an even scarier part of town, and it had a great PA system which allowed every nuance of Freddie's bad vocals and jokes to be heard with exceptional clarity. By this point in time Kelly and I had more thoroughly explored the Nashville club scene and had a better idea of what kinds of musical situations might lead somewhere. It was now obvious that this situation wasn't heading in a very good direction. So by the time I was walking to my car and Freddie approached me I was basically ready to give my notice.
Then comes one last surprise. "I need $20 to pay for house sound." He states matter-of-factly. "What? I thought you were walking out to pay me." "No, I can't pay you on this gig. To play here, we have to pay a house sound fee of $100, that's 20 bucks each." My look of confusion might have caused him to rethink his strategy and he then blurted out "I'll tell you what, instead of paying you for the next rehearsal, I'll just put that money towards the sound fee." He offered. "That would be great Freddie." and with that, we drove off, laughing all the way to the poorhouse. I called him the next day and told him that I appreciated him giving me a chance, but his band just wasn't right for me at this point in time. I had given it my all, and while the music had been largely uninspired, it was the bad jokes that were killing me. I literally could not take one more night of those bad jokes. It was time to see what else this town had to offer.
After spending my first 35 years living in New England, getting used to the humid subtropical climate of Nashville took some effort. Compared to middle Tennessee, spring through fall in the Northeast is quite mild, while the dreaded winter months have often been compared to those of Canada or Siberia. Those brutally cold and frigid winters can sometimes begin as early as mid-October and last all the way through April on some years. Snowstorms, ice storms, daily high temperatures in the 20s, teens, or less, and brutal nor'easter's are often daily occurrences for months on end. And then finally, the snow starts to melt, the birds return, the trees begin to grow leaves again, and spring is upon us. Of course Spring can also be a cold wash out with temperatures only reaching the 50s accompanied by the kind of rainfall that could rival Seattle. On years where this happens, it seems like it goes straight from winter to summer. I used to think, before I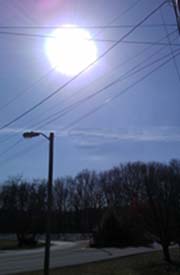 lived in the South, that New England summers could get too hot, but in hindsight I was just being a baby. How I long for those pussified summers now. Fall in New England is arguably the best weather of the year. Cool, dry, great weather to be outdoors.
That's all behind me now. For the climate of Nashville, my new home, is radically different, and one that requires a whole new mindset. The winters in Nashville, if you want to call them that, are almost more like spring in New England. While it can get cold, occasionally getting down into the teens or low 20s, it is not uncommon to have several warm sunny days in each of the winter months, temperatures sometimes even climbing into the 70s. It might snow once or twice, maybe an ice storm or two, some rain, but in general I find these winters very livable compared to those of my New England years. Spring can be real nice temperature wise, but this is also our primary tornado season and, after this year, flood season. This brings us to summer, or as I call it, hell on earth. Beginning in June, or sometimes as early as mid-May, it's 90° plus and humid every day for what seems like an eternity, typically all the way through September. Some get used to this heat and humidity but I can't stand it, to me this is a New England winter in reverse.
During the cold wet winter months of New England, outdoor activities all but grind to a halt (except of course for those who love to ski or snowmobile). In general, except for commuting to work, most New Englanders stay indoors during this time of year, waiting for it to warm up a bit to resume outdoor activities. Now that I live in Nashville this is how I approach summer. In general, it's just too hot and humid for me to enjoy the outdoors during this time of year, and I find myself waiting for it to end so I can again enjoy the outdoors on a regular basis. I literally get cabin fever during the summer. But then it finally ends with the onset of fall, my favorite time of year here, by early to mid October. Of course we have to be on our toes in November for our secondary tornado season.
So I don't know if it's just me or if other transplants feel this way, but as far as the climate of middle Tennessee goes – Fall is great, Winter is palatable, Spring can be hairy, but Summer just plain sucks. I'm glad it's finally over.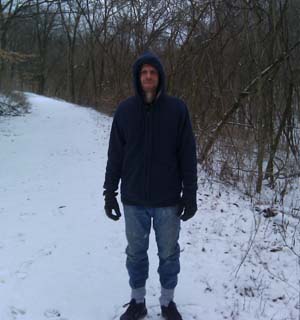 Saturday night was the first outing for my new band 'Endless Boogie', and fun was had by all who ventured out to party with us at the Fillin'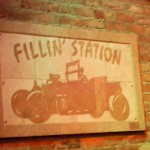 Station in Kingston Springs, TN. The club, owned by Patrick Weickenand, was the perfect setting for my long awaited rock n' blues experiment. Small, intimate, and loaded with character, the club is housed in an old garage right out of yesteryear, hence the name, and a favorite watering hole for the locals on the west side of town.
Our trio started out with a couple of instrumentals to get things going before switching to some vocal-based tunes. The place wasn't  too busy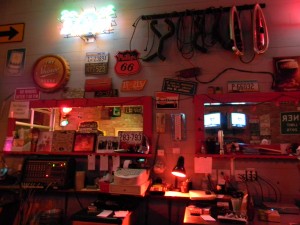 during our first set, so Patrick, who was working the bar, had time to sit in on harp for a few tunes in between slinging beers. Patrick is one of the nicest guys you'll ever meet, and undoubtedly contributes greatly to the warmth and charm of this unique place. Anyone who has ever played the Fillin' Station knows that Patrick is a great harp player, and he's frequently requested to 'sit-in' from behind the bar with many a band. So several times throughout this night he joined in for some fun jams (check out the video below).
Fran Breen (drums) and Mike Chapman (bass), aside from being good friends of mine, are seasoned pros and I was thrilled to have them on the gig. Talk about groove, boy these guys can lay it down! I had an absolute blast playing with them, and we plan to do this on a regular basis, schedules permitting. As of right now our next outing will be Friday, December 3rd back at the Fillin' Station.
By the third set, the place had erupted into a full-blown dance party which held through to the end. People were even dancing on Whipping Post (if you've ever tried to dance to this song you know why this is significant). All in all it was a triumphant beginning to this new project, a project born out of my need for "a little music for the soul".
The other day I was answering a questionaire for author, Wendy Willis' upcoming book 'Making It In Nashville' when one of the questions created a moment of pause – "What or who did you have to leave in order to chase your Nashville dreams?" The question was harder to answer than you might think and allowed for a great deal of reflection. As this factor is often underestimated if not ignored by those considering relocation to Nashville, I felt it was worthy of a post here.
The old saying "You never know what you have until it's gone" is so true, and one that me and my family have come to fully understand upon relocating to Nashville. Shortly after I left my native homeland of New England I remember thinking "I'll still be able to come home and visit once in a while. And of course I can always just call my friends and family on the phone when I miss them." While initially this sounded like a good plan, the reality is that once you move 1300 miles away from your home, regular visits become impractical. And once those closest to you are no longer a part of your daily routines, some of these relationships can slowly begin to fragment.
Who did I have to leave to chase my Nashville dreams? When I left New England I left behind about 40 guitar students, many of whom I had been teaching for years and had become good friends. My parents and direct family, friends I had grown up with, people I played in bands with, and my wife and son's family and friends were also rendered to essentially telephone and e-mail correspondence. You never realize how much you'll miss these people until some time passes. Even though I do still keep in touch with my old friends and family, it's still tough. In spite of the occasional visit back home, it's almost as if many of them were part of another life.
What did I leave behind to chase my Nashville dreams? – Comfort, stability, my teaching career, my peers, my career as a nightclub musician, a familiar way of life, almost every relationship that ever meant anything to me, a 10 minute drive to the ocean, and all the familiar landmarks and places I had seen daily for 33 years. I also left behind harsh winters, as many bad habits as I could, and a music scene in which I could not find fulfillment. (In hindsight this lack of 'fulfillment' might actually have been more related to how I perceived myself than any fault of the music scene.)
The passage of time does change one's perspective on life. It's taken me almost a decade of working in Nashville to realize that I took a lot of things for granted in my earlier life. Nashville is a massive music industry full of opportunities that can't be found elsewhere. While this is a good thing in some ways, it also creates an atmosphere of extreme competition, and a social atmosphere I often call 'the land of the permanent job interview'. It wasn't like that back home, and sometimes I miss that more carefree musical atmosphere. Most people in the Nashville music industry have an agenda and this can make it harder to find 'real friends'. Sometimes I find myself yearning for the past, where genuine and deep relationships were more obvious.
While adjusting to the absence of all things familiar has been difficult, and I do miss my old life and friends, I am still glad I made this move. The journey has been far and wide, a life-changing experience that has taken me down many unsuspecting roads. Had I not embarked on this journey, I would not be the person I am today.
Last week I posted a blog in which I asked you (the reader) what questions you would ask somebody from a record label if you had access. That blog prompted some pretty interesting questions, and when I conducted my interview today with EJ Bernas, Senior Director of Southwest region of Universal Music Group, those questions made up the bulk of what I asked him. The interview was lengthy and informative, and a lot of work lies ahead (transcribing, editing, proofing, etc.) before this fascinating conversation will be print ready. So for now, I would just like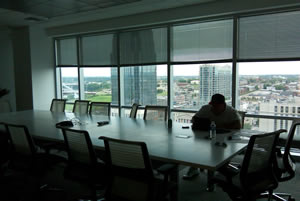 to share a few high points of this unique experience.
I arrived in downtown Nashville just before 1 PM and found a parking spot in front of the Bridgestone arena. After feeding some quarters into the meter (three dollars only got me two hours) I walked a couple of blocks over to the UMG headquarters, located on Commerce street. After taking the elevator to one of the top floors of an otherwise unsuspecting office building, I emerged into the lobby and found my way to the receptionist. The friendly young lady informed EJ that I had arrived, and a moment later he came out to meet me. We retreated into a large comfortable conference room which had a spectacular view of downtown Nashville.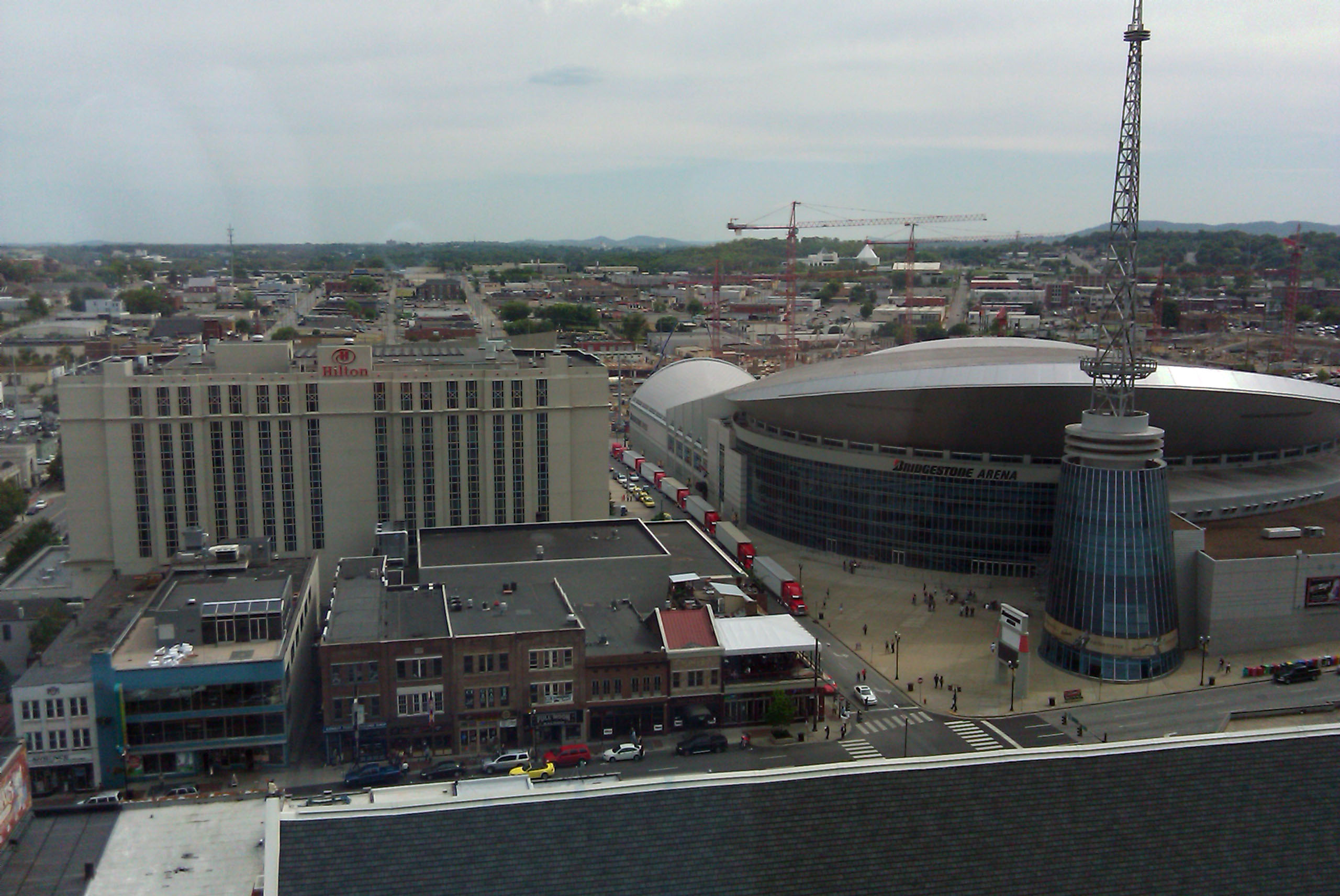 I could write an entire article just about what I saw in those few short seconds gazing out that window. The roof of the Ryman Auditorium just below us, the hustle and bustle of people milling about on Broadway, the Bridgestone arena, the controversial new skyscraper still being constructed, the Cumberland River in the distance – a city truly alive in so many ways. Behind every window of the hundreds of buildings visible from this spot was a story. For every car that passed by on the streets below, another story. Some say that this is a city built on dreams, and from this vantage point I could literally feel that kind of intangible element that fuels such a mysterious place.
"This is an amazing view. Do you have a view this cool from your office too?" I asked. "You bet, my office is right next door. You can see the roof of the old church (Ryman) below" he said as we both gazed across the vast expanse. With that, we each took a comfortable spot at the table and dug into an hour and a half discussion about the state of the recording industry, radio, and how today's aspiring artists fits into that world (at times the discussion became more like how the recording industry and radio fit into the world of the aspiring artist.) Like I said,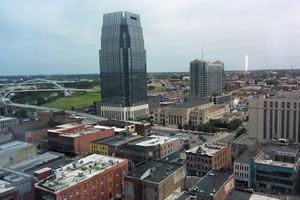 the contents of this interview still need to be transcribed and reviewed before I can share any of it, so for now you'll have to just settle for me simply bragging about this day.
At one point during the interview, EJ's boss walked through the room and I received a brief introduction. A little while later another man walked through, and I was again introduced, this time to the head of A&R. EJ explained to me that UMG (Universal Music Group) consists of MCA, Mercury, and Lost Highway Records and represents artists like Billy Currington, Julianne Hough, Reba McEntire, Randy Rogers Band, George Strait, Sugarland, Jamey Johnson, Josh Turner and Shania Twain, among others. Even though I'm not aspiring for any sort of success as a radio star, it did occur to me just how fortunate I am to know someone like EJ – a warm and open individual gracious enough to give this glimpse into a world in which so many aspire, yet so few ever travel.
After the interview was over, he walked me back out to the lobby where I had the receptionist snap a quick picture of the two of us. I thanked him again and made my way back to my car. It was definitely a learning experience for me and I know this interview will add much valuable perspective to all the aspiring artists and musicians who will eventually read it. Thanks again EJ for making my day, and my book.
Next week I'm conducting one more interview for my book project 'The Nashville Musician's Survival Guide'. Upon a recent review of the book's manuscript I realized I haven't thoroughly addressed the role that record labels play in the Nashville music industry. So this has prompted me to set up an interview with one of my colleagues at MCA/Universal Group. I've got a full hour to discuss the current state of the 'record industry' and would like your input.
I have a few questions I already plan on asking;
In regards to signing new artists and acts, what are record companies looking for?
Are solo artists more attractive to the label than bands?
How important is it for a prospective artist or band to have a following prior to signing with a record label?
How does an obscure startup artist in Nashville gain the attention of the labels in a community that is so oversaturated with talent?
Do you think FM radio has any future?
These are the first questions that come to my mind, but as I'm not interested in pursuing a record deal I may not be as tuned in to this world as someone who is. I want to know what you want to know. Pretend for a minute that you have the ear of someone at MCA for five minutes. What three questions would you ask? And please, no smart aleck questions like "Will you come see my band next Wednesday at the Cadillac Ranch?" or "Can I give you one of my CDs?"
If anyone out there can present me with some intriguing questions, I'll include them in my interview next week and post the responses.
Thanks for participating!