This past week in Nashville brought some new experiences to the table for me, and today I would like to share a few quick thoughts on these events.
Indie Connect and the "New to Nashville" Monthly Meeting
There is a Nashville-based music industry organization called "Indie Connect," and once a month they have a "New to Nashville" meeting at The Red Rooster. I first discovered this organization last year when I stumbled across their website, a fairly elaborate site with all sorts of interesting and useful articles. Upon signing up for their newsletter I began to receive notifications about different meetings and workshops held monthly, themes ranging from "New to Nashville" to Songwriting, and "Singing in the Studio " to PR Campaigns. While I'm certainly not new to Nashville, I have wanted to check out these meetings for a while as I have been asked to be a guest speaker at one of their luncheons next month.
The meeting, hosted by longtime Nashville songwriter Marc-Allen Barnette, was very laid back and began with each person in attendance sharing a little bit about their background, as well as their Nashville goals. After the introductions Marc began sharing his thoughts and views about being a songwriter in Nashville as well as some other perspectives about the scene. Several valid points were made regarding songwriter nights.
Most of the accompaniment at the songwriter nights is done with acoustic guitar, so if you are a songwriter and plan on participating, it is to your benefit to be able to play acoustic guitar (or bring someone else who can).
Most songwriters in Nashville write with co-writers, as cowriting expands the number of contacts who are connected to their songs.
Support the songwriting community. If you're performing at a writers round, stick around after your song is done to show support for the other writers.
After hearing some of us Marc's ideas and advice, a back-and-forth conversation ensued with everybody participating and offering their thoughts and ideas. Also in attendance was Vinny Ribas, the founder of Indie Connect, and he also interjected his thoughts on different subjects. All in all the meeting was up tempo and informative and certainly worth checking out if you are "New to Nashville."
Derek St. Holmes at The Red Rooster
Have you ever listened to the music of Ted Nugent? I have. I used to love hearing his song "Stranglehold" as it blared out of FM radios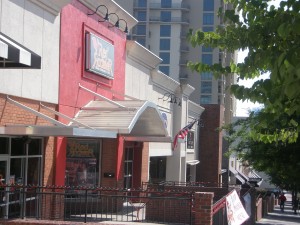 during my teenage years, back in the 80s. As distinctive as the guitar parts are to that song, the vocals are almost even more mesmerizing – a high and emotive rock and roll lyric belted out with power and conviction, by a distinctive and colorful voice. So maybe that's why during our "New to Nashville" meeting on the outside patio of The Red Rooster last week it became difficult to focus on the discussion after the band began playing. Little did I know at that moment that the voice in the band that was booming out onto the patio was none other than that of Ted's original lead singer, Derek St. Holmes. As I would later learn after the meeting let out, Derek lives in Nashville, and when he's not on the road with Nugent, he can be found performing on Tuesday nights from 7 to 9 at The Red Rooster on Demonbreun Street.
Even though I couldn't see the band from where we were sitting on the club's outside patio, I knew they were quite good from the moment they began playing. By the time they performed a blistering version of Jimi Hendrix's "Red House" midway through the set it was obvious that this was not your typical Nashville bar-band. As I was firmly committed to the conversations at hand, I did my best to not be sidetracked by the music. But by the time they played the last song of their first set, which just happened to be the anthem "Stranglehold," it was almost impossible to not become completely drawn in. This music is rock 'n roll at its finest, and their performance was fit for a stadium crowd, let alone the 30 or 40 Nashvillians that had gathered on this cool spring night!
I left during their break as I already had commitments elsewhere, but as this is a regular Tuesday outing for this rock 'n roll legend and his band, I'll be back for sure.
After Thought:
Later on the next day, another significance of the Derek St. Holmes show occurred to me. The folks at this "New to Nashville" meeting were just that, new to Nashville. And the one thing most Nashville newcomers are lacking is contacts. The only reason I knew Derek St. Holmes was the performer inside was because I asked, mostly out of curiosity because it was so good. There were obviously some heavy hitters in his band too, all whom are likely connected to many other important avenues within the Nashville music industry and beyond. I recognized some players that work for national acts in the audience as well.
I guess it just goes to show that you never know who you might see or hear in a Nashville club. Next time you hear some great music by an unsuspecting bar band, stick around and listen a little, maybe chat with a few folks on the break. You never know what you might learn or hear. If you're lucky, you might even hear "Stranglehold!"