By Eric Normand
You might think that the life of a touring musician is easy – performing for thousands of screaming fans, sleeping late, eating at catering, free booze, lounging around all day on a million-dollar tour bus. While some, or all of this might be true depending on what tour you're on, there are many other factors at play that can make the life of a traveling musician somewhat less than glamorous. Being away from your family, lack of privacy (rarely is there a moment on the road that you are not in the company of others), less than ideal sleeping conditions, and, believe it or not, too much free time, just to name a few. These factors can lead to a slew of problems – fatigue, depression,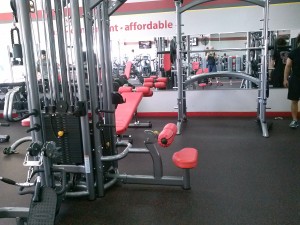 over eating, and overindulgence.
My recent outing with the Peach Pickers as an opening act on the Luke Bryan Farm Tour turned out to be a great experience and (thanks to a few forward thinking folks in Luke's camp) a successful experiment in healthy living on the road. It turns out that several members from Luke's band have built a daily gym run into their touring schedule, an activity that is open to the musicians and the opening bands, as well. Every day around 10:30 AM, anywhere between six and ten of us would pile into a runner van for a short ride to a local gym. Once at the gym many of us did our own thing, activities ranging from treadmill to circuit training to stretching and yoga.
Luke's guitarist and bandleader, Michael Carter explained that "the one thing we do you have out here is time" and that working out every day can be more difficult for people who work an eight hour workday with a commute. For many touring musicians, the first requirement of their work day is a sound check, usually sometime in the afternoon, and then the nightly show. Believe it or not, just lying around all day on a bus and watching TV can be tiring (not to mention boring) and this can be very draining. Not only does the morning workout speed up your metabolism and give you added energy for the day, it also temporarily removes you from "diesel city", giving individuals a chance to have some privacy and clear the head.
Getting Creative:
Even on a tour of this level, working out at a gym can't happen every single day, sometimes the closest gym is just too far away, a runner isn't available at the necessary time, etc. When the gym run didn't happen, we all got creative. On one day we all went for a run. On another day, when running wasn't practical due to our location, we all found creative ways to get in a workout. Michael did a modified version of "Insanity" in the back of a semi trailer, a few members of Cole Swindell's band (one of the other openers) played power frisbee, a few did some circuit training, and I did some yoga in a quiet corner of the field.
Healthy Eating: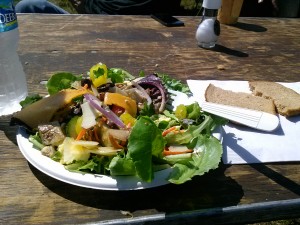 While the issue of what is, and what is not healthy food is still a mystery to many in Western culture, and it can be a touchy topic yielding much debate for some, I am going to go out on a limb here – healthy food is food that allows me to feel good after I eat it, unhealthy food is food that makes me feel crappy after I eat it! That being said, my diet typically consists of fresh fruits and vegetables, whole grains, nuts, healthy oils, and protein derived from poultry and fish (preferably raised in a healthy and sustainable environment) – and as you might guess, this kind of food isn't always easy to find the road. So you can imagine how pleased I was to find that the catering on this year's Farm Tour featured a pretty happenin' salad bar. Every day my lunch and dinner consisted of a big plate of mixed greens, carrots, mushrooms, cherry tomatoes, hard-boiled egg, grilled chicken, and topped with olive oil and balsamic vinegar. I noticed that several of the other musicians on this tour made similar meals. On days when the main entrée was chicken and/or fish, and I would have this in addition to my salad for dinner. For breakfast, I was typically having a couple of eggs, some whole wheat toast, and a bowl of fruit.
To me, healthy eating on the road is all about choices and discipline. On this tour, there were many healthy options, and there were also unhealthy options. I've been on other tours that didn't have catering with this many options, in those situations I often brought more of my own food. I generally steered clear of the "after show" food, which typically consisted of pizza, fried chicken, sandwiches on white bread, etc; and chose to eat almonds, corn chips and salsa, and of course, the occasional indulgence (it's all about balance).
Building Community:
Taking advantage of my free time, I worked out every single day on this eight-show run across the Deep South. In addition to taking care of my body and helping me feel good, working out with members of Luke's and Cole's bands also helped create a sense of community. The more and more I get into healthy living, the more I want to align myself with others who are on the same path, and I instantly felt some common ground with the "2013 Farm Tour Gym Crew". It was inspiring to be on a tour that gives musicians the option to have a daily workout, and a relatively healthy meal.
Healthy living isn't just for a few oddball touring musicians.
So what if you work a day gig and don't have as many idle hours during your day? Funny you should ask. In recent years my life as a touring musician has greatly diminished, and much of the time I've been holding down a steady day gig as a painter and drywall carpenter (something I've done on and off since high school). This job is very physically demanding, and if I don't take care of myself, I am susceptible to shoulder aches, back pain, tendinitis flareups, and a whole host of other problems. Working out and healthy eating combats these problems. As far as daily workouts, I find that if I don't do something first thing in the morning I might not get in any workout on that day. Knowing this, I make it a priority to do at least 30 minutes of exercise before leaving for work in the morning. I prepare my lunch the night before, usually consisting of leftovers from a healthy dinner, almonds, fruit, green tea and water.
I look at all of this as a choice. In addition to advanced planning, healthy eating simply requires a conscious decision to buy, prepare and eat healthy foods. The same is true for exercise, as I age, things hurt more, and the recovery time from injuries is longer. Rather than looking for answers within Western medicine, I choose a steady regiment of cardio, strength, and flexibility exercises (in addition to my healthy diet). I believe there is a healthy way to prepare all your favorite foods. And I believe that each individual has to find an exercise program that is right for them.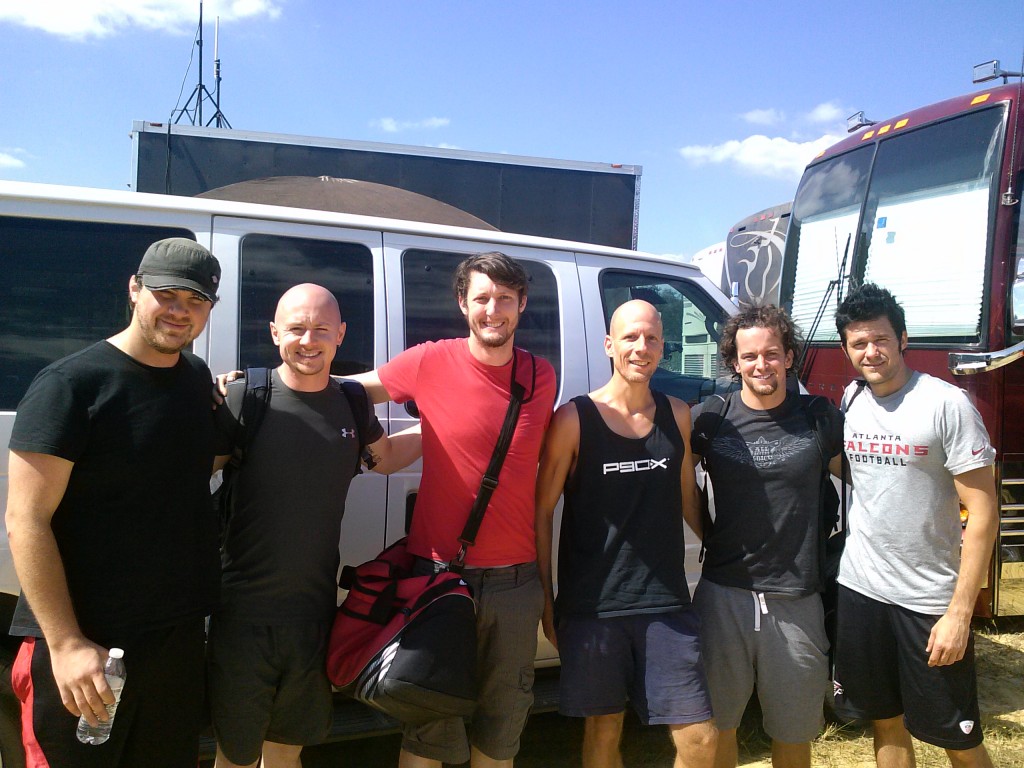 For more information about wellness through exercise and healthy eating, please visit http://www.doitthehardway.com/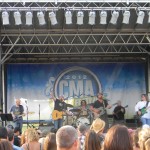 Even though the majority of the people who come to Nashville for CMA week are country music fans, you didn't have to be one to enjoy the BMI songwriter showcase-tailgate party yesterday at LP Field. This unique event was as much a foot stompin' rock concert as it was country music show, and the crowd of 3000 plus concertgoers received a rare treat on this warm, sunny afternoon. 2011 EMI songwriter of the year, Rhett Akins, and 2011 BMI songwriter of the year, Dallas Davidson, also known as the Peach Pickers, have written some of the biggest chart-toppers in recent country music history, and collectively have more hits songs currently on the radio than any of the major artists they write for.
As professional songwriters, they sit in a room with their acoustic guitars daily, writing hundreds of songs a year to come up with a handful of radio-bound gems. These songwriting sessions, and the demo recording process that follows, are quite often the first and last times they get to perform this music. So this rare occasion to play the hits they wrote in front of a large audience was as much, if not even more of a treat to the Peach Pickers as it was to anybody in attendance.
The hour-long show was off and running with the number one hit cut by Blake Shelton, "All About Tonight", a fitting start for this musical adventure. Rhett and Dallas took turns singing verses and choruses as we moved through what was essentially a "greatest hits" of modern country radio music, including the six number ones they've written in recent years. The crowd sang along throughout the show as we put our own twist on songs like Honeybee, Take a Back Road, Gimme That Girl, Put a Girl in It, Honky-Tonk Badonkadonk, This Ole' Boy, and several others.
Near the end of the show, Rhett unexpectedly pulled out a couple of surprises, performing his own hits "That Ain't My Truck", and the showstopper, "Kiss My Country Ass". At a few different points throughout the show, Rhett gave credit to the band which was comprised of Nick Forchione on drums, Mike Chapman on bass, Scott Tweten on guitar, and me on guitar and harmony vocals, the excited crowd responding with cheers of approval every time. We concluded this blockbuster set with the fitting "I Don't Want This Night to End" a number one song which was cut by Luke Bryan and had just won video of the year the night before.
The truth is that none of us wanted this night to end, it was a special moment and the unique nature of this show will make it one of the more memorable things I have been a part of in my 10+ years working in the Nashville music industry. But the good news is that we will be taking this show on the road a little later on in the summer, performing at Michael Waddell's annual Bone Collector fan club party on August 17 in Montgomery, Alabama. I want to send out a special thank you to all the fans that came out for this show, and everybody who put in a lot of hard work behind the scenes to make this event the huge success it was. Till next time, "it's all about tonight"!
Click here to view some photos from the show (courtesy Kelly Normand)
For more in-depth perspective on the behind the scenes of the Nashville music industry, please check out my book "The Nashville Musician's Survival Guide", which features an in-depth interview with Rhett as well as many others Nashville insiders.
The latest Nashville Berklee Jam last Tuesday was a great success, thanks to all who attended! The weather was beautiful, so we had a very laid back talk outside on the patio at The Fillin' Station, our usual location for this event. Rich Redmond, the guest speaker on this night, has worn a lot of hats during his 15 years in Nashville – session/touring drummer, producer, clinician, public speaker, and his hour-long talk gave all in attendance some great perspective into different ways to navigate the Nashville music industry.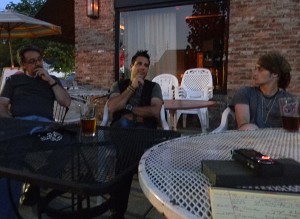 Rich spoke of the need to aggressively market yourself to find work in Nashville and how in his earliest days he obtained work by handing out demo cds of his drumming abilities to almost everyone he would meet around town. He candidly talked about those 'lean years', and that long before he was recording on hit records, touring the world with Jason Aldean, and producing acts like 'Thompson Square', he was hustling gigs on Broadway, playing in corporate party bands – whatever was necessary to insure survival.
For those who are just starting out in Nashville, he recommended that musicians "take every gig that's offered", as every new gig can potentially lead to new relationships and different career opportunities and that "If you give more to people then they expect, if you consistently exceed expectations, people are going to want to work with you."
He spoke of the need to be ultra-professional by "always returning phone calls in a timely manner, always returning e-mails in a timely manner, being professional, being flexible, having the right gear to do the job and never mailing in a performance…"
Regarding the importance of reputation he said "You can have a great website, you can Tweet 1000 times a day, you can have a fantastic business card that's got the really good paper, you know the really firm stuff that you have to pay extra for, and it's still going to come down to word-of-mouth. In this [digital] age it's so easy to be talked about in a positive or negative way, globally."
During one part of the talk he mentioned a concept he refers to as "CRASH" a phrase he coined that stands for Commitment, Relationships, Attitude, Skill and Hunger – the five key ingredients he believes are necessary to succeed. He also spoke of the importance of defining your own success, a concept I talk about in my book "The Nashville Musician's Survival Guide" (coincidentally, Rich contributed to the writing of this book).
After fielding several questions, he finished his talk and we all headed inside to make some music. Everyone who wanted to jam got a chance to sit in, and several great performances took place – ranging from classic rock covers to blues jams to originals. Rich stayed till the end making himself accessible to anyone who wanted to hang and chat, and during the middle of the jam he got behind the drum kit and played a few songs with me and several other alums. Here's an MP3 of us playing a spirited version of the Jimi Hendrix classic, 'Little Wing' Little Wing Berklee Jam w Rich Redmond low. The night ended and we all headed home, but not until gathering for a group photo.
I want to thank everybody who came out and participated to make this another great event, see you at the next one! The next Nashville Berklee Jam will be held on Tuesday, July 10 – check back in a few days for info on the guest speaker for that night.