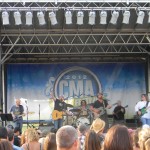 Even though the majority of the people who come to Nashville for CMA week are country music fans, you didn't have to be one to enjoy the BMI songwriter showcase-tailgate party yesterday at LP Field. This unique event was as much a foot stompin' rock concert as it was country music show, and the crowd of 3000 plus concertgoers received a rare treat on this warm, sunny afternoon. 2011 EMI songwriter of the year, Rhett Akins, and 2011 BMI songwriter of the year, Dallas Davidson, also known as the Peach Pickers, have written some of the biggest chart-toppers in recent country music history, and collectively have more hits songs currently on the radio than any of the major artists they write for.
As professional songwriters, they sit in a room with their acoustic guitars daily, writing hundreds of songs a year to come up with a handful of radio-bound gems. These songwriting sessions, and the demo recording process that follows, are quite often the first and last times they get to perform this music. So this rare occasion to play the hits they wrote in front of a large audience was as much, if not even more of a treat to the Peach Pickers as it was to anybody in attendance.
The hour-long show was off and running with the number one hit cut by Blake Shelton, "All About Tonight", a fitting start for this musical adventure. Rhett and Dallas took turns singing verses and choruses as we moved through what was essentially a "greatest hits" of modern country radio music, including the six number ones they've written in recent years. The crowd sang along throughout the show as we put our own twist on songs like Honeybee, Take a Back Road, Gimme That Girl, Put a Girl in It, Honky-Tonk Badonkadonk, This Ole' Boy, and several others.
Near the end of the show, Rhett unexpectedly pulled out a couple of surprises, performing his own hits "That Ain't My Truck", and the showstopper, "Kiss My Country Ass". At a few different points throughout the show, Rhett gave credit to the band which was comprised of Nick Forchione on drums, Mike Chapman on bass, Scott Tweten on guitar, and me on guitar and harmony vocals, the excited crowd responding with cheers of approval every time. We concluded this blockbuster set with the fitting "I Don't Want This Night to End" a number one song which was cut by Luke Bryan and had just won video of the year the night before.
The truth is that none of us wanted this night to end, it was a special moment and the unique nature of this show will make it one of the more memorable things I have been a part of in my 10+ years working in the Nashville music industry. But the good news is that we will be taking this show on the road a little later on in the summer, performing at Michael Waddell's annual Bone Collector fan club party on August 17 in Montgomery, Alabama. I want to send out a special thank you to all the fans that came out for this show, and everybody who put in a lot of hard work behind the scenes to make this event the huge success it was. Till next time, "it's all about tonight"!
Click here to view some photos from the show (courtesy Kelly Normand)
For more in-depth perspective on the behind the scenes of the Nashville music industry, please check out my book "The Nashville Musician's Survival Guide", which features an in-depth interview with Rhett as well as many others Nashville insiders.
The latest Nashville Berklee Jam last Tuesday was a great success, thanks to all who attended! The weather was beautiful, so we had a very laid back talk outside on the patio at The Fillin' Station, our usual location for this event. Rich Redmond, the guest speaker on this night, has worn a lot of hats during his 15 years in Nashville – session/touring drummer, producer, clinician, public speaker, and his hour-long talk gave all in attendance some great perspective into different ways to navigate the Nashville music industry.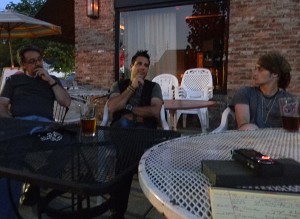 Rich spoke of the need to aggressively market yourself to find work in Nashville and how in his earliest days he obtained work by handing out demo cds of his drumming abilities to almost everyone he would meet around town. He candidly talked about those 'lean years', and that long before he was recording on hit records, touring the world with Jason Aldean, and producing acts like 'Thompson Square', he was hustling gigs on Broadway, playing in corporate party bands – whatever was necessary to insure survival.
For those who are just starting out in Nashville, he recommended that musicians "take every gig that's offered", as every new gig can potentially lead to new relationships and different career opportunities and that "If you give more to people then they expect, if you consistently exceed expectations, people are going to want to work with you."
He spoke of the need to be ultra-professional by "always returning phone calls in a timely manner, always returning e-mails in a timely manner, being professional, being flexible, having the right gear to do the job and never mailing in a performance…"
Regarding the importance of reputation he said "You can have a great website, you can Tweet 1000 times a day, you can have a fantastic business card that's got the really good paper, you know the really firm stuff that you have to pay extra for, and it's still going to come down to word-of-mouth. In this [digital] age it's so easy to be talked about in a positive or negative way, globally."
During one part of the talk he mentioned a concept he refers to as "CRASH" a phrase he coined that stands for Commitment, Relationships, Attitude, Skill and Hunger – the five key ingredients he believes are necessary to succeed. He also spoke of the importance of defining your own success, a concept I talk about in my book "The Nashville Musician's Survival Guide" (coincidentally, Rich contributed to the writing of this book).
After fielding several questions, he finished his talk and we all headed inside to make some music. Everyone who wanted to jam got a chance to sit in, and several great performances took place – ranging from classic rock covers to blues jams to originals. Rich stayed till the end making himself accessible to anyone who wanted to hang and chat, and during the middle of the jam he got behind the drum kit and played a few songs with me and several other alums. Here's an MP3 of us playing a spirited version of the Jimi Hendrix classic, 'Little Wing' Little Wing Berklee Jam w Rich Redmond low. The night ended and we all headed home, but not until gathering for a group photo.
I want to thank everybody who came out and participated to make this another great event, see you at the next one! The next Nashville Berklee Jam will be held on Tuesday, July 10 – check back in a few days for info on the guest speaker for that night.
Our second "Nashville Berklee Jam" at The Fillin' Station in Kingston Springs this past Tuesday was a great success! The guest speaker on this night was none other than Nashville's award-winning vocal coach, Judy Rodman. Judy has played many a role in the Nashville music industry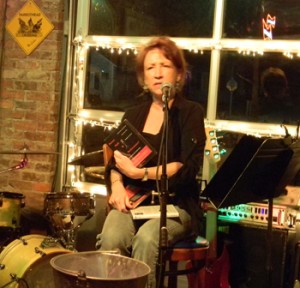 over the years – recording artist, A-list session singer, producer, hit songwriter – and on this night her talk focused on different career paths for vocalists. Judy was involved in the writing of my book "The Nashville Musician's Survival Guide" and, backing up my theory of the necessity to "wear a lot of hats", she talked about multiple streams of income for today's musicians and artists. Among the potential jobs for vocalists she outlined were artists, live singers, and session singers (jingle singers, background vocals, demo singing, and voiceovers).
Here are a few excerpts:
"Recording artists need vocal ability, because the mark is up. Even with pitch fixing, rhythm fixing…your vocal needs to be as good as it possibly can be because it's going to sound more natural and it's going to be more emotionally compelling…You also need a 'unique artist definition'…it's not good enough to be just another great singer…you really need to be unique and find your own definition as an artist – your uniqueness, your vocal uniqueness – which means you need to explore your whole voice and your life experiences that you're going to put into your art. The sound of your artistic definition is going to have to do with the sound of your voice, the choice of your instrumentation, and your message… Artistic definition takes exploration. For those of you wanting a career as a recording artist I would say don't shortcut your experimentation."
"For live background singing – you need to have the ability to trace and completely blend and go with the nuances of the voice of the singer you are looking to back…You've got to be able to change your sound as the artist wishes…you will of course have to have the ability to sing harmony parts and hear them… you have to have a specific look – whatever the artist is looking for. You need to network and find out who is gigging, who is in need of background vocalists."
"Session singing…You need great vocal technique, usually you'll need some vocal training…you really need to have surgical control of your voice for pitch, sound, blend and nuances –because time is money in the studio…You need to of course hear harmony parts quickly, you need to have the ability to read manuscript…but you also need to know the Nashville Number System."
Judy then gave some practical vocal technique tips before answering several questions from alumni. Click on the following links if you would like to hear her talk in its entirety.
Judy Rodman Talk – Part One (21 min)Judy Rodman Talk – Part 1 (21 min)
Judy Rodman Talk – Part Two (21 min) Judy Rodman Talk – Part 2 (21 min)
There is also a ton of useful and practical information for vocalists at Judy's website www.judyrodman.com.
When her talk concluded we began the jam portion of the evening with our house band backing Judy for two songs to start things out. Her second tune, "One Way Ticket", was a number one hit she wrote that was cut by LeAnn Rimes. Judy's vocal performance was emotionally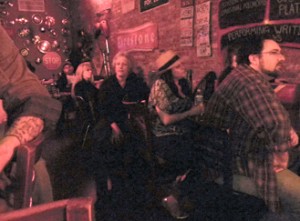 charged and inspiring to say the least, and this set the tone for the rest of the evening. A special dynamic on this night was the "optional vocal performance critique" that Judy offered for willing participants. To break the ice, I decided to go first and sang my two songs with the house band. After my first song, Judy pointed out some of the strengths about my performance and addressed a few things to work on.
The jam continued with several great performances. Brian Lucas, the house keyboardist, sang a great rendition of "Georgia", for which he took the vocal critique option. This pattern continued for the rest of the night, with literally every vocalist asking for a critique. Among these were Ted Schempp, the vocal duet "Acklen Park" (performing songs they co-wrote with alum, Shantell Ogden), Sarah Tollerson, and Michelle Lambert – all performing original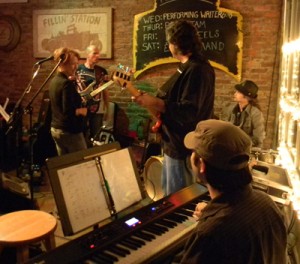 material. After the first song by each performer, Judy offered critiques and then we would try a part of the song again, seeing instant improvement in the vocals (don't get me wrong, the vocal performances were pretty strong to begin with). Alums, Elton Charles on drums and Rick Carizales on guitar, also sat in and did a fine job backing up some of the guests. Brian Lucas made a big contribution by charting out many of the songs in advance, and Shantell helped out by taking photos and some great video excerpts (see below).
It really was a special evening, fun was had by all and I think everybody learned a few things too. I want to thank Judy Rodman, our house band (Heston Alley on drums, Tom Good on bass, Brian Lucas on keys) and all the alums who participated and helped make this a special evening, I can't wait for the next one!
The next Nashville Berklee Jam will be held on Tuesday, April 10th at the Fillin' Station with special guest, Reese Wynans, formerly of Stevie Ray Vaughn & Double Trouble. His talk will share perspective on being a lifelong career musician, working with SRV, and the importance of understanding blues and roots music. Please check our website regularly for updates.
Last night's "First Tuesday of the Month Nashville Berklee Jam" was a huge success! The otherwise quiet Nashville suburb of Kingston Springs came alive as the alums began filtering into The Fillin' Station for this night of camaraderie and music.
The mission of this monthly event is to help build our Berklee community in Nashville, and for the first hour, old friends reunited and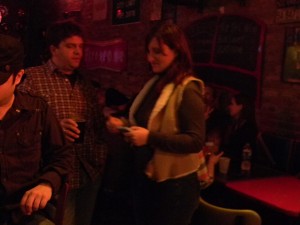 new friendships formed over lively conversation in this quaint setting. Shortly after 8 pm I made a few brief announcements before introducing the night's guest speaker, A-list session bassist, Mike Chapman.
Mike's talk centered on his lifelong career as a session player and he compared what he considers the key ingredients to being a successful studio musician to slices of a pizza.
The essential slices of the "session player pizza" include:
Talent and Skill
Positive Attitude
Strong Work Ethic
Flexibility
Taste
In talking about the support role that musicians play on a recording, Mike commented "there's a big difference between something that is fun to play, and something that is fun to listen to", noting that they are not always the same thing. He also added that "musicians, both live and in the studio, are essentially in the service industry, and it's our job to provide the window dressing to the song or artist". Another point he couldn't drive home hard enough was how essential it is to know "The Nashville Number System", as this is the main way songs are charted in Nashville, again, both live and in the studio, and the book bearing the same title by Chas Williams is a great way to learn.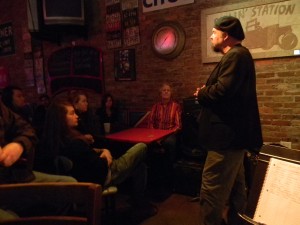 After Mike answered some questions from several alums it was time for some music. To get things started, I took the stage with our house band, consisting of Mike on bass and fellow alums, Heston Alley on Drums and Brian Lucas on Keys. We started out with a spirited version of Freddy King's "Key to the Highway", Paul Butterfield's "Born in Chicago" (featuring bar owner, Patrick Weikenand on harp) and one of my favorites, "Ain't Wasting Time No More".
Our next grouping featured Ted Schemp on guitar and vocals and Elton Charles, a recent arrival to Nashville, on drums, and we played one of Ted's originals followed by an instrumental blues jam. Sofia D got up and played some funky drums behind George Wong on bass and Ben Graves on guitar and vocals. Ben led us through a cool version of the Sam Cooke classic "Cupid" before Sarah Tollerson, host of another Alumni event, "Strength in Numbers" (held on the second Wednesday of each month at the Riverfront Tavern in downtown Nashville) joined us to sing "Oh Darlin'" and "You Make Me Feel like a Natural Woman".
Michelle Lambert, another recent newcomer, brought charts for a couple of originals and delivered some emotive vocals interspersed with some fine fiddle playing to a couple of arrangements on the fly. Bassist, Keiffer Infantino got into the mix with another recent arrival, guitarist Rick Carrizales, and at this point Ben Graves came back up to play some sax. We played a funky jam in A minor and everybody got to stretch out before our final tune of "Freddy the Freeloader", for which Mike Chapman got back up to finish the night.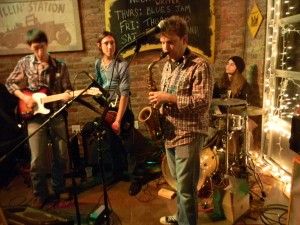 If there's one thing I have learned from all of the alumni events I have attended, it would be that Berklee alums are some of the nicest people you'll ever meet. And that open, warm feeling was evident in both the conversations and music that took place on this cold February night. I would also add enthusiasm to this list of traits, as there was an infectious, electricity in the air during these performances.
This jam was our first of many to come, as this will be held on the first Tuesday of each month, and the Nashville Berklee Jam website will serve to keep alums informed about future jams and all of the upcoming Nashville alumni events. I would also like to encourage interactivity on this site, so don't be afraid to post, comments, songs you would like to play or any other ideas you may have. On that note, I'm looking for volunteers to take photos and possibly shoot a few video clips of our next jam for future blogs.
Thanks again to all those who participated in making this night a great success and see y'all at the next one!
For those who are new to Nashville, or considering relocating to Music City, my book "The Nashville Musician's Survival Guide" is a street level perspective of the music related jobs found here, and the ultimate companion for today's musicians, songwriters and artists. Decades worth of information learned on the streets of Nashville for $20! How can you go wrong?